For Immediate Release
Monday, December 13, 2021
(New York, N.Y.) — The Counter Extremism Project (CEP) reports weekly on the methods used by extremists to exploit the Internet and social media platforms to recruit followers and incite violence. Last week, a YouTube channel run by the Finnish neo-Nazi website Partisaani, which was founded by the Nordic Resistance Movement (NRM), was located. The channel had accumulated thousands of views for its videos and live streams. A propaganda video made by a media group affiliated with the Rise Above Movement was also found. In both cases, YouTube had previously removed similar content from the groups.
Additionally, a media group affiliated with the Rise Above Movement made a Twitter account and started posting content. A neo-Nazi website was reactivated after being taken down by web services companies. CEP researchers also found the Swiss extreme-right group Junge Tat requesting donations via PayPal. Finally, there were multiple pieces of white supremacist and neo-Nazi content located on Instagram.
Lastly, a video celebrating ISIS-K attacks in Afghanistan and Pakistan were uploaded to a variety of websites. There were multiple pieces of pro-ISIS propaganda found on Telegram's Telegra.ph bulletin board feature.
Account for Finnish Neo-Nazi Website Founded by Nordic Resistance Movement Located on YouTube
On December 9, CEP researchers located a YouTube channel for the Finnish neo-Nazi website Partisaani. The site was founded by the Nordic Resistance Movement (NRM) in May 2020. YouTube has previously suspended NRM channels, however, the Partisaani channel has remained active. The channel was created in April 2020 and had over 22,000 views on December 9, 2021. The YouTube channel has been used to conduct live streams of demonstrations and contains at least one interview with Antti Niemi, the former deputy leader of the NRM in Finland. The Finnish chapter of NRM was banned by the Finnish Supreme Court in September 2020.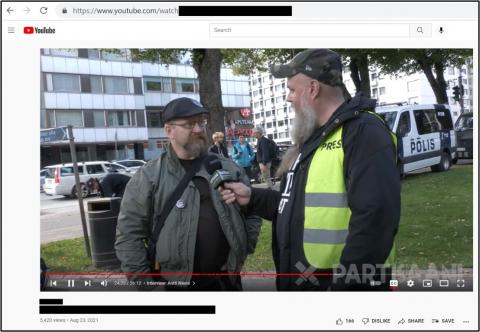 Partisaani interview with former deputy leader of the Nordic Resistance Movement in Finland, Antti Niemi.
Patriot Front Propaganda Video Made by White Supremacist Media Group Located on YouTube
CEP located two uploads on YouTube of a propaganda video on the white supremacist group Patriot Front made by a media project affiliated with the Rise Above Movement. The media project had previously posted multiple videos on YouTube for months before the platform finally took action and removed their channel in March 2021. The two videos were uploaded on August 25, 2021, and December 7, 2021, and had 2,703 and 4,837 views, respectively, on December 9. A large white supremacist Telegram account where the admins claim to be members of the Proud Boys encouraged their followers to upload the documentary to YouTube. There is an alleged Patriot Front YouTube account created in February 2016 (when the group still used the name Vanguard America), however, they do not have any public videos.
Rise Above Movement Affiliated Media Project Creates Twitter Account
A white supremacist media group affiliated with the Rise Above Movement created a Twitter account that began posting content on December 5. The group posted a video of Patriot Front's December 4 demonstration in Washington, links to a documentary about Patriot Front, and a trailer for an upcoming video falsely claiming that the Waukesha parade murders were an anti-white terrorist attack. The Twitter account had approximately 350 followers four days after it began posting content.  
Neo-Nazi Website Returns to Web After Removal
On December 5, a neo-Nazi website returned to the Internet after the web services companies Enom and Tucows allegedly ceased providing services to the site following what they claimed was a complaint from the United Nations Counter-Terrorism Executive Directorate. The site, which initially used a .xyz domain, returned approximately two weeks later with a .net domain. Cloudflare is the site's registrar and name server.
The website has previously advocated for acts of violence, is dedicated to spreading neo-Nazi author James Mason's work, and contains writings by members of the National Socialist Order and several former members of the Atomwaffen Division (AWD). The site lists former AWD members, one member of the neo-Nazi group The Base, and a white supremacist imprisoned for a mail bombing as "prisoners of war."
Extreme-Right Swiss Group Requests Donations via PayPal
On December 6, the Swiss extreme-right group Junge Tat requested donations on Telegram via an individual's PayPal account. Junge Tat has held anti-Muslim, anti-immigrant, and anti-vaccination demonstrations in Switzerland and a joint protest in Belgium with the extreme right-wing Dutch group Schild & Vrienden. Junge Tat's propaganda videos show group members training in combat sports, hiking, and participating in public demonstrations, including one in support of a murdered Swedish neo-Nazi. At least one individual featured in the group's propaganda wore a t-shirt with logos from a clothing brand established and promoted by Rise Above Movement co-founder Robert Rundo. Junge Tat's Telegram channel has over 5,700 followers.
PayPal's Acceptable Use Policy prohibits using the service for "the promotion of hate, violence, racial or other forms of intolerance that is discriminatory." The fundraising message on Telegram was shared by an account belonging to a Rise Above Movement affiliated active club. CEP reported the account to PayPal on December 8, however, it was still online five days later.
White Supremacist and Neo-Nazi Content Located on Instagram
The week of December 5 to December 11, CEP researchers found multiple pieces of white supremacist and neo-Nazi content on Meta-owned Instagram. Content included propaganda videos made by the Atomwaffen Division, content that praised the Christchurch terrorist, a video advertising The Turner Diaries, and content that advocated for the murder of African Americans and journalists. Of the 10 accounts located, three had content removed by December 9. The seven accounts that were still online on December 9 had made their first post of white supremacist content an average of 49 days ago, however, that dropped to 15 days after an outlier was removed. CEP routinely finds extremist content, including white supremacist, antisemitic, and pro-ISIS content on Instagram.
Pro-ISIS Propaganda Video Located on Multiple Websites
On December 8, the pro-ISIS Al Battar Media Foundation released a video celebrating ISIS Khorasan province attacks in Afghanistan and Pakistan. The video included footage and photos from ISIS Amaq news releases and listed recent attacks targeting the Taliban, Shiites, and political leaders. The video was spread on Element/Matrix and RocketChat and was uploaded to at least 16 other websites. Within 24 hours, the video was available on seven websites: Jwp.Io, Gofile.Io, File.Fm, File.Cm, the Internet Archive, the decentralized web platform IPFS, and Transfer.Sh.
Pro-ISIS Propaganda Located on Telegram's Telegra.ph Feature
CEP located multiple pieces of pro-ISIS propaganda on Telegram's Telegra.ph bulletin board feature posted on December 4 and 5. Telegra.ph functions similarly to a bulletin board, allowing users to share content with individuals who do not have Telegram accounts. CEP located two posts made by the pro-ISIS Amjad Media group, which included links to pro-ISIS content on other websites and pro-ISIS news.