For Immediate Release
Monday, September 20, 2021
(New York, N.Y.) — The Counter Extremism Project (CEP) reports weekly on the methods used by extremists to exploit the Internet and social media platforms to recruit followers and incite violence. Over the last week multiple pieces of pro-ISIS, white supremacist, anti-Muslim, and antisemitic content were found on Facebook-owned Instagram. Some had been viewed hundreds of times and even been previously removed, only to be re-uploaded again.
Fascist and neo-Nazi content was found on both TikTok and YouTube. On TikTok, an account posted violent footage from the Christchurch terrorist attack and on YouTube, a podcast was located that promoted violent neo-Nazi accelerationism. Finally, the ISIS-affiliated Amaq news released a new video purportedly showing an attack on an Egyptian military armored vehicle and the pro-ISIS Electronic Horizons Foundation urged their followers to use the open-sourced encrypted Android app Briar.
Pro-ISIS, White Supremacist, anti-Muslim, and Antisemitic Content Located on Instagram
The week of September 12 to September 18, CEP researchers continued to find multiple pieces of pro-ISIS, white supremacist, anti-Muslim, and antisemitic content on Facebook-owned Instagram, including content that directly advocated for violence.
Three Instagram accounts were located that had uploaded clips from previously released official ISIS videos. Clips from the three accounts were posted on September 12, 2021, September 13, 2021, and July 31, 2021, and had 228 views, 242 views, and 137 views, respectively, on September 17. Two videos had ISIS media logos displayed in the frame, while the logo was cropped out of the third video. Two of the videos showed suicide vehicle-borne improvised explosive devices, including an attack on an armored convoy. The third video showed ISIS fighters burning vehicles. A fourth account uploaded a pro-ISIS propaganda photo on September 13, 2021, and had 18 likes on September 17. Two of the four accounts were removed three days after they were reported. It is unclear why two accounts were not removed despite posting ISIS propaganda.
Accounts were also located that posted white supremacist, neo-Nazi, anti-Muslim, and antisemitic content. A tribute account to the Christchurch terrorist was found, which uploaded several photos between May 12, 2021, to August 23, 2021, glorifying the attacker. CEP also located a tribute video containing a song to the Christchurch terrorist, uploaded on August 22. The song advocated for violence against Muslims and included an image taken from the attack video. The same account had also uploaded an antisemitic video that urged violence against Jews. Researchers located two other accounts, one with over 1,300 followers, which posted a propaganda video clip of a well-known neo-Nazi propagandist, photos taken from official ISIS videos, antisemitic photos, and glorification of the 2011 Oslo attacker. An Instagram account with over 200 followers used the last post from the 2018 Pittsburgh synagogue shooter perpetrator as its bio. The content that CEP reported to Instagram was not removed.
Accounts were located that promoted the Atomwaffen Division (AWD), including two profiles that used some variation of the group's name as their user ID and propaganda photos from the group as their account photo. A different account posted a clip from a previously released AWD propaganda video that called for violence and showed the use of firearms, which was uploaded on August 8 and had 14 views on September 17. Another account uploaded a compilation video that contained footage from various propaganda productions made by the Atomwaffen Division, The Base, and other neo-Nazi groups and individuals. The video was online for over one month had approximately 150 views on September 17. The same video had been located by CEP two times previously and had been removed by the platform. Two of the four posts or accounts reported to Instagram were removed three days later. The compilation video remained online despite having been previously removed.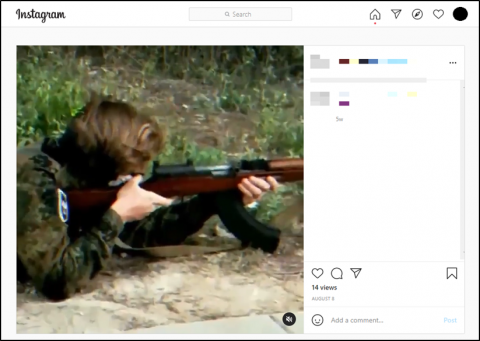 Atomwaffen Division propaganda video located on Instagram.
Extreme Right/White Supremacist Content, Including Content Praising Christchurch Terrorist, Located on TikTok
CEP located numerous pieces of fascist or white supremacist content on TikTok, including violent footage from the Christchurch terrorist attack. CEP researchers found a TikTok account claiming to be affiliated with a Rise Above Movement successor group that uploaded a propaganda video. A video was also located that advertised an antisemitic ecofascist book being sold on Amazon. CEP researchers also located three TikTok videos that glorified the Christchurch attack.
All three videos included photos or artwork depicting the perpetrator of the terrorist attack, and one video, which was added approximately a month and a half ago, included violent footage taken from the attack video. TikTok's Terms of Service prohibit using the platform to "promote…violence or discrimination based on race, sex, religion, nationality, disability, sexual orientation or age."
Extreme Right/Neo-Nazi Content Located on YouTube
CEP located a neo-Nazi podcast that promotes violence and a channel that supports a French fascist group on YouTube. The podcast, which was uploaded to the site on September 12, endorses violent neo-Nazi accelerationism. The notorious American neo-Nazi James Mason has previously been a guest on the show, and the hosts have advocated for their audience to be "active participants in the destruction of society." The podcast is uploaded to YouTube as a private video, which means that users must acquire approval from the uploader to view it. The YouTube podcast link was advertised on Telegram.
The channel belongs to a French-language Telegram account that promotes a fascist street fighting group. The account has approximately 1,300 subscribers and over 115,000 total views and was created in May 2020. Videos uploaded to the channel include footage of French fascists fighting with anti-fascist activists, extreme right-wing protests, content praising the Ukrainian Azov regiment, and videos of individuals training in street fighting skills. The Telegram account affiliated with the YouTube channel promotes European fascist and white supremacist hooligan gangs, political parties, and violence against LGBT people and anti-fascist activists.
ISIS Amaq Video Located on Multiple Websites
On September 13, ISIS-affiliated Amaq News released a video purporting to show an attack with explosives against an Egyptian military armored vehicle. Pro-ISIS propagandists spread the video via RocketChat, Matrix, Telegram, and Hoop. The video was posted on at least ten additional websites but was only available on three websites 24 hours later: File.Fm, the Internet Archive, and the Siasky/Skynet decentralized platform.
Pro-ISIS Tech Group Urges Group's Online Supporters to Use Open-Source Encrypted Application
CEP researchers located a message and video released by the pro-ISIS tech and cybersecurity group, Electronic Horizons Foundation (EHF) that urged their followers to use the open-source encrypted Android app Briar. The group noted that the decentralized nature of the app would prevent content from being deleted and that it could be operated simultaneously with programs that increase online anonymity. The video gave step-by-step instructions for creating an account on the app, running it over the Tor network, and initiating protected conversations with another person. The content was initially released on September 11. EHF was created in 2016 to provide cybersecurity and web technical assistance to ISIS supporters.