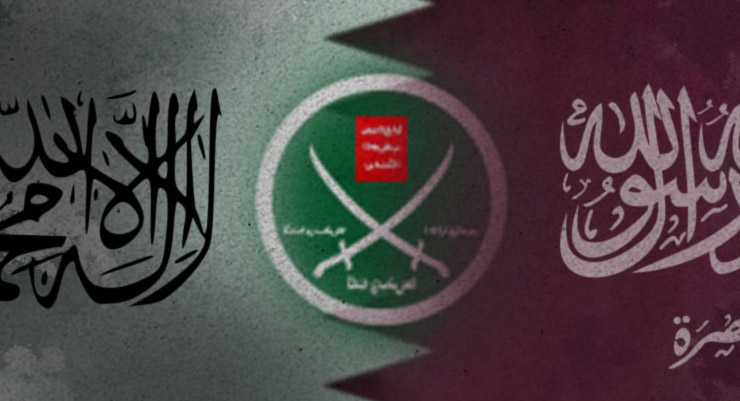 Recently, several Middle East and Gulf countries announced that they were severing ties with Qatar as a result of the country's support for extremism and terrorism. Although Qatar announced that it is preparing to expel several Hamas leaders, the government has previously denied reports that it was expelling Hamas leader Khaled Meshaal, referring to reports as "just rumors" and calling Meshaal a "dear guest" of Qatar...
Daily Eye on Extremism
December 14, 2017
"Hours before Akayed Ullah is alleged to have stepped into a busy Manhattan subway passage, a homemade pipe bomb strapped to his body with Velcro, his wife called him from here to wake him up. The telephone conversation Monday was brief and ordinary — Jannatul Ferdous did not detect any signs that her husband was upset or angry, nor did he say anything memorable. She told him to go to work and hung up…Law enforcement officials in the United States said that Ullah told them he was inspired by propaganda from the Islamic State terrorist group. In recent years, Bangladesh has been shaken by a string of terrorist attacks. In July 2016, more than 20 people were killed at the upmarket Holey Artisan Bakery during a 12-hour siege by militants. A week later, in eastern Bangladesh, four people were killed at a prayer gathering to celebrate Eid al-Fitr, the holiday that ends the holy month of Ramadan. Islamist movements have been active since the country's independence but recently have been resurgent, with militants targeting secular aspects of Bangladeshi society."
The Washington Post: Authorities In Bangladesh Say Manhattan Bombing Suspect Was 'Self-Radicalized'
"ISIS fanatics have threatened to attack the US with 'showers of bullets and explosive vehicles' in online posters showing New York's Police Commissioner James O'Neill as a prisoner. Chilling mocked-up images show the official kneeling before a masked jihadist in Manhattan along with a message 'signed with blood' to 'The Nation of Cross'.  The online ISIS propaganda warns: 'We will do more ops in your land, until the final hour and we will burn you with the flames of war which you started in Iraq, Yemen, Libya, Syria and Afghan. Just you wait. We are waiting too.'Another image shows a jihadist with his boot on Donald Trump's head along with the words: 'Wait for us. The vanguards of the conquerors are coming to you with showers of bullets and fires of the explosive vehicles.'"
Daily Mail: 'We Will Burn You With The Flames Of War': ISIS Threatens To Attack US With 'Showers Of Bullets And Explosive Vehicles' In Posters Showing NYPD Commissioner Kneeling Before Jihadist
"A suicide bomber disguised as a policeman blew himself up inside a police training camp in Somalia's capital Mogadishu on Thursday and killed at least 18 officers, officials said. Police spokesman Major Mohamed Hussein said the attacker strapped explosives to his body and infiltrated the General Kahiye Police Training Academy during an early morning parade. "Police were preparing for the 74th anniversary of police day. As they wanted to start exercise, a suicide bomber came in and blew up himself. We lost 18 police officers and 15 others were injured," Muktar Hussein Afrah, Somalia's deputy police commander, told reporters at the blast scene. "Police will always continue their work despite death." Police earlier put the death toll at 15."
Reuters: Suicide Bomber Kills At Least 18 At Police Academy In Somalia's Capital
"As the U.S. military campaign against Islamic State winds down in the Middle East, the Trump administration is turning its focus to what it sees as a bigger threat: Iran. U.S. officials are wrestling with where and how to repel what they describe as a significant Iranian military expansion across the region, a development of increasing concern in Washington, Tel Aviv and Riyadh. "Our leadership has set as an objective not to allow Iran and its proxies to be able to establish a presence in Syria that they can use to threaten our allies or us in the region," one senior U.S. administration official said. "There are different ways to implement that, and we are still working through them." President Donald Trump's national security adviser, Lt. Gen. H.R. McMaster, is considering giving a policy speech on Syria early next year that would outline the new administration strategy, according to people familiar with his thinking."
The Wall Street Journal: As ISIS Recedes, U.S. Steps Up Focus On Iran
"A young man accused of ramming a car into a crowd of people protesting a white nationalist rally in Charlottesville, Virginia, faces a court hearing Thursday on charges including second-degree murder. James Alex Fields Jr., a 20-year-old from Maumee, Ohio, described as having a keen interest in Nazi Germany and Adolf Hitler, also faces charges including malicious wounding and felonious assault for the crash Aug. 12 that killed one woman and injured dozens of others. It came during a weekend of clashes between white nationalists and counter-protesters that rocked the Virginia college town and renewed national debate over what to do with symbols of the Confederacy."
ABC News: Man Charged In Charlottesville Car Attack Due In Court
"For all of Patrick Stein's life, Southwest Kansas — "God's country," he called it — had looked basically the same. Golden fields, white grain elevators, blue sky. But lately it was starting to look different. "Here come a couple of fucking raghead bitches," Stein announced as he spotted a group of dark-skinned women in long, colorful robes and gauzy scarves walking up the avenue named for the great frontiersman Buffalo Jones. His buddy Dan Day, with whom he had attended a Garden City gun show that day — February 27, 2016 — slowed his truck. Stein, who was sitting in the passenger seat, poked his head out the window, and by the time he spat those last two words — raghead bitches — he was close enough that the women, startled, lifted their eyes toward the vehicle."
New York Magazine: The Plot To Bomb Garden City, Kansas
"Facebook is projected to boost sales by 46 percent and double net income, but make no mistake: It had a terrible year. Despite its financial performance, the social media giant is facing a reckoning in 2018 as regulators close in on several fronts. The main issue cuts to the core of the company itself: Rather than "building global community," as founder Mark Zuckerberg sees Facebook's mission, it is "ripping apart the social fabric." Those are the words of Chamath Palihapitiya, the company's former vice president of user growth. He doesn't allow his kids to use Facebook because he doesn't want them to become slaves to "short-term, dopamine-driven feedback loops."
Bloomberg: 2017 Was Bad For Facebook. 2018 Will Be Worse
Daily Dose
Extremists: Their Words. Their Actions.
Fact:
On December 16, 2014, nine gunmen from the Pakistani Taliban attacked an army-run school in Peshawar, Pakistan, killing 145 people, 132 of them schoolchildren who were systematically lined up and slaughtered.
The Counter Extremism Project acts to shine a light of transparency and accountability on those persons, businesses and institutions that financially underpin the activities of extremist groups.
Learn More