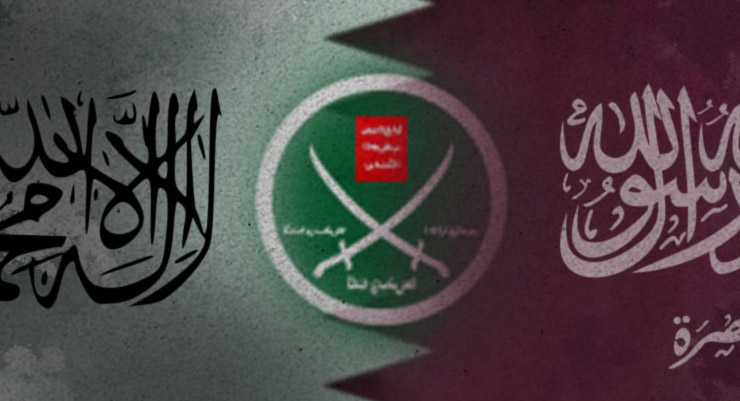 Recently, several Middle East and Gulf countries announced that they were severing ties with Qatar as a result of the country's support for extremism and terrorism. Although Qatar announced that it is preparing to expel several Hamas leaders, the government has previously denied reports that it was expelling Hamas leader Khaled Meshaal, referring to reports as "just rumors" and calling Meshaal a "dear guest" of Qatar...
Daily Eye on Extremism
October 20, 2017
"CIA Director Mike Pompeo on Thursday said ISIS remains an 'enormous threat' despite setbacks the terror group has suffered on the battlefield, including being driven from the group's self-declared capital of Raqqa. 'It is clearly the case that there are terrorists around the world who are intent upon using commercial aviation as their vector to present a threat to the West,' the CIA director said in remarks at the Foundation for Defense of Democracies' National Security Summit in Washington."
CNBC: CIA Director: ISIS Still 'Enormous Threat' Despite Group's Battlefield Setbacks
"American-backed forces have barely begun to clear the land mines from Raqqa after pushing the Islamic State from the city, the de facto capital of its self-declared caliphate. But the militants' defeat there is already setting the stage for a new round of conflict and instability in Syria's long civil war. Fleeing jihadists are already regrouping in remote areas, rearming with the help of desert smugglers. Tensions are brewing over who will ultimately control Raqqa, where American-backed Kurdish and Arab forces declared victory on Tuesday."
The New York Times: As ISIS' Role In Syria Wanes, Other Conflicts Take The Stage
"As US-backed forces this week announced they'd ousted ISIS from its self-declared capital in Syria, the fate of the terror group's reclusive leader, Abu Bakr al-Baghdadi, remains a mystery. Even with a $25 million State Department bounty on his head, Baghdadi has managed to avoid detection from the US coalition, which worked with Syrian Democratic Forces to retake Raqqa. Baghdadi was first declared the leader of the caliphate in June 2014, after ISIS had made considerable territorial gains in Iraq. Shortly after, the first and only footage emerged of Baghdadi leading prayers at the Great Mosque of al-Nuri in Mosul. ISIS later destroyed the historic mosque."
CNN: Where Is The Leader Of ISIS?
"Iraqi forces took control on Friday of the last district in the oil-rich province of Kirkuk still in the hands of Kurdish Peshmerga fighters following a three-hour battle, security sources said. The district of Altun Kupri, or Perde in Kurdish, lies on the road between the city of Kirkuk - which fell to Iraqi forces on Monday - and Erbil, capital of the semi-autonomous region of Kurdistan in northern Iraq that voted in a referendum last month to secede from Iraq against Baghdad's wishes. A force made up of U.S-trained Iraqi Counter-Terrorism Service units, Iranian-backed Popular Mobilisation and Federal Police began their advance on Altun Kupri at 7:30 a.m. (0430 GMT), said an Iraqi military spokesman."
Reuters: Iraqi Forces Complete Takeover Of Kirkuk Province After Clashing With Kurds
"Iranian security forces prevented former president and opposition figure Mohammad Khatami from leaving his Tehran home late Wednesday, local media reported. It was the latest sign that regime hard-liners were seeking to crack down on the country's reformists, activists said. Two opposition-linked news sites said security forces arrived at Khatami's home in the Iranian capital to block him from meeting with political allies, a move that one outlet referred to as 'temporary house arrest.' Khatami, a widely popular, pro-reform cleric, served two terms as president, from 1997 to 2005, but was later banned from public appearances after supporting anti-government protests in 2009."
The Washington Post: Security Forces Reportedly Bar Iran's Popular Ex-President From Leaving His Home
"The Nigerian man serving multiple life sentences for trying to blow up an airliner with a bomb hidden in his underwear has sued the Justice Department, arguing that prison officials are violating his rights by holding him in solitary confinement, restricting his communication with relatives and force-feeding him when he goes on a hunger strike to protest. The prisoner, Umar Farouk Abdulmutallab, is a particularly high-profile terrorist who was prosecuted in civilian court. He tried to blow up a Detroit-bound airplane on Christmas Day 2009 as part of a plot by Al Qaeda's affiliate in Yemen. The device burned his groin but failed to explode, saving the lives of the other 289 people aboard."
New York Times: Underwear Bomber Sues Over Treatment In Supermax Prison
"The world's major internet companies are attending a G7 summit for the first time, in an urgent attempt to draw up tough new rules to counter the dramatic rise in the use of social media by terrorists. These talks with multinationals at the meeting, which began today in Italy, come amid deep concern that the volume of Islamist traffic on tech platforms will increase even more, as Isis tries to compensate for its defeat in Syria and Iraq by instigating attacks in the West online. Global corporations have been invited to the conference at Ischia in the Bay of Naples, which will also consider steps to cope with the impending return of hundreds of European jihadists who went to fight with Isis and al-Qaeda. The issue of internet radicalisation has been taken up to the level of G7 – the governments of the US, UK, Germany, France, Italy, Canada and Japan -- after warnings by counter-terrorism officials of an ongoing Islamist offensive. Earlier this week the head of MI5, Andrew Parker, spoke of Britain facing unrelenting attacks at an unprecedented scale."
Independent: Internet Giants Attend G7 Summit For First Time As World Takes Fight To Extremists Online
"Kurdish female fighters have celebrated in Raqqa this week after the defeat of ISIS militants, whose brutal rule over the city has come to an end after almost four years. When asked what motivated them to dive into one of the fiercest battles against the terror group to date, the women said they did it both for the Kurdish cause and to liberate the women of Raqqa. ISIS ruled the Syrian city with a barbarity that gripped the world, and women in particular experienced an oppression many never thought imaginable. They were forced to cover their bodies head to toe or risk public lashings. ISIS also captured and sold girls and women as sex slaves, particularly Kurdish-Yazidi minority women trafficked into Raqqa from northern Iraq."
CNN: The Women Fighters Who Helped Defeat ISIS In Raqqa
"Yemeni tribal leaders say a suspected U.S. drone strike has killed three alleged al-Qaida fighters in the country's southeastern Bayda province. They say the men were traveling on Thursday in the Soum area when a missile hit their car, engulfing it in flames. They spoke on condition of anonymity for fear of reprisals. Yemen fell into chaos following its 2011 Arab Spring uprising that deposed longtime autocrat Ali Abdullah Saleh, now allied with Shiite rebels from the north who have occupied much of the country and are fighting his successor. A Saudi-led coalition has been battling the rebels and Saleh's forces since March 2015."
The Washington Post: Suspected US Drone Strike Kills 3 Al-Qaida Fighters In Yemen
Daily Dose
Extremists: Their Words. Their Actions.
Fact:
According to an October 2017 report, men with a history of sexual violence and domestic abuse were drawn to ISIS because of the group's systematic use of rape and sexual slavery.
The Counter Extremism Project acts to shine a light of transparency and accountability on those persons, businesses and institutions that financially underpin the activities of extremist groups.
Learn More