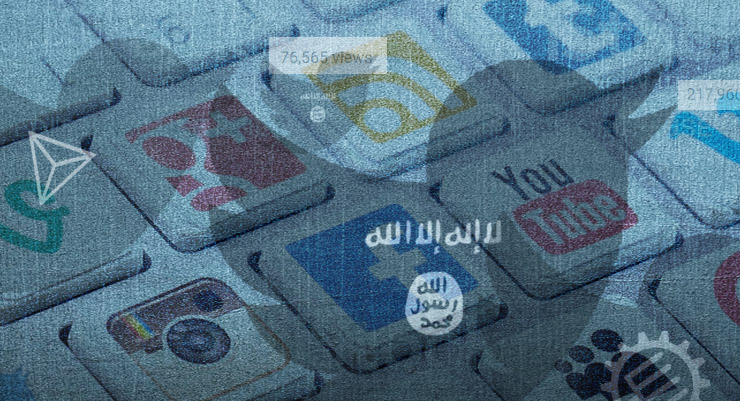 In November 2017, YouTube adopted a policy prohibiting content from al-Qaeda in the Arabian Peninsula propagandist Anwar al-Awlaki. YouTube's decision is a positive step, but there is no shortage of extremist actors and ideologues online. Content featuring other propagandists remains widely available on YouTube and other social media platforms. Content from individuals with links to violent extremist actors should be removed from online platforms...
Daily Eye on Extremism
September 20, 2018
"Foreign terrorist groups and their affiliates had a bad year in 2017 as the United States and other countries fought back against the Islamic State, but Al Qaeda and Iranian-backed militias remain deadly threats, according to an annual government terrorism report that was released on Wednesday. There were 8,584 terrorist attacks around the world in 2017, a 23 percent decline from 2016, according to the State Department report. As a result, more than 18,700 people were killed, about a quarter of whom were the perpetrators themselves. That death toll represented a 27 percent drop from the previous year, the report said. Much of the reason for the decline was the improved security situation in Iraq, according to Ambassador Nathan Sales, the State Department's coordinator for counterterrorism. Still, more than half of all terrorist attacks worldwide took place in just five countries: Afghanistan, India, Iraq, Pakistan and the Philippines. And 70 percent of all deaths from terrorist attacks occurred in a different, if overlapping, set of five countries: Afghanistan, Iraq, Nigeria, Somalia and Syria. The security situation in Afghanistan continued to worsen as a result of coordinated attacks by the Taliban, including the group's affiliated Haqqani network, the report noted. Some of the attacks were planned and launched from safe havens in Pakistan, a source of continuing irritation in relations between Washington and Islamabad."The New York Times: Fewer Attacks, But A More Complex Terrorist Threat In 2017, U.S. Says "The State Department released a report Wednesday identifying Iran as the leading state sponsor of terrorism with a "near-global reach" and accusing it of sending suspected operatives to the United States. The annual Country Reports on Terrorism for 2017 said Iran and the proxy groups it finances were responsible for attacks or attempted attacks in the Middle East, Europe, South America and Africa. "It brings to its terrorist activities the resources of a state," Nathan Sales, the coordinator for counterterrorism, said in a call with reporters. "Iran uses terrorism as a tool of its statecraft," he added. "It has no reservations about using that tool on any continent." The Iranian mission to the United Nations issued a statement denying it supports terrorists and accused the United States of destabilizing the region. "Iran has fought ISIS, al-Qaeda, their various associate and affiliated terror groups and other terrorist groups in our region for decades," the statement said. "The U.S., meanwhile, has destabilized the region at every turn by invading countries under false pretenses, supporting brutal invasions and occupations by its proxy states, and by supporting terrorists across the region."The Washington Post: Terrorism Is Down Worldwide, But State Department Says Iran Maintains 'Near-Global Reach' "A top aide to the leader of the Islamic State was sentenced to death by hanging by an Iraqi court Wednesday, becoming the highest-ranking member of the extremist group to be tried and sentenced in a court of law. Ismail al-Ithawi was part of Abu Bakr al-Baghdadi's inner circle and was responsible for religious edicts, finances and designing the educational curriculum for the Islamic State's once-vast area of control across Iraq and Syria. He is also thought to be the group's only operative in custody to have seen Baghdadi alive last year. Ithawi, who used the alias Abu Zaid al-Iraqi, was captured in a joint operation by Iraqi, U.S. and Turkish intelligence agencies in February and had been providing information to Iraqi authorities, including coordinates for airstrikes on targets in Syria, Iraqi officials said. His capture, along with four other important figures he helped authorities track down, was touted by President Trump in a tweet in May, and experts believed he could help authorities locate Baghdadi. Last month, Baghdadi released an audiotape, apparently intending to prove that he was still alive. Ithawi is the most prominent member of the Islamic State, which is also known as ISIS and at its peak controlled one-third of Iraq, to have faced trial in Iraq and is among more than 300 Iraqis and foreigners, including women, to have been given death sentences."The Washington Post: Deputy To ISIS Leader Baghdadi Is Sentenced To Death By Iraqi Court "The United States has evidence Iran is helping Hezbollah build missile production facilities in Lebanon, a senior official in Washington said Wednesday, though he did not offer proof. "They [Iran] were really able to develop a forward-deployed missile base in Lebanon and are trying to do so in Iraq," U.S. Special Envoy to Iran Brian Hook said. Speaking at an event titled "Iran's Missile Proliferation," Hook cited Tehran's ballistic force as the largest in the Middle East, with more than 10 systems "in its inventory." One of the main concerns of Iran's ballistic capabilities is its "enduring threat to our allies and partners, including Israel," Hook said. Designated by the U.S. to lead the Iran Action Group, Hook is tasked with coordinating the State Department's pressure campaign on Iran. Since taking office, the Trump administration has reversed a thaw in U.S.-Iran relations, withdrawing from a 2015 deal over nuclear activities and sanctions, and ratcheting up pressure over what it sees as Tehran's malign activities in the Middle East. Also Wednesday, the State Department named Iran the world's top state sponsor of terrorism, saying, "Iran and Hezbollah are emerging from the Syria conflict emboldened and with valuable battlefield experience." Throughout his talk, Hook repeatedly discussed Iran's alleged activities in Lebanon."Middle East Eye: Iran Helping Hezbollah Build Arms Factories: U.S. Official "The U.S. government on Wednesday designated two Caribbean nationals as financiers of the Islamic State of Iraq and Syria, (ISIS). The U.S. Department of the Treasury's Office of Foreign Assets Control, (OFAC) took the action against Syria-based, Trinidad-born, US citizen, Emraan Ali and Trinidad-based national, Eddie Aleong. The US action means that all property and interests in property of Ali and Aleong that are subject to U.S. jurisdiction are blocked. U.S. national are also prohibited from engaging in transactions with them. Ali, 51, was designated for acting for or on behalf of ISIS and is accused of being involved in money transfers from Trinidad and Tobago to Syria in support of ISIS."NewsAmericas: U.S. Designates Two Caribbean Born Nationals ISIS Financiers "The European Union is ramping up pressure on Facebook Inc. FB 1.72% to better spell out to consumers how their data is being used or face sanctions in several countries. Věra Jourová, the European Commissioner for Justice, Consumers and Gender Equality, on Thursday warned the U.S. tech firm that if it doesn't change its "misleading terms of service" by the end of the year, that she will call on consumer-protection authorities in EU countries to impose sanctions. "I am becoming rather impatient. We have been in dialogue with Facebook almost two years," Ms. Jourová said at a press conference. "I want to see not progress—that is not enough for me. I want to see results." A spokesman for Facebook said it has made changes to its terms based on regulators. The company "will continue our close cooperation to understand any further concerns and make appropriate updates," he said. At issue for Ms. Jourová was the clarity of Facebook's terms of service. The company updated them in the spring, but Ms. Jourova said they remain insufficiently explicit about how the company monetizes users' data. A spokeswoman for the EU's executive arm said that directing users via hyperlinks to Facebook's "data policy," which gives some more detail on ad targeting, isn't enough for consumers."The Wall Street Journal: EU Demands Facebook Update 'Misleading' Fine Print
Daily Dose
Extremists: Their Words. Their Actions.
Fact:
On July 25, 2018, ISIS kidnapped 14 young girls and women in the predominately Druze city of Sweida in Syria.
The Counter Extremism Project acts to shine a light of transparency and accountability on those persons, businesses and institutions that financially underpin the activities of extremist groups.
Learn More