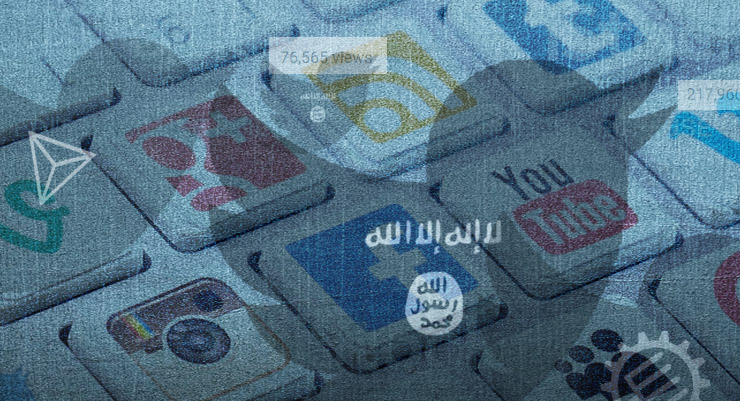 In November 2017, YouTube adopted a policy prohibiting content from al-Qaeda in the Arabian Peninsula propagandist Anwar al-Awlaki. YouTube's decision is a positive step, but there is no shortage of extremist actors and ideologues online. Content featuring other propagandists remains widely available on YouTube and other social media platforms. Content from individuals with links to violent extremist actors should be removed from online platforms...
Daily Eye on Extremism
September 21, 2018
"A deal to create a demilitarized zone in Syria's last opposition stronghold and forestall a regime offensive faces an immediate challenge from terrorist groups there who have signaled their reluctance to abide by the agreement. Hayat Tahrir al-Sham, one of the most powerful armed groups in Syria's Idlib Province, criticized the accord made this week between Russia and Turkey to avert a government offensive. The deal for a demilitarized zone would remove heavy weapons and expel officially designated terrorist groups from a 10-to-12 mile corridor along the front lines by mid-October. Hayat Tahrir al-Sham, which evolved from the al Qaeda-affiliated Nusra Front, sees the plan as a plot to weaken opposition to President Bashar al-Assad's regime. It also suggested that abandoning its weapons would be un-Islamic. "A lot of provisions fall directly in the interest of the murderous regime in Damascus," said the group, known as HTS, through a statement posted by its media arm. "It also entails provisions that deny the revolution's principles and call for the weakening of the revolution and the jihadists through a plan to disarm them."
The Wall Street Journal: Terror Group Puts Plan For Syrian Demilitarized Zone At Risk
"Five years after al-Shabab fighters burst into a luxury shopping mall in Kenya's capital, hurling grenades and starting a days-long siege that left 67 people dead, analysts say the Somalia-based extremist group has been pushed down Africa's east coast as far as Mozambique as its regional threat expands. The assault on Westgate Mall on a sunny weekend afternoon horrified the world and exposed weaknesses in Kenya's security forces after it took them hours to respond. Kenyan President Uhuru Kenyatta promised reforms. Now the government of East Africa's commercial hub is praising itself, saying security forces have effectively limited attacks to areas near the Somali border. "We learnt our mistakes and corrected them," police Inspector General Joseph Boinnet told reporters this week, pointing out real-time intelligence sharing among security agencies. Analysts, however, say few sustainable lessons have been learned while al-Shabab, the deadliest Islamic extremist group in sub-Saharan Africa, has changed its strategy with devastating effects."
Associated Press: 5 Years After Mall Kenya Attack, Al-Shabab's Threat Grows
"Iran continues to wreak havoc in the Middle East by allowing Al Qaeda to maintain a "facilitation base" within the Islamic Republic's borders, according to the U.S State Department's annual Country Reports on Terrorism. The report, released this week, reinforces assessments published in years past that not only does Iran enable Al Qaeda to conduct global operations from within its borders, but also remains "unwilling to bring to justice senior Al Qaeda members residing in Iran and has refused to publicly identify the members in its custody." On the surface, it would seem that Shia-dominant Iran would hardly have an incentive to partner with the Sunni-led Al Qaeda. But analysts are hardly surprised by the findings of the report. "This has been known within the U.S. intelligence community for years. Although Iran and Al Qaeda are at odds in Syria and Yemen, the Iranian regime has allowed this 'core pipeline' to exist since well before Osama bin Laden's death," said Tom Joscelyn, Senior Fellow at the Foundation for Defense of Democracies (FDD), and Senior Editor of the Long War Journal."
Fox News: Iran Allows Al Qaeda Operation Within Its Borders, Says Report
"Brussels-based think tank Centre for European Policy Studies and the Berlin office of the international organization, Counter Extremism Project (CEP) have teamed up to study this NetzDG law, seeing it as a key test for combating extremist online speech. Under the NetzDG, which came into effect at the beginning of 2018, online platforms with more than two million German users face up to €50 million fines if they do not remove "blatant illegal" hate speech and other postings within 24 hours of notification. At the same time, the goal of eradicating extremist content from the Internet remains far off. Just recently, the Counter Extremism Project released a study that shows YouTube's efforts to proactively remove ISIS terrorist content is failing. Some 91 percent of ISIS videos studied were uploaded more than once; 24 percent of terrorist videos remained online for more than two hours. YouTube is losing this game of whack-a-mole with ISIS campaigners. Additional measures are required to fight this alarming phenomenon. Under the NetzDG, tech companies face no obligation to stop re-uploads. Every time the content appears online, it must be flagged and checked again. This is neither efficient nor effective and should prompt the European Commission to implement binding obligations for platforms to work with Europol to build up a comprehensive database of hashes, to prevent re-uploads of known harmful content."
Vocal Europe: Fighting Online Terrorist Speech
"Among the thousands of Afghans who marched through the streets here on Thursday to commemorate Ashura, one of Shiite Islam's holiest days, was an unassuming 24-year-old named Sadiq. Like other Shiites riding on vehicles festooned in green, red and black banners to honor a legendary martyr who was the grandson of the Prophet Muhammad, Sadiq said he was willing to fight to the death to defend his faith. Unlike many of the others, however, he has the battle-hardened skills to do it. Sadiq was among the at least 20,000 Afghan Shiites that have traveled to Syria to fight Islamic State militants and other rebels opposed to President Bashar al-Assad's Iranian-allied regime in recent years. Now back in Afghanistan, he said he and many Shiite veterans of the Syria war are ready to answer the call of community leaders to protect western Kabul's Dashte Barchi neighborhood, home to the largest concentration of the minority in Afghanistan."
The Wall Street Journal: 'Die If Necessary'; Targeted Afghan Minority Prepares To Fight
"Yemen's Houthi rebels are stopping food deliveries from reaching residents of Hodeidah in what is seen as a desperate attempt to ward off a government offensive to retake the vital port city. Dozens of lorries bringing flour from the two ports and government-held areas of Hodeidah province have been prevented from the entering the city in recent days, residents told The National. The lorries are stranded in the Kilo 8 area of the road leading into the city, where the Houthis have set up concrete barriers and planted landmines, residents said. One resident said the rebels were also disrupting flour production at the Red Sea Mills in the Kilo 10 area by preventing employees from going to work. The resulting shortage has pushed up the price of a sack of flour in Hodeidah to 12,000 riyals (about Dh180) from 8,000 earlier. Even so, there was a scramble to buy flour from a lorry that managed to enter the city on Wednesday by travelling along secondary roads."
The National: Yemen's Houthi Rebels Cut Off Food Supplies For Hodeidah Residents
Daily Dose
Extremists: Their Words. Their Actions.
Fact:
On September 21, 2013, between 10 to 15 al-Shabab gunmen attacked Nairobi's Westgate mall, shooting indiscriminately and sparking a four-day siege that left 67 victims dead and 175 others wounded.
The Counter Extremism Project acts to shine a light of transparency and accountability on those persons, businesses and institutions that financially underpin the activities of extremist groups.
Learn More