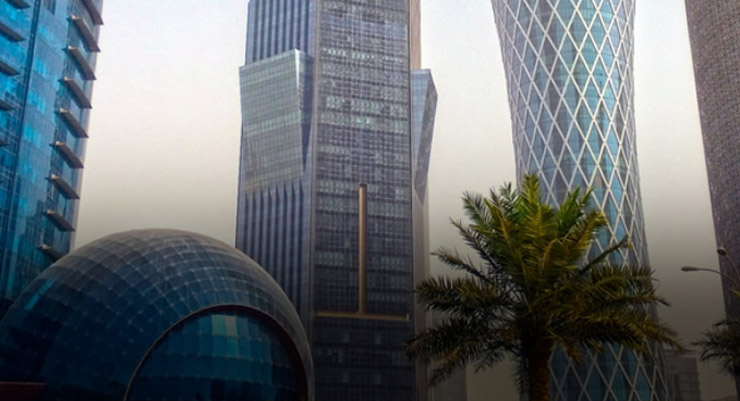 Qatar—a longtime U.S. ally and member of the Global Coalition to Counter ISIS—has supported and harbored international terrorist organizations and individuals. The hydrocarbon-rich Gulf country sends direct financial and material support to internationally-designated terrorist groups such as Hamas and the Nusra Front...
Daily Eye on Extremism
August 18, 2017
"Spain was hit by its worst terrorist attack in more than a decade on Thursday, when a van driver plowed into dozens of people enjoying a sunny afternoon on one of Barcelona's most famous thoroughfares, killing at least 13 people and leaving 80 bloodied on the pavement. Hours later, the Catalan police said they foiled a second vehicular attack, in the seaside town of Cambrils, 70 miles to the south, fatally shooting four people. A fifth died later of wounds, the police said. The suspects appeared to be wearing explosive belts, according to Spanish news reports. Six civilians and one police officer were injured during the episode, the Catalan emergency services said."
The New York Times: Van Hits Pedestrians In Deadly Barcelona Terror Attack
CBS News: Spain Attacks Were "Much More Deliberate": CEP President Fran Townsend Discusses The Chronology Of The Attacks In Spain And  Why It Was More Than "Just Merely Inspired."
"Vehicular Attacks Are becoming one of the most common tools that terrorists use, according to the Counter Extremism Project (CEP). Following on from the tragic incident in Barcelona yesterday where a van rammed into crowds on a busy shopping street, killing 13 and injuring over 80 people, CEP says that since 2006 it has documented 31 terrorist attacks that used vehicles. It also said that it has noticed an increase since 2014 in the number of attacks carried out using vehicles. The CEP is a non-profit body that was originally set up in the US. It now has a base in six American and European cities, including Dublin. Its purpose is to counter extremism in practical ways. It says attacks using vehicles resulted in the deaths of at least 170 people and the injuring of at least 909 others over the past 11 years. According to CEP, the recent increase seems to be largely down to explicit calls from ISIS to use cars as weapons."
The Journal: Vans And Cars Becoming Common Attack Weapon For Terrorists
"IS said the people who carried out the attack were 'soldiers of the Islamic State' who 'carried out the operation in response to appeals targeting coalition countries'. The terror group has advocated and celebrated its supporters using vehicles to target pedestrians. Authorities have struggled with ways to address the potential threat. The Counter Extremism Project has documented 31 other vehicular terror attacks carried out since 2006 that have killed 170 people. It has also documented seven Islamist terror attacks using vehicles in Europe since the July 2016 truck attack in Nice, France which killed 84 people."
The Huffington Post: Barcelona Becomes Latest European City To Suffer Vehicle Terror Attack After Las Ramblas Incident
"While the U.S.-led fight against ISIS in Syria is inching closer to victory, the worst may not be over. Al Qaeda-linked militants continue to make significant advances and maintain territorial control some 150 miles west of the de facto caliphate capital of Raqqa, sweeping through the war-shattered country's province of Idlib. Late last month the extremist faction Hayat Tahrir al Sham (HTS) waged war with more mainstream Ahrar al-Sham, successfully seizing control of most of Idlib and capturing a key border crossing into Turkey. The increasing HTS dominance could see the U.S. dragged further into the conflict, especially given the credible threat Al Qaeda still poses to the U.S. homeland."
Fox News: As US Close To Victory Vs. ISIS In Syria, Al Qaeda Takes Territorial Control
"Counter Extremism Project Executive Director David Ibsen told us companies pay more attention to remove hate- and terrorist-related content after an attack, but are typically "very reluctant" to do so otherwise unless reputations and potential revenue are at risk. YouTube was criticized for years for hosting ISIS- and al Qaeda-related videos, and started using human detection, machine learning and other methods when faced with a "massive advertiser revolt," he said. Ibsen expects tech companies will respond more quickly in removing online content posted by white supremacy and so-called alt-right groups "because it's in the news." He said it's unclear how long that effort will last."
Communications Daily: Charlottesville Spurs Tech Monitoring Of Hate Content; Experts Wonder For How Long
"Iranian authorities have denied the appeal of a Princeton University student who had been convicted on espionage charges and sentenced to 10 years in prison, the university and his wife said on Thursday. Xiyue Wang, a history doctoral student and U.S. citizen who was conducting dissertation research in Iran in 2016 when he was detained by Iranian authorities, was accused by Iran of 'spying under the cover of research,' a claim his family and university deny. 'Iranian authorities have denied Xiyue Wang's appeal of his conviction and 10-year prison sentence for espionage that he did not attempt or commit,' Princeton University said in a statement. 'We are distressed that his appeal was denied, and that he remains unjustly imprisoned.'"
Reuters: Iran Denies Appeal Of Jailed Princeton Student: University
"In the spring of 2015 a Syrian major general escorted a small team of chemical weapons inspectors to a warehouse outside the Syrian capital Damascus. The international experts wanted to examine the site, but were kept waiting outside in their car for around an hour, according to several people briefed on the visit. When they were finally let into the building, it was empty. They found no trace of banned chemicals. 'Look, there is nothing to see,' said the general, known to the inspectors as Sharif, opening the door."
Reuters: Special Report: How Syria Continued To Gas Its People As The World Looked On
Daily Dose
Extremists: Their Words. Their Actions.
Fact:
According to a 2012 Journal of Palestine Studies report, at least 160 children died while working on Hamas's tunnel system, which was used to smuggle weapons and other goods into Israel.
The Counter Extremism Project acts to shine a light of transparency and accountability on those persons, businesses and institutions that financially underpin the activities of extremist groups.
Learn More