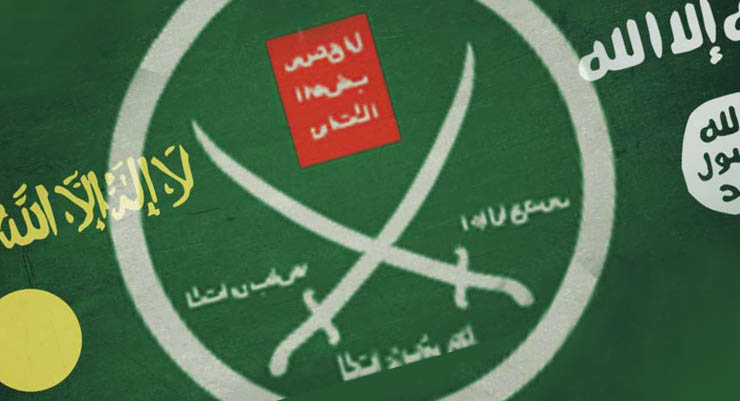 Before ascending to the highest positions of ISIS and al-Qaeda, Abu Bakr al-Baghdadi, Osama bin Laden, and Ayman al-Zawahiri belonged to a common ideological precursor, the Muslim Brotherhood. The trajectories of these three extremist leaders highlight the significant ideological overlap between today's most notorious violent Islamist groups—ISIS and al-Qaeda—and the worldwide Muslim Brotherhood movement...
Daily Eye on Extremism
February 24, 2017
"Governments across Europe have accidentally paid taxpayer-funded welfare benefits such as unemployment funds, disability pensions and housing allowances to Islamic State militants who have used the money to wage war in Iraq and Syria, authorities and terrorism experts say. "It's the critical terror financing issue of the day," said Tom Keatinge, director of the Centre for Financial Crime and Security Studies at the Royal United Services Institute in London. But the eye-catching headline is that a key funder of terrorists attacks in Europe are European governments," he said. "In an increasing number of cases, people are taking money provided to them by their national governments and using it for other than what it's intended for." France is the largest source of Western fighters in Iraq and Syria — an estimated 2,000 as of May last year, according to the Counter Extremism Project, a think tank."
USA Today: European Welfare Benefits Help Fund ISIS Fighters
"The greatest challenge facing the region is the growth of extremism and the recruitment of young people using the internet, according to a British official. Tobias Ellwood, a member of parliament and the UK's parliamentary undersecretary of state at the foreign and commonwealth office for the Middle East and Africa, said that in working with the UAE, his country was trying to encourage other nations to be more aware of the threat posed online. "One of the biggest challenges is the growth of extremism and the poisonous ideology which is challenging the peaceful religion of Islam," he said during a one-day visit to the Emirates."
The National: 'Extremism Online Is Region's Worst Threat', Says British Minister
"The biggest surviving rebel stronghold in northern Syria is falling under the control of al-Qaeda-linked extremists amid a surge of rebel infighting that threatens to vanquish what is left of the moderate rebellion. The ascent of the extremists in the northwestern province of Idlib coincides with a suspension of aid to moderate rebel groups by their international allies. The commanders of five of the groups say they were told earlier this month by representatives of the United States, Saudi Arabia and Turkey that they would receive no further arms or ammunition until they unite to form a coherent front against the jihadists, a goal that has eluded the fractious rebels throughout the six years of fighting."
The Washington Post: 'Al-Qaeda Is Eating Us': Syrian Rebels Are Losing Out To Extremists
"U.S.-backed Iraqi security forces advanced deeper into the western half of Mosul on Friday one day after launching attacks on several fronts toward Islamic State's last main stronghold in the city. Troops had recaptured Mosul airport on Thursday, an important prize in the battle to end the jihadists' control of territory in Iraq. Counter-terrorism forces managed on Friday to fully control the Ghozlani army base, pushing deeper toward the southwestern districts of Tal al-Rumman and al-Mamoun, a military spokesman said. Federal police and an elite Interior Ministry unit known as Rapid Response are clearing the airport of roadside bombs and booby traps left by Islamic State militants who retreated from their positions there on Thursday. Iraqi government forces plan to repair the airport and use it as a base from which to drive the militants from Mosul's western districts, where about 750,000 people are believed to be trapped."
Reuters: Iraqi Forces Push Into First Districts Of Western Mosul
"A Pentagon-led plan to defeat Islamic State, due in draft form by Monday, will look beyond Iraq and Syria to include the threat from jihadists around the world fueling the conflict, America's top general said on Thursday. The remarks by Marine General Joseph Dunford, chairman of the Joint Chiefs of Staff, suggest the preliminary plan will be far broader in scope than initially thought and might initially omit more tactical details, like specific troop requests. 'This is not about Syria and Iraq. It's about trans-regional threat,' Dunford told a think-tank event in Washington, citing other jihadist groups like al Qaeda. 'So, when we go to the president with options, it will be in the context of the trans-regional threat.' Dunford noted U.S. military estimates that Islamic State had drawn 45,000 foreign fighters from more than 100 nations around the world."
Reuters: Pentagon Plan To Defeat Islamic State To Look Beyond Iraq, Syria
"The war against ISIS is entering a tough new phase, as Iraqi fighters with growing U.S. assistance push into western Mosul, warns the senior American commander in Iraq, Lt. Gen. Stephen J. Townsend. 'ISIS is a brutal, brutal enemy,' said Townsend, speaking in Erbil as Iraq's security forces were about to attack Mosul's airport with help from the U.S.-led anti-ISIS coalition. He said west Mosul will be more complex and challenging than the eastern side of the city, which was retaken from the extremists in four months. ISIS has its command center on the west side, along with stores of rockets and car bombs — and an urban geographical advantage."
NPR: A U.S. Commander Works With Iraqi Forces To Fight 'Brutal Enemy' ISIS
"Backed by Turkish air, armor and artillery support, Free Syrian Army forces announced on Thursday the capture Al Bab, a major stronghold of the so-called Islamic State in northern Syria, following a two and a half months of battle. The city had served as the headquarters for ISIS intelligence operations, including terror attacks in Europe in 2015 and 2016. It is also an important stepping stone on the way to Raqqah, the capital of the putative ISIS caliphate. "Al Bab is free and under Free Syrian Army control after intensive operations against Daesh [ISIS]," said Col. Abu Firas, official military spokesman for FSA forces in the Turkish-backed Operation Euphrates Shield. He said operations were now under way to clear the outskirts of the city."
The Daily Beast:The ISIS Stronghold Of Al Bab Falls To Turkish Backed Troops
"The spokesman for Egypt's president on Thursday categorically denied Israeli reports that Egypt has proposed giving up part of the Sinai Peninsula for the Palestinians to set up an independent state. In a statement, Alaa Youssef said the issue has not been discussed or presented 'on any level.' His remarks came at the end of a meeting on Thursday between top commanders of the Egyptian army and police with Egyptian President Abdel-Fattah el-Sissi in Cairo. The reports of establishing a Palestinian state in Sinai were first mentioned by Israeli Minister without portfolio Ayoub Kara (Likud) last Tuesday, causing an outcry in Egypt."
The Times Of Israel: Egypt Denies Any Plans To Give Sinai To Palestinians
"A bomb blast in an upscale shopping center in Pakistan's eastern city of Lahore killed at least 10 people on Thursday, a provincial government spokesman said, the latest attack in a surge of violence that has shaken the country. "It was a bomb blast with a huge sound impact that smashed the windows of almost all the buildings around," said Punjab government spokesman Malik Mohammad Khan. He said the blast caused a huge crater and authorities were investigating the exact "nature and motives" of the blast. Punjab police spokesman Nayab Haider said the explosion was caused by a bomb that was detonated either remotely or by timer. Pakistan has been struck by a wave of militant attacks in recent weeks which have killed at least 130 people. One attack at a Sufi shrine in southern Sindh province killed 90 people."
Reuters: Bomb Kills At Least 10 In Shopping District In Pakistan's Lahore
"When the Pakistan army announced that it was launching a nationwide military operation to 'indiscriminately' eliminate the threat of terrorism from the land, the adverb had a precise and politically loaded meaning. For the first time, after years of appeasing certain Islamist militant groups for political and religious reasons, the government has reluctantly agreed to allow the armed forces to enter Punjab province, authorized with special powers to hunt down, arrest and shoot suspected militants. Punjab is the political stronghold of Prime Minister Nawaz Sharif and his ruling party, the Pakistan Muslim League-N. It is also the home of a variety of Islamist groups, including mainstream religious parties, sectarian movements officially banned for their violent methods, and anti-India militants who have been accused of a 2008 terrorist siege in Mumbai."
The Washington Post: Pakistan Army Launches First Nationwide Anti-Terrorism Operation
"China's Defense Ministry on Thursday dismissed reports Chinese military vehicles were patrolling inside Afghanistan, saying the two countries were only carrying out counter-terrorism operations along their common border. This month, the Central Asia-Caucasus Analyst think tank said in a report on its website that Chinese troops were on Afghan soil conducting joint patrols with their Afghan counterparts. That followed a similar report in an Indian media outlet in November. Defense Ministry spokesman Ren Guoqiang said Chinese public security departments had counter-terrorism cooperation along the China-Afghanistan border."
Voice Of America: China Again Dismisses Reports Of Military Patrols In Afghanistan
"A Coalition of stakeholders committed to restoring peace in the north east under the aegis of Concerned Statesmen and Patriots In Nigeria (COSPIN) has expressed concern over what it described as the role of France in the activities of Boko Haram terrorists in Nigeria. Addressing a press conference yesterday in Abuja, convener of the coalition, Professor Emmanuel Ome said the concern is necessitated by the silence of French authority despite the arrest of its nationals during the raid on ground zero in Sambisa forest by the Nigerian Army. He said France also owes Nigeria and the world an explanation regarding the sighting of its aircraft just across Nigeria's borders with Cameroon, Chad and Niger on numerous occasions by IDPs and victims of Boko Haram attacks."
The Guardian: Stakeholders Worried About France's Role In Fight Against Boko Haram Terrorism
Daily Dose
Extremists: Their Words. Their Actions.
We [Forza Nuova] believe that there is an ontological difference between the races … I say no to non-European immigrants and to the Rom.
The Counter Extremism Project acts to shine a light of transparency and accountability on those persons, businesses and institutions that financially underpin the activities of extremist groups.
Learn More