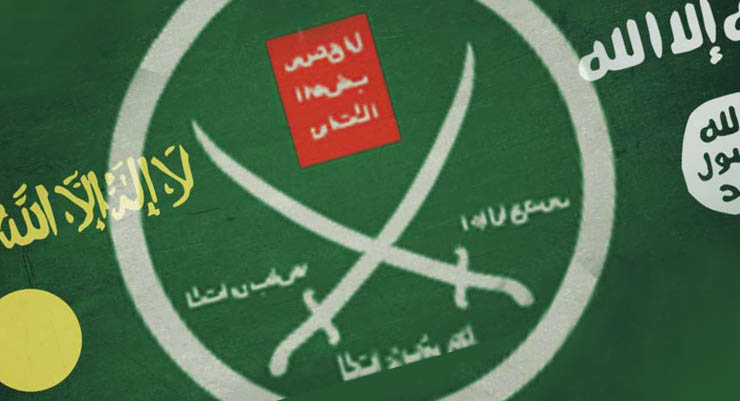 Before ascending to the highest positions of ISIS and al-Qaeda, Abu Bakr al-Baghdadi, Osama bin Laden, and Ayman al-Zawahiri belonged to a common ideological precursor, the Muslim Brotherhood. The trajectories of these three extremist leaders highlight the significant ideological overlap between today's most notorious violent Islamist groups—ISIS and al-Qaeda—and the worldwide Muslim Brotherhood movement...
Daily Eye on Extremism
February 21, 2017
ABC Radio News: CEP Spokesperson Tara Maller Discusses Leaks Of Classified Information And Other National Security Topics With Connell Mcshane On The Imus In The Morning Program.
"The Iraqi offensive to retake the western half of Mosul has begun, Prime Minister Haidar al-Abadi announced Sunday. The long-awaited assault comes just over a month after Iraqi forces largely cleared Islamic State militants from the districts east of the Tigris River in the major Iraqi city. 'We announce the start of a new phase in the operation, we are coming Nineveh to liberate the western side of Mosul,' Abadi said in a televised speech. Using a common Arabic acronym for ISIS, Abadi added: 'Our forces are beginning the liberation of the citizens from the terror of Daesh.'"
NPR: Iraq Opens Offensive On Western Mosul In New Push To Reclaim ISIS Stronghold
"The new weapon in the ISIS arsenal isn't on the battlefield -- but above it. New propaganda videos from ISIS appear to show armed drones dropping explosives on Iraqi troops with dead-center accuracy. As the militant group loses ground in Iraq it has been using drones with increasing levels of sophistication. Iraqi TV correspondent Abdul Hameen Zebari was wounded by an armed drone while travelling with Iraqi forces in Mosul. ISIS drones have also been used to deadly effect as surveillance, guiding car bombs through Mosul's narrow streets, straight to Iraqi troop positions. Federal police commander General Ali al Lami said his troops are constantly on the lookout."
CBS News: ISIS Drones Pose Another Danger As Iraqi Troops Push For Western Mosul
"President Trump said Monday that Army Lt. Gen. H.R. McMaster — a noted writer and intellectual who headed up a unit dedicated to anticipating future military challenges — will be his new national security adviser, replacing the dismissed Michael Flynn. 'You're going to do a great job,' Trump told McMaster as he made the announcement at his Mar-a-Lago estate in Palm Beach, Fla. After a weekend of job interviews, Trump called McMaster 'highly respected by everyone in the military, and we're very honored to have him.' McMaster is stepping into a job occupied for less than a month by Flynn, who was one of Trump's closest campaign advisers last year and a lightning rod for criticism because of his provocative comments about Islam and his 2014 firing as head of the Defense Intelligence Agency."
USA Today: Trump Appoints Lt. Gen. H.R. Mcmaster His New National Security Adviser
"Rebel factions in Syria that backed recent peace moves say an intensification of government attacks has put the current truce in jeopardy. They warn that they reserve the right to respond to recent bombings of areas around Damascus, Homs and the south. The rebels describe the attacks as a 'bloody message' from President Bashar al-Assad's government. This comes just days before UN-sponsored talks are due to start in Geneva, Switzerland. The UN envoy to Syria, Staffan de Mistura, has played down hopes for the talks on 23 February."
BBC: Syria Conflict: Rebels Warns Truce May Collapse After Attacks
"Saudi Arabia and Israel both called on Sunday for a new push against Iran, signaling a growing alignment in their interests, while U.S. lawmakers promised to seek new sanctions on the Shi'ite Muslim power. Turkey also joined the de facto united front against Tehran as Saudi and Israeli ministers rejected an appeal from Iranian Foreign Minister Mohammad Javad Zarif for Sunni Gulf Arab states to work with Tehran to reduce violence across the region. While Saudi Arabia remains historically at odds with Israel, their ministers demanded at the Munich Security Conference that Tehran be punished for propping up the Syrian government, developing ballistic missiles and funding separatists in Yemen."
Reuters: Saudi Arabia, Israel Present De Facto United Front Against Iran
"The so called Blind Sheik, Omar Abdel-Rahman, who was convicted of plotting terror attacks in New York City in the decade before 9/11 has died in a federal prison. He was 78. Abdel-Rahman, blind since infancy from diabetes, had diabetes and coronary artery disease, died Saturday at the Federal Correction Complex in Butner, North Carolina, said its acting executive assistant, Kenneth McKoy. The inmate spent seven years at the prison medical facility while serving a life sentence. "We are saddened by your departure, father," the cleric's daughter, Asmaa, tweeted in Arabic. Abdel-Rahman was a key spiritual leader for militants and became a symbol for radicals during his decades in U.S. prisons, where his captivity inspired plots, protests and calls for violence. The only person charged in the U.S. in the Sept. 11, 2001 attacks, Zacarias Moussaoui, had said he was training for a mission to fly a jet into the White House if the government refused to free Abdel-Rahman."
Washington Post: "Blind Sheik" Guilty Of 1990s Terror Plots Dies In US Prison
"A new video posted by ISIS reportedly shows a team of suicide car bombers — including one smiling Brit — driving Mad Max-style death-mobiles towards an Iraqi army base, moments before blowing themselves up. The footage, posted by the Islamic State's Amaq News Agency, shows a British-born fighter named Abu Zakariya al-Britani grinning from ear to ear as he sits in one of the four car bombs used in a deadly attack near Mosul on Monday, Al-Masdar News reports. Another fighter, who also looks happy as can be, can be seen cheerfully pointing to the camera and saying something in Arabic before he shuts the driver's door and pulls off."
New York Post: Footage Shows ISIS Fighters Smiling Before Suicide Attack
"An Islamic State affiliate released a video Monday vowing that Egyptian Christians are their 'favorite prey,' showing images of a suicide bomber who killed nearly 30 people inside a packed Cairo church in December. 'God gave orders to kill every infidel,' one of the militants carrying an AK-47 assault rifle says in the 20-minute video. The video shows footage of Egypt's Coptic Christian Pope, Christian businessmen, judges and priests who either speak of the need to protect the minority or use derogatory terms to refer to Egypt's Muslim majority. The narrator says Christians were no longer 'dhimmis,' a reference to non-Muslims in Islam who enjoy a degree of state protection. Instead, the group describes the Christians as 'infidels' who are empowering the West against Muslim nations."
Fox News: ISIS Egypt Affiliate: Christians Are Our 'Favorite Prey'
"German Chancellor Angela Merkel on Saturday said Europe's ties with Russia remained challenging, but it was important to work with Russia in the fight against Islamist terrorism. 'The joint fight against Islamic terrorism is one area where we have the same interests and we can work together,' Merkel said in a speech to the Munich Security Conference, where U.S. Vice President Mike Pence was in the audience. Merkel, who has been critical of a U.S. ban on travel from seven Muslim-majority countries, underscored that Islam itself was not the source of terrorism. She said it was critical to include Muslim countries in the fight against Islamist terrorism."
Reuters: Merkel Calls For Joint Efforts With Russia To Battle Islamist Terrorism
"Somalia's new president visited victims wounded by the Mogadishu car bomb that on Sunday killed 34. President Mohamed Abdulahi Mohamed also offered a $100,000 reward for information leading to the arrest of those who planned the blast. Many of the dead were carried away by their relatives soon after Sunday's blast in the western part of Mogadishu, said Capt. Mohamed Hussein. "It was a horrific and barbaric attack only aimed at killings civilians," he said from the scene of the blast. Ambulance driver Sabriye Abdullahi said some of the injured victims died on their way to the hospitals. "Many of them suffered extensive third-degree burns and others were burned beyond recognition," he said."
CBC News: Blast In Somalia Kills 34 In Mogadishu Marketplace
"The four women lay dazed on the beds of the clinic. The face of one of them was burnt. Another broke her leg during the Nigerian army offensive against Boko Haram Islamists in their village. Civilians have often been collateral damage in the conflict that has raged in remote northeast Nigeria for nearly eight years, leaving at least 20,000 dead and more than 2.6 million homeless. The women wait for their wounds to heal in the suffocating heat. "Boko Haram fighters would come to their village to steal food and hide," a nurse explained. "The army went there and put the women in a truck to evacuate them. "The military set the village on fire, so the insurgents couldn't hide anymore. But the fire 'jumped' in the truck." The women, with their heads covered and gold nose rings in the tradition of the ethnic Kanuri group, still look terrified."
Daily Mail: Civilians In The Crossfire Of Boko Haram And The Military
"By the time he was 17, Fahyim Sabur had memorized the Quran. At 23, he was shunning calypso parties and giving private Arabic lessons in his neighborhood here in Enterprise, about 20 miles south of Port of Spain, the capital of Trinidad and Tobago. A year later, he was on the battlefield in Syria, where he died fighting for the Islamic State. "He never spoke to me about it," said his father, Abdus Sabur, 56, who sells meat patties on the street. "National Security called me one day and told me, 'Your son is dead.' " Law enforcement officials in Trinidad and Tobago, a small Caribbean island nation off the coast of Venezuela, are scrambling to close a pipeline that has sent a steady stream of young Muslims to Syria, where they have taken up arms for the Islamic State, also known as ISIS or ISIL."
New York Times:  Trying To Stanch Trinidad's Flow Of Young Recruits To ISIS
"Bill Gates says it's time to redirect some of the money the world spends on weapons to prepare for a looming threat: terrorists with pathogens. He's warning that the threat of bio-terrorism is 'right up there with nuclear war and climate change.' Gates spoke at the Munich Security Conference in Germany on Saturday, and an abridged transcript of his speech was published by Business Insider. The billionaire Microsoft (MSFT, Tech30) co-founder turned philanthropist has invested heavily in health initiatives around the globe, and now he's speaking out in the hopes of spurring more investment in vaccines and medical research."
CNN: Bill Gates Warns The World To Prep For Bio-Terrorism
Daily Dose
Extremists: Their Words. Their Actions.
America plans to preserve [ISIS] so that Muslims will continue to need the Americans, and in reality they have turned this into leverage.
The Counter Extremism Project acts to shine a light of transparency and accountability on those persons, businesses and institutions that financially underpin the activities of extremist groups.
Learn More