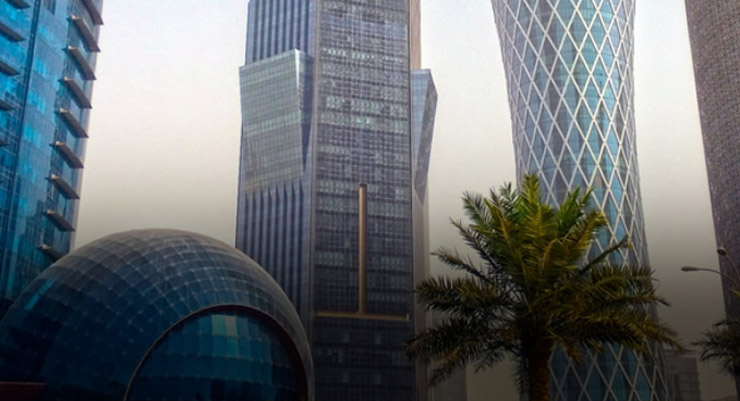 Qatar—a longtime U.S. ally and member of the Global Coalition to Counter ISIS—has supported and harbored international terrorist organizations and individuals. The hydrocarbon-rich Gulf country sends direct financial and material support to internationally-designated terrorist groups such as Hamas and the Nusra Front...
Daily Eye on Extremism
June 23, 2017
"The United Arab Emirates and allied security forces maintain a secret network of prisons in Yemen where dozens and perhaps hundreds of people are detained, routinely abused and in some cases severely tortured, according to separate reports released Thursday by Human Rights Watch and the Associated Press. The investigation by the AP also found that forces from the United States, a close counterterrorism ally to the UAE, had participated in interrogations of prisoners in Yemen. American forces had been 'yards' away from a facility where torture took place, one Yemeni security officer told the news agency."
The Washington Post: Beatings, Shocks And 'The Grill': Reports Allege Torture In Secret Prisons Run By United Arab Emirates In Yemen
"At its core, the dynamic behind the rift with Qatar is that while the small Gulf nation has the finances to engage in regional political escapades, it is geographically and demographically insulated from any domestic unrest or blowback. Qatar's diplomatic forays, therefore, are potentially high impact but extremely low risk—at least, until last week. Qatar has the highest GDP per capita in the world, a population of 2.5 million—less than twelve per cent of which are Qatari citizens—and enormous financial capabilities. It has used its finances to acquire a mammoth portfolio of trophy real-estate assets across Europe, and in the UK alone has pumped more than $38 billion into the real-estate market."
Newsweek: The Problem With Qatar's Foreign Policy—It Backed The Wrong Side
"Facebook is launching a UK initiative to train and fund local organisations to combat extremism and hate speech. It comes a week after the social network announced steps of its own to remove terrorist-related content from its site. The UK Online Civil Courage Initiative's initial partners include Imams Online and the Jo Cox Foundation. Facebook has faced criticism for being slow to react to terrorist propaganda on its platforms. 'The recent terror attacks in London and Manchester - like violence anywhere - are absolutely heartbreaking,' said Facebook's chief operating officer, Sheryl Sandberg."
BBC News: Facebook Launches Initiative To Fight Online Hate Speech
"The U.S. military said on Thursday it carried out an air strike in Yemen that killed Abu Khattab al Awlaqi, the emir for al Qaeda in the Arabian Peninsula's Shabwa province, along with two other militants. 'Al Awlaqi was a senior leader responsible for planning and conducting terrorist attacks against civilians,' the U.S. military's Central Command said in a statement. 'He had significant influence throughout AQAP's terrorist stronghold, had ties and access to the group's other senior leaders, and was implicated in planning and leading efforts to exacerbate instability in southern Yemen.'"
Reuters: U.S. Military Says Kills Al Qaeda Leader In Key Yemen Province
"With Iraqi forces close to retaking full control of the city of Mosul, so-called Islamic State (IS) is about to lose its last - and largest - urban bastion in Iraq. Elsewhere in Iraq, though, the jihadist group still controls a number of towns. IS designates Tal Afar as part of its self-titled "Jazeera Province", which encompasses areas to the west of Mosul, near the Syrian border. Tal Afar was a hub for Sunni Muslim militancy long before the group's arrival. Its Shia population, including a large number of ethnic Turkmen, suffered attacks that gave rise to inter-communal tensions and provided ripe conditions for an effortless IS takeover in 2014. In addition, Tal Afar's strategic location near the Syrian border was ideal for the movement of IS militants and weapons, and this soon led to it becoming one of the group's headquarters in Iraq."
BBC: After Mosul: The Iraqi Towns Still Under IS Control
"Saudi Arabia and other Arab countries that have cut ties to Qatar issued a steep list of demands Thursday to end the crisis, insisting that their Persian Gulf neighbor shutter Al-Jazeera, cut back diplomatic ties to Iran and close down a Turkish military base in Qatar. In a 13-point list — presented to the Qataris by Kuwait, which is helping mediate the crisis — the countries also demand that Qatar sever all ties with the Muslim Brotherhood and with other groups including Hezbollah, al-Qaida and the Islamic State group. The Associated Press obtained a copy of the list in Arabic from one of the countries involved in the dispute."
Time: Arab Neighbors Demand Qatar Shutter Al-Jazeera And Cut Ties With Iran To End Diplomatic Row
"European leaders struck by a wave of terror attacks are putting added pressure on technology companies including Facebook Inc., Twitter Inc. and Alphabet Inc.'s Google to weed out extremist content spread with social media, and to make their data available to law enforcement authorities. Technology companies were instructed to develop methods that automatically detect and remove content that may incite violence. 'Industry has its own responsibility to help combat terrorism and crime online,' the bloc's 28 governments said in a statement during a summit in Brussels on Thursday. 'This should be complemented by the relevant legislative measures at EU level, if necessary.'"
Bloomberg: Facebook, Google Face Legal Pressure To Curtail Extremism
"Two years ago, there were approximately 64,000 uploaded videos on YouTube of Anwar al-Awlaki who is directly responsible (ask the FBI) for inspiring and radicalizing almost every perpetrator of an American terrorism act. One year ago, by my count, that number was slighter lower (@62,000). According to the Counter Extremism Project (CEP) (
www.counterextremism.com
) as of June 5, 2017 the number of al-Awlaki videos was up to 80,300. So much for Mr. Walker's assertion that YouTube has been removing violent content for years. CEP has done everything in its power over four years to convince YouTube's management to utilize eGLYPH software developed by one of the great pioneers of anti-child porn and anti-extremist content, Dr. Hani Farid of Dartmouth. eGLYPH software is able to 'fast track' at warp speed the identification of patently violent extremist content."
The Huffington Post: Google's New Anti-Extremist Policy Is Thin Gruel Against Terrorism
"FBI agents and New York City police officers arrested a would-be Islamic State terrorist attempting to travel to Syria on Wednesday after catching him in a months-long sting operation. Saddam Mohamed Raishani (also known as Adam Raishani), 30, of the Bronx, N.Y., was arrested at John F. Kennedy International Airport and charged with 'attempting to provide material support to the Islamic State of Iraq and al-Sham.' Law enforcement officials became aware of Raishani after he contacted an individual who was acting as a confidential source for law enforcement in January, according to a Department of Justice statement."
The Daily Caller: FBI Nabs Would-Be ISIS Terrorist In Sting Operation
"The head of Iran's atomic energy organisation, one of the architects of the 2015 landmark nuclear deal, has warned the US to stop upsetting the regional balance of power by siding with Saudi Arabia. Writing in the Guardian, Ali Akbar Salehi said 'lavish arms purchases' by regional actors – a reference to the Saudi purchase of $100bn of US arms during Donald Trump's recent visit to Riyadh – would be seen as provocative in Tehran and that it would be unrealistic to expect Iran to remain 'indifferent'. Salehi, an MIT graduate scientist who has also served as foreign minister, was the second most senior Iranian negotiator, dealing with technical aspects, during nearly two years of talks between Tehran and six of the world's major powers that led to the final nuclear accord in Vienna in July 2015."
The Guardian: Iran Nuclear Chief Warns US Over Support For Saudi Arabia
Daily Dose
Extremists: Their Words. Their Actions.
Fact:
On December 16, 2014, Pakistani Taliban fighters killed more than 150 people, including 134 children, during the Peshawar school massacre in northwestern Pakistan.
The Counter Extremism Project acts to shine a light of transparency and accountability on those persons, businesses and institutions that financially underpin the activities of extremist groups.
Learn More