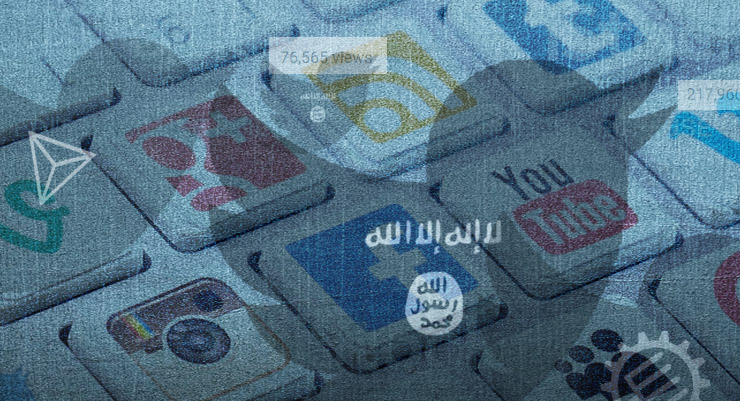 In November 2017, YouTube adopted a policy prohibiting content from al-Qaeda in the Arabian Peninsula propagandist Anwar al-Awlaki. YouTube's decision is a positive step, but there is no shortage of extremist actors and ideologues online. Content featuring other propagandists remains widely available on YouTube and other social media platforms. Content from individuals with links to violent extremist actors should be removed from online platforms...
Daily Eye on Extremism
August 17, 2018
"Hostile forces in the Middle East are targeting American pilots with laser pointers at a growing rate, imperiling aircrews and reflecting a problem more widespread and longstanding than the Pentagon has previously acknowledged. American pilots operating in Syria, Iraq and Afghanistan, the three most prominent conflict zones for American troops, experienced most of the more than 350 lasing incidents reported over the last seven months by aircrews operating across the Middle East, officials at U.S. Air Forces Central Command in Qatar said. That is a significant increase from the approximately 400 lasing incidents reported for the region during all of 2017, according to officials, and marks an upswing after a decline in recent years. Lasing attacks appear to be an easy way for enemy combatants to harass and try to distract military pilots, both in planes and helicopters."
The Wall Street Journal: Laser Beam Attacks Bedevil U.S. Military Pilots In Mideast
"The al Qaeda bomb master behind a 2009 attempt to blow up an airliner over Detroit on Christmas Day may have been killed, according to a UN team that tracks terrorist groups. The UN report says that Ibrahim al-Asiri, long regarded as one of the most dangerous terrorist operatives in circulation, may have been killed in Yemen last year. "Since mid-2017, the organization has suffered losses of leadership and field commanders owing to extensive Yemeni and international counter-terrorist operations," said a June report by the Analytical Support and Sanctions Monitoring Team. "Some Member States report that explosives expert Ibrahim al-Asiri ... may have been killed during the second half of 2017. Given al-Asiri's past role in plots against aviation, this would represent a serious blow to operational capability." The UN report gave no indication of how al-Asiri died or who may have been responsible and is the only public indication of his possible death. But multiple US officials in different parts of the government tell CNN they are weighing evidence that al-Asiri is dead. The US military and CIA, in addition to Saudi Arabia and United Arab Emirates, have conducted counterterrorism strikes to root out al Qaeda and other terrorists in Yemen. None of these countries have publicly declared that they struck the bombmaker."
CNN: First On CNN: Al Qaeda's Master Bomb Maker May Be Dead, UN Says
"Hafeez Nawaz was 20 years old when he left his religious school in southern Karachi to join the Islamic State group in Afghanistan. Three years later he was back in Pakistan to carry out a deadly mission: with explosives strapped to his body, he blew himself up in the middle of an election rally last month, killing 149 people and wounding 300 others. The attack in southwestern Baluchistan province near the Afghan border just days before Pakistan's July 25 parliamentary elections has cast an unwelcome spotlight on Nawaz's tiny village of Dhabeji, where the presence of an IS cell in their midst has brought the full weight of Pakistan's security apparatus down on its residents. "Now we are all under suspicion," said Nawaz's neighbor, who gave only his first name, Nadeem, for fear of the local police. "The security agencies now consider Dhabeji a security threat area." Nawaz's trajectory from religiously devout student to jihadi and suicide bomber is an all too familiar one in Pakistan. Since battlefield successes routed the Islamic State group from its strongholds in Syria and Iraq, hundreds of Pakistanis who traveled to join the extremists' so-called "caliphate" are unaccounted for and Pakistan's security personnel worry that they, like Nawaz, have gone underground waiting to strike. Sitting in his office in a compound surrounded by high walls and heavily armed guards, Karachi's counterterrorism department chief, Pervez Ahmed Chandio, said IS is the newest and deadliest front in Pakistan's decades-old war on terror."Associated Press: IS Deadly New Front In Pakistan's Decades-Old Terror War "The meeting with the world's most wanted man took place at a secret location in the barren hinterland of eastern Syria, at the heart of Islamic State's shrinking realm. The gaunt, ailing figure who entered the long hall with bricked-up windows in May 2017 was a shadow of the man hailed as a modern-day caliph by his thousands of followers as they waged war in Iraq and Syria, fracturing those two nations and drawing the U.S. and its allies into protracted Middle East conflicts. Abu Bakr al-Baghdadi, the then 45-year-old leader of Islamic State, raised a hand and greeted his confidants. Among them was an Iraqi named Ismail al-Eithawi."The Wall Street Journal: Islamic State's Elusive Leader Held Secret Meeting As Iraqi Stronghold Crumbled "Hundreds of Google employees, upset at the company's decision to secretly build a censored version of its search engine for China, have signed a letter demanding more transparency to understand the ethical consequences of their work. In the letter, which was obtained by The New York Times, employees wrote that the project and Google's apparent willingness to abide by China's censorship requirements "raise urgent moral and ethical issues." They added, "Currently we do not have the information required to make ethically-informed decisions about our work, our projects, and our employment." The letter is circulating on Google's internal communication systems and is signed by about 1,400 employees, according to three people familiar with the document, who were not authorized to speak publicly."The New York Times: Google Employees Protest Secret Work On Censored Search Engine For China
Daily Dose
Extremists: Their Words. Their Actions.
Fact:
On August 17, 2017, 22-year-old Younes Abouyaaqoub drove a van into pedestrians in Barcelona, Spain, killing 13 people and injuring at least 130 others. ISIS claimed responsibility for the attack.
The Counter Extremism Project acts to shine a light of transparency and accountability on those persons, businesses and institutions that financially underpin the activities of extremist groups.
Learn More