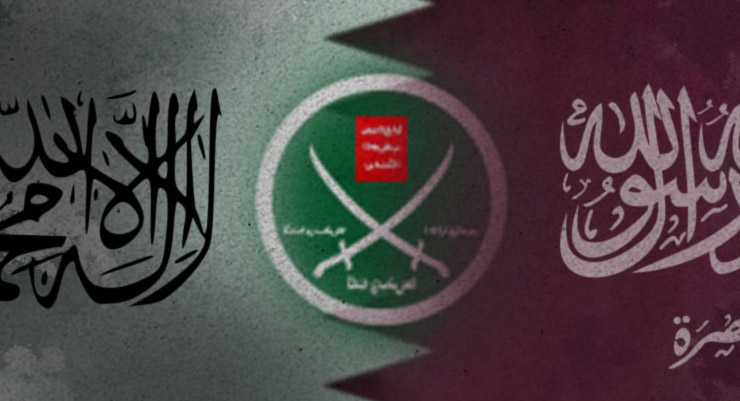 Recently, several Middle East and Gulf countries announced that they were severing ties with Qatar as a result of the country's support for extremism and terrorism. Although Qatar announced that it is preparing to expel several Hamas leaders, the government has previously denied reports that it was expelling Hamas leader Khaled Meshaal, referring to reports as "just rumors" and calling Meshaal a "dear guest" of Qatar...
Daily Eye on Extremism
November 22, 2017
"The U.S. military said it killed more than 100 Islamist militants in Somalia on Tuesday when it launched an air strike against al Shabaab, an al Qaeda-linked insurgent group that wants to topple the U.N.-backed government. The military's Africa Command said the strike was carried out on a camp 125 miles (201 km) northwest of the capital, Mogadishu and that the United States would continue to target militants. The strike was done in coordination with Somalia's federal government, the Pentagon said. U.S. air strikes killing such a large number of militants in Somalia are rare, but not unprecedented. In March 2016, a U.S. air strike killed more than 150 al Shabaab fighters in Somalia. Somalia's state news agency SONNA reported late on Tuesday that "about 100 militants" were killed when U.S. planes and Somali commandos attacked al Shabaab bases in the Bur Elay area of Bay region. Al Shabaab spokesman Abdiasis Abu Musab denied the attack. "It is just...propaganda," he told Reuters in Somalia."
Reuters: U.S. Says Air Strike Kills Over 100 Militants In Somalia
"The suspect in New York's deadliest terror attack since 9/11 was indicted Tuesday on murder and terror-related charges, the US Attorney's office for the Southern District of New York said. Sayfullo Habibullaevic Saipov, 29, is charged with killing eight people and injuring a dozen others as he drove a pickup truck down a bicycle path near the World Trade Center on Halloween. The 22-count indictment charges Saipov with eight counts of murder in aid of racketeering, 12 counts of attempted murder in aid of racketeering, one count of providing and attempting to provide material support to ISIS and one count of violence and destruction of a motor vehicle. He was arrested after the truck hit a school bus, stopping it in its tracks. He exited the vehicle and an officer shot him. Saipov came to the United States from Uzbekistan in 2010. Earlier this month, he was charged with providing material support to ISIS, and with violence and destruction of motor vehicles."
CNN: New York Terror Attack Suspect Indicted On 22 Charges
"Iraqi officials have increased the death toll from a suicide attack in a contested town claimed by Baghdad and the Kurdish region to 36 people, up from 32. Police and health officials said Wednesday that 11 members of Iraq's security forces were among the dead in the powerful explosion a day earlier in a marketplace in Tuz Khormato when a suicide bomber blew up his explosives-laden truck. He said 85 others were wounded. The officials spoke on condition of anonymity as they were not authorized to release information. No group has immediately claimed responsibility for Tuesday's attack. The town is about 210 kilometers (130 miles) north of Baghdad. The top U.N. envoy to Iraq, Jan Kubis condemned the attack Wednesday as "cowardly tactics against innocent civilians" and described those behind it as "terrorists."
Washington Post: Death Toll From Iraq Suicide Attack Rises To 36 People
"France has aligned itself with the US and Israeli position that the Hezbollah terrorist organization, which has created a state within a state in southern Lebanon and is attempting to run the country, must disarm. Hezbollah, which lost hundreds of fighters in the Syrian civil war, is estimated to have 150,000 rockets in its arsenals in southern Lebanon. In a daily briefing to journalists, a spokeswoman for the French Foreign Ministry said that "France's demands on Hezbollah are well known." "In accordance with the relevant Security Council resolutions, we are waiting for Hezbollah to disarm and act as a party that respects the full sovereignty of the Lebanese state, and we believe that Lebanon's stability requires Hezbollah to distance itself from tensions in the region," the spokeswoman added."
Arutz Sheva: France: Hezbollah Must Disarm
"Prime Minister Benjamin Netanyahu spoke Tuesday with Russian President Vladimir Putin by phone about a ceasefire deal in the Syrian civil war and Iranian presence near Israel's borders with the war-torn country, the Prime Minister's Office said. The conversation was the latest in a series of high-level contacts between Israel and Russia, amid a dispute between the countries over allowing Iran and Shiite militias backed by Tehran to maintain a foothold near in Syria near the Israeli border. "The conversation lasted about half an hour and dealt with Syria, and Iran's attempt to entrench itself in Syria," Netanyahu's office said in a statement. "Netanyahu insisted on Israeli security and reiterated his opposition to Iran's entrenchment in Syria."
Times Of Israel: Netanyahu Presses Putin On Keeping Iran Out Of Syria
"A group of lawmakers on Monday called on Treasury Secretary Steve Mnuchin to take a tougher stance on the terrorist group Hamas in Qatar. In a letter addressed to Mnuchin, 19 members of Congress from both parties expressed concern that a joint statement earlier this year from Mnuchin and Qatari officials about cracking down on terrorist financiers did not address Hamas. "As state sponsors of terror such as Iran renew their financial support for Hamas, it is critical that the United States isolate and counter Hamas by cutting the terrorist organization at its source," the lawmakers wrote. "We must have clear and verifiable steps to crack down on financial support for all terrorist organizations, especially Hamas," the lawmakers wrote. Earlier this year, four Middle East nations imposed a blockade against Qatar over allegations of funding terrorism, as well as its relations with Iran."
The Hill: Lawmakers Call On Treasury To Take Tougher Stance On Hamas In Qatar
"Yemen's Shiite Houthi rebels said they will keep working to develop their ballistic missile technology to target Saudi Arabia after an attempted missile attack earlier this month on Riyadh's airport. In a statement carried by Houthi-controlled Al Masirah television, rebel spokesman Mohammed Abdulsalam criticized an Arab League statement issued in Cairo that accused Iran of destabilizing the Middle East and condemned Lebanon's Iranian-backed Hezbollah as a terrorist organization. Abdulsalam said the rebels don't recognize the Cairo communique and said their response will come on the battlefield. He urged rebel forces, confronting a Saudi-led coalition in a civil war that started more than 2 1/2 years ago, to continue to develop their ballistic missiles to "hit the enemy in its own territory." He called the Saudi government the most "destructive danger to peace and stability in the region." Abdulsalam also congratulated the Syrian and Iraqi governments for the defeat of Islamic State in their territories."
Bloomberg: Yemen's Houthi Rebels Say They Will Keep Trying To Strike Saudis
"Lebanese Prime Minister Saad Hariri said Wednesday he was holding off on submitting his resignation at the request of President Michel Aoun, another startling turn in a crisis that thrust his country back into the middle of a regional power struggle between Iran and Saudi Arabia. The capital Beirut erupted in celebrations, with marching crowds and convoys of cars and motorcycles pouring into the streets of downtown. Supporters chanted "Saad! Saad! Saad!" while beating drums and waving the flags of Lebanon, Saudi Arabia and the prime minister's political party—the Future Movement. Mr. Hariri made his surprise statement shortly after he attended Lebanese Independence Day celebrations, acting in his role as the head of government despite his announcement on Nov. 4 that he was resigning his post. "I offered my resignation to the president who hoped that I would hold off handing it in so that we can discuss the reasons and the background behind it," he said from the presidential palace after meeting Mr. Aoun. "I said I will comply with this wish," he added, according to a statement carried by the state-run National News Agency."
Wall Street Journal: Lebanese Prime Minister Saad Hariri Puts Resignation On Hold
Daily Dose
Extremists: Their Words. Their Actions.
O youths! O sons of Islam! What will cleanse our sins? What will purify our mistakes? And what will clean our dirt? It will not be washed except with the blood of martyrdom, and know that there is no path except this path.
The Counter Extremism Project acts to shine a light of transparency and accountability on those persons, businesses and institutions that financially underpin the activities of extremist groups.
Learn More