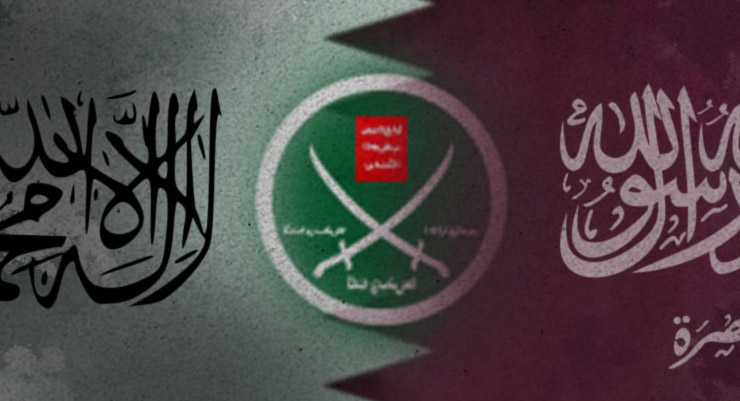 Recently, several Middle East and Gulf countries announced that they were severing ties with Qatar as a result of the country's support for extremism and terrorism. Although Qatar announced that it is preparing to expel several Hamas leaders, the government has previously denied reports that it was expelling Hamas leader Khaled Meshaal, referring to reports as "just rumors" and calling Meshaal a "dear guest" of Qatar...
Daily Eye on Extremism
November 17, 2017
"Raqqa, the de facto capital of the Islamic State, is taken and in ruins. U.S. troops and civilian aid workers are in the Syrian city, helping local officials restore basic services such as food, water and electricity. But the recapture of ISIS-held territory in Iraq and Syria is only a partial win for U.S. policy. After seven years of civil war, the regime of Syrian President Bashar Assad remains in power. The other U.S. objectives — the end of Assad, a new Syrian constitution and democratic elections — remain unfulfilled. Despite the defeat of ISIS, Defense Secretary James Mattis told reporters this week that U.S. forces will remain in Syria. The intention, he said, is to prevent the appearance of "ISIS 2.0." There are hundreds of U.S. troops in Syria. Pentagon officials say the U.S. is on solid legal ground to be there because the U.N. Security Council endorsed the anti-ISIS mission. But Russian Foreign Minister Sergei Lavrov says the U.S. presence is "illegitimate."
NPR: Pentagon Says It's Staying In Syria, Even Though Isis Appears Defeated
"Iraqi forces captured the border town of Rawa, the last remaining town under Islamic State control, on Friday, signaling the complete defeat of the group's self-proclaimed caliphate. The capture of the town marks the end of Islamic State's era of territorial rule over a so-called caliphate that it proclaimed in 2014 across vast swathes of Iraq and Syria. Iraqi forces "liberated Rawa entirely, and raised the Iraqi flag over its buildings," Lieutenant General Abdul Ameer Rasheed Yarallah said in a statement from the Joint Operations Command. Rawa borders Syria, whose army declared victory over the militants on Nov. 9, after seizing the last substantial town on the border with Iraq. "With the liberation of Rawa we can say all the areas in which Daesh is present have been liberated," a military spokesman said, referring to Islamic State by an Arabic acronym. Iraqi forces will now focus on routing militants who fled into the desert and exert control over Iraq's borders, he said."
Reuters: Iraqi Forces Recapture Last Islamic State-Held Town
"Islamic State has claimed responsibility for an attack that killed at least seven people in the Afghan capital on Thursday, the group's official news agency Amaq said, without providing any evidence. "A suicide bomber from Islamic State detonated his explosive vest at a gathering of members of the 'Gameaya Islamiya' in the middle of Kabul city," Amaq said in a statement."
Reuters: Islamic State Claims Afghanistan Blast, Without Giving Evidence - Amaq
"The head of Israel's armed forces revealed Thursday he's willing to work with fellow Middle Eastern U.S. ally Saudi Arabia to thwart the interests of their common foe, Iran, which has been vying for influence in the region. In his first-ever interview with an Arabic-language newspaper, Lieutenant General Gadi Eisenkot, chief of staff of the Israeli military, said he viewed the majority-Jewish state and ultraconservative Sunni Muslim kingdom as natural allies due to their mutual enmity for revolutionary Shiite Muslim Iran. Israel has labeled Iran an existential threat, and Tehran's growing influence across the Middle East and beyond has also outpaced Saudi Arabia's own efforts to dominate the region, establishing an informal axis between the U.S., Israel and Saudi Arabia that's gone largely unspoken until now. "In this matter, there is complete agreement between us and the Kingdom of Saudi Arabia, which was never one of our enemies nor have they fought us nor have we fought them, and I think there is a complete consensus between us and them in regards to the Iranian axis," Eisenkot told London-based pan-Arab newspaper Elaph."
Newsweek: Israel Says It Wants To Work With Saudi Arabia To Defeat Iran
"A jury heard closing arguments on Thursday in the federal government's case against Ahmed Abu Khatallah, who is accused of conspiring to organize the 2012 attack on a U.S. diplomatic compound in Benghazi, Libya, that killed U.S. Ambassador Christopher Stevens and three other Americans. Khatallah, the first defendant to face criminal charges in connection to the Benghazi attack, is on trial for 18 counts, including murder and providing material support to terrorists. He has pleaded not guilty to all of the charges. He was captured in 2014 by U.S. military and FBI officials in Libya and transported to the United States aboard a Navy vessel. A second person alleged to be involved, Mustafa al-Imam, made his first court appearance earlier this month."
Reuters: U.S. Jury Hears Closing Arguments In Trial Of Alleged Benghazi Attack Organizer
"Violence and ethnic and political unrest in the Democratic Republic of the Congo have propelled the country to the same level of crisis as Iraq, Syria and Yemen. Cholera is raging at a rate never before seen in DRC and nearly 4 million people have been displaced from their homes by fighting, a quarter of them from the conflict-hit Kasai region alone. The UN refugee agency, the UNHCR, which revealed last month that the situation had been declared a "level-three emergency", the highest grade of crisis, has warned that those numbers are likely to rise in the coming weeks. "With widespread militia activities, and unrest and violence fuelled by ethnic and political conflict affecting many areas, the risk of further displacement is high," said UNHCR spokesperson Adrian Edwards. "The challenges of getting aid to people in need are growing fast."
Guardian: Congo Crisis On A Par With Iraq, Syria And Yemen – And Getting Worse By The Day
"Philippine troops shelled positions held by a small group of pro-Islamic State militants in southern marshland on Friday, as the military pushed on with a new offensive after the country's biggest urban battle in decades. The army estimated 2,000 villagers had been displaced by several days of operations in a region straddling two provinces on the island of Mindanao, as the army went after the Bangsamoro Islamic Freedom Fighters (BIFF), a small and splintered rebel group inspired by Islamic State. The latest operation follows the end last month of what was the Philippines' biggest battle since World War Two, in which troops took five months to crush an alliance of Islamic State loyalists including BIFF fighters in Marawi City. The occupation of the city by the militants and their dogged resistance spread alarm in the region about the rise of extremism and radical aspirations to create an Islamic State caliphate."
Reuters: Shelling, Air Strikes As Philippine Troops Hunt Militants In Marshland
"A propaganda poster released by a pro-Islamic State group this week called on followers to attack the Vatican on Christmas, the SITE Intelligence Group disclosed. The image from the Wafa Media Foundation shows a car driving into St. Peter's Basilica, an Italian Renaissance church in Vatican City. Lettering on the poster says the attack should take place on Christmas. Experts said it's unlikely ISIS forces could enter Rome or the Vatican anytime soon, as the group recently was defeated militarily and driven out of its strongholds in Iraq and Syria. But its propaganda machine continues to go strong, and the group is increasingly turning to lone-wolf supporters to take up its violent cause around the world. With this in mind, experts say it's important to take seriously the threat against the Vatican."
Newsweek: Will ISIS Attack The Vatican On Christmas?
Daily Dose
Extremists: Their Words. Their Actions.
America was forced to flee Iraq defeated and humiliated, while it is still stuck in the quagmire that is Afghanistan, in spite of the admission of its former President, Obama, of the defeat of his country at the hands of the forces of the Islamic Emirate.
The Counter Extremism Project acts to shine a light of transparency and accountability on those persons, businesses and institutions that financially underpin the activities of extremist groups.
Learn More