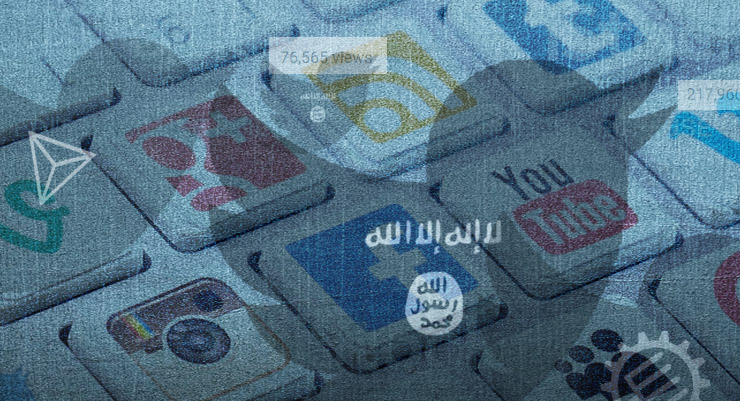 In November 2017, YouTube adopted a policy prohibiting content from al-Qaeda in the Arabian Peninsula propagandist Anwar al-Awlaki. YouTube's decision is a positive step, but there is no shortage of extremist actors and ideologues online. Content featuring other propagandists remains widely available on YouTube and other social media platforms. Content from individuals with links to violent extremist actors should be removed from online platforms...
Daily Eye on Extremism
September 24, 2018
"A video circulating on the ISIS-affiliated Amaq News Agency claims to show three of the four assailants accused of carrying out a deadly terrorist attack on an Iranian military parade. CNN cannot verify the authenticity of the video, which Amaq said it "obtained" and published a day after the attack that killed 29 people and wounded 70 others. The video shows three men in military fatigues speaking to a camera inside a vehicle. None of them directly mention Saturday's attack in Ahvaz, Iran, nor do they say they're acting on behalf of ISIS, which has claimed responsibility for the attack but has not provided evidence to support that claim. Two of the men in the video speak Arabic and the third speaks Farsi. They offer short "goodbyes," thank God and call on those watching the footage to pray for them. "God willing, I'm going to die," says the man who speaks Farsi, claiming a "very strong guerrilla operation" will destroy the Islamic Revolutionary Guard Corps."
CNN:ISIS Video Claims To Show Attackers Of Iranian Military Parade
"Brazilian police arrested a fugitive who the United States accuses of being the financier for the Lebanese group Hezbollah. Assad Ahmad Barakat was arrested in Foz de Iguazu, a city in the border region between Brazil, Argentina and Paraguay, according to police. In 2004, the US Department of the Treasury said Barakat was one of the most influential members of Hezbollah, which the US considers to be a "terrorist" organisation, and accused him of using his businesses in the tri-border area as fronts for raising funds for the group. According to the Counter Extremism Project, an NGO, Barakat arrived in Paraguay in the mid-1980s having fled Lebanon during the country's bloody civil war, and was also involved in planning Hezbollah's military operations - including the 1994 bombing of the AMIA Jewish community centre in Buenos Aires."
Al Jazeera:Hezbollah 'Financier' Arrested In Brazil
"As Syria's seven-year civil war enters a climactic phase, the Trump administration is grappling with how to address the emerging political dynamics. President Bashar al-Assad has retaken control of most of Syrian territory, and experts said there is almost no chance that rebel groups will topple him or change the course of the war. But this week, Russia and Turkey proposed a demilitarized zone to stop a military offensive that Mr. Assad had planned against Idlib Province, the last major rebel enclave in Syria. Even a delay in the rampage would buy time for the United States to help draw up new strategies for dealing with Syria if it definitively falls under Mr. Assad's rule. At next week's meeting of the United Nations General Assembly, heads of state and top diplomats are expected to discuss how to protect Idlib's residents from Mr. Assad and, ultimately, end the civil war. President Recep Tayyip Erdogan of Turkey, who has opposed Mr. Assad and deployed Turkish troops to Idlib, is scheduled to speak at the annual forum on Tuesday, as is President Hassan Rouhani of Iran, one of the Syrian government's most loyal allies. President Trump will also address the world body that day. He has repeatedly threatened to withdraw American troops from Syria, where they are fighting the Islamic State in the country's east."
The New York Times:U.S. Weighs Next Steps As Syria's Civil War Enters Climactic Phase
"Moscow will bolster Syria's air defence with a S-300 system and jam radars of military planes striking from off the coast of the Mediterranean following the downing of a Russian plane, its military chief said. Defence Minister Sergei Shoigu said that President Vladimir Putin has ordered additional security measures after a Syrian Soviet-era S-200 air defence missile shot down a Russian military plane by mistake, killing 15, in an incident last week that Moscow blames on Israel. "This has pushed us to adopt adequate response measures directed at boosting the security of Russian troops" in Syria, Shoigu said in a televised statement. "(Russia will) transfer the modern S-300 air defence system to the Syrian armed forces within two weeks."
Arab News:Russia To Send Modern S-300 Missile Defense Systems To Syria
"NPR's Renee Montagne speaks with Becca Lewis of the research institute Data & Society about her recent study on right-wing influencers on YouTube. RENEE MONTAGNE, HOST: YouTube, like other major social networks Facebook and Twitter, is a place for influencers - people who forge personal relationships with devoted, mostly young fans. They use those relationships to market their favorite brands, exercise routines and makeup tricks. A new report by the think tank the Data & Society foundation tracked connections among a group of political influencers. BECCA LEWIS: The thing that they were selling was not a product or service. It was ideology - and in some cases, far-right ideology and open white nationalism."
NPR:Alternative Influence: Broadcasting The Reactionary Right On YouTube
Daily Dose
Extremists: Their Words. Their Actions.
Fact:
On July 2, 2017, Nigerian-based Boko Haram terrorists killed 9 people and kidnapped 39 women in N'Galewa village, located in the Diffa region of Niger.
The Counter Extremism Project acts to shine a light of transparency and accountability on those persons, businesses and institutions that financially underpin the activities of extremist groups.
Learn More