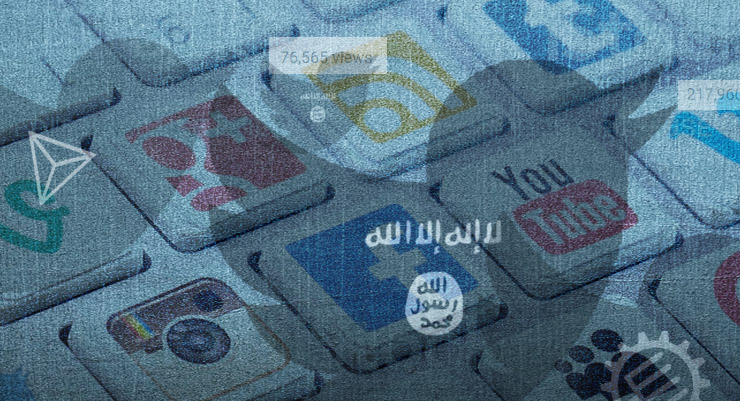 In November 2017, YouTube adopted a policy prohibiting content from al-Qaeda in the Arabian Peninsula propagandist Anwar al-Awlaki. YouTube's decision is a positive step, but there is no shortage of extremist actors and ideologues online. Content featuring other propagandists remains widely available on YouTube and other social media platforms. Content from individuals with links to violent extremist actors should be removed from online platforms...
Daily Eye on Extremism
September 19, 2018
"Islamic State is staging a resurgence in chaotic Libya, claiming more than a dozen attacks in the North African country this year and threatening to disrupt the flow of oil from one of the world's most significant suppliers. The group's re-emergence comes two years after Libyan forces backed by U.S. air power dislodged the extremist group from its stronghold in the coastal city of Sirte, and it erodes one of the signature victories in the yearslong U.S.-led military campaign against the militants. The latest attack came last week when gunmen wearing explosive vests and carrying assault rifles stormed Libya's state oil company, one of the country's most important and heavily guarded institutions. Explosions shook the building and two employees died in the assault. One official said he shut himself in his office and began praying. "I saw my own coffin," the official said. U.S. forces have kept up a steady barrage of strikes targeting Islamic State fighters in the country, including a drone strike in late August that killed a group member in Bani Walid, southeast of the capital, Tripoli, according to the U.S. Africa Command, which oversees American military operations in the country. Islamic State currently has between 400 and 750 members in Libya, an AFRICOM spokesman said recently."
The Wall Street Journal: Islamic State's Deadly Return In Libya Imperils Oil Output
"Israeli Prime Minister Benjamin Netanyahu and Russian President Vladimir Putin sought to defuse a crisis on Tuesday after Syrian defences mistakenly downed a Russian warplane after Israeli air strikes. The incident late Monday was the deadliest known case of friendly fire between Syria and its key backer Russia since Moscow's game-changing 2015 military intervention. Putin said it was the result of "tragic accidental circumstances". The Ilyushin plane dropped off the radar over the Mediterranean after Turkey and Russia announced a deal that offered millions of people reprieve from a threatened military assault in northern Syria's Idlib province. The deadly chain of events started when Israeli missiles struck the coastal region of Latakia."
Sunday Times: Netanyahu And Putin Defuse Crisis After Syria Downs Russia Warplane
"The exercise mats of the Maiwand wrestling club in Afghanistan's capital are still stacked up in the yard and its walls spattered with blood after a double suicide bombing killed 30 people here two weeks ago. Outside, workmen are placing heavy concrete barriers in anticipation of another such attack. Nearby, inside a tent covered with posters of revered Shiite figures, six volunteer guards plan their night patrol in Dasht-i-Barchi, the heart of Kabul's Shiite community — one that is increasingly under siege. Now it is the Islamic month of Muharram, a sacred time for the Shiites that peaks Thursday with Ashura, marking the death of revered Shiite martyr Hussein in 680 A.D. It is also a date favored by the extremist Islamic State group to unleash terrorist attacks against a community it sees as heretical. "We don't have guns, only sticks and flashlights, but if we see a suspected suicider, we are all ready to run and hug him tightly. That way if he explodes, he will kill only one person instead of many," said Ali Hassan, 22, one of the guards. These informal self-protection measures reflect the growing fear, desperation and anger at the government among Kabul's Shiites, most of them minority ethnic Hazaras, after a dozen terrorist attacks this year on Shiite mosques, education centers and other sites in the capital have killed 180 people and wounded more than 400. They are not the only ones worried. The rise in insurgent attacks across the country has all Afghans feeling increasingly insecure."
The Washington Post: Kabul Braces For Attacks During Shiite Holiday As Rising Violence Convulses Afghanistan
"The execution of a kidnapped aid worker and the apparent death of a senior factional leader have sparked fears of an upsurge in Boko Haram violence in northeast Nigeria. The International Committee of the Red Cross (ICRC) on Monday announced that one of its employees, midwife Saifura Khorsa, had been killed after more than six months in captivity. That followed reports last week that hardliners in the Boko Haram splinter group Islamic State West Africa Province (Iswap) had killed their de facto leader, Mamman Nur. Recent weeks have seen a marked increase in Iswap attacks on the military, which security analysts tracking the conflict said was a sign of renewed strength and organisation. But sources with a deep knowledge of Iswap activities and talks with the government said it also followed the death of Nur, who was allegedly killed because of his more moderate approach."
Times: 'Hardline Takeover' Blamed For Latest Boko Haram Violence
"YouTube provides a breeding ground for far-right radicalisation, where people interested in conservative and libertarian ideas are quickly exposed to white nationalist ones, according to a report from Data & Society. Although YouTube's recommendation algorithms are partly to blame, the problem is fundamentally linked to the social network of political influencers on the platform and how, like other YouTube influencers, they invite one another on to their shows. The report describes an "alternative influence network" of about 65 scholars, media pundits and internet celebrities promoting a range of rightwing political positions, from mainstream conservatism to overt white nationalism. They are broadly united by their reactionary position: an opposition to feminism, social justice and leftwing politics and present themselves as an underdog alternative to the mainstream media."
The Guardian: YouTube's 'alternative Influence Network' Breeds Rightwing Radicalisation, Report Finds
Daily Dose
Extremists: Their Words. Their Actions.
Fact:
On July 25, 2018, ISIS kidnapped 14 young girls and women in the predominately Druze city of Sweida in Syria.
The Counter Extremism Project acts to shine a light of transparency and accountability on those persons, businesses and institutions that financially underpin the activities of extremist groups.
Learn More