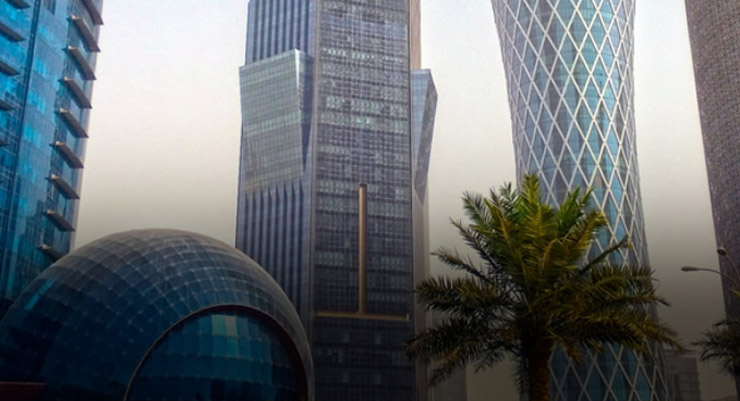 Qatar—a longtime U.S. ally and member of the Global Coalition to Counter ISIS—has supported and harbored international terrorist organizations and individuals. The hydrocarbon-rich Gulf country sends direct financial and material support to internationally-designated terrorist groups such as Hamas and the Nusra Front...
Daily Eye on Extremism
June 22, 2017
"As the bloody battle to retake Mosul from the Islamic State ground on for months, with losses in lives and infrastructure piling up, soldiers and civilians kept in their minds an image of what victory would look like: capturing the historic, and symbolic, Al Nuri Grand Mosque and its distinctive leaning minaret. It was there, in the summer of 2014, that the Islamic State leader, Abu Bakr al-Baghdadi, ascended a pulpit and declared a caliphate after his fighters took control of Mosul and swept through other parts of northern Iraq and Syria. It was the last time Mr. Baghdadi was seen in public. On Wednesday night, with the terrorist group on the cusp of losing control of Mosul and with it its claim to a caliphate straddling the border of Iraq and Syria, Islamic State fighters packed the building with explosives and took it down."
New York Times: ISIS Destroys Al Nuri Mosque, Another Loss for Mosul
"A Canadian man yelled "Allahu akbar" before he allegedly stabbed a police officer at the Flint, Michigan, airport in what the FBI is investigating as a terrorist act, officials said. Amor Ftouhi, 49, has been charged with violence at an international airport, acting US Attorney Daniel Lemisch said in a statement. He had his initial court appearance late ednesday afternoon and will remain in custody pending a full detention hearing next week, a US District Court official said. Ftouhi could face up to 20 years in prison and more charges could be added, officials said. It wasn't immediately clear whether Ftouhi had an attorney. On Wednesday morning, Ftouhi arrived to Flint's Bishop International Airport carrying two bags. For about 40 minutes he lingered in the airport's public areas -- including a restaurant and a bathroom where he dropped his bags -- before the attack, a criminal complaint said."
CNN: FBI Investigating Officer's Stabbing At Flint Airport As Terrorism
"Advertisers will pull hundreds of millions of pounds in spending from Google and Facebook this year over concerns about ads running next to inappropriate content such as extremist sites and fake news. Sir Martin Sorrell's GroupM, which buys more than $75bn (£60bn) of advertising space on behalf of clients globally, has slashed its growth prediction for UK digital advertising and has blamed some of the adjustment on an advertiser backlash over the inability of Silicon Valley giants to stop ads appearing around inappropriate content."
The Guardian: Google And Facebook 'Will Lose Millions In Ads Over Extremism Fears'
Fox News:
CEP Spokesperson Tara Maller discusses the latest information surrounding the stabbing of a police officer that is being investigated as an act of terrorism in Flint, Michigan.
"The United States military has spilled its blood, spent immense amounts of cash and even dropped a munition called the 'Mother of All Bombs' in an effort to root out Islamic State's affiliate in Afghanistan. But despite these efforts, the Islamic State-Khorasan problem in Afghanistan is 'not getting better,' Chief Pentagon spokeswoman Dana White told VOA Wednesday in her first sit-down, on-camera interview since joining the Pentagon team. 'It's not getting better in Afghanistan in terms of ISIS. We have a problem, and we have to defeat them and we have to be focused on that problem,' White said."
Voice Of America: Pentagon: Islamic State Problem 'Not Getting Better' In Afghanistan
"Trump administration officials, anticipating the defeat of the Islamic State in its de facto Syrian capital of Raqqa, are planning for what they see as the next stage of the war, a complex fight that will bring them into direct conflict with Syrian government and Iranian forces contesting control of a vast desert stretch in the eastern part of the country. To some extent, that clash has already begun. Unprecedented recent U.S. strikes against regime and Iranian-backed militia forces have been intended as warnings to Syrian President Bashar al-Assad and Tehran that they will not be allowed to confront or impede the Americans and their local proxy forces."
The Washington Post: U.S. On Collision Course With Syria And Iran Once De Facto Islamic State Capital Falls
"Boko Haram, the Nigerian militant Islamist group that has slaughtered tens of thousands in recent years, appears to have struck again. The group is suspected of carrying out an attack on a huge police convoy on a major highway in northeast Nigeria, killing at least two people—one police officer and a truck driver. The militants used anti-aircraft guns and other heavy weapons, witnesses told Nigerian newspaper Vanguard. The attack comes despite the claim made in December 2016 by Nigerian President Muhammadu Buhari—currently in the U.K. on sick leave—that the group, which has ties with the Islamic State militant group (ISIS), was 'done for' as a fighting force in the Lake Chad Basin, an area that borders Nigeria, Cameroon, Chad and Niger."
Newsweek: Boko Haram: Since Nigeria's President Buhari Said Militants Were Finished, They Have Launched 50 Attacks
Daily Dose
Extremists: Their Words. Their Actions.
Be perfect in your choice of targets, so that you may damage your enemies more. Be professional in your choice of weapons. It is not necessary that it should be a military tool. If you are able to pick a firearm, well and good; if not, the options are many.
The Counter Extremism Project acts to shine a light of transparency and accountability on those persons, businesses and institutions that financially underpin the activities of extremist groups.
Learn More