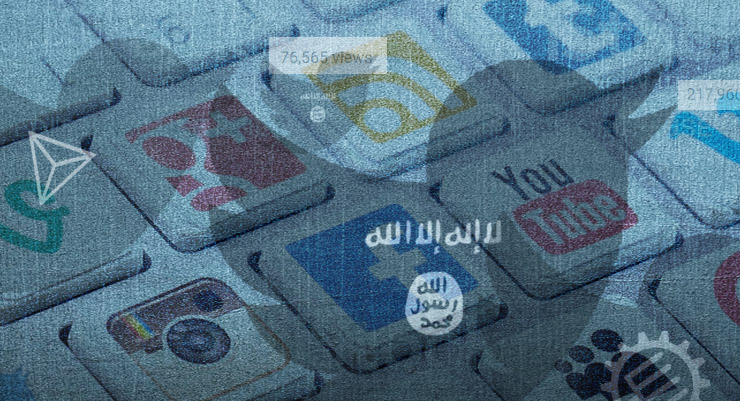 In November 2017, YouTube adopted a policy prohibiting content from al-Qaeda in the Arabian Peninsula propagandist Anwar al-Awlaki. YouTube's decision is a positive step, but there is no shortage of extremist actors and ideologues online. Content featuring other propagandists remains widely available on YouTube and other social media platforms. Content from individuals with links to violent extremist actors should be removed from online platforms...
Daily Eye on Extremism
July 20, 2018
"Coalition-backed forces in northern Syria have captured a 28-year-old United States citizen who is believed to have been fighting for the Islamic State, one of only a handful of Americans to be apprehended on the battlefield, officials said. Ibraheem Musaibli, who is from Dearborn, Mich., was seized by the Syrian Democratic Forces this month as he tried to escape the Middle Euphrates River Valley, where the American-backed militia has been working to root out one of the last pockets of Islamic State control. Mr. Musaibli was transferred to a holding facility, where he was identified as a member of the militant group by another detainee, according to one administration official briefed on the arrest. The authorities have set in motion a plan to bring him to the United States for prosecution, along with an Indiana woman whose husband was an Islamic State member and who has also been detained."
The New York Times: American Accused Of Being ISIS Fighter In Syria Faces Prosecution In U.S.
"At his post-summit press conference with Vladimir Putin in Helsinki on Monday, Donald Trump praised the United States' "successful campaign" that had "just about eradicated" Islamic State in Syria. IS, however, is far from dead in the region. I recently returned from Iraq, where multiple security sources told me that Islamic State is reconstituting itself in parts of the country. The chaos in the wake of the May 12 national election – an inconclusive result, involving widespread allegations of fraud and Iranian-backed groups trying to make deals to ensure their control over the next government – is again helping Islamic State co-opt Iraqi communities as it did in 2014–2015, when the group occupied a third of the country. This reality runs counter to the prevailing view in Washington – a narrative Trump has advanced – that IS has been ousted from Iraq. "There are a lot of indicators that there is going to be an imminent resurgence of IS. You can see it in the records and the intelligence reports," Iraq's former national security adviser Mowaffak al-Rubaie, who just left his post, told me. Of particular concern to those I interviewed: indications that the vast majority of remaining IS fighters are Iraqis, not foreigners. This makes it nearly impossible to provide incentives for them to leave the country."
Reuters: Commentary: The Reality Of Islamic State In Iraq
"HOME Affairs Minister Peter Dutton says he hopes Neil Prakash rots in a Turkish jail, as the federal government considers appealing a decision to reject the Melbourne-born terrorist's extradition. Prime Minister Malcolm Turnbull said he was disappointed with the Turkish court decision but has vowed to continue trying to bring the Islamic State jihadist and recruiter back to Australia to face justice. Mr Dutton said the best possible outcome for any terrorist was to be "targeted and killed" on the battlefield, but Australia had an interest in extraditing Prakash. "From my perspective, I'm happy to see him rot in jail in Turkey," Mr Dutton said in Brisbane on Friday. Prakash has been in custody near the border with Syria since 2016 after he attempted to enter Turkey with false documents."
News.Com.Au: Notorious Aussie Terrorist Neil Prakash Could Be Freed From Turkish Custody
"Police in Malaysia have arrested seven suspected Isis militants, including one man who allegedly made threats against the king and the prime minister, Mahathir Mohamad, and another who planned to carry out bomb attacks across the region. It is the most extensive crackdown on Islamic State (Isis) in Malaysia since 2016, when the group bombed a nightclub in Kuala Lumpur, an attack which had no fatalities. The country has been on high alert since multiple Isis attacks were carried out in neighbouring Indonesia, most recently the bombings in Surabaya which killed 37. In an operation that spanned five Malaysian states,police arrested three Indonesians and four Malaysians suspected of being members of the terrorist group, some of whom had made threats online to carry out attacks across south-east Asia and others who had donated money to well-known Isis militants. One of the suspects, a 34-year-old Malaysian, was arrested after he pledged allegiance to the group on Facebook and said he planned to assassinate the Malaysian king, the prime minister and the religious affairs minister for not running the country according to Islamic Shariah law."
The Guardian: Malaysia Launches Crackdown On ISIS After Threats To Kill The King And Prime Minister
"Until Thursday afternoon, Facebook had allowed a prominent Russian neo-Nazi to run a white nationalist clothing label, White Rex, on its platform for at least three years. A few hours after HuffPost initially published this story, Facebook unpublished the White Rex page. As Facebook has done with other offensive pages in the past, the company removed the White Rex page from its site only after a news outlet, this time HuffPost, directly reached out to a spokesperson for comment prior to publication of an article. A Facebook spokesperson said the social media platform had previously unpublished the White Rex page twice, but provided no details on when these removals occurred or why the latest version had remained up for so long."
Huffington Post: Facebook Let A Notorious Russian Neo-Nazi Profit Off Its Platform For Years
Daily Dose
Extremists: Their Words. Their Actions.
Fact:
In May 2018, ISIS released a propaganda video that showed a captured Syrian soldier being bound and outfitted with explosives. The prisoner of war was then thrown off a building and exploded.

The Counter Extremism Project acts to shine a light of transparency and accountability on those persons, businesses and institutions that financially underpin the activities of extremist groups.
Learn More