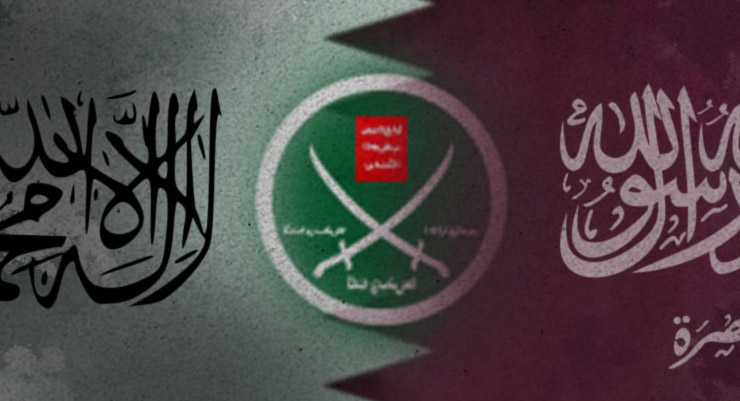 Recently, several Middle East and Gulf countries announced that they were severing ties with Qatar as a result of the country's support for extremism and terrorism. Although Qatar announced that it is preparing to expel several Hamas leaders, the government has previously denied reports that it was expelling Hamas leader Khaled Meshaal, referring to reports as "just rumors" and calling Meshaal a "dear guest" of Qatar...
Daily Eye on Extremism
November 20, 2017
"The Islamic State militant group revealed Thursday a list of what it considered to be its most prominent attacks around the world this year and called for more deadly violence. ISIS, by most accounts, was effectively defeated as a warfighting force in 2017, but its ability to strike without warning in major cities across the globe remains a serious security issue for countries contributing to the multinational battle against the jihadis, mostly in Iraq and Syria. Capitalizing on its residual influence on social media, ISIS included in the latest issue of its weekly digital magazine Al-Naba an evaluation of its attacks abroad throughout the Islamic calendar year of 1438, which lasted from October 3, 2016, to September 21, 2017. Noting that "figures include only officially endorsed operations," the group counted 38 operations conducted by 60 jihadis in 19 countries this year. The list of nations included Australia, Bangladesh, Belgium, Egypt, France, Germany, Indonesia, Iran, Italy, Jordan, Kenya, Palestine, Russia, Spain, Sweden, Tunisia, Turkey, the U.K. and the U.S."
Newsweek: What Did Isis Do In 2017? Islamic State Reveals Its Favorite Terror Attacks And Calls For More
Fox News: Spurred By CEP, YouTube Removes Thousands Of Awlaki Videos
"While the Trump administration celebrates a new deal meant to freeze the battlefield in southern Syria, the Assad regime and Iran are preparing for the next phase of the long-running war, in which they will attempt to conquer the rest of the country. Whether Iran succeeds depends largely on whether the United States acknowledges and then counters that strategy. Tehran is pouring thousands of fighters into newly acquired territories and building military bases. Although U.S.-supported forces hold territories east of the Euphrates River in Syria's southeast, as well as along the borders of Israel and Jordan in the southwest, Iran has stated its intention to help Bashar al-Assad retake all of Syria. Iranian Revolutionary Guard Corps commander Maj. Gen. Qasem Soleimani has been recently spotted in the eastern Syrian city of Deir al-Zour, showing how high a priority it is for Iran to take the oil-rich land nearby. Soleimani has also been spotted near the town of Abu Kamal, which sits just across the border from the Iraqi city of Qaim and is the last piece of the land bridge Iran seeks to establish from Tehran to Beirut."
The Washington Post: The U.S. Must Prepare For Iran's Next Move In Syria
"Saudi Arabia ramped up its campaign against Iran's growing influence in the Arab World Sunday by persuading most of the 22 member states of the Arab League to condemn Iran's Lebanese ally, Hezbollah, as a "terrorist organization." Arab foreign ministers gathered at the League's headquarters in Cairo Sunday for an emergency meeting called by Saudi Arabia. Lebanon's foreign minister, Gibran Bassil, did not attend, and the Lebanese representative at the meeting expressed reservations over the final communique. Iraqi Foreign Minister Ibrahim Al-Jaafari also did not attend the meeting. Iran, along with the US-led international coalition, has been a major supporter of Baghdad in its war against ISIS. "We want to hold everyone responsible," Bahraini Foreign Minister Khalid bin Ahmed Al-Khalifa said during the deliberations. "We want to hold countries where Hezbollah is a partner in government responsible, specifically Lebanon." Al-Khalifa claimed that Lebanon "is subject to full control by this terrorist group."
CNN: Arab League States Condemn Hezbollah As 'Terrorist Organization'
"A shepherd heard the gunshots and the screaming. As Islamic State fighters executed at least 60 people at a remote military base in northern Iraq one day last year, he cowered in his home nearby, terrified. When it was safe to go out, he found piles of bodies; many of them he recognized as his neighbors. He buried them himself. "They were slaughtering people for all kinds of reasons, those caught using the internet, those suspected of being witches," the shepherd, Saad al-Omar, said at the site of a mass grave here on Tuesday. "Here, I saw those victims, my neighbors. I saw bodies of mothers with their children. They had been shot. They had been burned. They were all dead." That executions routinely took place in his hometown, Hawija, was well known, proudly publicized by the Islamic State, also known as ISIS, during its two-and-a-half year rule in the town. But Mr. Omar's grisly knowledge represents something rare in the quest for justice — a witness who can lead the authorities to the bodies and identify many of them."
The New York Times: Crimes Of The Caliphate: Iraqi Shepherd Bears Witness To ISIS Massacre
"Battered and beaten in Iraq and Syria, the Islamic State terror group is surging fighters into Afghanistan, rebuilding its presence and perhaps setting up a new base for attacks on both the West and Russia. Afghan officials tell Voice of America that Islamic State may now have as many as 3,000 foreign fighters in the country, many of them coming from Pakistan and Uzbekistan. They also fear those numbers are only likely to increase as IS fighters from Iraq and Syria leave those countries as part of an effort to regroup. "A large number of Daesh fighters are foreign fighters," said Afghan Ambassador Hamdullah Mohib, using an Arabic acronym for the terror group. Those numbers have been further bolstered by "a small number of Afghans within," Mohib said in Washington this week. "The Taliban, some of the factions — some of the irreconcilable elements that are much more extreme — are also joining Daesh."
Voice Of America: Afghan Officials: Islamic State Fighters Finding Sanctuary In Afghanistan
"I led Facebook's efforts to fix privacy problems on its developer platform in advance of its 2012 initial public offering. What I saw from the inside was a company that prioritized data collection from its users over protecting them from abuse. As the world contemplates what to do about Facebook in the wake of its role in Russia's election meddling, it must consider this history. Lawmakers shouldn't allow Facebook to regulate itself. Because it won't. Facebook knows what you look like, your location, who your friends are, your interests, if you're in a relationship or not, and what other pages you look at on the web. This data allows advertisers to target the more than one billion Facebook visitors a day. It's no wonder the company has ballooned in size to a $500 billion behemoth in the five years since its I.P.O. The more data it has on offer, the more value it creates for advertisers. That means it has no incentive to police the collection or use of that data — except when negative press or regulators are involved. Facebook is free to do almost whatever it wants with your personal information, and has no reason to put safeguards in place."
New York Times: We Can't Trust Facebook To Regulate Itself
Daily Dose
Extremists: Their Words. Their Actions.
We support and call all the Muslims to target France and its interests and subjects inside and outside France until it withdraws the last soldier from the land of the Muslims.
Abu Abdul Ilah Ahmed, Head of AQIM Media
Apr. 15, 2013
The Counter Extremism Project acts to shine a light of transparency and accountability on those persons, businesses and institutions that financially underpin the activities of extremist groups.
Learn More