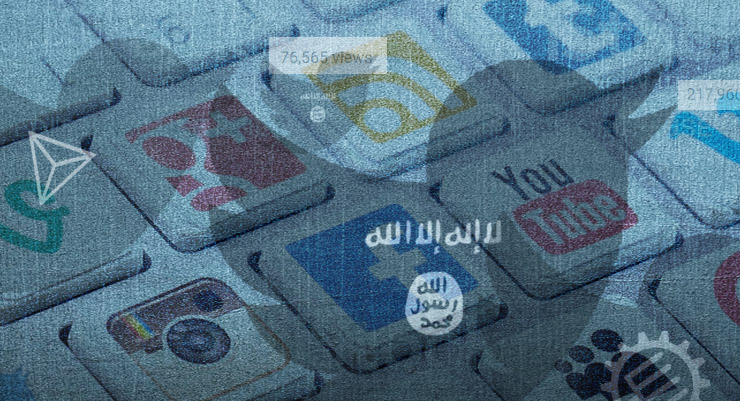 In November 2017, YouTube adopted a policy prohibiting content from al-Qaeda in the Arabian Peninsula propagandist Anwar al-Awlaki. YouTube's decision is a positive step, but there is no shortage of extremist actors and ideologues online. Content featuring other propagandists remains widely available on YouTube and other social media platforms. Content from individuals with links to violent extremist actors should be removed from online platforms...
Daily Eye on Extremism
June 20, 2018
"Afghan officials said Wednesday that at least 13 soldiers were killed and eight more wounded in attacks by Taliban militants in the western Badghis province. It was the first major assault by the Afghan Taliban after a brief truce with the government for the Muslim Eid al-Fitr holiday over the weekend. The Afghan Ministry of Defense released a statement confirming the Taliban attacks and the death toll. The statement said reinforcements had been deployed to the region and the fight was ongoing. Another regional official told the Associated Press that 30 soldiers were killed when the Taliban fighters targeted two checkpoints in Badghis. Abdul Aziz Beg, head of the provincial council in Badghis, said fighters first attacked the checkpoints then ambushed arriving reinforcements in Bala Murghab district."
CBS News: Taliban Resumes Deadly Assault After Rejecting Truce Extension
"ISIS fighters have tunneled into a large swath of territory in the Middle Euphrates River Valley, popping up in small groups and presenting challenges to forces trying to wipe out the terror group in Syria, a coalition spokesman said today. Col. Sean Ryan of Operation Inherent Resolve said via video link today that ISIS cleanup operations also continue in Iraq, where more than 400 new Counter Terrorism Service soldiers and 20 new sharpshooters have completed training as Iraq builds up its capability to keep ISIS from returning with a vengeance. The Syrian Democratic Forces -- the multiethnic, multisectarian coalition that ousted ISIS from Raqqa -- are on their 50th day of Operation Roundup, and recently intercepted $1.4 million in drugs intended to fund ISIS. The U.S.-led coalition is supporting the SDF operation with airstrikes as needed. Ryan said it's unknown how many ISIS fighters are still in the region."
PJ Media: ISIS Proving Elusive By Tunneling, Staying In Small Groups, Blending Into Towns
"Officials in a Saudi-led coalition battling Shiite rebels for control of a crucial port in Yemen on Tuesday displayed weapons captured on the battlefield that they say show Iran is arming the insurgents. Iran long has denied arming the rebels, known as Houthis, despite reports by the United Nations, Western countries and outside groups linking it to the rebels' arsenal. Weapons shown to reporters in Abu Dhabi and later at an Emirati military base on a government-sponsored tour included drones, a sniper rifle, roadside bombs disguised as rocks and even a "drone boat," which had been filled with explosives that failed to detonate. The officials showed Iranian-labeled components inside of equipment they said was used to produce and load fuel for the rockets the rebels have fired across the border at Saudi Arabia. They also displayed images allegedly showing Iranian officials building components for the "drone boat." The officials said such weapons threaten both coalition forces and civilians."
Associated Press: Saudi-Led Coalition Displays Yemeni Arms Allegedly From Iran
"A FURIOUS MP treated a Facebook exec like a naughty school boy during an astonishing dressing down during a select committee hearing. Labour's Helen Jones blasted Karim Palant, who is the social media giant's UK public policy manager, in a humiliating tirade. She slammed the California-based tech firm's "less than helpful" behaviour towards the select committee. The MP for Warrington North told the Facebook executive "you do not play games with the House of Commons." Palant was grilled along with bosses from Twitter and Google about what tech companies are doing to tackle abuse and extremism online. The Facebook chief sat in stunned silence as Jones blasted Facebook for allegedly treating the democratic process with contempt."
The Sun: 'Don't Play Games With Us!' Facebook Chief Gets Humiliating Dressing Down Like A Naughty Schoolboy By Furious MP In Commons Committee
"A Utah teenager told police that he tried to blow up a homemade device in his backpack at school because he'd been looking at Islamic State propaganda and wanted to cause fear, according to a video of the conversation played in court Monday. The 16-year-old's interview with police was shown during a court hearing in St. George as prosecutors made their case for trying the boy as an adult. The boy was arrested after Pine View High School was evacuated for two hours on March 5, when a smoking but inert bomb was found at the school. No one was hurt. In the four-hour videotaped interview with police, the boy told officers that he didn't care whether people could have been hurt by the device in the backpack."
The Salt Lake Tribune: Utah Teen Said He Took Bomb To School After Looking At Islamic State Videos, Wanted To Cause Fear, Police Say
Daily Dose
Extremists: Their Words. Their Actions.
But I address every honorable and free Muslim, and I say to them: we must fight the battle of consciousness before the battle of weapons, and we must be free of illusions, and we must not mix up the enemy from friend, and we must realize the schemes of the enemy, and we do not back down before it.
The Counter Extremism Project acts to shine a light of transparency and accountability on those persons, businesses and institutions that financially underpin the activities of extremist groups.
Learn More