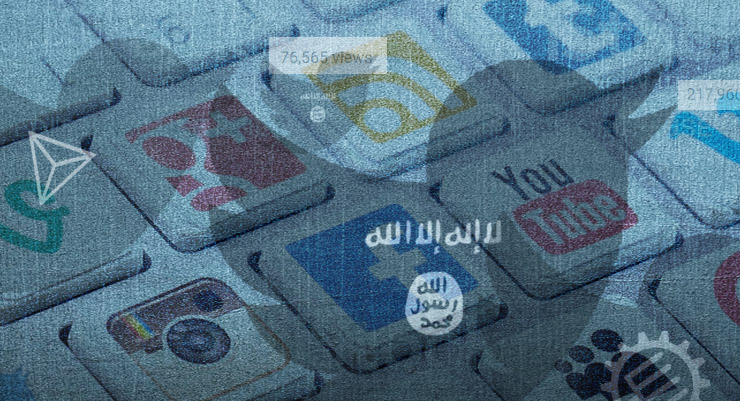 In November 2017, YouTube adopted a policy prohibiting content from al-Qaeda in the Arabian Peninsula propagandist Anwar al-Awlaki. YouTube's decision is a positive step, but there is no shortage of extremist actors and ideologues online. Content featuring other propagandists remains widely available on YouTube and other social media platforms. Content from individuals with links to violent extremist actors should be removed from online platforms...
Daily Eye on Extremism
April 24, 2018
"A driver deliberately plowed his white Ryder rental van into a lunch-hour crowd in Toronto on Monday, killing 10 people and injuring 15 along a roughly mile-long (1.6-km) stretch of sidewalk thronged with pedestrians, police said. Although the attack had the hallmarks of recent deadly vehicle assaults by Islamic State supporters in the United States and Europe, federal officials said it did not represent a larger threat to national security. Toronto Police Chief Mark Saunders identified the suspect as Alek Minassian, 25, who he said had not previously been known to authorities. Police, who quickly arrested Minassian, do not know his motives. 'The actions definitely looked deliberate,' Saunders told a late-night news conference close to the site of the incident in the northern section of Canada's biggest city, noting the van had been driven along sidewalks. The brutal incident - which Prime Minister Justin Trudeau called a 'tragic and senseless attack' - was one of the most violent in recent Canadian history."
Reuters: Driver Kills 10, Injures 15 Plowing Van Into Toronto Sidewalk Crowd
"A senior Iranian official said on Tuesday that Tehran might quit a treaty designed to stop the spread of nuclear weapons if U.S. President Donald Trump scraps the nuclear accord Iran signed with world powers in 2015. Trump has said that unless European allies fix what he has called "terrible flaws" in the accord by May 12, he will restore U.S. economic sanctions on Iran, which would be a severe blow to the pact. The other powers that signed it - Russia, China, Germany, Britain and France - have all said they want to preserve the agreement that curbed Iran's nuclear program in return for the lifting of most international sanctions. In a news conference broadcast on state television, the secretary of Iran's Supreme National Security Council, Ali Shamkhani, said the Atomic Energy Organization of Iran was ready for some "surprising actions" if the nuclear deal was scrapped."
Reuters: Iran Warns Trump It Might Withdraw From Non-Proliferation Treaty
"As a convoy of United Nations police on a night patrol stopped to chat with residents on the sand-blown streets of the central Malian city of Sevare, Sada Cissoko could no longer hold back his emotions. 'There are soldiers from all around the world in Mali, but despite the drones and the resources spent, things are only getting worse,' Cissoko, a 48-year-old counselor at a local school, said visibly agitated. 'It just doesn't make sense.' Once a stable democracy, Mali is now on the front-line of an intensifying push by al-Qaeda- and Islamic State-affiliated militants and the simultaneous deployment of thousands of Western and United Nations troops in the Sahel region. It's playing out in a wide arid area in West Africa south of the Sahara desert that's a key gateway for the trafficking of migrants and drugs to Europe."
Bloomberg Politics: Jihadists Gain Strength Even As Troops Arrive In West Africa
"The rumblings of an open conflict between Israel and Iran in Syria are growing louder. When President Trump launched yet another one-off missile salvo against the Syrian regime, it came on the heels of a suspected April 9 Israeli strike on an Iranian facility at a Syrian air base, which drew howls of condemnation from the regime's patrons in Moscow and Tehran. Though Israel didn't acknowledge responsibility for the attack, it fit a familiar pattern. Since 2012, the Israelis are believed to have launched more than 100 strikes on suspected Iranian-linked positions in Syria. Israeli officials privately argue that these measures are necessary to prevent a permanent Iranian threat on their borders and stymie the flow of weaponry to Iran's Lebanese proxy, Hezbollah. 'No matter the price, we will not allow a noose to form around us,' Israeli Defense Minister Avigdor Lieberman told Israel Radio over the weekend. But he cautioned against talk of outright hostilities. 'I hope not,' he said when asked whether war was imminent. 'I think that our primary role is to prevent war, and that requires concrete, real deterrence as well as readiness to act.'"
The Washington Post: The Shadow War Between Israel And Iran Takes Center Stage
"It is rare, if not unheard of, for former intelligence experts to weigh in against the government in a major national-security case. But the Trump travel ban, to be argued Wednesday in the U.S. Supreme Court, has produced an astounding and bipartisan coalition of intelligence and national-security heavyweights, who are urging the court to strike down the ban. It's astounding in terms of both numbers and gravitas. Among those lending their expertise to three friend-of-the-court briefs are more than 55 former officials from Republican and Democratic administrations, including CIA directors, national intelligence and counter-terrorism chiefs, top diplomats with long records working in the Middle East, secretaries of state, some two dozen top-ranked retired admirals and generals, a former Republican attorney general and even the Republican chairman of the 9/11 commission."
NPR: Why Dozens Of National-Security Experts Have Come Out Against Trump's Travel Ban
Daily Dose
Extremists: Their Words. Their Actions.
Isn't it time for you to unite with your brothers? To establish and elevate your state? The enemy has allied to fight you, so unite to fight him.
The Counter Extremism Project acts to shine a light of transparency and accountability on those persons, businesses and institutions that financially underpin the activities of extremist groups.
Learn More