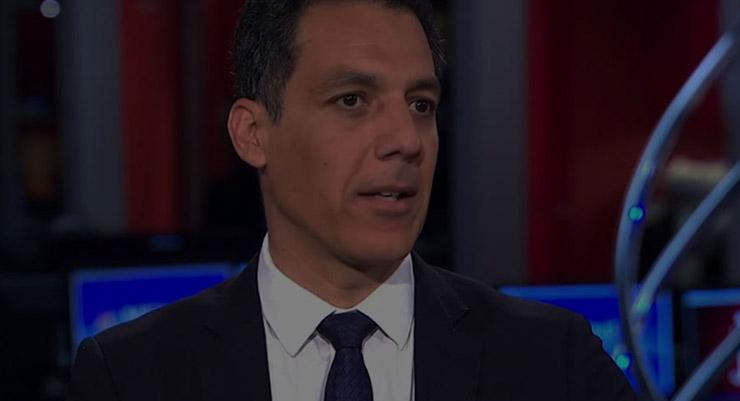 Senior Advisor and Dartmouth College Computer Science Professor Dr. Hany Farid was interviewed by the Wall Street Journal regarding his development with CEP of eGLYPH, a technology that can identify the "worst of the worst" extremist images, video, and audio quickly and accurately for removal from the Internet and social media platforms...
Daily Eye on Extremism
April 25, 2017
"U.S. military officials said they have seen an increasing number of small arms provided by the Russian government, including machine guns and antiaircraft weapons, in the hands of Taliban fighters in Afghanistan over the past 18 months. U.S. officials have complained that the Kremlin has interfered on the Afghan battlefield on the Taliban's side, but Monday's comments marked the most serious U.S. charges yet. Defense Secretary Jim Mattis, who arrived in Kabul on an unannounced visit on Monday, said it would be a violation of international law for Russia to provide the Taliban with weapons."
Wall Street Journal: U.S. Suspects Russia Supplying Small Arms To Taliban In Afghanistan
"Iraqi troops on Tuesday drove out Islamic State militants from the largest neighborhood in the western half of the city of Mosul, a senior military commander said, a major development in the months-long fight to recapture the country's second-largest city. U.S.-backed Iraqi forces declared eastern Mosul "fully liberated" in January, after officially launching the operation to retake the city in October. In February, the troops started a new push to clear Mosul's western side of IS militants, but weeks later their push stalled mainly due to stiff resistance by the Sunni militant group. On Tuesday, special forces Lt. Gen. Abdul-Wahab al-Saadi told The Associated Press that the sprawling al-Tanek neighborhood was now "fully liberated and under full control" of the security forces. Al-Saadi did not provide more details."
Associated Press: Iraqi Troops Capture Largest Neighborhood In Western Mosul
"Iraqi forces are using siege and stealth tactics to drive Islamic State militants out of Mosul's Old City, an Iraqi general said, as his forces sought to minimize casualties among hundreds of thousands of people trapped in the cramped, historic neighborhood. Explosions from two car bombs could be heard nearby as Lieutenant General Abdul Ghani al-Assadi spoke to Reuters at his command post on Monday, and a Reuters correspondent saw thick smoke rising from the blasts. 'Most houses in the Old City are very old and its streets and alleyways are very narrow,' said Assadi, a commander of Iraqi counter-terrorism units in Mosul. 'So to avoid civilian losses we are using siege, but that does not mean we will not enter the Old City.'"
Reuters: Iraqi Forces Using Siege And Stealth To Evict Islamic State From Mosul
"U.S. Defense Secretary Jim Mattis arrived in Kabul, Afghanistan, Monday as the country descended further into chaos. Worsening the situation are new allegations the Russians are supplying the Taliban with weapons. 'We're going to have to confront Russia where what they're doing is contrary to international law,' Mattis said. Gen. John Nicholson, the top U.S. general in Afghanistan, made it clearer. A reporter asked Nicholson 'So you are not refuting that they are sending weapons?' 'Oh, no, I am not refuting that,' Nicholson replied."
CBS News: Russia Supplying Taliban With Weapons, Top U.S. General In Afghanistan Suggests
"Behind the Trump administration's sudden urgency in dealing with the North Korean nuclear crisis lies a stark calculus: a growing body of expert studies and classified intelligence reports that conclude the country is capable of producing a nuclear bomb every six or seven weeks. That acceleration in pace — impossible to verify until experts get beyond the limited access to North Korean facilities that ended years ago — explains why President Trump and his aides fear they are running out of time. For years, American presidents decided that each incremental improvement in the North's program — another nuclear test, a new variant of a missile — was worrisome, but not worth a confrontation that could spill into open conflict."
New York Times: As North Korea Speeds Its Nuclear Program, U.S. Fears Time Will Run Out
"The Saudi-led military coalition claimed to have arrested prominent leaders and members of Al Qaeda during raids in support of anti-terrorism forces in Yemen, Saudi Press Agency reported. Amongst those arrested was Ahmed Saeed Awad Barhamah, alias Zarqawi, a prominent leader of the militant group, the agency said, quoting a statement issued by the coalition. The arrests were made during the coalition's air operation in the city of Mukalla conducted to support a primitive operation of the Yemeni army against Al Qaeda, the agency reported. "During the operation, terrorist plots were foiled and a cache of weapons and equipment were seized," SPA added. Earlier this week, Major General Ahmed Asiri, the adviser to the Saudi minister of defence, told media the alliance is not specific in its objectives to confronting international terror groups like the militant Islamic State group and Al Qaeda."
Kashmir Monitor: Saudi-Led Military Coalition Arrests Prominent Al Qaeda Leaders, Members In Yemen
"Suspected Taliban insurgents on Monday attacked a U.S.-operated base in Afghanistan's eastern province of Khost, officials said, but gave few immediate details of an assault that coincided with a visit to Kabul by U.S. Secretary of Defense James Mattis. The attackers had detonated a car bomb at an entrance to Camp Chapman, a secretive facility manned by U.S. forces and private military contractors, said Mubarez Mohammad Zadran, a spokesman for the provincial governor. But he had little immediate information on any damage or casualties."
Reuters: Bomb Attack Hits U.S. Base In Eastern Afghanistan
"Israel came to a standstill on Monday as people stopped in their tracks for a two-minute siren that wailed across the country in remembrance of the Holocaust's 6 million Jewish victims. The ritual is the centerpiece of Israel's annual Holocaust Remembrance Day for those who were systematically killed by Nazi Germany and its collaborators during World War II. Pedestrians stood in place, buses stopped on busy streets and cars pulled over on major highways — their drivers standing on the roads with their heads bowed. In homes and businesses, people stopped what they were doing to pay homage to the victims of the Nazi genocide, in which a third of world Jewry was annihilated."
Time: Siren Wails Bring Israel To A Standstill For Holocaust Remembrance Day
"Spanish police said on Tuesday they had arrested nine men and raided 12 properties in Barcelona in an operation against suspected Islamist militants believed to be linked to last year's attack on Brussels airport. The operations were carried out in conjunction with Belgian and Moroccan police. At least three of those arrested were suspected of links to the Belgian suicide bombings in March of last year, which killed 31 people at the Brussels airport and on a metro train, Spain's High Court said in a statement. The nine arrested men were Moroccan apart from one Spaniard and were aged between 30 and 40, the police said. Most already had criminal records related to organised crime such as drug trafficking."
Reuters: Spain Arrests Moroccans Suspected Of Links To Belgian Islamist Attacks
"While the world's attention was drawn to the French presidential election and the performance of extreme nationalist candidate Marine Le Pen (who came second on Sunday), her ideological brethren in Germany were going through some public soul-searching. The Alternative for Germany (AfD) party ended up rejecting a move toward the mainstream and empowering its most right-wing members ahead of the September general election. Last weekend, the AfD party conference took place in Cologne. About 15,000 protesters gathered in front of the Maritim Hotel, where the event was held, promising to turn the city into hell for the anti-immigrant, anti-European Union party's delegates."
Bloomberg: German Nationalists Double Down On Extremism
Daily Dose
Extremists: Their Words. Their Actions.
Fact:
ISIS fighters disguised themselves as Iraqi police officers and launched a suicide bomb attack in Tikrit, killing at least 31 people.
The Counter Extremism Project acts to shine a light of transparency and accountability on those persons, businesses and institutions that financially underpin the activities of extremist groups.
Learn More