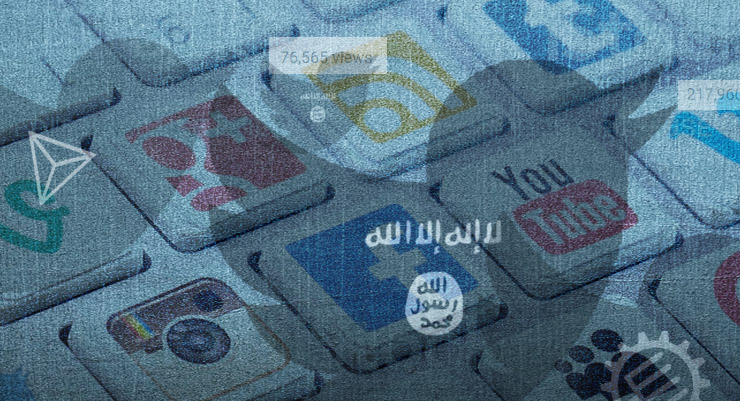 In November 2017, YouTube adopted a policy prohibiting content from al-Qaeda in the Arabian Peninsula propagandist Anwar al-Awlaki. YouTube's decision is a positive step, but there is no shortage of extremist actors and ideologues online. Content featuring other propagandists remains widely available on YouTube and other social media platforms. Content from individuals with links to violent extremist actors should be removed from online platforms...
Daily Eye on Extremism
July 17, 2018
"President Donald Trump and Russian President Vladimir Putin agreed to work together on solving the Syrian crisis—with both focusing on the need to guarantee Israel's security. In recent weeks, Russian-backed forces of Syrian President Bashar al-Assad's regime made major advances toward Israel and Jordan in the southwest of the country, routing the remaining pockets of the Sunni Arab opposition the U.S. once supported. At the same time, Israel ramped up airstrikes against Iranian military targets and pro-Iranian militias across Syria, part of its drive to prevent the establishment of a permanent Iranian military presence there. For Israel, the key demand is that Syrian regime forces stay away from the demilitarized buffer zone along the 1974 cease-fire line between Syria and the Israeli-held Golan Heights—an area the United Nations supervised before the Syrian war erupted in 2011. Israeli Prime Minister Benjamin Netanyahu said after talks with Mr. Putin in Moscow last week that Israel had no problem with Mr. Assad as long as his forces didn't attempt to penetrate that demilitarized zone."
The Wall Street Journal: Trump, Putin Agree To Try To Solve Syria Crisis, Preserve Israel's Security
"Google's attempts to tackle the dangers of terrorist content on its online platforms, including YouTube, have come far too late and remain disturbingly inadequate, according to findings in a new study by the Counter Extremism Project (CEP). One of Google's attempts––the Redirect Method Pilot Program––was launched in July 2017, two months after suicide bomber Salman Abedi killed 22 people in Manchester, England, with an explosive device that he had assembled using ISIS bomb-making tutorial videos on YouTube. The Redirect Method Pilot Program claims to target individuals searching for ISIS-related content on YouTube and redirect them to counter-narrative videos. In early 2018, CEP still found an abundance of extremist content on YouTube – demonstrating that someone searching for extremist material on the video-sharing platform is more than three times as likely to encounter extremist videos as counter-narratives."
Neweurope: Google's Redirect Program: An Anemic Response To The Plague Of Terror Content
"Aurangzeb Farooqi is a leader of a political party that is banned in Pakistan for espousing sectarian violence. He faces charges of spreading religious hatred that was linked to the murders of several Shiite activists. He is also a candidate for national political office, running with the blessing of Pakistani courts. Mr. Farooqi is among several candidates with ties to Islamist extremist groups who were the subject of last-ditch petitions by activists seeking to bar them from contesting elections this month. An election tribunal threw out those petitions last month, claiming there were not enough valid complaints to justify barring the candidates. Despite publicly proclaimed campaigns against religious extremism, the ability of candidates like Mr. Farooqi to campaign suggests that far from being curbed, extremists are being encouraged."
The New York Times: Violent Extremist Or Political Candidate? In Pakistan, You Can Be Both.
"Five years ago, police arrested a Frenchman in his 20s who had acquired fake identification and bought paramilitary-style clothing as part of a plan to join militants in Syria. The suspect, whose first name is Nassim, was convicted of conspiracy to support a terrorist group, under laws that grant French authorities wide latitude to take extremists off the streets, according to his lawyer. In the coming weeks, he is to be set free, among the first of hundreds of inmates radicalized during the war in Syria and the rise of Islamic State who will be released from French prisons before the end of next year. With their release, French antiterror authorities are bracing for the resurgence of a security threat that had waned when they broke up Islamic State terror cells in Europe. To try to prevent potential attacks, French police are forming a new unit to monitor former inmates."
The Wall Street Journal: France Begins Release Of Hundreds Of Radicalized Inmates
"Leading far-right activists have received special protection from Facebook, preventing their pages from being deleted even after a pattern of behaviour that would typically result in moderator action being taken. The process, called "shielded review", was uncovered by Channel 4 Dispatches, after the documentary series sent an undercover reporter to work as a content moderator in a Dublin-based Facebook contractor, Cpl. Typically, Facebook pages are deleted if they are found to have five or more pieces of content that violate the site's rules. But more popular pages, including those of activists like Tommy Robinson, are protected from those rules and are instead elevated to a second tier of moderation where in-house Facebook staff, rather than external contractors, take the decision on whether or not to take action. Most of the pages granted shielded review are for governments and news organisations, but Robinson – whose real name is Stephen Yaxley-Lennon – and the defunct political party Britain First were given the same status. In effect, although individual pieces of content are still removed by Facebook, the normal rules do not apply to the page itself for all but the most egregious breaches of the site's guidelines."
The Guardian: Facebook Protects Far-Right Activists Even After Rule Breaches
Daily Dose
Extremists: Their Words. Their Actions.
I would gladly behead people if I needed to…It is my dream to behead someone…"
The Counter Extremism Project acts to shine a light of transparency and accountability on those persons, businesses and institutions that financially underpin the activities of extremist groups.
Learn More