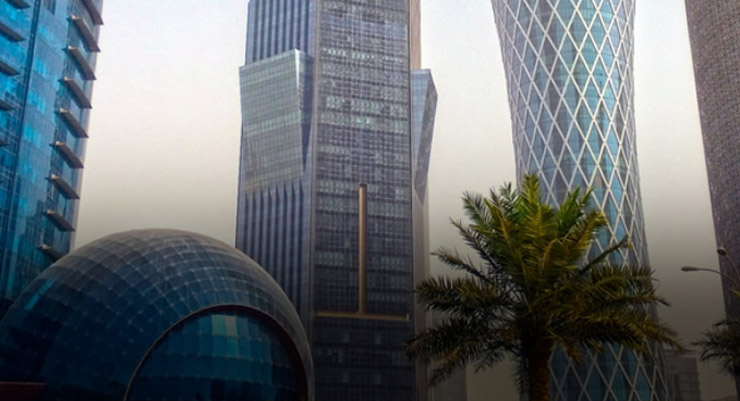 Qatar—a longtime U.S. ally and member of the Global Coalition to Counter ISIS—has supported and harbored international terrorist organizations and individuals. The hydrocarbon-rich Gulf country sends direct financial and material support to internationally-designated terrorist groups such as Hamas and the Nusra Front...
Daily Eye on Extremism
July 27, 2017
"In a bloody overnight attack in Kandahar Province in Afghanistan on Wednesday, the Taliban routed an Afghan Army outpost, killing dozens of soldiers and raising fears of a concerted insurgent offensive in the province, a former seat of Taliban power that took years of effort by coalition and Afghan forces to secure. The attack happened in Khakrez District, about 30 miles from Kandahar city, and the large number of casualties has raised concerns about new Taliban tactics against an Afghan force already losing men in record numbers."
The New York Times: Taliban Slaughter Soldiers In Pattern Of Attacks In Kandahar
"The Islamic State militant group (ISIS) once spanned nearly half of Iraq and Syria, claiming millions of civilians and tens of thousands of fighters from across the globe as part of its self-proclaimed caliphate. Now ISIS has been declared dead in Iraq and faces a similar fate in Syria, the other major half of its ultraconservative Sunni Muslim empire. As it loses ground, its fighters have been forced to either embrace death, be captured by a hostile power or attempt to flee. Experts say, rather than surrender, a number of jihadists will easily be drawn to the ranks of another international jihadist network: Al-Qaeda. Al-Qaeda served as the cornerstone for ISIS's inception as well as the stated target of the U.S.'s 21st-century military intervention in the Middle East."
Newsweek: When ISIS Is Destroyed, The Islamic State's Ruins May Give Rise To A New Al-Qaeda
"Since his brother and father were arrested and imprisoned while visiting Iran nearly two years ago, Babak Namazi has been trying to persuade the U.S. government to step up its fight for their freedom. Both inmates — 45-year-old Siamak Namazi and 81-year-old Baquer Namazi — are Iranian American dual nationals who were convicted of espionage in a secret trial last year and are now serving 10-year sentences in Tehran's Evin Prison, notorious for its harsh conditions. "You always think the worst and it paralyzes me," said Babak Namazi. Now it appears that the family's quest for their release is gaining traction."
Los Angeles Times: Trump Administration Intensifies Demands For Iran To Release U.S. Prisoners
"Boko Haram extremists ambushed an oil exploration convoy in northern Nigeria, killing at least 10 people and abducting several others who were later rescued, officials said Wednesday. They said insurgents also had been killed, but gave no numbers. The ambush came several weeks after the Nigeria National Petroleum Corporation's management announced it was resuming oil exploration around Lake Chad following assurances by Nigeria's military that security had improved in the area, which was once under Boko Haram's control. Nigeria's military and a self-defense group in Borno State were providing security for the oil exploration workers. Bunu Bukar, secretary of the self-defense group, known as the Hunters Association, said its members saw the bodies of government soldiers after the ambush Tuesday."
ABC News: Boko Haram Ambushes Oil Convoy In Nigeria, Killing 10
"Yemen-based Houthi rebels fired a missile Saturday that flew hundreds of miles into Saudi Arabia, two US defense officials told CNN. The missile, described by one official as a Scud, was fired from Houthi controlled territory near Sa'Dah in northern Yemen and flew some 930 kilometers before landing near the western coast of Saudi Arabia. It is assessed that the target was a Saudi oil facility near the port city of Yanbu. One official told CNN that the missile launch was concerning because it flew farther than any other missile fired by the Houthis. Secretary of Defense Jim Mattis has previously accused Iran of providing the Houthis with arms, including missiles."
CNN: US Officials: Iranian-Backed Group Fired Missile Deep Into Saudi Arabia
"The United Arab Emirates' central bank has asked all banks and financial institutions to stop dealing with 18 more individuals and entities with alleged links to Qatar, the state news agency WAM reported on Thursday. The move makes it the first financial watchdog in the Gulf to act on the new blacklist, with regulators in Saudi Arabia, Bahrain and Egypt likely to follow. The four Arab countries announced on July 25 that they were blacklisting nine groups based in Yemen and Libya and nine people from several Arab countries, saying all were directly or indirectly linked to Qatar, which the Saudi-led bloc accuses of financing terrorism. Doha denies the claims. In a circular, the UAE watchdog asked banks and financial institutions to "start immediate search for and freezing of all bank accounts, investments, and deposits that may be held by any individual or entity" included on the July 25 list."
Reuters: UAE Asks Banks To Freeze Accounts Of Those Named On Qatar-Inked Blacklist
"Christian," as he calls himself, with his California accent, closely cropped blond hair, and tattoos that run across his face and neck, certainly stands out from the crowd in ISIS-controlled Syria. He grew up in an orphanage in Sonoma, California, and received his military training in the French Foreign Legion. Today, he's fighting with the Syrian Democratic Forces (SDF), a U.S.-backed group that includes Kurds, Arabs, ethnic Christian groups, Arab Muslim groups, Christian-religious forces and volunteers from around the world in an effort to topple ISIS in Raqqa, Syria, the de facto capital of the terror group's self-declared caliphate."
ABC News: American Fighting ISIS With Syrian Democratic Forces Says He's On A Mission For 'Justice'
"The 16-year-old lies on her side on a mattress on the floor, unable to hold up her head. Her uncle props her up to drink water, but she can barely swallow. Her voice is so weak, he places his ear directly over her mouth to hear her. The girl, Souhayla, walked out of the most destroyed section of Mosul this month, freed after three years of captivity and serial rape when her Islamic State captor was killed in an airstrike. Her uncle described her condition as "shock." He had invited reporters to Souhayla's bedside so they could document what the terror group's system of sexual abuse had done to his niece. "This is what they have done to our people," said Khalid Taalo, her uncle. Since the operation to take back Mosul began last year, approximately 180 women, girls and children from the Yazidi ethnic minority who were captured in 2014 by the Islamic State, or ISIS, have been liberated, according to Iraq's Bureau for the Rescue of Abductees."
New York Times: Freed From ISIS, Yazidi Women Return In 'Severe Shock'
"The US-led coalition fighting ISIS has told its local Syrian allies that they must be exclusively focused on fighting ISIS and not fight the Syrian regime, a directive that prompted one rebel group to depart a joint coalition base in Southern Syria, several coalition and US defense officials told CNN. 'The coalition supports only those forces committed to fighting ISIS,' coalition spokesman US Army Col. Ryan Dillon told CNN. But one US-backed group which calls itself 'the Shohada Al Quartyan' has balked at the restriction, opting to leave the base to carry out independent operations against Syrian regime troops several US and coalition officials told CNN. The officials added that other local allies remain at the garrison and continue to cooperate with coalition advisers."
CNN: US Tells Local Syrian Allies They Must Only Fight ISIS And Not Assad, Prompting Exit Of Allied Group
"The United States will give Lebanon an extra $140 million to help Syrian refugees and the communities hosting them, the State Department said during a U.S. state visit by Lebanon's Prime Minister. Lebanon is hosting at least 1.5 million Syrian refugees who have fled the more than six-year conflict there and who now make up about a quarter of the country's population. The latest grant means the United States has given Lebanon more than $1.5 billion in humanitarian assistance since the start of the conflict in 2012, the State Department said. In its 2017-2020 Crisis Response Plan, the Lebanese government said it needed $2.8 billion to address the challenges of hosting refugees."
Reuters: U.S. Pledges Extra $140 Million To Lebanon For Syrian Refugees
"A Massachusetts man charged with conspiring in an Islamic State-inspired plot to behead a woman who had organized a 2015 competition featuring cartoons of the Prophet Mohammed is due in court on Wednesday. David Daoud Wright has pleaded not guilty to charges including planning the attack on the organizers of the Garland, Texas, 'Draw Mohammed' contest with his uncle, Usamaah Abdullah Rahim. Their plot went off the rails when Rahim told Wright and a third man that he could no longer wait and that 'I'm just going to, ah, go after them, those boys in blue.' That conversation was picked up by law enforcement, who had the group under 24-hour surveillance, and when officers tried to question Rahim in a Boston supermarket parking lot, he pulled a large knife and was shot dead by police."
Reuters: Man Tied To Planned Islamic State-Inspired Attack Due In Boston Court
"President Donald Trump announced Wednesday a ban on transgender people serving in the military, reversing U.S. policy in a series of tweets. 'After consultation with my Generals and military experts, please be advised that the United States Government will not accept or allow......Transgender individuals to serve in any capacity in the U.S. Military. Our military must be focused on decisive and overwhelming.....victory and cannot be burdened with the tremendous medical costs and disruption that transgender in the military would entail. Thank you,' Trump wrote in a trio of consecutive tweets. The abrupt policy shift will affect thousands of transgender troops in the military."
NBC News: Trump Bans Transgender People Serving In The Military
Daily Dose
Extremists: Their Words. Their Actions.
Fact:
Members of the Nusra Front, a branch of al-Qaeda, attacked a Syrian village dominated by the Druze religious minority in June 2015, killing at least 20 people.
The Counter Extremism Project acts to shine a light of transparency and accountability on those persons, businesses and institutions that financially underpin the activities of extremist groups.
Learn More