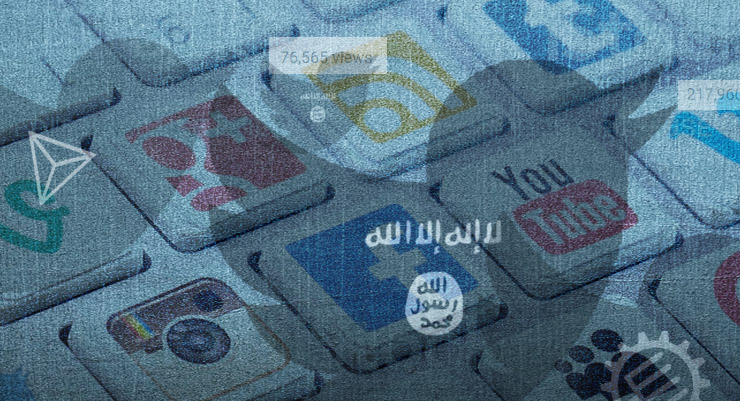 In November 2017, YouTube adopted a policy prohibiting content from al-Qaeda in the Arabian Peninsula propagandist Anwar al-Awlaki. YouTube's decision is a positive step, but there is no shortage of extremist actors and ideologues online. Content featuring other propagandists remains widely available on YouTube and other social media platforms. Content from individuals with links to violent extremist actors should be removed from online platforms...
Daily Eye on Extremism
May 21, 2018
"His self-declared caliphate was in ruins when Abu Bakr al-Baghdadi summoned some of his top aides to a meeting in eastern Syria last year. The Islamic State's capital in Iraq had already fallen, and its Syrian headquarters was under siege. Yet the terrorist leader had something else on his mind: schoolchildren. The gathering near the city of Deir al-Zour was called by Baghdadi personally to discuss rewriting the terrorist group's educational curriculum, according to an Islamic State official who was arrested in a joint operation by Turkish and Iraqi officials earlier this year. Despite the group's dire circumstances, Baghdadi wanted to examine a subject that had less to do with immediate survival than with preserving the organization's ideological core. 'Several top leaders were present, as well as the curricula committee, which I headed,' the captured officer, known as Abu Zaid al-Iraqi, said in a videotaped statement aired on Iraqi television."
The Washington Post: New Clues Bolster Belief That ISIS Leader Is Still Alive — And Busy With A Chilling New Mission
"Zuckerberg is likely also to be pressed on why Facebook is still being used by extremists to connect with each other and to recruit. "Facebook's data management practices have potentially served the networking purposes of terrorists," said the Counter Extremism Project, nonprofit research group, in a statement. "CEP's findings regularly debunk Facebook's claims of content moderation. This week, a video made by the pro-ISIS al-Taqwa media group was found that includes news footage from attacks in the West and calls for further violence, encouraging the viewer to attack civilians and 'kill them by any means or method," according to CEP."
Voice of America: Facebook's Zuckerberg, EU Lawyers Locked In Negotiations
"The Royal Saudi Air Defense detected two ballistic missiles launched from Sa'dah, Yemen, on Saturday night against Saudi Arabia, according to the official spokesman for the Coalition to Restore Legitimacy in Yemen. The Saudi Press Agency quoted Col. Al-Malki as explaining that the two missiles were launched deliberately by the Iranian-backed Al Houthi militia to target densely populated civilian areas in Khamis Mushait, Saudi Arabia and that one of them was intercepted and destroyed by the Royal Saudi Air Defense, while the other fell down in unpopulated desert area. He continued: "No casualties were reported up to the time of this release." Col. Al-Malki added: "This hostile act carried out by the Iranian Houthi militia proves that the Iranian regime is still providing the terrorist Houthi armed militia with qualitative capabilities, in flagrant defiance of UNSCRs (Security Council Resolutions) 2216 and 2231, with the main objective of threatening the Saudi Arabian, regional and international security."
Gulf News: Saudis Down 2 Ballistic Missiles Fired By Al Houthis
"The Trump administration has vowed to crack down on Iran's support for powerful militias across the Middle East. But a low-level insurgency in the Kingdom of Bahrain represents a different sort of challenge for the United States. American authorities say insurgent activity in Bahrain, a key hub for U.S. naval operations, has increased over the past year as a handful of Iranian-backed groups armed with smuggled weapons plan attacks against security forces. Unlike in Lebanon, Iraq and Syria, where large forces supported by Iran are equipped with heavy weaponry and wield increasing political clout, insurgents in Bahrain — where the majority of the population is Shiite — are lightly equipped and operate in cloistered cells as they plot small-scale assaults. U.S. officials characterize the island nation, with its Sunni Arab leadership, heavy police presence and tiny size, as an inhospitable environment for Iranian-linked operatives, who have freer rein in other countries. But the officials say that providing arms-length, opportunistic support to Bahraini militants offers Shiite Iran a low-cost opportunity to advance its objectives at a time when its main military effort is directed elsewhere."
The Washington Post: In Bahrain, A Smoldering Insurgency Reveals The Resilience Of Iran's Proxy War
"Iraqis are still haunted by memories of black-clad death squads roaming Baghdad neighborhoods a decade ago, cleansing them of Sunnis as the country was convulsed by sectarian violence. Many of the mass killings in the capital were done in the name of Moktada al-Sadr, a cleric best remembered by Americans for fiery sermons declaring it a holy duty among his Shiite faithful to attack United States forces. The militia he led was armed with Iranian-supplied weapons, and Mr. Sadr cultivated a strong alliance with leaders in Tehran, who were eager to supplant the American presence in Iraq and play the dominant role in shaping the country's future. Now, the man once demonized by the United States as one of the greatest threats to peace and stability in Iraq has come out as the surprise winner of this month's tight elections, after a startling reinvention into a populist, anticorruption campaigner whose 'Iraq First' message appealed to voters across sectarian divides."
The New York Times: Once Hated By U.S. And Tied To Iran, Is Sadr Now 'Face Of Reform' In Iraq?
Daily Dose
Extremists: Their Words. Their Actions.
I think we are on the brink of many more operations in the West. This is going to be very, very nasty ... The Muslims engaged in jihad are not going to stop. People will declare jihad in Britain and America. I don't think you can stomach something like that.
The Counter Extremism Project acts to shine a light of transparency and accountability on those persons, businesses and institutions that financially underpin the activities of extremist groups.
Learn More