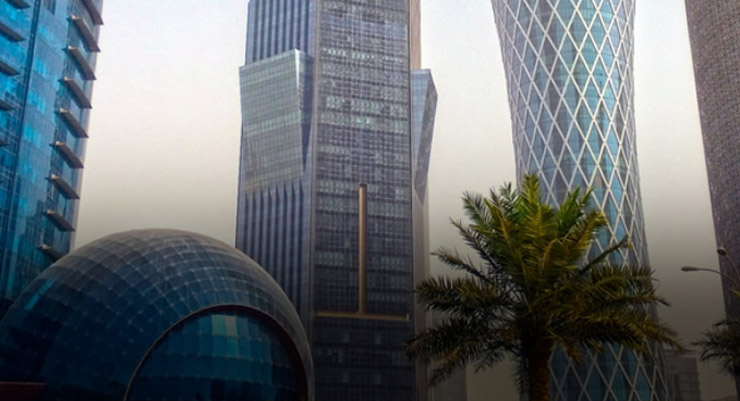 Qatar—a longtime U.S. ally and member of the Global Coalition to Counter ISIS—has supported and harbored international terrorist organizations and individuals. The hydrocarbon-rich Gulf country sends direct financial and material support to internationally-designated terrorist groups such as Hamas and the Nusra Front...
Daily Eye on Extremism
July 21, 2017
"The central command of the Islamic State in Syria has funneled tens of thousands of dollars to militants in the Philippines over the last year, most likely aiding their spectacular seizure of the southern Philippine city of Marawi, a report released Friday said. The report from the Institute for Policy Analysis of Conflict, a research institute based in Jakarta, describes how Mahmud Ahmad, a high-level Islamic State figure from Malaysia, who is based near Marawi, worked through the group's chain of command to Syria to get money and international recruits to help local militants seize territory in the Philippines for the caliphate."
The New York Times: ISIS' Core Helps Fund Militants In Philippines, Report Says
"In the three years since it proclaimed a world-wide caliphate, Islamic State has become a global franchise—which means that the loss of its core in Syria and Iraq won't pacify the far-flung conflict zones where the group's affiliates operate. Regional "provinces" of Islamic State have sprung up from West Africa to the Philippines after the group's self-appointed "caliph," Abu Bakr al-Baghdadi, seized the Iraqi city of Mosul in 2014 and demanded allegiance from Muslims world-wide. Most of these "provinces" grew out of existing insurgent organizations, such as Nigeria's Boko Haram or Ansar Beit al-Maqdis in Egypt's Sinai Peninsula. These groups simply reflagged with Islamic State's new brand—then seen as uniquely appealing to recruits and donors because of Islamic State's seeming invincibility."
Wall Street Journal: Beyond Syria And Iraq, Faraway ISIS 'Provinces' Fight On
"The massive effort to drive the Islamic State from what had been Iraq's second-largest city is now being matched by an enormous challenge to bring an ancient metropolis back to life from near total ruin. Much of the historic Old City in western Mosul has been reduced to rubble, with corpses rotting on the streets or buried under debris. Unexploded bombs and booby traps litter the terrain, as Islamic State guerrillas continue sniper attacks. And hundreds of thousands of former residents who fled remain in limbo.   Rebuilding after the nine-month offensive that ended in July will take years and billions of dollars, but the priority now is to make the city safe enough for residents to return. That means hunting down Islamic State stragglers, removing thousands of bodies and locating all the bombs that could still go off."
USA Today: Mosul: Corpses, Booby Traps And Snipers Are Everywhere In Devastated City
"Republican and Democratic U.S. lawmakers introduced legislation on Thursday seeking to increase sanctions on Hezbollah, accusing the powerful Shi'ite Muslim political group of violence in Syria and amassing rockets along Israel's border. The bill, an amendment to existing sanctions on the group, seeks to further restrict its ability to fundraise and recruit, increase pressure on banks that do business with it and crack down on countries, including Iran, that support Hezbollah. Among other things, it would bar anyone found to be supporting the group from entering the United States, require the president to report to Congress on whether Iranian financial institutions are facilitating its transactions and impose blocking sanctions on the group for criminal activities."
Reuters: U.S. Lawmakers Want Fresh Sanctions On Hezbollah
"After Iraqi forces reclaimed control of Mosul, the country's second-largest city, on July 10, Iraq Prime Minister Haider al-Abadi declared 'total victory' over Islamic State. The American commander of the global ­coalition to defeat the group, U.S. Army Lieutenant General Stephen Townsend, said the loss of Mosul had dealt a ­ 'decisive blow' to the terrorist organization. With U.S.-backed Kurdish and Arab fighters preparing to capture Raqqa, the terrorists' stronghold in Syria, President Donald Trump predicted 'the total destruction of ISIS.'"
Bloomberg: Islamic State Is Dying On The Battlefield—And Winning On The Internet
"The laptop ban is over. Passengers flying into the United States from airports in 10 Muslim-majority countries affected by the ban may now take their laptops and other large electronic devices into the cabin with them, the Department of Homeland Security confirmed on Thursday. Security officials imposed the ban in March, warning then that the Islamic State was developing bombs that could be hidden in portable electronic devices. But the airlines and airports affected by the ban have all complied with the initial phase of the new Homeland Security standards, allowing the prohibition to be lifted, the department said."
The New York Times: Laptop Ban On Planes Is Lifted, U.S. Officials Confirm
"When Sweden's foreign minister, Margot Wallström, announced late last month that Johan Gustafsson—who was kidnapped by al Qaeda militants in Mali in 2011—had been released and reunited with his family, rumors went round the West African nation that more foreign hostages would be freed in the coming days. But that didn't happen. Instead, the jihadis holding more than half a dozen Westerners put them in front of cameras and, in effect, on the market, pushing their respective countries to negotiate their release. The al Qaeda affiliated group known as Nusrat al Islam wal Muslimeen—an organization formed by the merger of terrorist groups in the Sahel and West Africa with the Saharan branch of al Qaeda in the Islamic Maghreb (AQIM)—issued a video showing Stephen McGowan of South Africa, Elliot Kenneth Arthur of Australia, Iulian Ghergut of Romania, Beatrice Stockly of Switzerland, Gloria Cecilia Narvaez of Colombia, and Sophie Petronin of France."
Daily Beast: Al Qaeda Is Hiding An American Hostage
"The Hawaii Emergency Management Agency is kicking off an educational campaign aimed at helping residents and visitors figure out what to do if the state is targeted in a nuclear missile attack from North Korea, reports CBS Honolulu affiliate KGMB. The agency said the threat to the islands from the rogue nation is "currently assessed to be low."  But officials added ongoing North Korean missile tests —and growing public concern — have prompted them to work on preparedness and disaster management plans. Vern Miyagi, administrator of the emergency management agency, stressed that the public shouldn't be alarmed by the planning. Rather, he said, the public should see the preparation and education much like the work being done to prepare the public for hurricanes and tsunamis, which pose a greater risk to the state."
CBS News: Hawaii Starting Campaign To Help People Plan For North Korea Attack
Daily Dose
Extremists: Their Words. Their Actions.
…Allah will give me an opportunity to go to the land of Jihad and resistance, even if in a wheelchair. I will shoot Allah's enemies, the Jews, and they will throw a bomb at me, and thus, I will seal my life with martyrdom.
The Counter Extremism Project acts to shine a light of transparency and accountability on those persons, businesses and institutions that financially underpin the activities of extremist groups.
Learn More