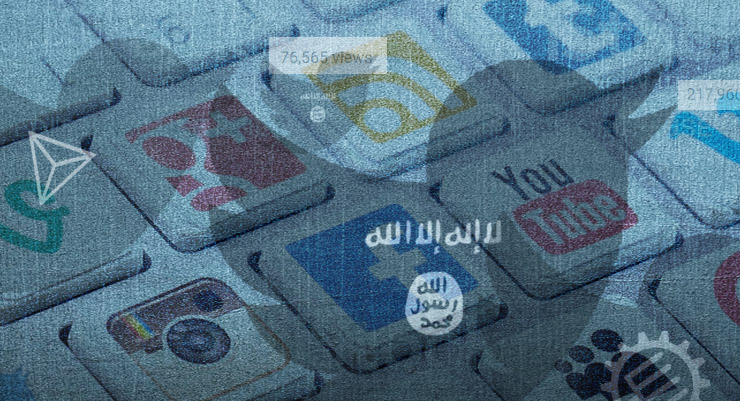 In November 2017, YouTube adopted a policy prohibiting content from al-Qaeda in the Arabian Peninsula propagandist Anwar al-Awlaki. YouTube's decision is a positive step, but there is no shortage of extremist actors and ideologues online. Content featuring other propagandists remains widely available on YouTube and other social media platforms. Content from individuals with links to violent extremist actors should be removed from online platforms...
Daily Eye on Extremism
June 22, 2018
"A regime offensive in southern Syria has threatened to displace thousands near the Jordanian border. The US has warned Damascus of upending a ceasefire in the area, saying it will take "firm and appropriate measures." The UN said 750,000 people in southwestern Syria may be in danger amid a fresh wave of violence in southwestern Syria. "Today, fighting and shelling continued to be reported in many towns on the eastern and western side of Daraa governorate," said the UN statement. "On June 20, shelling and fighting in several areas of Daraa governorate reportedly resulted in the death of 20 people, including 11 in Daraa city; many others were injured." Considered the birthplace of Syria's 2011 uprising, Daraa hosts thousands of internally displaced people. However, many of them have fled the area since a regime-led offensive to recapture rebel-held areas in the governorate. "More than 12,000 civilians have fled their homes in the last three days after regime forces intensified their shelling and air strikes," said UK-based Syrian Observatory for Human Rights, which relies on a nationwide network of on-the-ground sources."
Deutsche Welle: Syria: UN Warns 750,000 People At Risk Amid Fresh Violence
"Yemen's Iran-aligned Houthis have indicated they would be willing to hand over management of Hodeidah port to the United Nations, a potential breakthrough in a conflict that has caused the world's worst humanitarian crisis, sources familiar with the efforts said. Saudi Arabia and the United Arab Emirates have pledged a swift military operation to take over the airport and seaport without entering the city center, to minimize civilian casualties and maintain the flow of essential goods. The Saudis and Emiratis, who intervened in Yemen in 2015, say they must recapture Hodeidah to deprive the Houthis of their main source of income and prevent them from bringing in missiles. Hodeidah port is a principal entry point for relief supplies for Yemen. U.N. officials have warned that large-scale fighting in the city could threaten tens of thousands. U.N. envoy Martin Griffiths has been in the Houthi-controlled Yemeni capital, Sanaa, and Jeddah, Saudi Arabia, this week to try to negotiate a solution. A U.S. official said the United States was urging the Saudis and Emiratis to accept the deal. A diplomatic source at the United Nations said the coalition had informed Griffiths it would study the proposal."
Reuters: Yemen's Houthis Indicate Willingness To Hand Over Port To U.N.: Sources
"Aman Abdurrahman, a leading Islamic State recruiter and ideologue in Indonesia, was found guilty and sentenced to death on Friday> on charges that he incited five deadly attacks in the country while he was in prison on an earlier terrorism conviction. The five-judge panel ruled that Mr. Aman, although he played no operational role, still shared responsibility for the armed attacks in 2016 and 2017, which killed nine people and wounded dozens more. Eight of his followers who staged the attacks also died. Mr. Aman, 46, who was often photographed scowling during court appearances, told the judges Friday that he did not care about their verdict. Then he got on his knees and kissed the courtroom floor in apparent gratitude for their making him a martyr. "His role was very important in spreading religious outreach online that made his followers conduct bombings," the chief judge, Ahmad Zaini, told the court in Jakarta, the Indonesian capital. "His followers who read his writings were inspired to commit terrorist acts."
The New York Times: Indonesia Sentences ISIS Recruiter To Death
"German Chancellor Angela Merkel said solutions were "urgently needed" to challenge "Iran's aggressive tendencies" in the Middle East. Merkel made the comments at a news conference on June 21 in Jordan's capital, Amman, alongside King Abdullah II."
Radio Free Europe: Merkel: Solutions Needed To Deal With 'Iran's Aggressive Tendencies' In Middle East
"Facebook, in attempts to crack down on fake news and other content, has somehow made news organizations its enemy. Just one day after Facebook was criticized for rejecting a promoted post from the nonprofit investigative journalism outlet Reveal, Instagram has now reportedly removed a video from ProPublica's account. Lucas Waldron, a social visuals and graphics producer at ProPublica, noted on Twitter Thursday afternoon that Instagram removed a video uploaded by the publication on October 2017. The video showed footage of violent protests and identified members of white supremacists groups. Per Waldron, Instagram did not provide an immediate explanation as to why the company removed the video, or why it waited eight months to take action against the particular clip. Gizmodo reached out to Instagram for more information about the video's removal but did not hear back. We will update this post if we receive a response."
Gizmodo: Instagram Removed A ProPublica Post Outing White Supremacists Because Facebook Keeps Blocking The Wrong Things
Daily Dose
Extremists: Their Words. Their Actions.
We are the front line of the fight for the white race. We are the shock troops for the white race.
Jeff Schoep, National Socialist Movement, Founder and National Director
April 29, 2017
The Counter Extremism Project acts to shine a light of transparency and accountability on those persons, businesses and institutions that financially underpin the activities of extremist groups.
Learn More