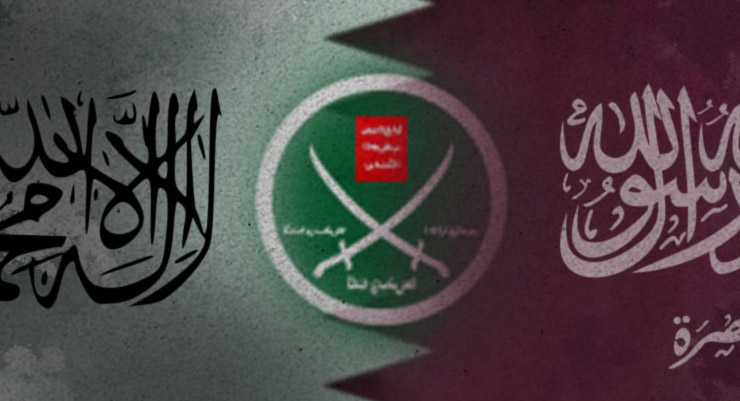 Recently, several Middle East and Gulf countries announced that they were severing ties with Qatar as a result of the country's support for extremism and terrorism. Although Qatar announced that it is preparing to expel several Hamas leaders, the government has previously denied reports that it was expelling Hamas leader Khaled Meshaal, referring to reports as "just rumors" and calling Meshaal a "dear guest" of Qatar...
Daily Eye on Extremism
January 19, 2018
"A former German rapper who became a recruiter, fighter and propagandist for the Islamic State terror group has reportedly been killed in fighting in Syria. The pro-IS Al-Wafa media group announced the death of Denis Cuspert, who also went by the name Deso Dogg, on Thursday and posted graphic photos of his corpse, according to the SITE Intelligence Group. Al-Wafa said Cuspert had died in an airstrike during a battle in Gharanij in Syria's Deir el-Zour governorate, but that he had killed 10 enemy fighters before he died. The announcement also praised him for continuing to fight despite having suffered numerous injuries over the past few years. U.S. officials have not yet been able to confirm Cuspert's death but said neither the U.S. nor the international anti-IS coalition had conducted any airstrikes in the area."
Voice Of America: German Rapper-Turned-IS Pitchman Reportedly Killed In Syria
"The number of people dying in terrorist attacks is dropping, according to a report released this week. The study, done annually by Jane's Terrorism and Insurgency Center, uses open-source information to track every instance of politically and ideologically motivated violence by nonstate armed groups and individuals. Its latest report shows that the number of terrorist attacks dropped slightly in 2017, to 22,487."
The Washington Post: Every 2017 Terrorist Attack, Mapped
"A federal judge ruled Thursday that the US Defense Department must refrain from transferring a US citizen accused of fighting for ISIS and detained as an 'enemy combatant' in Iraq to the custody of a third country until Tuesday. The American Civil Liberties Union, which represents the unnamed individual, filed a motion with the court earlier this month asking that the man not be transferred from US government custody until the court has ruled on his petition for habeas corpus, which challenges the legality of his detention by the US government. The government must respond to the claim of unlawful detention by Monday."
CNN: Judge Orders US Not To Transfer American Accused Of Fighting For ISIS
"Abdullah Shrim's phone almost never stops ringing. Most of the calls and messages are from other Yazidis asking for help to find their relatives. Others are from people threatening to kill him. Shrim, a gregarious man with a ready smile, so far has rescued 338 members of the Yazidi religious group held captive by ISIS — almost all of them from Syria. It's a long way from his background as a beekeeper and businessman. 'I didn't think for a moment that I could be involved in the rescue field, to save someone,' says Shrim, 43, at his home in a village near the city of Dohuk in the Kurdistan region of Iraq."
NPR: This Man Has Freed Hundreds Of Yazidis Captured By ISIS. Thousands Remain Missing
"The latest protests in Iran may be largely crushed for now, but the characteristics of this particular uprising suggest that, unlike the so-called Green Revolution of 2009 and other previous waves -- the unrest could continue sporadically for years to come. Although the rioters -- largely workers and farmers from rural and religiously conservative villages and towns -- were not part of a unified or organized movement, they do have shared grievances that fueled the outrage, and this could be a game changer. Unlike past uprisings in Iran when demonstrators' outcries concerned lofty goals, such as democracy and free elections, these protesters' complaints are practical and urgent, because their lives are far more difficult than those of Iranians in major cities. For example, the unemployment rate in Tehran –-historically the center of political protest until now – is 13 percent, according to Iran's Interior Ministry. But in rural areas such as Bashagard and Hormazgan provinces the rate is above 45 percent, and in some cities it is reportedly up to 60 percent. In the fiscal year that ended in March 2017, the government said it had created 650,000 jobs, but 1.5 million new jobs were needed to decrease unemployment."
Bloomberg: Iran's Latest Revolution Won't Fade Away
Daily Dose
Extremists: Their Words. Their Actions.
Fact:
On January 20, 2016, Taliban militants stormed Bacha Khan University in northwestern Pakistan, killing 22 people and wounding 20 more.
The Counter Extremism Project acts to shine a light of transparency and accountability on those persons, businesses and institutions that financially underpin the activities of extremist groups.
Learn More