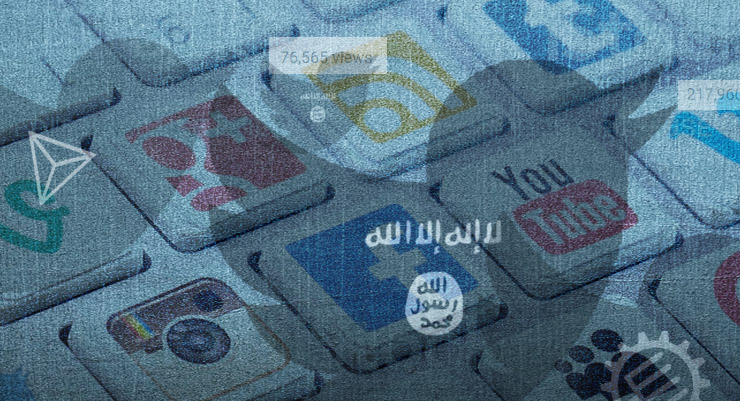 In November 2017, YouTube adopted a policy prohibiting content from al-Qaeda in the Arabian Peninsula propagandist Anwar al-Awlaki. YouTube's decision is a positive step, but there is no shortage of extremist actors and ideologues online. Content featuring other propagandists remains widely available on YouTube and other social media platforms. Content from individuals with links to violent extremist actors should be removed from online platforms...
Daily Eye on Extremism
March 23, 2018
"Two months ago, a 40-year-old Frenchman with a handlebar mustache stood in front of a ragtag group of foreign fighters and recorded a defiant video statement: 'We fought Daesh in Raqqa,' he said, referring to the Islamic State. 'Now it is the fascist Turkish state we are fighting, here in Afrin.' A month later he was dead. His name was Olivier Le Clainche, and he was the third of seven European and American citizens to die fighting Turkish forces in Syria—a coalition that includes dozens of jihadist militias in Aleppo province that Turkey has sponsored and directed for the last two years. Turkish forces invaded the Afrin district of Aleppo province on January 20, attacking a Kurdish militia that has numerous foreign fighters from western countries. The slain include citizens of the United States, Britain, France, Spain, and Iceland — all member countries of NATO, the western military alliance to which Turkey also belongs. The latest casualty was Anna Campbell, a 26-year-old British woman killed March 16."
Daily Beast: Two Americans Among Seven Westerners Killed By Turkish Forces In Syria
"At least 14 people were killed and 10 others wounded in a car bomb blast near a hotel in Somalia's capital, Mogadishu, Somali officials said Thursday. Capt. Mohamed Hussein said the explosion occurred near the Weheliye hotel on the busy Makka Almukarramah road. The road has been a target of attacks in the past by the Somalia-based extremist group al-Shabab, the deadliest Islamic extremist group in Africa. Most of the casualties were passers-by and traders, Hussein told The Associated Press. The toll of dead and wounded was announced by security ministry spokesman Abdulaziz Hildhiban. Al-Shabab claimed responsibility for the blast. The group frequently attacks Mogadishu's high-profile areas such as hotels and military checkpoints. A truck bombing in October killed 512 people in the country's deadliest-ever attack. Only a few attacks since 9/11 have killed more people. Al-Shabab was blamed. Thursday's blast comes almost exactly a month after two car bomb explosions in Mogadishu shattered a months-long period of calm in the city, killing at least 21 people."
Japan Times: Al-Shabab Claims Car Bombing That Killed At Least 14 Near Mogadishu Hotel
"A recent report from the USS Theodore Roosevelt, an aircraft carrier stationed in the Persian Gulf and supporting the US-led fight against ISIS contained a startling realization — US pilots are fighting in an insanely complicated space that puts them in danger. 'When it first started, ISIS was just steamrolling across Iraq and Syria and there wasn't really much resistance going on … There weren't a whole lot of places you could go where there was no ISIS presence about three years ago,' Lt. Joe Anderson, an F/A-18F pilot aboard the Roosevelt, told the US Naval Institute. But in 2018, the US-led coalition against ISIS has all but crushed the terror army. Now the US troops in Syria, and their backups aboard the Roosevelt, have moved on to other objectives. 'Now where we're at, there's not as much going on … Mostly they've been whittled down to just isolated pockets within Iraq and Syria,' Anderson said."
Business Insider: US Pilots In Syria Fight At A Huge Disadvantage — And It Could Start A Major War At Any Time
"The strength of the US counterterrorism relationship with Saudi Arabia "rivals" that with its historic ally the UK — although this has yet to register with the American public, a former homeland security adviser told Arab News. Information provided by the Kingdom has prevented several terror attacks and helped save American lives, said Frances Townsend, who worked in the administration of former US President George W. Bush. Saudi Arabia has stood "shoulder to shoulder" with the Americans in combating terrorism, Townsend said. "This relationship has developed in terms of counterterrorism — in particular, information sharing and intelligence sharing — which from the United States' point of view rivals (what we share with) Britain, our longest historic ally," she said. "We have a critical information and intelligence-sharing relationship that is almost unparalleled with any of our other partners. She cited two terror plots that were prevented specifically due to intelligence from Saudi Arabia."
Arab News: Saudi Intelligence Sharing 'Has Saved American Lives,' Former Homeland Security Adviser Frances Townsend Tells Arab News
"Using public data posted on a web site is legal. This is the bread and butter of Internet marketing companies. But according to a recent New York Times investigation, Cambridge Analytica collected data from Facebook users and their friends without consent, leaving both companies potentially liable for their actions. Cambridge certainly compiled a significant amount of information from 50 million Facebook profiles. But that data pales in comparison to the quality and quantity of user information that Facebook, and especially Google, have collected over the years. This is what we should really be concerned about. It's time for the government to regulate companies like Facebook before their collection practices irreparably harm users' privacy. The underlying problem with Google, Facebook, and other tech companies is that they are easily able to accumulate immense amounts of information based on consent agreements, written in fine print, that users must sign to use their services."
Fortune: Commentary: Facebook Can't Be Trusted. It's Time To Regulate It
Daily Dose
Extremists: Their Words. Their Actions.
We— inshallah—are asking for martyrdom. I want to see Allah because we have a cause, and the one who has a cause is happy to die for his cause.
The Counter Extremism Project acts to shine a light of transparency and accountability on those persons, businesses and institutions that financially underpin the activities of extremist groups.
Learn More