For Immediate Release
Monday, December 6, 2021
(New York, N.Y.) — The Counter Extremism Project (CEP) reports weekly on the methods used by extremists to exploit the Internet and social media platforms to recruit followers and incite violence. Last week, evangelist Bob Larson and neo-Nazi James Mason had a live debate on Larson's YouTube channel, receiving over 9,200 views. In the debate, Mason promoted antisemitism, denied the Holocaust, and supported acts of violence in the name of national socialism.
Additionally, a Neo-Nazi website announced that they had raised money on Amazon from selling books and were donating a portion of it to imprisoned Atomwaffen Division leader John Cameron Denton. On Telegram, CEP researchers found a neo-Nazi channel posting information on how to make and use a legally obtainable explosive. In addition, a video was located on a fringe video streaming site advocating for copycat attacks of the March 2019 Christchurch terrorist attack.
The white supremacist grop Patriot Front held a rally in Washington DC, which was widely promoted on Telegram. White supremacist and neo-Nazi groups have tried to exploit the murder of six people during a Christmas Parde in Waukesha, Wisconsin, in order to spread propaganda and recruit. The Rhode Island chapter of the neo-Nazi group Nationalist Social Club (NSC) celebrated a demonstration the group held in front of an African American community center through a post on its Telegram channel.
Lastly, on November 23, al-Qaeda released a video in which its leader Ayman al-Zawahiri condemned the United Nations, and two ISIS Amaq videos were located that showed the alleged assassination of an Indian police officer in Srinagar and the of a burning of a Humvee in Iraq.
Debate Featuring Neo-Nazi James Mason Live Streamed on YouTube
On December 1, the pastor, radio, and television evangelist Bob Larson debated neo-Nazi James Mason in a live stream on Larson's YouTube channel. The debate was a sequel to a discussion in 1993 on Bob Larsen's television/radio program, footage from which has been used in several pro-Mason propaganda videos. During the debate, Mason advocated antisemitic Christian Identity beliefs, denied the Holocaust, and advocated for acts of violence in the name of national socialism.
The video had over 9,200 views approximately 17 hours after the live cast, and the recorded video on YouTube contained advertisements. Before and during the live cast, Mason's supporters made extensive use of the live streaming chat feature to post messages supporting Mason and white supremacism, and in multiple cases, users utilized the Super Chat feature, paying money to Larson to ask Mason questions, allowing Mason to answer questions from his fans on-air directly. Approximately 15 hours after the live stream concluded, 60 percent of the 126 stand-alone comments on the video were pro-Mason, 13 percent were pro-Larson, and 27 percent were neutral. Multiple individuals promoted websites featuring Mason's work in the comments, as well as Mason's books and Holocaust denial.
YouTube removed audio versions of Mason's book Siege in 2019. Propaganda videos made by the Atomwaffen Division, for which Mason has acted as a spokesperson, have also been removed by YouTube. The YouTube link for the live stream was shared by at least 14 white supremacist Telegram channels before and during the broadcast. The link was also shared on 4chan and at least one other imageboard.
Neo-Nazi Website Announces Amazon Sales Success
On November 28, the Gab page of a neo-Nazi website announced that they had made $270 through Amazon. The site administrators announced that they were sending $110 to imprisoned Atomwaffen Division leader John Cameron Denton's prison commissary fund and were using the remaining money to print pamphlets.
The neo-Nazi site had sold three different books on Amazon. The first, a manifesto for the website, calls for creating an American fascist movement and identifies Jews as the ultimate enemy who must be targeted with violence, along with the government, to destroy American society. Originally written for the German armed forces during World War II, the second book was meant to be an "ideological orientation" for military officers. The book outlines Nazi Germany's racial policies and promotes extreme antisemitism. The final book written by Denton using a pseudonym contained extreme antisemitic and racist language and called for acts of violence.
Amazon's policies prohibit the sale of books that contain "hate speech" or "advocates terrorism, or other material … deem(ed) to be inappropriate or offensive." The books were available for purchase through Amazon in several countries, including the U.S. and Germany.
The books were on Amazon for approximately one month before they were removed by the company and approximately one month after CEP reported the books to Amazon. The website is affiliated with members of the National Socialist Order and contains writing from former members of the Atomwaffen Division, and seeks to spread the work of neo-Nazi James Mason.
Neo-Nazi Accelerationist Telegram Channel Provides Recipe and Advice on Using Explosives
On November 29 and December 3, a neo-Nazi accelerationist Telegram channel posted a video and text providing information on making and using a legally obtainable explosive. The channel advised users on how to legally obtain explosive precursors as well as how to use the legally obtainable explosive and increase its effectiveness. The November 29 post on using the explosive was shared by at least eight other Telegram channels, where it had a total of 275 views, including potential overlaps between channels.
Video on Fringe Streaming Website Encourages White Supremacist Attacks
CEP researchers located a video on a fringe video streaming site advocating for lone actor attacks in the style of the March 2019 Christchurch terrorist attack to push accelerationism, stating that "violence is necessary." The video had approximately 30 views after it was on the site for seven days. A link to the video was posted on an imageboard on the dark web that supports the Christchurch terrorist.
Patriot Front Holds Rally in Washington DC
The white supremacist fascist group Patriot Front held a march and rally on the National Mall on December 4. Over 100 estimated members gathered on the steps of the Lincoln Memorial, and the group's leader Thomas Rousseau gave a speech near the Capitol Building.
Videos of the march and rally were made by a media project affiliated with Robert Rundo and the Rise Above Movement. The media group posted videos on their Telegram page and posted fundraising links. The group accepts donations in cryptocurrencies, including BitCoin, Monero, Etherium, and several others, as well as via the payment app Pinwheel and by credit card. Rundo also posted a video on Telegram congratulating Patriot Front and stating that both anti-fascist activists and mainstream media had used the RAM affiliated media group's footage, which was an accomplishment. Rundo further noted that the footage showed Patriot Front in a positive light, which was one of the goals of the white supremacist media operation.
A prominent neo-Nazi Telegram channel dedicated to information and operations security stated that public marches such as Patriot Front's were unhelpful for white supremacists because they provided opportunities for doxing or arrest. The channel declared that further action was necessary and that "a peaceful protest does not strike fear into the enemy."
White Supremacist and Neo-Nazi Groups Exploit Waukesha Parade Murders
White supremacist and neo-Nazi groups have sought to exploit the November 21 Waukesha parade murders in an attempt to portray it as anti-white violence and recruit. Darrell Brooks has been charged with six counts of first-degree intentional homicide for driving his SUV into a Christmas parade, killing six, and injuring over 60 people.
The white supremacist and antisemitic National Justice Party (NJP) protested outside the Waukesha County Courthouse, declaring that the Waukesha police and the justice system are "anti-white" and demanding that Brooks be charged with federal hate crimes and executed. Photos and videos of the demonstration were shared on the group's website, YouTube, Telegram, a blockchain-based streaming service, and a short video showing the demonstration was spread by a large Instagram account unaffiliated with the group, where it received almost 1,000,000 views.
Active Club chapters, inspired by the Rise Above Movement, have also engaged in flyering campaigns, spreading posters made by NJP claiming that the parade attack was anti-white terrorism and that an intentionally vaguely worded "they" wanted to kill white people. A Rise Above Movement affiliated media project was present with the National Justice Party in Waukesha.
Finally, the neo-Nazi group The Base claimed to have conducted a "patrol" along the parade route in Waukesha and posted recruitment flyers. The group is listed as a terrorist organization in the UK and Canada and is expected to soon be declared a terrorist group in Australia.
Neo-Nazi Group Demonstrates Outside of Rhode Island African American Community Center
The Rhode Island chapter of the neo-Nazi group Nationalist Social Club (NSC) posted photographic and written propaganda on their Telegram channel on November 27, 28, and 29, celebrating a demonstration the group held in front of an African American community center in Pawtucket. The neo-Nazi group's photo on Telegram showed 11 members posing menacingly with their flag in front of the Rhode Island Black Lives Matter African American Innovation Center.
On Telegram, the group declared that there would be "No peaceful coexistence" with the Black Lives Matter movement but also posted a screed stating that black activists should redirect their focus to fighting against "Jewish Power." The NSC channel falsely claimed that the BLM movement was responsible for the murder of six at the Waukesha Christmas parade. The NSC Rhode Island Telegram channel was removed from the communications platform in September 2021 for violating Telegram's Terms of Service, but the group created a new channel approximately two days later that remains online.
Al-Qaeda Releases Video Condemning the United Nations
On November 23, al-Qaeda released a video speech of the group's leader Ayman al-Zawahiri in which he condemned the United Nations, the Universal Declaration of Human Rights, and UN agencies as being incompatible with Islamic law. Zawahiri stated that the UN was created to impose an "irreligious and immoral ideology" on the world and that accepting UN membership means that secular law would override Islamic law. He also stated that UN membership is recognition of Israel by default. The al-Qaeda leader stated that he is opposed to the Universal Declaration of Human Rights because it allows immorality, declares equality between men and women, prohibits harsh punishments, and declares that individuals have the right to change their religion. Zawahiri also condemned the UN for hypocrisy in imposing sanctions on Afghanistan while not acting against human rights abuses by Afghan and coalition forces.
The video was released while the Taliban sought to represent Afghanistan at the UN. On December 1, a UN committee deferred the decision to grant the Taliban a UN seat until an unknown future date.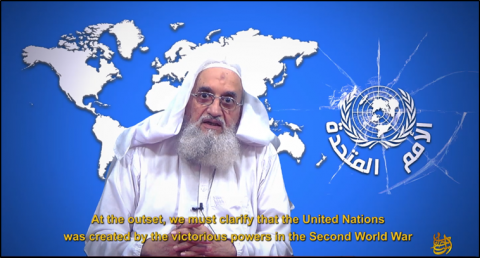 Al-Qaeda video featuring Ayman al-Zawahiri.
ISIS Amaq Videos Located on Multiple Websites
CEP located an ISIS Amaq video released on December 2 that showed the alleged murder of an Indian police officer in Srinagar with a pistol. The video was uploaded to at least nine websites. Four days later the video was still available on two websites, Jwp.Io and the distributed web platform IPFS.
CEP also located an Amaq video that was released on November 30 on multiple websites. The video shows a burning Humvee vehicle, claiming that it belonged to the Kurdish Peshmerga and was destroyed in an attack by ISIS fighters in the Kifri district of Iraq. The video was uploaded to at least ten websites and was spread on RocketChats, Element, and Telegram. Approximately 48 hours later, the video was still available on four websites: the Internet Archive, GoFile.Io, File.Fm, and the distributed web platform IPFS.