For Immediate Release
Monday, October 25, 2021
(New York, N.Y.) — The Counter Extremism Project (CEP) reports weekly on the methods used by extremists to exploit the Internet and social media platforms to recruit followers and incite violence. Over the last week, CEP identified 12 Instagram accounts featuring pro-ISIS content with a combined number of followers in the thousands. The accounts have been up for an average of 75 days and portrayed horrific violence, including a beheading video. A pro-ISIS video was also released on multiple websites celebrating the October 8 suicide attack on a Hazara Shiite Mosque and the October 15 bombing of a Shiite Mosque in Kandahar.
Additionally, Barnes & Noble was found to be selling a neo-Nazi magazine. A white supremacist Telegram channel that was deleted resurfaced two days later, advocating for acts of violence against immigrants and people of color. A second channel on Telegram was taken down after CEP reported it, but then resurfaced the same day, and similarly advocated for violence against Jews, law enforcement, and vaccine providers. A European white supremacist channel encouraged their followers to make false reports alleging discrimination at soccer matches. Finally, CEP identified a neo-Nazi group advocating for violence on Nextcloud, as well as a new neo-Nazi website promoting skill development and seeking to turn their audience into "revolutionaries."
Pro-ISIS Content Located on Instagram
The week of October 17 to October 23, CEP located 12 accounts that posted pro-ISIS content on Instagram. Content included footage taken from official ISIS propaganda videos, including violence such as beheading and assassination, as well as combat footage including the use of suicide vehicle-borne improvised explosive attacks. Posted content also included segments taken from ISIS's weekly al-Naba newsletter and Amaq news releases. Two accounts were allegedly connected to pro-ISIS media groups.
The 12 accounts had a mean of 296 followers, with a range of followers between 10 and 1,055. Ten accounts had over 100 followers. The accounts had posted their first piece of extremist content an average of 75 days before they were located, with a range between six and 262 days. Three of the accounts were removed by Instagram four days after they were reported by CEP. Of the nine accounts that were still online four days later, one belonged to a pro-ISIS media group. Graphic content, including a compilation video that showed a beheading taken from an ISIS propaganda video, was still online four days later.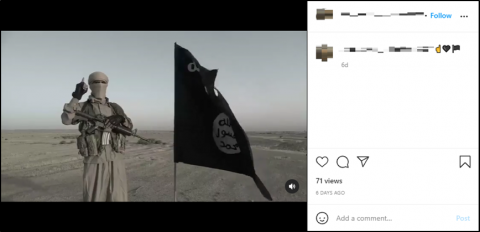 Section from an ISIS propaganda video on Instagram. Screenshot taken on October 21.
Pro-ISIS Video Celebrating Afghanistan Attacks Located on Multiple Websites
On October 20, the pro-ISIS media outlet Tala'a al-Ansar released a video celebrating the terrorist group's attacks against Afghan Shiites. The video included previously released ISIS Amaq News photos allegedly showing the perpetrator of the October 8 suicide attack on a Hazara Shiite Mosque in Kunduz and the perpetrators of the October 15 bombing of a Shiite Mosque in Kandahar. Forty-six people were killed and 143 wounded and 47 killed, and at least 68 wounded, respectively. The video mocked the Taliban for being unable to prevent the attacks and contained graphic footage showing the aftermath of the bombings. The video also included scenes showing assassinations, roadside bombings, and the launching of rockets or similar projectiles.
Links to the video were spread on Element. The video was posted to at least 15 websites. Approximately 24 hours later, the video was still available on five websites: Transfer.Sh, File.Fm, the Internet Archive, GoFile.Io, and a pro-ISIS propaganda website. The videos were removed by the Internet Archive after they were reported by CEP.
Neo-Nazi Magazine Located and Removed From Barnes & Noble
CEP researchers located a neo-Nazi magazine for sale on the Barnes & Noble website. The magazine was the first edition of a series that hoped to offer a lifestyle guide, showcase white supremacist art projects, and support "activists." The magazine is a fundraising effort for the Australian National Socialist Network and the legal defense fund of Australian neo-Nazi leader Thomas Sewell, who is currently awaiting trial on armed robbery and assault charges. The magazine was advertised on multiple Telegram channels. Barnes & Noble removed the magazine after CEP reported it.
Deleted Telegram Channel Returns to the Platform, Advocates Violence Against Immigrants and People of Color
A notorious white supremacist Telegram channel that was removed from the platform on October 13 returned two days later and advocated for acts of violence against immigrants and people of color. The channel posted an image that encouraged the murder of immigrant and non-white men, women, and children. The previous version of the account had over 1,600 subscribers when Telegram deleted it for violating their Terms of Service. The new version of the channel was activated on October 15, and amassed over 200 subscribers after it was online for six days. The new channel had a username and URL almost identical to the deleted channel and indicated that it was a newer version. The message announcing their return and advocating for xenophobic and racist violence was viewed over 1,500 times and shared by at least 24 different Telegram channels within three days.
Telegram Channel That Advocated for Violence Against Jews and Vaccine Providers Deleted and Returns to Platform
On October 20, Telegram deleted a channel for violating its Terms of Service after CEP reported it. The channel, which advocated for white supremacism and encouraged arson, had celebrated reaching 500 members on October 19 by advocating for acts of violence against Jews, synagogues, vaccine providers, and law enforcement officers. The channel had provided advice on setting fires and using incendiary devices. A new version of the channel was created later on the same day it was deleted, with the same content, amassing 230 followers in approximately 24 hours. Despite CEP reporting the channel for a second time, it remained online. It is unclear why Telegram took action the first time but not the second, despite the channel posting the same content that violates the platform's Terms of Service.
White Supremacist Telegram Channel Encourages Filing False Claims with European Anti-Racist Soccer Group
On October 21, a Telegram channel linked to extreme right-wing hooligans encouraged their subscribers to file false claims of racism or discrimination with the group Fare Network (formerly Football Against Racism in Europe). The channel, which has over 8,000 subscribers, posted a link to a complaint form used by the Fare Network. The channel has posted large quantities of neo-Nazi, anti-immigrant, anti-Muslim, and anti-LGBT content from groups in Germany, Greece, Denmark, the Netherlands, Spain, France, Bulgaria, Serbia, Italy, Poland, Russia, and others. The message was also shared by a Telegram channel with over 10,000 followers linked to a clothing brand and online store linked to the Rise Above Movement.
Neo-Nazi Group that Advocates Violence Using Nextcloud
CEP located a small internet-based neo-Nazi group using the cloud storage site Nextcloud to store documents. The group has expressed its desire to network with other small neo-Nazi groups online. In addition to a Telegram channel, the group maintains an onion site on the dark web. The group, which is heavily inspired by the Atomwaffen Division (AWD), promotes violence and has released propaganda containing a photo of Dylann Roof, who murdered nine African Americans during the Emanuel African Methodist Episcopal Church shooting on June 17, 2015. 
New Accelerationist Neo-Nazi Website Located
CEP researchers located a new neo-Nazi website that promotes skill development and seeks to turn their readership into "revolutionaries." The site is linked to a second site that spreads the work of the neo-Nazi James Mason and contains writings by several former members of the AWD and current National Socialist Order (NSO) members. Both websites list AWD members, one member of the neo-Nazi group The Base, and a white supremacist imprisoned for a mail bombing as "prisoners of war." The site was created on September 20 and uses Enom as its registrar and VanwaTech as its name server.
Neo-Nazi Accelerationist Website Posts Manifesto From Group Calling for Violence
On October 21, a neo-Nazi website posted a manifesto from an allied group that called for acts of violence and terror to weaken the government and society. The manifesto promoted accelerationist violence, condemned concepts of morality, and declared all but extreme fascists willing to use violence to be their enemy. The manifesto is linked to a Telegram channel that had over 400 subscribers on October 21.
The website that posted the manifesto seeks to spread the work of the neo-Nazi James Mason and contains writings by several former members of the AWD and current NSO members. The website emphasized that they posted the manifesto out of solidarity with the group but that they were separate entities. NSO has previously called for acts of terrorism.