ISIS Redux: The Central Syria Insurgency in September 2020
Following is the September installment of "ISIS Redux: The Central Syria Insurgency," a monthly chronicle of attacks by the terrorist group ISIS in central Syria. August's update can be read here, July's update can be read here, the June update can be read here, May's update can be read here, and April's here. A full background and analysis of ISIS's resurgence in Syria, including its methodology, can be explored here and here.
ISIS militants carried out at least 32 attacks in September, killing at least 32 pro-Assad regime fighters and 12 civilians in the Homs, Deir Ez Zor, Raqqa, Hama, and Aleppo governorates. These attacks constitute a continuation of the escalation in violence witnessed in August, when ISIS cells conducted their largest number of attacks since their insurgency began. The overall number of attacks, the number of high quality* attacks, and documented pro-government deaths in September exceeded any prior month of ISIS' insurgency except August. Unlike in August, when Homs experienced the greatest number of attacks, September saw ISIS cells concentrate again on western Deir Ez Zor (11) and Raqqa (9), while also increasing their activity in Hama (5) and Aleppo (2), as we predicted. September was also the first time since July that high quality attacks were carried out in all five governorates.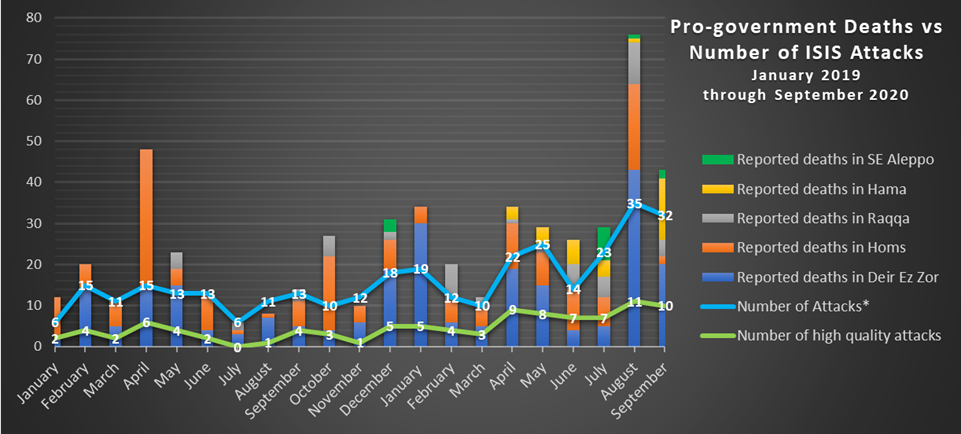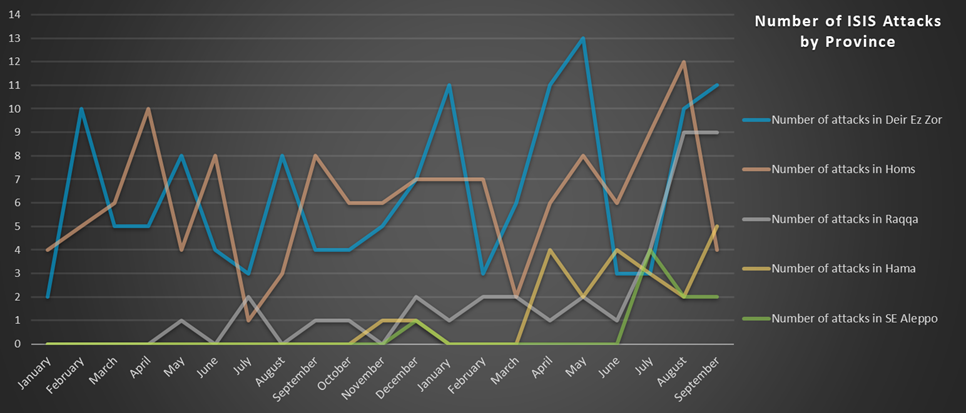 ISIS has continued to focus on western Deir Ez Zor, with all 11 documented attacks in the province occurring either just west of the town of Mayadeen (3) or in the northwest corner of the governorate (8), stretching from Jabal Bishri to Deir Ez Zor city. Pro-regime forces were slow to conduct their much anticipated anti-ISIS operation in the latter area following the August 27 ISIS ambush that left as many as 30 pro-regime fighters of the National Defense Forces (NDF) dead. When government and local units did finally move into the desert west of Musarib, they were met with well-placed mines and additional ambushes. Meanwhile, much of the fighting in Homs occurred in the first week of the September, when regime forces pushed into Wadi Doubayat, just south of the city of Sukhnah, forcing ISIS out of an area it had long held. However, ISIS retook the area two days later. Since then, no attempt has been made by the Syrian regime to wrest back control of the area.
As in previous months, ISIS successfully assassinated several pro-regime commanders in September. The NDF, increasingly bearing the brunt of the insurgency, lost two more sector commanders. Its Eastern Sector commander was wounded during an anti-ISIS operation west of Musarib on September 19 and would die the following day, along with the two other fighters in his car when it was attacked. On September 30, ISIS fighters in the city of Ma'adan, Raqqa, managed to place an Improvised Explosive Device (IED) in the car of Mohammad Shaaban, killing him. Shaaban was a veteran NDF commander responsible for defending the Deir Ez Zor airport during its four-year siege and later headed the recruitment office for western Deir Ez Zor governorate before joining the Raqqa NDF leadership a few months ago. These two men represent the 20th and 21st officers killed by ISIS in the Badia (Syrian desert) since the start of this year, and the third and fourth NDF commanders lost in just the past six weeks.
Other high-quality ISIS attacks included a September 13 ambush west of Mayadeen in which at least six pro-regime Liwa al-Quds fighters were killed and two of their vehicles were lost. On September 24, ISIS militants carried out simultaneous raids on regime checkpoints near the Zakia Junction in Aleppo and near Resafa in Raqqa. According to local sources, ISIS fighters approached the checkpoints on motorcycles, causing the soldiers to flee. ISIS then withdrew after collecting the equipment left behind. On September 16, separate ISIS cells attacked security forces in several villages in northeast Hama. This attack was followed on September 28, by a raid on a village in southeast Hama, where ISIS militants killed 12 local civilians and stole their sheep. These last two attacks mark the first major actions in eastern Hama since late July, when locals began forming self-defense militias in response to frequent ISIS raids and an absence of government security forces.
ISIS carried out two or more attacks on 11 days in September, with two days in which three attacks were conducted across the Syrian desert. September experienced three more days of multiple ISIS attacks than August, as violence picked up significantly in the second half of the month following a much quieter first half. ISIS's continued ability to carry out such frequent same-day attacks confirms that the group employs a sophisticated logistical and strategic capability that enables cells in each province to operate independently from each other.
Anti-ISIS operations appeared to slow down this month, with the only major operation occurring in Wadi Doubayat during the first week. Local pro-regime forces have semi-regularly probed the region west of Musarib, and a multi-day operation was carried out from Khanasir, Aleppo south to east Hama, the second of its kind since July. The Syrian Army's 17th Division continued to send new recruits to Deir Ez Zor city, although the division is reportedly refusing to deploy alongside the pro-regime NDF north of the city due to a long-standing political dispute between the division's head, Major General Ghassan Mohammad, and the commander of the Deir Ez Zor NDF, Feras Jeham. In Raqqa, the Syrian Air Force has, according to one NDF fighter, adopted a strategy of bombing pre-selected targets whenever ground forces are hit by mines or come under fire from ISIS fighters. This attempt at deterrence has proven entirely ineffective.
Despite the assumption that ISIS would scale back its attacks following the extremely deadly month of August, Badia cells appear to have kept a near identical pace of activity throughout September. While ISIS did not carry out any attacks on the scale of August's Musarib ambush or the killing of the Russian major general, they have effectively employed a combination of well-placed mines,IEDs, and regular ambushes to keep the pressure on regime forces. More concerning for the regime, the apparent inability to protect NDF commanders puts this crucial frontline unit at risk of severe degradation. The loss of veteran commanders combined with the already poor support the militia receives from the army leaves its fighters increasingly vulnerable to large-scale ISIS attacks.
October will likely see more commanders killed and another attempt at a large ambush, most probably in Deir Ez Zor or Raqqa where ISIS cells appear to have the most freedom of movement. Homs can be expected to heat up as well, at the very least returning to the types of attacks witnessed in August, including mines and harassment fire along the highways north of Sukhnah. East Hama and south Aleppo remain the key fronts for further geographic expansion of ISIS's insurgency. ISIS clearly wants to make inroads in both of these important regions, though it remains unclear how successful they will be at securing and holding territory in these more urbanized areas.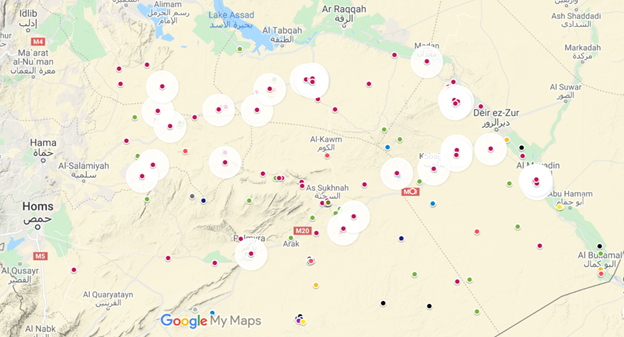 Map of locatable ISIS attacks (highlighted dots) in September. To view an interactive version of this map, please click here.
---
*High quality attacks are defined as attacks behind frontlines, those that result in seized positions, target regime officers, involve coordinated attacks on multiple positions, fake checkpoints, ambushes on military convoys, or attacks on checkpoints that kill at least three soldiers or lead to POWs.
Daily Dose
Extremists: Their Words. Their Actions.
In Their Own Words:
Our resistance will not break, and our response will come soon.
Jan. 26, 2023
View Archive
Stay up to date on our latest news.
Get the latest news on extremism and counter-extremism delivered to your inbox.