At the end of 2017, the Syrian regime and Russian President Vladimir Putin proudly proclaimed their militaries' victory over ISIS.Andrew Roth, "On visit to Syria, Putin lauds victory over ISIS and announces withdrawals," The Washington Post, December 11, 2017, https://www.washingtonpost.com/video/world/putin-russian-forces-will-start-withdrawing-from-syria/2017/12/11/9d9e6bdc-de72-11e7-b2e9-8c636f076c76_video.html; "Al-Boukamal city declared fully liberated," Syrian Arab News Agency, November 9, 2017, https://sana.sy/en/?p=117602. The terrorist group had lost all of the urban centers—and ostensibly the rural areas—it once controlled west of the Euphrates River. Nevertheless, ISIS has been able to effectively wage a sophisticated and deadly insurgency throughout regime-held central Syria for more than two-and-a-half years, as detailed in "'A Force They Haven't Seen Before': Insurgent ISIS in Central Syria" by this author.
ISIS has deployed IEDs and mines, small arms, anti-tank guided missiles and RPGs, car bombs, and fake checkpoints to repeatedly ambush Syrian regime and Russian forces in the Deir Ez Zor, Homs, Raqqa, and Hama governorates. ISIS attacks have spanned more than 15,000 square miles—striking as far west as Khunayfis (just 40 miles from Damascus governorate) and as far north as Rahjan, Hama (just 15 miles from Idlib governorate), and along the length of the Euphrates from Boukamal in the south to Ruseifa in the north.
ISIS has proven to operate a robust intelligence gathering system in central Syria. The group is reportedly responsible for killing high-value targets such as Syrian and Iranian commanders using mines and IEDs and has successfully avoided regime strongpoints during its deep pushes "behind enemy lines," finding roads through undefended parts of the countryside. In doing so, ISIS has managed to effectively control territory at various times, most recently controlling the crucial Bishri Mountains bordering the Raqqa, Homs, and Deir Ez Zor governorates from April 2019 through February 2020.
For its part, the Syrian regime and its Hezbollah and Iranian allies have been unable to make any serious advances against ISIS's insurgent cells. Regime anti-ISIS operations appear to consist of military convoys driving from point A to point B and occasionally combing largely empty hamlets throughout the Syrian desert (known as the Badia). Russian assistance has almost exclusively come in the form of air support during the few prolonged ISIS engagements, such as during the two-day battle that took place between Sukhnah and Humaymah beginning on April 9, 2020.
Based on martyrdom reports published by pro-regime Facebook pages, ISIS attacks have killed at least 887 pro-regime fighters, with actual figures likely being twice that.For an explanation on the methodology and limitations of using martyrdom reports for assessing combat losses, see: Gregory Waters, "'A Force They Haven't Seen Before': Insurgent ISIS in Central Syria," Middle East Institute, April 15, 2020, https://www.mei.edu/publications/force-they-havent-seen-insurgent-isis-central-syria. In April 2020, ISIS killed at least 27 Syrian loyalists in Homs, Deir Ez Zor, Raqqa, and Hama. On April 9, ISIS launched two simultaneous attacks in Homs—the first just north of Humaymah and the second south of Sukhna—followed by a third attack deep in north Hama the next day. Clashes in Homs continued for two days and reportedly involved Russian airstrikes. ISIS continued carrying out smaller scale attacks over the next 10 days, ending in an ambush in the Bishri Mountains that left five local loyalist fighters dead. On April 22, the Syrian regime launched a two-day anti-ISIS operation that claimed to target ISIS cells across the entirety of central Syria. However, the regime has not produced evidence of captured or killed ISIS fighters from these operations, and on April 25, ISIS again renewed its attacks near the city of Mayadeen, Deir Ez Zor. Furthermore, on April 30, ISIS successfully ambushed a bus carrying Syrian Arab Army soldiers from southern Deir Ez Zor to Palmyra, killing at least six of them.
ISIS continues to benefit from a high degree of local support and a porous border with Iraq. Unless Damascus can impact these conditions, their hopes of effectively defeating ISIS, even with Russian assistance, will be minimal.
These April attacks and regime anti-ISIS operations are mapped below. ISIS attacks are coded quarterly since January 2018, while anti-ISIS operations are coded by specific date starting in April 2020.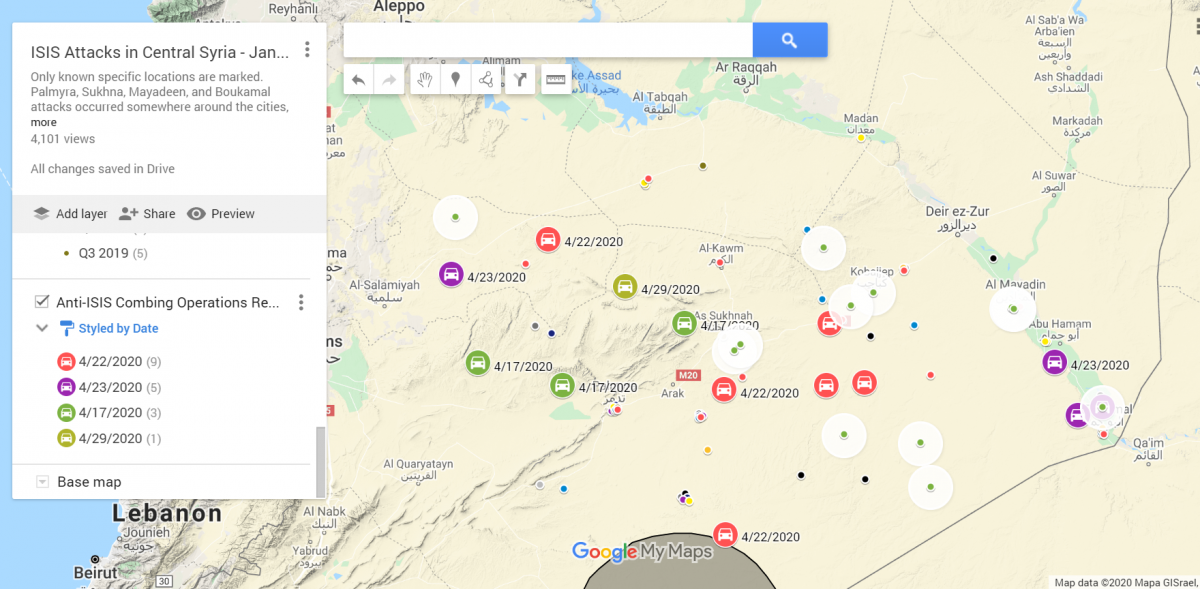 To view an interactive version of this map, please click here.