For Immediate Release
Monday, November 15, 2021
(New York, N.Y.) — The Counter Extremism Project (CEP) reports weekly on the methods used by extremists to exploit the Internet and social media platforms to recruit followers and incite violence. On November 8, former members of the Atomwaffen Division (AWD) posted online that they were recreating the allegedly disbanded organization, separate from the National Socialist Order (NSO), itself a successor organization of AWD. The neo-Nazi James Mason, and his main group of followers later claimed that the new AWD was either a single individual or two people and was created under false pretenses. The new AWD has announced a severing of ties with the NSO and other members of the neo-Nazi scene.
In addition, extreme-right, white supremacist, and neo-Nazi users on Telegram and 4chan celebrated Kyle Rittenhouse, using his current trial to glorify violence against Jews. The neo-Nazi group The Base launched a fundraiser, posting two crypto wallet addresses on their Telegram channel. CEP researchers also found a user on a pro-ISIS chat posting a guide on how to use cryptocurrency Monero. Finally, multiple pieces of ISIS propaganda were found on Telegram's Telegra.ph bulletin board.
Alleged New Atomwaffen Division Group Created, Breaks Ties with National Socialist Order and James Mason
On November 8, alleged former members of the Atomwaffen Division (AWD) claimed on a recently relaunched website, "Das Paradies," that the group was being restarted. The post stated that too many accelerationists were content to participate in online activities, as opposed to real-world actions, and that the group was reforming in hopes of becoming a "vanguard of struggle." AWD disbanded in March 2020, but a successor organization, the National Socialist Order (NSO), was created in July 2020 by former AWD members, and other members have continued to participate in the neo-Nazi scene. 
Hours after the new AWD group was announced, the editor-in-chief of a different accelerationist neo-Nazi website claimed that the new AWD was, in fact, two individuals and that they had tricked James Mason and the original site into supporting them and their affiliated website, "Das Paradies," under false pretenses. The same post claimed that the same individual had previously approached Mason about restarting AWD but was rebuffed. The post claimed that if the new group had chosen a different name, they might have received support from Mason and the accelerationist website, but that AWD as a brand was over. The accelerationist website stated that they were also halting support to "Das Paradies."
Before "Das Paradies" became inaccessible on November 12, the AWD groupuscule stated that they had broken off all relations with the NSO, James Mason, and the former AWD leader Brandon Russell and anyone condemning the group was a "coward."
James Mason released a video on November 12 denouncing the new alleged AWD group, stating that the real AWD disbanded in March 2020 and that the current copycat group was a single individual. Mason criticized the media for promoting the story that AWD was being recreated and stated his opposition to forming groups. He did not mention NSO, nor did he condemn acts of violence.
There have previously been AWD copycat organizations, most notably the "Fission" breakaway group, as well as several other groups with no known connection to the primary organization that uses the AWD name and iconography, or groups that are heavily inspired by AWD but have no established ties to the U.S. organization. The NSO, founded in the summer of 2020, has previously encouraged acts of domestic terrorism.
Extreme-right, white supremacist, and neo-Nazi Telegram and 4chan Users Celebrate Kyle Rittenhouse
The week of November 7 to November 13, extreme-right, white supremacist, and neo-Nazi Telegram and 4chan users celebrated Kyle Rittenhouse and used the occasion of his ongoing trial to glorify violence against Jews. Rittenhouse is charged with reckless homicide, intentional homicide, attempted homicide, and three other crimes for the shooting of two men and injuring of one during protests in Kenosha, Wisconsin, in the summer of 2020.
Two Telegram channels affiliated with the white supremacist Rise Above Movement (RAM) inspired Active Club movement each posted a video supporting Rittenhouse and defending his actions. The channels stated that Rittenhouse acted justly. A different RAM affiliated movement, calling itself the International Conservative Community, has previously expressed support for Rittenhouse in the fall of 2020.
A media group affiliated with the Proud Boys posted an antisemitic meme that glorified Rittenhouse and portrayed one of the shooting victims using an antisemitic caricature. The meme was originally published by a large white supremacist Telegram account where the admins claim to be members of the Proud Boys.
4chan's /pol board users posted death photos of the two men Rittenhouse killed and celebrated their deaths as violence specifically against Jews. Other users claimed that the prosecutor in the case was Jewish, alleging that the trial was part of a Jewish-led conspiracy to disarm Americans.
Neo-Nazi Group The Base Launches Cryptocurrency Fundraiser
On November 8, the neo-Nazi accelerationist group The Base requested cryptocurrency donations in BitCoin or Monero. The group posted two crypto wallet addresses on their Telegram channel, claiming that they would use the money to provide survival training, networking events, and fund the purchase of land for emergency "bugout locations." The post noted that training sometimes required the purchase of unspecified equipment. The post stated that money could also be used for individuals who have had their identities revealed or are currently in prison. As of November 12, the BitCoin wallet displayed no transactions. Monero transactions are not public. The Base allegedly held a land navigation training in Indiana in early November. An accelerationist neo-Nazi website that promotes ideologies similar to The Base launched a cryptocurrency fundraiser in late October.
Pro-ISIS Chat User Encourages Use of Monero Cryptocurrency
On November 11, a member of a pro-ISIS chat on the RocketChat platform posted a guide to using the cryptocurrency Monero. The user posted information that advised individuals to send Monero using an intermediate wallet as a go-between and not send the cryptocurrency directly from the platform it was purchased on. The user also recommended a specific app. The same user warned against using BitCoin because of the ability to track transfers. Monero is a cryptocurrency that prioritizes privacy and prevents individuals outside of a transaction from viewing the source, destination, or amount transferred. ISIS online supporters have previously encouraged the use of Monero.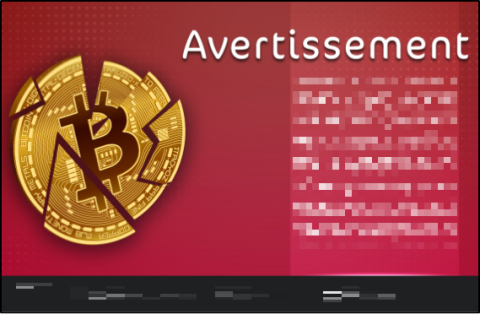 Warning on using Bitcoin in a pro-ISIS chat. November 11, 2021.
ISIS Propaganda Located on Telegram's Telegra.ph Feature
CEP located multiple pieces of ISIS propaganda on Telegram's Telegra.ph bulletin board feature posted on November 9 and 11. Telegra.ph functions similarly to a bulletin board, allowing users to share content with individuals who do not have Telegram accounts. Several pieces of ISIS propaganda content were located, including ISIS Amaq news statements, links to ISIS's weekly Al-Naba newspaper, and links to content on other websites. The Telegra.ph links were initially located on RocketChat. Telegra.ph removed the links by November 11, in some cases, the same day as they were posted.