For Immediate Release
Monday, September 18, 2023
(New York, N.Y.) — The Counter Extremism Project (CEP) reports weekly on the methods used by extremists to exploit the Internet and social media platforms to recruit followers and incite violence. Last week, CEP researchers identified 12 TikTok accounts disseminating ISIS and pro-ISIS propaganda. Additionally, the al-Qaeda in the Arabian Peninsula (AQAP) web magazine, Sada Al-Malahem (Echo of the Epics), relaunched last week after a 12-year hiatus, featuring content encouraging attacks in the EU and praising the 9/11 attacks. On RocketChat, pro-ISIS chat groups discussed using virtual machines to bypass Facebook account bans.
Meanwhile, extreme-right Telegram channels advised members to publish their manifestos before an attack, following recent complaints on similar channels over law enforcement withholding the manifesto of the Jacksonville shooter. Also on Telegram, a neo-Nazi channel condemned Patriot Front, a white supremacist group, for covering up Nationalist Social Club (NSC) swastika graffiti, garnering more than 400 responses discussing the tensions between the two extremist groups. NSC, which has recently held several anti-immigration demonstrations, also recently requested a list of illegal points of entry into the U.S. from Canada.
An American neo-Nazi website that had previously backed Ukraine rescinded their support, stating their "neutrality and apathy." Finally, a Telegram channel was created to solicit support for extreme right prisoners, requesting letters of support, donations of books, and commissary money.
Pro-ISIS Accounts Located on TikTok
In a sample of content located on TikTok on September 13, CEP researchers found 12 accounts that posted ISIS and pro-ISIS propaganda. Profiles posted clips and photos from official ISIS propaganda videos and pro-ISIS videos, translated infographics from al-Naba reports, and propaganda from online pro-ISIS groups. Several accounts encouraged acts of violence. The 12 accounts had an average of 208 followers, ranging between 5 and 1,133. CEP reported the 12 accounts to TikTok on September 14, but 11 accounts were still online on September 18.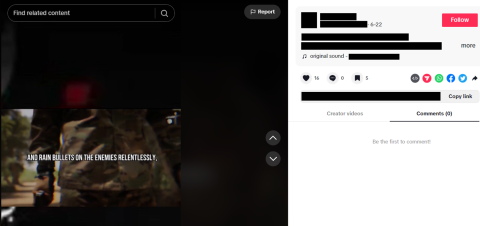 ISIS nasheed video with static photo located on TikTok on September 13. Screenshot taken on September 14.
Al-Qaeda in the Arabian Peninsula Relaunches of Web Magazine
On September 14, al-Qaeda in the Arabian Peninsula (AQAP) relaunched its web magazine, Sada Al-Malahem (Echo of the Epics), after a 12-year break. The new issue celebrated the killing of Abdullatif Al-Sayed, a Yemeni military commander, by AQAP, praised al-Shabaab in Somalia and encouraged steadfastness despite the earthquake and floods in Morocco and Libya. An additional article expounded on the importance of preparation for fighting, including prepping, training, and listening to leaders and veterans. The web magazine also encouraged attacks in Sweden in response to a Quran burning and in other EU countries, especially Denmark and France. The magazine also celebrated the anniversary of the 9/11 attacks. The return of the web magazine was announced on July 19.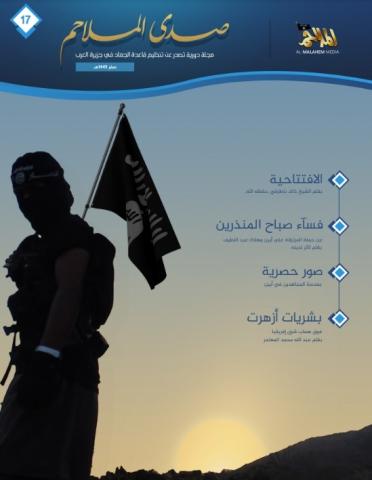 Sada Al-Malahem web magazine, released on September 14.
Online Pro-ISIS Supporter Asks For Advice For Circumventing Facebook Ban
On September 13, an online ISIS supporter in a pro-ISIS chat requested help getting around a permanent Facebook ban, stating that their new accounts were also deleted despite using a different IP address. A different user recommended using a virtual machine and making a new email address. The same user recommended the program VirtualBox and to avoid commonly used VPNs or Tor for this purpose. The poster also noted that communication on Facebook should be avoided and recommended using more secure platforms.

Part of Facebook suspension notice, posted on pro-ISIS chat on September 13.
Accelerationist Neo-Nazi Telegram Channels Offer Advice on Posting Manifesto Before Committing Terrorist Attack, Praise Accused London, Ontario Killer
On September 12, an accelerationist neo-Nazi Telegram channel asked that anyone plotting a terrorist attack make sure they release their manifesto online. The post stated that potential attackers should "let us know," likely referring to writing and spreading a manifesto that explains their ideology and radicalization process. The post offered advice regarding when and how to release a manifesto to inspire future attacks.
Connected Telegram channels also praised a Canadian man who is on trial for the murder of four members of a Muslim family in what prosecutors have described as an act of terrorism. Law enforcement found a manifesto on the man's computer, and he stated that the Christchurch terrorist attack inspired him. Accelerationist neo-Nazi Telegram channels recently complained that the August 26 Jacksonville shooter's manifesto has not yet been released.
Neo-Nazi Telegram Channels Condemn Patriot Front Coverup of Swastika Graffiti
In a Telegram message viewed over 3,500 times, a neo-Nazi channel condemned Patriot Front for covering up Nationalist Social Club (NSC) graffiti, including a swastika, with Patriot Front symbols. The post stated that this was an unforgivable act. In over 400 comments, users debated the rivalry between Patriot Front and NSC and the extent to which the former was a fascist but not a national socialist organization. A message from a Texas-based neo-Nazi group declared that anyone showing disrespect to the swastika were "traitors." Chris Hood, NSC's founder, was reportedly the leader of a Patriot Front chapter in Massachusetts before being kicked out in October 2019 for being unruly and "too open to violence."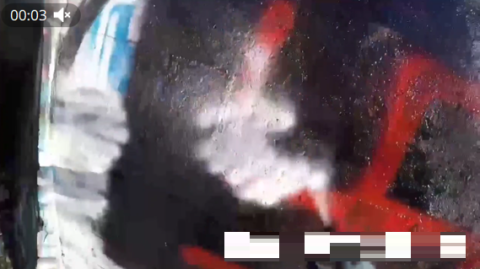 Clip from a Patriot Front propaganda video that shows members covering up NSC graffiti with their own. Screenshot taken on September 14.
Patriot Front is a white supremacist organization that portrays its fascist ideology as compatible with American history and mores. The group is allied with white supremacist Active Clubs, and several Patriot Front members, including the group's leader Thomas Rousseau, allegedly participated in an August 2023 Active Club boxing tournament where logos from a chapter of the neo-Nazi skinhead Hammerskins were visible in a propaganda video.
New England Based Neo-Nazi Group Asks for Location of U.S.-Canada Border Crossings
On September 14, the New England neo-Nazi group Nationalist Social Club (NSC) asked that their followers send them tips regarding the location of "illegal points of entry" to the U.S. on the border with Canada, as well as where "border crossing apprehensions/arrests are made." The post asked that tips be sent to a Telegram or Proton Mail account.
On August 23, the group requested that their supporters send information on where refugees and immigrants were housed in New England. NSC has recently held several anti-immigration demonstrations outside of hotels, where masked members have chanted xenophobic slogans and displayed a banner advertising NSC's social media. The mayor of Quincy, Massachusetts, Thomas Koch, where an NSC demonstration took place on September 9, called the event "a hate-filled racist attention grab from a group outside of Quincy and probably outside of Massachusetts."
Neo-Nazi Website Declares "Neutrality and Apathy" Regarding Ukraine
In a Telegram post, an American neo-Nazi website that supports the work of James Mason and the Atomwaffen Division successor group National Socialist Resistance Front declared on September 9 that Russia's invasion of Ukraine "doesn't matter anymore to us." The post stated that despite their original support for Ukraine in the conflict, they now wanted to focus on U.S. issues but noted that they "support fascists in all white nations."
In January and February 2022, the website encouraged their followers to travel to the region to fight against Russia or to donate cryptocurrency. Following the invasion, the website predicted that the Ukrainian military would be defeated, which they hoped would lead to a protracted insurgency that extreme right actors could exploit. In March 2022, the website stated that they were no longer encouraging their followers to become foreign fighters because their readers were often under 18 and lacked military training.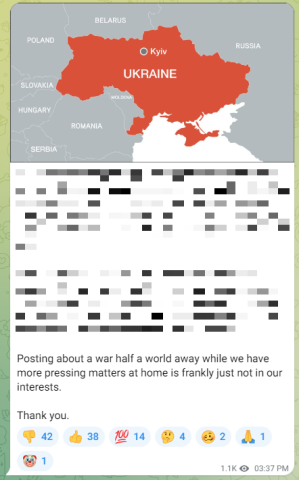 The Telegram post on September 9. Screenshot taken on September 14.
Telegram Page for Extreme Right Prisoner Support Group Launched
On September 11, a new Telegram channel for an extreme right prisoner support group became active. The group was created following the April 5, 2023, disbanding of another prisoner support group, which was at one point operated by Matthew Heimbach and Matt Parrott.
The current group, which claims they do not "endorse or support" violence or illegal acts, encourages writing letters and sending books and money for commissary to a list of prisoners. Individuals on the list include members of the Atomwaffen Division, the Base, Active Clubs, Aryan Strikeforce, and individuals found guilty of other crimes, including murder, manslaughter, and hate crimes.