For Immediate Release
Monday, August 28, 2023
(New York, N.Y.) — The Counter Extremism Project (CEP) reports weekly on the methods used by extremists to exploit the Internet and social media platforms to recruit followers and incite violence. Last week, CEP researchers identified eight videos on Twitter that either included footage of the Christchurch or Buffalo attacks or recreations of the Christchurch attack using video games. In addition, white supremacist Twitter accounts for regional Active Club chapters in the U.S., Norway, and Germany were located.
On Telegram and other platforms, accelerationists praised the August 26 Jacksonville attack and encouraged additional acts of racist violence. Also on Telegram, CEP researchers located a post by a New England-based neo-Nazi group that requested the locations of where immigrants and refugees were being housed. The post garnered more than 5,000 views in a day and a half. Another channel affiliated with the neo-Nazi group The Base encouraged all members to purchase a commercially available camouflage pattern manufactured in Russia.
On Instagram, CEP researchers found five pro-ISIS accounts, averaging more than 600 followers, posting execution footage and other ISIS propaganda shorts. CEP also identified notable activity among pro-ISIS online groups: the al-Saqri Foundation, which publishes bombmaking and technical guides, and the pro-ISIS tech group Qimam Electronic Foundation. The al-Saqri Foundation had its contact information removed from JustPaste.it following CEP's report to the website, and the Qimam Electronic Foundation shared a guide on PasteThis.To providing instructions on how to maintain privacy protocols on ChatGPT to avoid detection and identification.
Video Clips from Christchurch and Buffalo Attacks and White Supremacist Group Accounts Located on Twitter
On August 23, CEP researchers located multiple videos on Twitter that contained footage from the Christchurch or Buffalo attacks and additional tweets encouraging similar acts of violence. Three clips were found that included footage from the Christchurch attack video. The videos were 24-seconds, 31-seconds, and 24-seconds in length and contained extreme violence. The first video, on Twitter for eight days, had over 709 views when it was located. The other two videos, posted on August 21, had 831 and 530 views, respectively.
Two additional videos, posted on April 30 and June 30, recreated the Christchurch attack video in a video game and posted comments and memes advocating for violence against Muslims. The videos had 721 views and 1,146 when they were found.
CEP researchers also found three clips posted to Twitter containing violent footage from the Buffalo attack, posted on August 22, May 16, and May 1. The clips had 671 views, 71 views, and 278 views, respectively. The two Twitter accounts also encouraged further acts of violence against African Americans.
CEP reported the accounts to relevant national authorities.
Eight additional Twitter accounts tied to regional Active Club chapters were also found. The accounts included four chapters in the U.S. West, one in the Mid-West, one club in the Eastern U.S., one in Norway, and one in Germany. One account, which appeared to no longer be posting content, was created in August 2021. Four accounts were created in April 2023, and three in July 2023. The accounts encouraged joining white supremacist organizations and posted propaganda photos and short videos. Multiple accounts also contained contact links for Proton Mail addresses or Telegram channel links. Overall, the eight accounts had low follower counts, averaging 23.
CEP reported all eight Active Clubs accounts on August 24, they were still online four days later.
While Active Clubs primarily spread propaganda on Telegram, they may create accounts on Twitter or Instagram in an attempt to reach a larger audience. CEP previously found Active Club-affiliated Twitter accounts in May 2022, and January and May 2023.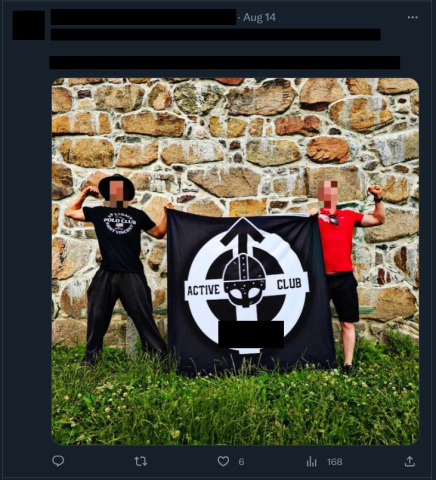 Active Club propaganda photo on Twitter. Screenshot taken on August 24, 2023.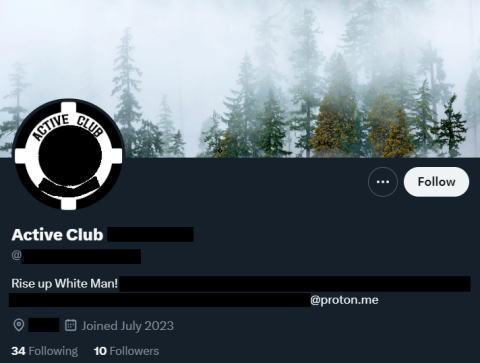 Active Club account on Twitter. Screenshot modified by researcher to obscure information. Screenshot taken on August 28.
Online Extreme Right Praises Jacksonville Gunman
Multiple extreme right Telegram channels, 4chan's /pol board users, and posters on a dark web imageboard that supports mass shooters praised the Jacksonville gunman who murdered three African Americans at a Dollar General before killing himself on August 26. Prior to his rampage, the gunman had been asked to leave the campus of nearby Edwards Waters University, a historically black university, after failing to identify himself to security. According to law enforcement officers, the shooter left behind "several manifestos" explaining his decision to target African Americans. According to reports, the gunman did not fire at white people in the store. The gunman wrote messages on his rifle with white paint, including swastikas, similar to the perpetrators of the Christchurch and Buffalo attacks.
Multiple Telegram channels praised the Jacksonville gunman, shared news articles about the attack, and referred to him as a "saint" for the murder of three. One channel asked other users to send photos of victims once they were found so that they could be included in posts glorifying the gunman. A Telegram channel affiliated with a neo-Nazi website that promotes the work of James Mason and Atomwaffen Division successor groups posted photos of the attacker's weapons and a meme subtly praising the attack. Two other Telegram channels addressed potential future white supremacist attackers, urging them to plan quietly and stating that those who commit acts of accelerationist violence would be celebrated and honored. The administrator of a neo-Nazi Telegram chat with over 100 members said it "was a good day."
The Jacksonville gunman was also celebrated by users on 4chan and an imageboard on the dark web, who glorified the attack and shared memes venerating the gunman.
New England Neo-Nazi Group Solicits Information on Immigrants and Refugees
In a Telegram post on August 23, the New England neo-Nazi group Nationalist Social Club (NSC) requested that their supporters send them information regarding which towns, businesses, or hotels immigrants and refugees were being housed in. The post, viewed over 5,150 times in approximately 36 hours, offered a point of contact on Telegram and a Proton Mail email address. The post did not specify what the group would do with this information. NSC has previously held racist anti-immigrant demonstrations with approximately two dozen members in Lewiston, Maine, and Kingston, Massachusetts.
On August 27, Telegram and Gab accounts belonging to NSC posted a video that showed members of the neo-Nazi group chanting anti-immigrant slogans and posing with banners and lit flares outside three hotels in Woburn, Massachusetts, where migrant families were staying.
NSC propaganda video on Telegram, advertising the group's social media. Screenshot taken on August 28.
Telegram Channel Affiliated With The Base Advises Making Purchases From Russian Uniform Supplier
In a Telegram post on August 17, a channel affiliated with The Base stated that starting in 2024, all group members should wear a specific camouflage pattern, SURPAT, produced by Survival Corps, a Russian uniform and equipment company based in Moscow. The post noted that the camouflage pattern is "extremely distinct" from other digital camouflage patterns, effective, and would continue to be available commercially.
The camouflage pattern is a commercially designed and sold pattern, however, according to the website Camopedia, it is worn by some members of Russian law enforcement and intelligence agencies, including the Ministry of Internal Affairs and the Federal Security Service (FSB). The website for Survival Corps ships to Europe and the U.S. and offers several items through U.S.-based retailers. The camouflage pattern is also popular with airsoft teams that portray Russian units.
An inactive Twitter account belonging to Survival Corps shows alleged Russian military or intelligence personnel wearing their camouflage uniforms in Syria and several undisclosed locations, alleged FSB officers wearing it at a competition in Germany in 2011, and private citizens in airsoft teams wearing the pattern throughout Europe.
The founder of The Base, Rinaldo Nazzaro, is believed to be still living in Saint Petersburg, Russia. Previously, many propaganda photos of members of accelerationist neo-Nazi groups, like the Base, have shown members wearing the German military's Flecktarn camouflage pattern, black, or standard woodland camouflage.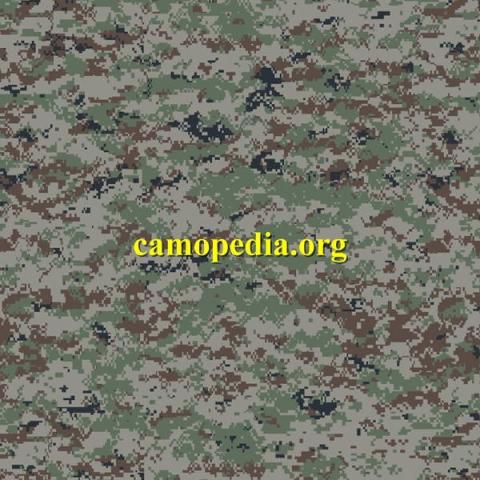 SURPAT camouflage pattern. Photo from Camopedia.org.
Pro-ISIS Propaganda Located on Instagram
In a sample of content located on Meta-owned Instagram on August 24, CEP researchers found five pro-ISIS accounts. The five accounts posted clips from previously released ISIS videos, including two execution scenes, Amaq news updates, and propaganda photos. The five accounts had an average of 698 followers, ranging between 194 and 1,460. In several cases, the content was posted as an Instagram story, including an execution video.
One ISIS execution video posted on June 26 was from an ISIS video, "Makers of Epic Battles #7," released the previous day. The video had 90 likes almost two months later. Another video clip located on Instagram, from the video titled "Upon the Path of the Conquers," was initially released on July 30, 2022.
CEP reported all five accounts to Instagram on August 24. Four days later, four of the five accounts were still online.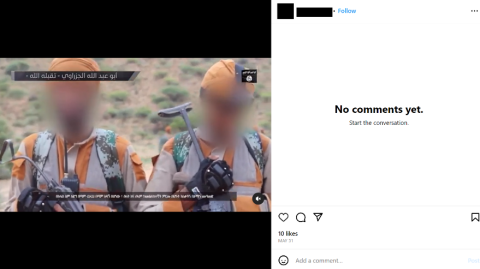 A clip from the ISIS video "Upon the Path of the Conquers," which was originally released on July 30, 2022, and located on Instagram on August 24.
Contact Information for Pro-ISIS Explosive Group Removed From JustPaste.It
On August 23, CEP researchers located a page on the bulletin board website JustPaste.It that contained contact information on Telegram for the pro-ISIS online group al-Saqri Foundation. The Al-Saqri Foundation publishes manuals on the homemade manufacture and use of explosives, poisons, and other weaponry. The page was posted on June 14 and had almost 300 views when it was found. JustPaste.It removed the page after CEP reported it.
Pro-ISIS Tech Group Releases Privacy Guide For Using ChatGPT
On August 15, the pro-ISIS tech group Qimam Electronic Foundation (QEF) posted a guide on PasteThis.To for maintaining privacy while using the AI-powered language model ChatGPT. The guide advised not saving chat histories, deleting conversations, sanitizing data, not providing sensitive information, or installing third-party apps. The guide noted that there is no way to protect data once it is turned over to the AI language model. Data breaches regarding payment information were also listed as a concern. The guide did not contain any suggestions for using ChatGPT.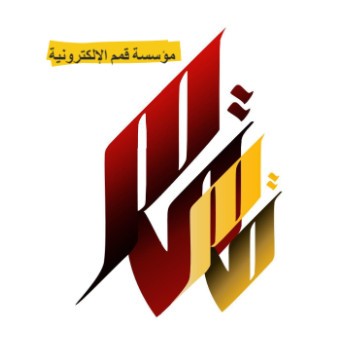 Qimam Electronic Foundation logo. Screenshot taken on August 24.