For Immediate Release
Monday, May 15, 2023
(New York, N.Y.) — The Counter Extremism Project (CEP) reports weekly on the methods used by extremists to exploit the Internet and social media platforms to recruit followers and incite violence. Last week, CEP researchers located multiple examples of white supremacist, neo-Nazi, and antisemitic content online, including a video posted by a Texas chapter of a neo-Nazi group on the Gab alt social media site, a fundraiser on the GiveSendGo platform for a member of an antisemitic group to buy body armor and cover legal expenses, requests for donations in support of a neo-Nazi website, and an online archive of Atomwaffen Division propaganda.
Additionally, CEP researchers located extremist content circulating on mainstream platforms such as Twitter, Instagram, and YouTube, appealing to white supremacists. CEP reported four accounts on Twitter disseminating white supremacist content, including from three active club chapters and a British group. On Instagram, researchers located a profile used by a white supremacist who made propaganda for the main French white supremacist active club. An Australian podcaster posted a livestreamed YouTube interview with the neo-Nazi Thomas Sewell, who promoted antisemitic and anti-immigrant rhetoric.
Finally, a short video from the pro-ISIS Al-Adiyat Foundation was spread on multiple websites that celebrated recent attacks in the Democratic Republic of Congo. The video – which contained combat footage and ISIS propaganda from the al-Naba newsletter – appeared on more than ten websites.
Neo-Nazi Group Declares They Are Preparing for a Race War on Gab Video Site
On May 10, a neo-Nazi group posted a video from their Texas chapter on a video site operated by the social media network Gab, in which they stated that "This is a race war. A war that we are preparing for." The rest of the 90-second video consists of group members firing rifles and handguns. The video had approximately 450 views within 24 hours and almost 1,000 views five days later.
The group claims to have chapters in 25 states divided into seven regions. Some state chapters advertise meet-up events on the group's website and Telegram page. On their website, the group praises the white supremacist domestic terrorist group The Order, and the corresponding Telegram channel has shared content from pro-Atomwaffen Division (AWD) sources and promotes active club content.
Gab uses Cloudflare as its name server and registrar.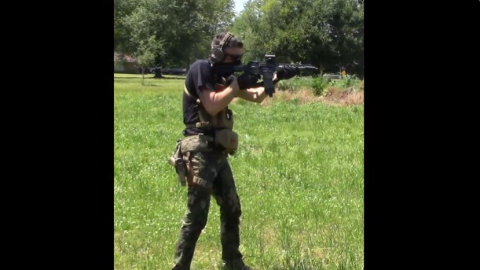 Screenshot taken on May 11, 2023.
Member of Antisemitic Group Holds Fundraiser on GiveSendGo
CEP located a fundraiser for a member of an antisemitic group on the GiveSendGo platform. The individual is facing two misdemeanor charges after allegedly distributing antisemitic flyers. The crowdfunding appeal states it will be used for purchasing body armor, helping with litigation costs, and public records requests. The fundraisers received over $3,000 from 55 donors in ten days. GiveSendGo did not take action against at least three other campaigns by neo-Nazi or white supremacist groups using the platform for fundraising to purchase land and equipment or assist with legal costs. 
Neo-Nazi Website Posts Archive of Atomwaffen Division Materials, Requests Donations
On May 5, a neo-Nazi website that promotes the original Atomwaffen Division (AWD) and the successor group Nationalist Socialist Resistance Front (NSRF) posted the archive of official AWD propaganda videos, photos, and images. Among the propaganda images originally released by AWD before 2018 are content specifically promoting violence against Muslims, Jews, government employees, and former AWD members.
On May 10, Telegram channels affiliated with the website repeated a request from December 2022, asking for financial donations using cryptocurrencies, including Bitcoin and Monero, or cash or money orders mailed to a PO box. The post claimed all donations would be used for website hosting costs and "future projects."
The website uses Cloudflare as its name server and registrar.
White Supremacist Groups Spreading Propaganda on Twitter
CEP researchers located three accounts for active clubs and one account for a British white supremacist group on Twitter on May 11. The active club accounts, created in October, December, and April, posted propaganda videos demanding freedom for the movement's founder, Rob Rundo, videos and photos of banner drops, white supremacist music, and white supremacist, antisemitic, and anti-LGBTQ messages. One account posted veiled threats and at least one dox. The accounts had 270, 164, and 44 followers on May 11.
The Twitter account for the British organization was created in February and posted photos of stickering campaigns using anti-immigrant slogans and messages taken from the U.S. group Patriot Front. The profile had 220 followers on May 11.
CEP reported the four accounts to Twitter on May 11. All four accounts were still available on May 15.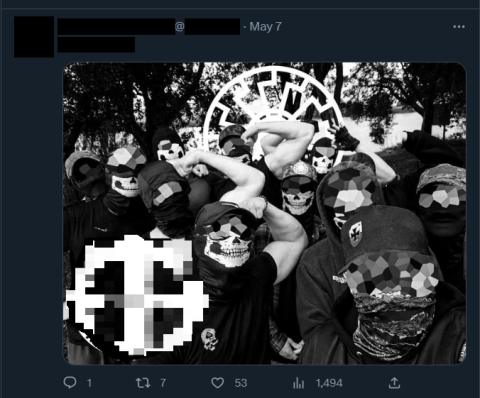 White supremacist active club propaganda on Twitter. Screenshot taken on May 11, 2023.
French Active Club Propaganda Located on Instagram
On May 11, CEP researchers located an Instagram account for a graphic artist who made propaganda for the main French active club chapter. Uploaded images included white supremacist logos, propaganda glorifying a notorious Belgian Nazi collaborator, and links to a Telegram channel. CEP reported the account on May 11. It was still online on May 15.
Podcast Featuring Australian Neo-Nazi Thomas Sewell Located on YouTube
CEP researchers located a video interview with the Australian neo-Nazi Thomas Sewell on YouTube. The discussion was livestreamed on May 11 and had over 2,200 views within approximately 24 hours. In the video, Sewell, the leader of an Australian neo-Nazi group, made antisemitic statements such as blaming Jews for "trying to genocide us," used anti-Aboriginal slurs, and made statements supporting white supremacy in Australia. The video host also argued that Jews had corrupted the concept of freedom. Sewell also advertised a May 13 anti-immigration demonstration in Melbourne and urged viewers to join white supremacist movements such as active clubs.
The video advertised a super chat feature for donating to the podcast.
CEP reported the video to YouTube on May 12, it was still available three days later.
Pro-ISIS Video Located on Multiple Websites
On May 9, the pro-ISIS Al-Adiyat Foundation released a video celebrating recent attacks by the terrorist group in the Democratic Republic of Congo. The approximately two-and-a-half-minute video listed recent attacks, with text taken from the 389th issue of ISIS's al-Naba newsletter. The video included gory photos of men allegedly killed by ISIS.
In addition to being posted on Telegram and RocketChat, the video was posted to at least ten other websites. CEP reported the video to Vimeo, the Internet Archive, FromSmash, GoFile.Io, and File.Fm. Vimeo, the Internet Archive, GoFile.Io, and File.Fm removed the video.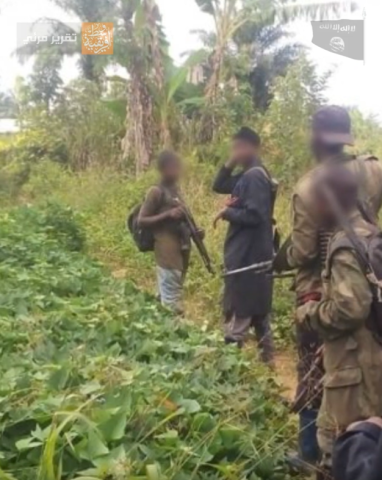 Pro-ISIS Al-Adiyat video released on May 9. Screenshot taken on May 11.