For Immediate Release
Tuesday, February 21, 2023
(New York, N.Y.) — The Counter Extremism Project (CEP) reports weekly on the methods used by extremists to exploit the Internet and social media platforms to recruit followers and incite violence. Last week, CEP researchers located a crowdfunding campaign on GiveSendGo to benefit a Scottish neo-Nazi group planning to promote antisemitic videos and neo-Nazi propaganda. An E-commerce platform stopped providing services to a neo-Nazi web store after CEP action, and researchers also located a Facebook page selling white supremacist clothing.
In addition, CEP researchers found multiple neo-Nazi Telegram channels linking to a directory of 3D printed firearms. White supremacists praised the Buffalo gunman and shared his manifesto on Telegram and imageboards following his sentencing.
Lastly, an al-Qaeda media outlet released a video online featuring the late Ayman al-Zawahiri calling for a mass global uprising, and an ISIS bomb-making video was found on the Internet Archive. The pro-ISIS al Azaim Foundation released a video stating that the Taliban cannot protect diplomatic personnel in Afghanistan, and the group also released issue 22 of the Voice of Khorasan web magazine.
Scottish Neo-Nazi Group Fundraises for Laser Projector on GiveSendGo
CEP researchers located a fundraiser from a Scottish neo-Nazi group on the crowdfunding platform GiveSendGo for purchasing an outdoor laser projector. The crowdfunding page stated that they would use the projector to promote a specific antisemitic and pro-Nazi propaganda video and attract media attention. The link for the crowdfunding campaign was shared on multiple Telegram channels. 
CEP reported the campaign to GiveSendGo on February 15 for violating their Terms that prohibit "items that promote hate, violence, (or) racial intolerance," however, the campaign was still online on February 21.
There have been several recent instances where the extreme right has used lasers to project antisemitic messages. A message promoting Holocaust denial was broadcast on the Anne Frank House in Amsterdam earlier in February using a laser, and antisemitic slogans were projected on buildings in Florida in October.
In December, CEP located a Telegram chat connected to a channel for projecting antisemitic messages using a laser. The device the Scottish group was hoping to purchase was one of the laser devices recommended by the December chat.
GiveSendGo fundraiser from Scottish neo-Nazi group. Screenshot taken on February 16.
E-Commerce Platform Removes White Supremacist Publisher Following CEP Action
The web store platform BigCommerce stopped providing services to a white supremacist publisher after being notified by CEP on February 14. The website was selling its own version of an infamous antisemitic book, Henry Ford's The International Jew, and indicated that they agreed with its contents and were offering it as a truthful text. The International Jew is an infamous antisemitic work alleging that there is a secret Jewish conspiracy to start wars and take over the United States. The text references the hoax Protocols of the Learned Elders of Zion, an earlier antisemitic work that is one of the most well-known pieces of antisemitism of the modern era. 
BigCommerce's Terms state they have complete discretion in determining what "profane or otherwise inappropriate" items web stores using their services can sell. The platform took action approximately 24 hours after CEP reported the content.
White Supremacist Clothing Shop Located on Facebook
CEP researchers located a page on Facebook for a clothing store selling items with white supremacist symbols. The page was created on February 14, 2023, and had almost 40 followers two days later. The page was advertised by Telegram channels connected to a European white supremacist music scene. CEP reported the store to Facebook on February 16, but it was still on Facebook five days later.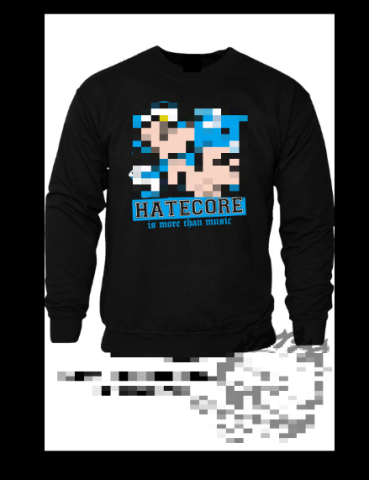 White supremacist sweatshirt for sale on Facebook. Screenshot taken on February 16, 2023.
Neo-Nazi Telegram Channels Post Link to Directory for 3D Printed Firearms
On February 13, CEP researchers located a post on multiple neo-Nazi Telegram channels for a website containing a directory for components for 3D printed firearms. The website contained links for 3D printing files on an open-source blockchain file-sharing site and a beginner's guide on 3D printing. There is no indication that the website supports the politics of the Telegram channels that linked to it.
Online White Supremacists Encourage Violence in Response to Buffalo Gunman's Sentencing
On February 15, the man who murdered 10 black people at a Buffalo supermarket in May was sentenced to life in prison without parole. Multiple white supremacists on Telegram praised the gunman, posting memes glorifying his act of violence and sharing his manifesto. Users of a Telegram chat connected to a channel, of which at least two versions have previously been removed from the communications app, stated that the gunman was a "patriot" and encouraged other acts of violence. Users on 4chan posted the Buffalo attacker's manifesto, and members of a forum on the dark web stated that additional violent acts were necessary.
Al-Qaeda Video Featuring Deceased Leader Calling for Global Anti-Israel Uprising
Al-Qaeda's as-Sahab media outlet released a video on February 12 featuring Ayman al-Zawahiri, who was killed in a U.S. drone strike in Kabul on July 31, 2022. In the video, Zawahiri called for a mass global popular uprising "targeting all those involved in the aggression against Palestine." Zawahiri stated that people could not rely on their governments to take action but should instead take matters into their own hands. He also called for actions to halt land sales, trades, or agreements that would transfer territory. A U.N. report released on February 13 stated that Saif al-Adel was al-Qaeda's new de-facto leader.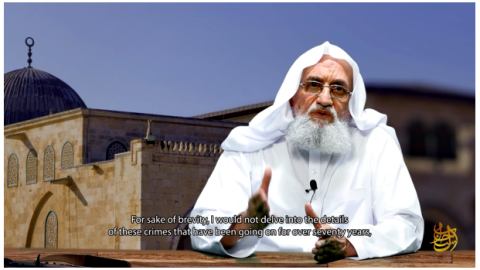 As-Sahab Video released February 12, 2023.
ISIS Bomb-Making Video Located on the Internet Archive
On February 13, CEP researchers located a notorious ISIS bomb-making video on the Internet Archive that included instructions for making explosives with commercially available products. The video has been linked to the May 2017 Manchester Arena bombing perpetrator, who killed 22 people and injured hundreds. The video also encourages acts of terrorism and contains brutal execution scenes. A link to the video was spread in a pro-ISIS chat. The Internet Archive removed the video after CEP reported it.
Pro-ISIS Video Celebrates Attacks on Diplomats and Other Foreign Personnel in Afghanistan
On February 13, the pro-ISIS al-Azaim Foundation released an approximately 48-minute-long video stating that the Taliban cannot protect diplomatic and other foreign personnel in Afghanistan. The video celebrated the ISIS-K attacks on the Kabul Airport in August 2021 and the attacks on the Russian and Pakistani embassies in September and December 2022, respectively. The video also glorified the October 2022 attack on the Shah Cheragh Shrine in Shiraz, Iran, and the December attack on a Kabul hotel popular with Chinese nationals. The video stated that the Taliban are indifferent to the Chinese government's persecution of the Uyghurs in Xinjiang but that ISIS seeks revenge against Chinese interests.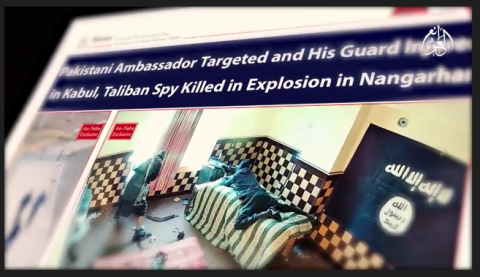 Pro-ISIS al-Azaim video released on February 13.
Pro-ISIS Web Magazine Voice of Khorasan Issue 22 Released
On February 16, pro-ISIS al-Azaim Foundation released the 22nd issue of the Voice of Khorasan web magazine. The main article accused Hayat Tahrir al-Sham (HTS) of only wanting to preserve their base of territorial control and accused the group of not providing adequate relief in the aftermath of the February 6 earthquake impacting Syria and Turkey. The same article alleged that HTS is working with the Assad regime in addition to Turkey and encouraged joining ISIS. Other articles condemned the recently deceased Pakistani President Pervez Musharraf, provided a list of positive traits for ISIS fighters, and denounced the LGBT rights movement. Another essay compared British colonial policies in India to international economic policies currently impacting Pakistan and Bangladesh, and a separate article sought to portray the government of Bangladesh as lacking empathy in their treatment of the Rohingya. An infographic in the magazine encouraged terrorist attacks on security personnel and crowds in European public spaces, especially in Sweden and the Netherlands.