For Immediate Release
Monday, September 11, 2023
(New York, N.Y.) — The Counter Extremism Project (CEP) reports weekly on the methods used by extremists to exploit the Internet and social media platforms to recruit followers and incite violence. Last week, CEP researchers identified ten accounts on Meta-owned Instagram that had posted ISIS and pro-ISIS propaganda, including graphic footage from a 2015 propaganda video. The pro-ISIS group Qimam Electronic Foundation released a new guide highlighting websites for acquiring temporary phone numbers to bypass authentication requirements when creating social media accounts. Additionally, al-Qaeda in the Arabian Peninsula (AQAP) issued a statement accusing Saudi Arabia's crown prince of oppressive behavior and trying to change religious values.
On Twitter, a Canadian neo-Nazi group encouraged using coordinated hashtags to promote their movement and stated that content moderation efforts had decreased on the platform. Another group, Blood Tribe, announced a November rally, and the Nationalist Social Club (NSC) shared footage on Telegram of approximately 20 masked demonstrators chanting xenophobic slogans outside a hotel in Massachusetts housing refugees and immigrants. Separately on Telegram, white supremacists and neo-Nazi accelerationists complained about police withholding the August 26 Jacksonville shooter's manifesto.
Finally, the online e-commerce platform Big Cartel removed a store selling neo-Nazi branded t-shirts after CEP reported it.
Pro-ISIS Propaganda Located on Instagram
In a sample of content on Meta-owned Instagram located on September 7, CEP researchers found ten accounts that posted ISIS and pro-ISIS propaganda. Accounts posted clips from official ISIS propaganda videos and pro-ISIS videos, pages from recently released weekly al-Naba reports, pro-ISIS photos, and a video from ISIS's al-Himmah Library. A clip from the particularly violent ISIS video "Tourism of the Nation" featuring Austrian ISIS fighter Abu Usama al-Gharib, a.k.a Mohamed Mahmoud, was uploaded on August 18, 2023. The video was originally released on August 5, 2015. Two other Instagram accounts used profile photos featuring ISIS foreign fighters, British fighter Fatlum Shakalu, a.k.a Abu Musa al-Britani, and French fighter Abu Osama al-Faranci. The ten accounts had an average of 752 followers, ranging between 140 and 2,681. CEP reported the ten accounts to Instagram, but they were still online on September 11. The clip from "Tourism of the Nation" was either removed by Instagram or the uploader, but the account remained online.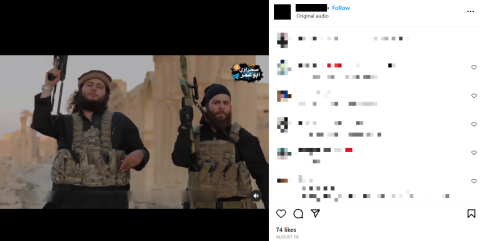 Clip from the ISIS video "Tourism of the Nation," originally released on August 5, 2015. The video was located on September 7, 20 days after it was uploaded. The video features an execution by Austrian ISIS fighter Abu Usama al-Gharib a.k.a. Mohamed Mahmoud (on the left). The ISIS logo originally on the top right of the screen was covered with a different graphic. The video was either removed by the uploader or deleted by Instagram. The account that posted the video was still online on September 11.

Instagram account with profile photo of French foreign fighter Abu Osama al-Faranci from the ISIS video "What Are You Waiting For?" released on November 19, 2014.
Pro-ISIS Tech Group Posts List of Websites For Temporary Phone Numbers
On September 5, the pro-ISIS Qimam Electronic Foundation (QEF) posted a list of websites for acquiring temporary phone numbers. Phone numbers are needed for several social media websites and apps, including Telegram, and a nonpermanent number can be used to open an account. The guide listed ten free websites in total, including the features offered by each site. ISIS supporters have previously provided advice regarding temporary phone numbers, including a pay site and a Telegram group that supplies numbers.
QEF also shared an article that warned of Telegram and Signal app vulnerabilities on Android phones. The report claimed these devices were vulnerable to malware disguised as the original app that could steal sensitive data, including text messages, call logs, geographic location, and chat backups for Signal and Telegram.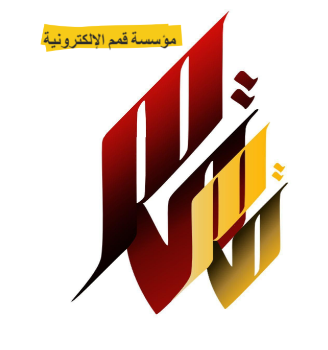 Qimam Electronic Foundation logo. Screenshot taken on September 7, 2023.
Al Qaeda in the Arabian Peninsula Releases Statement Condemning Saudi Government, Calls for Revolt
Al-Qaeda in the Arabian Peninsula (AQAP) released a statement on September 5 from their al-Malahem media group denouncing Saudi Arabian Crown Prince Mohammed bin Salman Al Saud. The five-page statement accused bin Salman of oppressive behavior, trying to change religious values, and imprisoning religious scholars, specifically condemning the confinement of Khaled Al-Rashed. The statement also condemned Saudi Arabia's alliance with the U.S. and called for people to "stand up against this regime" and revolt.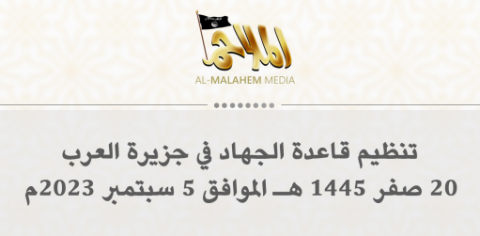 Al-Malahem Media logo and date from AQAP statement. Screenshot taken on September 7, 2023.
Canadian Neo-Nazi Group Encourages Coordination on Twitter
In a Telegram post on September 6, the national-level Canadian chapter of the neo-Nazi Active Club movement called for unity and coordination on Twitter. The Telegram post, which received almost 3,500 views in approximately 30 hours, noted that content moderation on Twitter "has been reduced significantly (not eliminated)" since "Elon Musk's acquisition" of the platform, which has allowed for "messaging to flourish on the platform for the first time since the 2015 to mid 2017 era." The post went on to state that it was important for regional Active Club accounts to grow on Twitter and that they should coordinate using the same hashtags, noting that hashtags condemning the Anti-Defamation League were currently trending and allowed for white supremacist messages to reach a larger audience. The post also encouraged using specific Active Club hashtags but warned that they should only be used in ways that promoted the "Active Club brand," keeping in line with the founder, Rob Rundo's, idea of "white nationalism 3.0."
The post linked to the Canada Active Club Twitter account, which was created on September 1, 2023, and had 55 members and posted a large quantity of propaganda photos, videos, and recruitment calls. CEP located eight Active Club Twitter accounts on August 24, seven of which were created in April or July 2023. The eight accounts reported to Twitter on August 24 were still online on September 7. CEP reported the Canadian Active Club account to Twitter on September 8, but it was still online on September 11.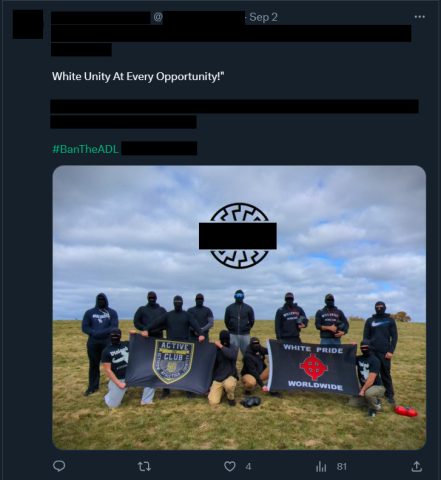 Post on Canadian Active Club Twitter account. Screenshot taken on September 7, 2023.
Neo-Nazi Group Announces November Demonstration
Following their September 2 demonstration in Florida, the neo-Nazi group Blood Tribe announced on Telegram their final rally of 2023, to take place in the upper Midwest. In an audio message on Telegram, the group's leader, Christopher Pohlhaus, stated that the rally would take place in November. The Telegram post encouraged potential attendees to contact Blood Tribe through a Telegram bot to initiate a vetting process. Increased vetting for participants was announced following accusations that one of the participants in the Florida demonstration had previously lied about having served in the Ukrainian armed forces and had worked as an informant for law enforcement.
The September 2 demonstration, in which over 50 members of Blood Tribe and the Goyim Defense League (GDL) displayed swastika flags and screamed white supremacist slogans, had been announced in July and described as an "NS (national socialist) unity collab." The leader of the GDL fundraised for the event on the crowdfunding platform GiveSendGo, where they raised over $3,500.
New England Neo-Nazi Group Shares Video of Anti-Immigrant Demonstration
On September 3, the New England neo-Nazi group Nationalist Social Club (NSC) uploaded a video to Telegram of an anti-immigrant demonstration held the previous day outside a Marlborough, Massachusetts hotel. In the video, approximately 20 masked individuals chant xenophobic slogans and hold a banner advertising the group's recruiting page on the Gab social media platform. The video concludes with a list of social media sites where the group can be contacted, or their propaganda can be viewed. The video had almost 7,000 views four days later on Telegram. Two additional video uploads were located on Twitter, with over 400 views and over 1,900 views, respectively, four days later. The two video uploads on Twitter were reported to the platform on September 8 but were still online on September 11.
On September 5, NSC condemned Governor Maura Healey's activation of up to 250 Massachusetts National Guard soldiers to assist in emergency shelters, stating that they were opposed to "politicians, the hotels, and now the National Guard."
On August 23, NSC requested that their supporters send them information on where immigrants and refugees were housed in New England.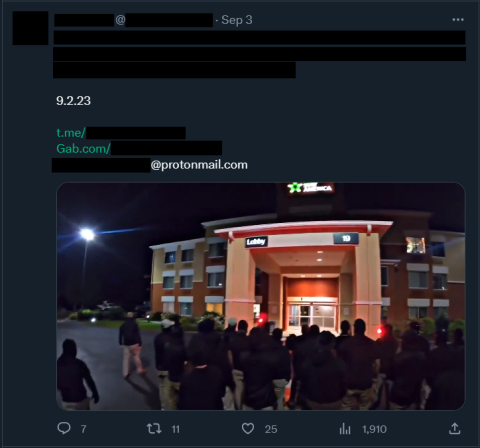 Nationalist Social Club propaganda video on Twitter, posted on September 3. The Tweet contains an email address and additional social media and a Telegram channel for the group. Screenshot taken on September 7.
Online Accelerationists Complain That Jacksonville Shooter Manifesto Has Not Been Released
White supremacists and neo-Nazi accelerationists complained on Telegram and a dark web imageboard that the Jacksonville racist shooter's manifesto had not been released by law enforcement. The gunman murdered three African Americans at a Dollar General before killing himself on August 26. Manifestos of white supremacist terrorists and mass killers are uploaded to file download sites, spread on Telegram, and often requested in Telegram chats. Multiple white supremacists and neo-Nazis praised the August 26 attack afterward and encouraged additional acts of violence.
Neo-Nazi T-Shirt Store Located on Big Cartel
On September 6, CEP researchers located a store on the Big Cartel e-commerce platform that sold t-shirts and stickers with neo-Nazi symbols and esoteric fascist slogans. The brand was also championed on Twitter by a Canadian neo-Nazi group. Big Cartel's Terms of Service prohibits content that is "obscene, hateful, threatening" or that "promote(s)…discriminatory or malicious activity." Big Cartel removed the store from their site after CEP reported it.