For Immediate Release
Monday, July 24, 2023
(New York, N.Y.) — The Counter Extremism Project (CEP) reports weekly on the methods used by extremists to exploit the Internet and social media platforms to recruit followers and incite violence. Last week, CEP located a Twitter account with more than 80,000 followers that posted a video clip from an antisemitic documentary glorifying Nazi Germany that received nearly 900,000 views this month. Separately, the leader of an antisemitic group began fundraising on GiveSendGo to support an upcoming neo-Nazi "unity" event which will host members of the Goyim Defense League, Blood Tribe, and White Lives Matter groups. CEP researchers also located footage of an anti-LGBTQ event in Toledo circulating on multiple platforms including Twitter, Telegram, Gab, and Odysee.
Additionally, a Telegram channel connected to a website that promotes the work of the neo-Nazi James Mason praised the El Paso Wal-Mart shooter. A separate neo-Nazi Telegram channel monitored by CEP researchers posted an ISIS bomb-making video, providing detailed instructions on IED construction. Pro-ISIS Telegram channels continued to call for acts of violence following the burning of a Quran in Sweden several weeks ago, including calls from the pro-ISIS-K al-Azaim Foundation.
Lastly, after a 12-year hiatus, al-Qaeda in the Arabian Peninsula (AQAP) announced the relaunch of its web magazine, Sada Al-Malahem, which previously was meant for an audience of AQAP members and their online supporters.
Twitter Clip Advertising Antisemitic Propaganda Video Receives Almost 900,000 Views
CEP researchers located a verified Twitter account that shared a clip advertising a notorious antisemitic propaganda video. The 40-second clip was shared on July 10 and had almost 900,000 views on July 20. The post directs viewers to watch the multi-part propaganda video on the Internet Archive and a website created for the video.
The video, a revisionist purported documentary, promotes antisemitic conspiracy theories, glorifies Nazi Germany, justifies the crimes of the Third Reich, blames Jews for being responsible for both world wars, and has previously been spread extensively by white supremacist groups as an introduction to antisemitism.
The account that shared the video had over 80,000 followers on July 20 and has made a variety of posts advocating various anti-government conspiracy theories and requesting financial donations. CEP reported the tweet on July 21, but it was still online 72 hours later.
CEP previously located the full antisemitic video posted on Twitter on June 14, which was still on the platform over a month later.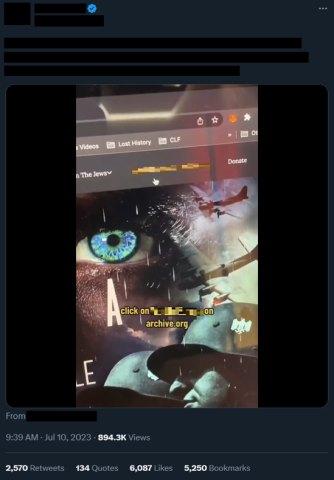 Clip on Twitter advertising antisemitic propaganda video. Screenshot taken on July 21, 2023.
Notorious Antisemitic Group Launches GiveSendGo Fundraiser to Pay for Attending "Unity" Neo-Nazi Demonstration
On July 17, the leader of the antisemitic group Goyim Defense League (GDL) launched a fundraiser on GiveSendGo to pay for food, transportation, and accommodations related to attending a Florida demonstration at an unknown September date. The rally has been billed as an "NS (national socialist) unity collab" between several groups, including the GDL, Blood Tribe, White Lives Matter, and at least one other Florida-based group. Previous demonstrations by the groups involved have involved approximately 15 individuals.
The GDL has protested outside synagogues seeking to intimidate attendees, spread antisemitic propaganda, conducted antisemitic banner drops, and encouraged others to engage in propaganda activities. 
GiveSendGo's Terms prohibit using "the Service to promote violence, degradation, subjugation, discrimination or hatred against individuals or groups based on race, ethnic origin, religion," and other categories. CEP reported the fundraiser on July 18, but it was still online on July 24.
By July 24, the GDL leader had raised over $2,400 out of a $4,000 fundraising target on GiveSendGo. Donations were made by an individual who referenced fascism and a user who used a version of a racial slur as a display name. The GiveSendGo link was spread by at least 11 white supremacist Telegram channels, including an accelerationist channel and at least one channel affiliated with the active club movement.
CEP has found multiple examples of neo-Nazi groups fundraising on GiveSendGo, including a Scottish neo-Nazi group that fundraised to purchase a laser projector and the leader of the Blood Tribe group, Christopher Pohlhaus, who launched a fundraiser in September to raise money for a campground to "train." There is no evidence that GiveSendGo has removed any of the campaigns CEP has reported on their site for violating their Terms.
Neo-Nazi Group Spreads Video Showing Members Harassing LGBTQ Event and Gathering Outside Jewish Federation of Toledo
CEP researchers located a video spread by members and supporters of a neo-Nazi group that showed a small number of group members seeking to intimidate attendees of an LGBTQ event in Toledo on July 15 and then gathering outside of the Jewish Federation of Toledo, where there were no planned events. The video was spread on Twitter, Telegram, Gab, and Odysee and showed at least one armed group member and multiple others yelling neo-Nazi slogans, marching with a swastika flag, and performing Hitler salutes. Despite the group's appearance in their propaganda video, Sylvania Township Police Chief Paul Long stated that they were "pathetic and unorganized."
Telegram Channel Tied to Neo-Nazi Website Praises El Paso Shooter
On July 17, a Telegram channel affiliated with a neo-Nazi website that promotes the work of James Mason and Atomwaffen Division successor groups praised the perpetrator of the August 3, 2019, El Paso shooting. In a short message, the Telegram post praised the attacker's appearance. In February, the perpetrator pleaded guilty to 90 counts for the murder of 23 people and injuring 22 others during his attack targeting Latinos at an El Paso Walmart.
ISIS Bomb Making Video Shared By Neo-Nazi Accelerationist Telegram Channels
CEP researchers located a notorious ISIS bomb-making video shared by at least three connected neo-Nazi accelerationist Telegram channels. The video, which the channels posted on July 15, contains step-by-step instructions for making an explosive device using commercially available products. CEP reported the footage to Telegram on July 17, but it was still available on July 24.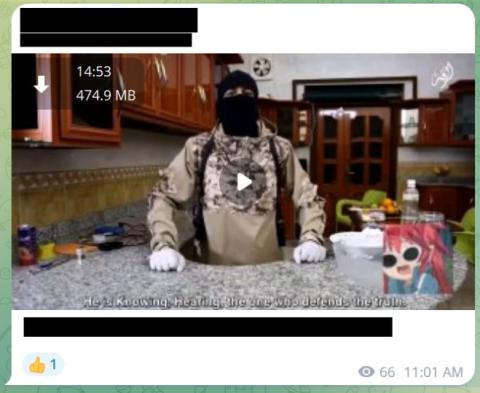 ISIS bomb making video on Telegram. Screenshot taken on July 20, 2023.
Online Pro-ISIS Groups Continue to Encourage Violence in Sweden
CEP researchers continued to find text and images in pro-ISIS Telegram and RocketChat channels encouraging acts of violence against individuals in Sweden who burned the Quran. Messages included those stating that killing these individuals was necessary and that not doing so would allow for future desecration and abuse.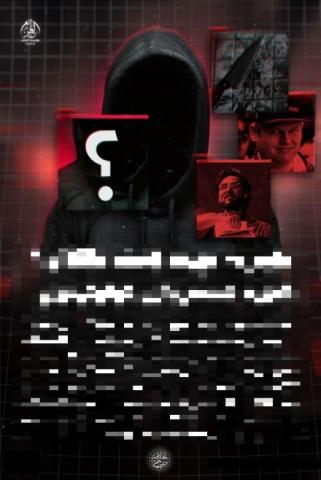 Pro-ISIS-K al-Azaim Foundation image located on Telegram calling for acts of violence against individuals in Sweden for burning the Quran. Image located on July 19, 2023.
Pro-ISIS Blog Located On WordPress
On July 20, CEP researchers located a pro-ISIS blog hosted by WordPress. The blog, which appeared to be created in July 2023 and was spread via a pro-ISIS online chat, contained several articles allegedly written by an individual using the same name as an author of an article in the pro-ISIS web magazine Voice of Khorasan issue 26. Articles on the blog encouraged acts of violence against those who burned the Quran in Sweden, promoted ISIS as a political and juridical unit, and promoted traveling to join ISIS. The blog also provides online safety advice for pro-ISIS supporters and graphics from the pro-ISIS-K al-Azaim Foundation.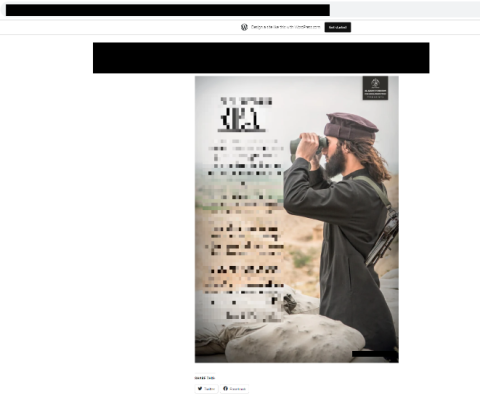 Al-Azaim Foundation graphic located on the WordPress Blog. Screenshot taken on July 20, 2023.
Al-Qaeda in the Arabian Peninsula Announces Relaunch of Web Magazine
On July 19, al-Qaeda in the Arabian Peninsula (AQAP) announced on a propaganda website that it was relaunching its Arabic web magazine Sada Al-Malahem (Echo of the Epics) after a 12-year hiatus. The post stated that the magazine was being restarted on the 17th anniversary of its initial launch. Prior issues of Sada Al-Malahem contained exhortations to commit acts of terrorism, as well as articles about AQAP members' prison experiences, and content relevant to AQAP members and their online supporters.

The AQAP announcement relaunching the Sada Al-Malahem web magazine. Screenshot taken on July 20, 2023.