For Immediate Release
Monday, May 9, 2022
(New York, N.Y.) — The Counter Extremism Project (CEP) reports weekly on the methods used by extremists to exploit the Internet and social media platforms to recruit followers and incite violence. Last week, an extreme-right prisoner support group designated the Poway synagogue shooter as its "prisoner of the week," five days after the third anniversary of his attack, and encouraged followers on Telegram to write him letters and send money to his prison commissary fund.
Also last week, two pro-ISIS web magazines were released including the 27th issue of "Voice of Hind" and the 5th issue of the "Voice of Khurasan." On Instagram, CEP researchers located eight white supremacist or antisemitic accounts, which the platform did not remove. In addition, two different Proud Boy chapters posted a meme on Telegram encouraging violence against the LGBT community. And finally, a 2D arcade style game on Valve's Steam platform glorifying Kyle Rittenhouse was released.
Extreme-Right Prisoner Support Group Names Poway Synagogue Shooter "Prisoner of the Week" Right After Attack Anniversary
On Monday, May 2, an extreme-right prisoner support group named the Poway synagogue shooter its "prisoner of the week," five days after the third anniversary of his attack, where he killed one person and injured three. The group encouraged its Telegram subscribers to write to the gunman and provide him with commissary funds. The group's website, which calls the shooter "a nice guy," features antisemitic essays from the attacker written while in prison. In one piece, the gunman states that he now realizes his violent actions were wrong but blamed Jews for supposedly "forcing" him to commit them.
The prisoner support group was founded in 2019 by Matthew Heimbach and Matt Parrott, although Heimbach claims he is no longer involved. The group seeks to provide money, books, and letters to white supremacists in prison, including mass shooters and various members of groups including the Atomwaffen Division and The Base. The organization maintains a Telegram channel, Gab account, and a website that uses Cloudflare as its name server and registrar.
Pro-ISIS Web Magazine "Voice of Hind" Issue 27 Released
Issue 27 of the pro-ISIS web magazine "Voice of Hind" was released on May 1. The magazine featured text from a recent speech from ISIS's spokesperson Omar al-Muhajir stating that ISIS was the only group that could "liberate" Jerusalem and called for attacks in Europe, the U.S., and other countries using whatever means were available, including knives and vehicles. An article stated that anti-Muslim riots in India were part of a genocidal campaign aided by the Indian government and alleged that a form of civil war was currently taking place in the country. The same article called for mobilization and violence. Other articles stated that nationalism has destroyed Muslim unity and called for all Muslims to unite under the ISIS self-proclaimed caliphate, while a separate essay specifically called for attacks in Kashmir.
The magazine was spread on RocketChat, Telegram, and a pro-ISIS website on the dark web. The magazine was also uploaded to at least five websites but was only available on one, Zippyshare, approximately four days later.
Pro-ISIS Web Magazine "Voice of Khurasan" Issue Five Released
The fifth issue of the pro-ISIS web magazine "Voice of Khurasan" was released online on May 2. The magazine opened with Eid greetings from ISIS's self-proclaimed Khurasan province. The first main article criticized Jews and "polytheists" and condemned the relationship between Israel and Turkey and Gulf states, as well as relations between India and Saudi Arabia, the UAE, and the Maldives. The author emphasized that "disbelievers" could never be allies.
The second article condemned religious modernization and idolatry. An article dealing with Afghanistan championed ISIS's recent launching of 10 short-range rockets into Uzbekistan and attacks in Pakistan, stating that ISIS does not recognize human-made borders like the Taliban. Another article proclaimed the usefulness of media and propaganda for spreading rumors and fear. The magazine also included an infographic for the month of Ramadan (April 2 to May 2) claiming the killing of 237 people, including 130 civilians, 22 Taliban soldiers, two "spies," three religious clerics, and three Pakistani police and soldiers. The infographic also claimed 19 IED attacks, eight targeted killings, and three ambushes.
The magazine was spread on RocketChat, Hoop, and a pro-ISIS website on the dark web.
White Supremacist and Antisemitic Accounts Located on Instagram
CEP researchers located eight white supremacist or antisemitic accounts on Instagram. Three profiles posted Rise Above Movement (RAM) inspired active club propaganda, with two also posting propaganda from the group Patriot Front. An additional account claimed to be directly linked to a clothing company operated by RAM co-founder Rob Rundo and advertised the label and various fascist-themed t-shirts. Other accounts located on Instagram promoted various white power bands, posted specifically anti-Muslim white supremacist propaganda endorsing the great replacement theory, and made various antisemitic claims, including that Jews secretly run the government, banks, and entertainment and are responsible for non-white immigration. The eight accounts had a mean of approximately 300 followers, with a range between 0 and 1,912 and a median of 62 followers.
CEP reported the eight accounts to Instagram, which only removed posts from one account that posted antisemitic content. Instagram did not delete the account, which reposted the previously removed antisemitic content. Instagram did not remove additional antisemitic content from another account, nor did Instagram remove content from pro-active club accounts or the account linked to the RAM/active club affiliated clothing label. Instagram did not remove anti-Muslim propaganda or propaganda that endorsed the great replacement theory and encouraged violence.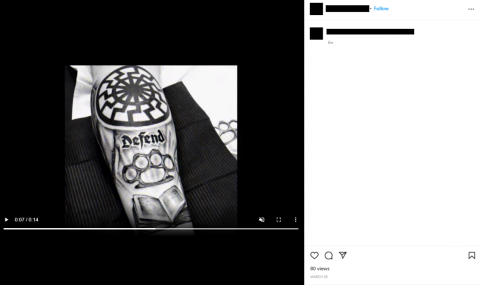 Still image from a pro-active club propaganda video on Instagram
Anti-Muslim Anti-Immigrant Austrian Group Fundraising on PayPal
CEP researchers located a PayPal link for an anti-Muslim and anti-immigrant Austrian "action group." The organization's Telegram channel, which has 1,000 subscribers, shows group members participating in distributing flyers, demonstrations, and combat sports. Telegram channels affiliated with the group have shared posts from European white supremacist and ethnonationalist groups, including Generation Identity. CEP reported the PayPal link to the company which did not remove it.
Two Proud Boys Chapters Encourage Attacks on LGBT People
On Tuesday, May 3, the Telegram channels for two different Proud Boys chapters posted a meme encouraging violence against LGBT people, especially patrons of gay bars or clubs. The Telegram channels have over 1,350 and 1,200 subscribers, respectively.
Videogame Glorifying Kyle Rittenhouse Released on Steam
On May 2, an independent studio released a top-down 2D-style game on Valve's Steam platform glorifying Kyle Rittenhouse. The player, as Rittenhouse, shoots zombie antifascist activists and negative caricatures of transgender people. On its website, the game studio criticizes narratives that oppose "the foundational values of Western Civilization." Comments on Steam encouraged acts of violence against the left and antifascist activists and included anti-trans comments. Steam's Content Rules prohibit the posting of "threats of violence or harassment, even as a joke."