For Immediate Release
Tuesday, May 31, 2022
(New York, N.Y.) — The Counter Extremism Project (CEP) reports weekly on the methods used by extremists to exploit the Internet and social media platforms to recruit followers and incite violence. On Facebook, CEP researchers located ten accounts that posted pro-ISIS propaganda. In addition, Turkish authorities claimed to have captured a man believed to be ISIS leader Abu Hasan al-Hashimi al-Qurashi.
Last week, the co-founder of a Rise Above Movement-inspired active club was interviewed during a livestream on YouTube, receiving over 430 views. Shortly after the school shooting in Uvalde, Texas, where a gunman murdered 19 children and two teachers, users of 4chan's pol board encouraged violence against Latinos and spread conspiracy theories. On Twitter, a neo-Nazi account claiming to support two different groups was located, and a Telegram channel allegedly belonged to a new accelerationist neo-Nazi group was found. A neo-Nazi site that has a presence on the surface web launched a .onion address to prevent future takedowns.
Finally, supporters of the Buffalo shooter continue to use online platforms to praise the attack, including on BitChute where a song praising the shooter and calling for more attacks on African Americans was uploaded.
Pro-ISIS Accounts Located on Facebook
During the week of May 22 to May 28, CEP researchers found ten accounts on Facebook that posted pro-ISIS propaganda. Content included clips from official ISIS propaganda videos and recently released videos from a pro-ISIS propaganda media unit, Amaq propaganda photos, segments from ISIS's weekly newspaper, and Amaq news releases. The appearance of some video clips and pictures were modified, such as removing ISIS logos or adding special effects. Two accounts had profile photos taken from ISIS propaganda videos. CEP reported the accounts to Facebook, which only removed one of the ten accounts. Some content, including official ISIS videos, were removed by Facebook, but the accounts themselves remained, and in some instances, pro-ISIS content remained on those profiles.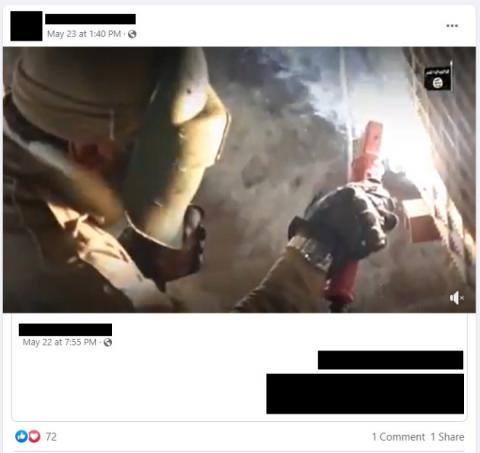 ISIS propaganda video clip on Facebook. Screenshot taken May 26, 2022.
Online Pro-ISIS Communities Do Not Address Alleged Capture of Leader
On May 26, Turkish authorities announced the capture of a man believed to be ISIS leader Abu Hasan al-Hashimi al-Qurashi. Al-Qurashi was named ISIS's leader on March 10, 2022, after his predecessor, Amir Muhammad Sa'id Abdal-Rahman al-Mawla a.k.a. Abu Ibrahim al-Hashimi al-Quraishi, was killed during a raid by U.S. special forces on February 3, 2022. Online ISIS supporters did not comment on the Turkish government's claim. In February, pro-ISIS online communities did not immediately respond to the killing of Amir Muhammad Sa'id Abdal-Rahman al-Mawla.
White Supremacist Active Club Chapter Co-Founder Interviewed on YouTube Livestream
On May 22, the co-founder of a Rise Above Movement-inspired active club chapter was interviewed during a podcast livestream on YouTube. The host introduced his guest as a leader in the "dissident white nationalist scene." The active club chapter co-founder stated that he is located in North Carolina and that his group has between three and six members but was accepting new recruits. He also alleged that the group was a target for infiltration from federal law enforcement but claimed that they were focused on distributing stickers and physical fitness and hoped to hold music and charitable events and banner drops in the future. Echoing an essay on an active club affiliated blog, the chapter co-founder stated that the group's aesthetic and activities were designed to attract young people. During the livestream, the host repeatedly used homophobic slurs, and the active club chapter co-founder used an antisemitic slogan, in addition to stating that hate was an essential characteristic because "If you hate it's because you love something so much, that anything that raises a hand against it is got to be (sic) just obliterated because that's what hate is."
The livestream had over 430 views by May 26 and contained an overlay advertisement on the bottom of the YouTube video. At least 20 individuals participated in the YouTube chat affiliated with the livestream. CEP reported the video to YouTube who did not remove it.
Both individuals advertised the active club chapter's Telegram channel. The channel has posted white supremacist and antisemitic slogans, content supporting the racist great replacement conspiracy theory, music from white power bands, and propaganda content from other groups, including the Nationalist Social Club, Nordic Resistance Movement, and National Action.
The livestream host, a Tennessee-based white supremacist, has over 1,600 subscribers on his YouTube channel and over 86,000 total views on 181 videos.
In a different video posted to YouTube on May 19, the livestream host stated that while he did not endorse the May 14 Buffalo, New York mass shooting, he would "never disavow violence." He said that "if it's organic violence against the system, I will never disavow it." The video had over 530 views twelve days after it was posted.
Following School Shooting, 4chan Users Promote Violence Against Latinos and Conspiracy Theories
Following the May 24 shooting at a school in Uvalde, Texas, where 19 students and two teachers were murdered, 4chan's pol board users promoted violence against Latinos and spread conspiracy theories. One post with over 300 replies that were still accessible two days later stated that white people should not care about acts of violence committed against people of color, and that the murder of non-whites was positive for the country. 19 (38%) of the first 50 comments supported the original post, ten (20%) explicitly disagreed with the original post, and 21 (42%) were neutral, did not address the issue, or made off-topic comments.
Multiple other posts on the imageboard alleged that the government was either aware of the attack beforehand or allowed it to happen as part of a plot to confiscate firearms. One post made on May 25 that had over 300 comments within 24 hours claimed that the U.S. government supplied the attacker with weapons. Multiple other posts made racist or antisemitic comments.
Twitter Account Using Feuerkrieg Division Logo Not Removed
CEP reported a Twitter account that used the logo for the accelerationist neo-Nazi group Feuerkrieg Division in its profile photo and urged freedom for an alleged potential mass shooter belonging to a separate neo-Nazi group, Injekt Division, in the profile photo. The account's tweets are private, however, the username corresponds with one previously used by a member of the Injekt Division. Twitter did not remove the account after CEP reported it.
Telegram Channel and Website for Neo-Nazi Group Located
On May 25, CEP researchers located a Telegram channel and website belonging to a new accelerationist neo-Nazi group that claims to have been founded in 2022. Propaganda on the group's website, which is visually similar to images previously released by the Atomwaffen Division, promotes attacks against the electrical grid and calls for violence, including one that uses a photo from the Buffalo shooter's video. The website also quotes James Mason's book Siege. The website uses Porkbun as its registrar and Cloudflare as its name server. The group's Telegram channel had 33 members four days after it was created. The group claims to vet recruits using Element and Session.
The website is visually similar to a different site that ceased operating in late 2021 that belonged to a separate small, internet-based, neo-Nazi accelerationist group. Over several years, several small neo-Nazi groups have recruited via the internet, encouraged violent accelerationism, and shared similar iconography to the Atomwaffen Division. These groups often exist for short periods before the members move on to other similar groups or movements.
Neo-Nazi Website Launches New .Onion Site
A neo-Nazi website that seeks to spread the work of James Mason and endorses the group National Socialist Order (NSO) launched an identical site with a .onion address on May 24. The site stated that a presence on the dark web would ensure that their work could not be removed in the future.
In December 2021, the surface website was briefly offline before switching domain suffixes. In addition to content from Mason, the site contains writing from former members of the Atomwaffen Division and current members of the NSO and lists members from the former as "prisoners of war." On March 2, the site claimed that the bulk of its readership was between 16 and 18. Tor accessible .onion addresses have been used by several white supremacist groups and websites, including the Daily Stormer, the Atomwaffen Division, the National Socialist Order, imageboards, and smaller accelerationist groups that endorse violence.
Song Glorifying Buffalo Shooter Located on BitChute
On May 25, CEP researchers located a song on the BitChute streaming platform praising the Buffalo shooter and calling for additional violence against African Americans. The song used the phrase "hail the saints" to refer to a pantheon of white supremacist terrorists and mass shooters and advocated for acts of violence. The track used a computer-generated voice and the uploader used imagery from a former McDonald's advertising mascot that the extreme right has co-opted. BitChute did not remove the video after CEP reported it, claiming that it did not violate their community guidelines. The video had 71 views after being on the website for approximately 28 hours.