For Immediate Release
Tuesday, April 11, 2023
(New York, N.Y.) — The Counter Extremism Project (CEP) reports weekly on the methods used by extremists to exploit the Internet and social media platforms to recruit followers and incite violence. Last week, CEP researchers located multiple posts glorifying the Christchurch terror attack on Twitter, a YouTube vlog warning members of the extreme right of "mass arrests," citing the recent arrest of Rob Rundo in Romania as evidence, and an Instagram account belonging to a white-supremacist active club in Sweden. Additionally, CEP located a Canadian active club recruiter promoting a fitness app on extreme right Telegram channels.
CEP researchers also located the 24th issue of the pro-ISIS web magazine Voice of Khorasan and a guide released by a pro-ISIS tech group, Electronic Horizons Foundation, describing how to use Session encrypted messenger in their communications strategy.
Clip from Christchurch Terrorist Attack Video and Neo Nazi Content Located on Twitter
On April 4, CEP researchers located multiple examples of extreme right content on Twitter. Four accounts were found that promoted or glorified the Christchurch terrorist responsible for murdering 51 people on March 15, 2019. One Twitter account posted a 17-second clip that included extreme violence from the attack video. The video had been on Twitter for approximately three days when it was located and had over 2,600 views and 100 likes. One additional Twitter account was found that posted photos taken from the attack video, and two additional accounts posted images glorifying the attacker. All four accounts were reported to relevant national authorities and removed.
Video of the attack had also been successfully uploaded to Twitter in November 2022 and in the month prior CEP researchers located a Twitter account that glorified the Christchurch terrorist and a separate account that, several days before the fourth anniversary, posted a photo from the attack video in an anti-Muslim threat made to another Twitter user.
CEP researchers also found several other Twitter accounts last week that promoted neo-Nazism and white supremacism. One account belonged to a white supremacist influencer who has had at least one Twitter account removed from the platform. Another account posted a video from a white supremacist active club-affiliated propaganda outlet that promoted the Rise Above Movement-inspired clubs and condemned the arrest of Rob Rundo. The video had over 2,700 views three days after being posted on Twitter. Additional accounts posted antisemitic, white supremacist, pro-Nazi, and anti-LGBTQ content and advertised upcoming white supremacist rallies.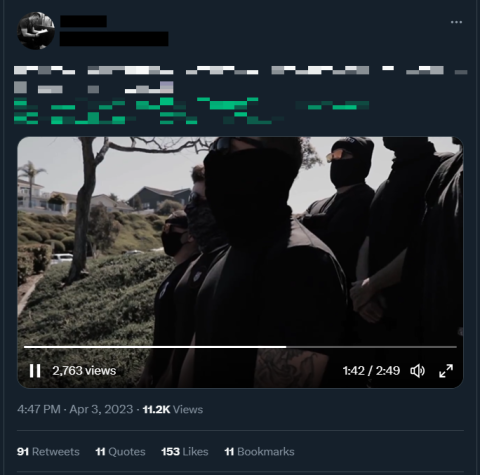 Active club propaganda video on Twitter. Screenshot taken on April 6.
White Supremacist Vlog Episode Located on YouTube
CEP researchers located an episode of a white supremacist vlog on YouTube that warned viewers of alleged mass arrests of the extreme right, citing the arrest of Rob Rundo in Romania. The livestreamer warned his audience not to say anything online that could lead to arrest and that groups, especially large ones, likely contained informants. The author praised James Mason's book Siege.
In February, the same vlogger claimed that white people in the U.S. were being destroyed by "invaders from Central America." The same livestreamer had a previous video recently removed from the platform for violating their Community Guidelines.
CEP reported the video to YouTube for violating the site's Community Guidelines, but it was still available on April 11.
Instagram Account for Swedish Active Club Located
CEP located an Instagram account belonging to a Swedish chapter of the white supremacist active club movement. The first post was made on April 2, 2023. On April 6, the page had 152 followers, and the account contained a link to the Telegram channel used by the group.
The Swedish chapter is the fifth active club Instagram account CEP has located since December, with chapters in Estonia and Finland reported in March and chapters in the Netherlands and France in December and January, respectively. The previously found accounts were all still on Instagram on April 6.
CEP reported the Swedish chapter Instagram account on April 6, but it was still available five days later.
Active Club Recruiter Advertises Fitness App on White Supremacist Telegram Channels
The leader of a Canadian chapter of the active club movement advertised an "online training app" on multiple white supremacist Telegram channels. The account that posted the message belongs to an Ottawa personal trainer, a recruiter for that province's active club chapter.
The post states that the app includes coaching, workout plans, goal tracking, workout videos, "digital communities," and the ability to connect it to wearable technology, including the Apple Watch, Fitbit, and others. The post offers special pricing plans ranging from $35 to $100 per month to other individuals in the extreme right. The app has been advertised several times on different extreme right Telegram channels in February and March.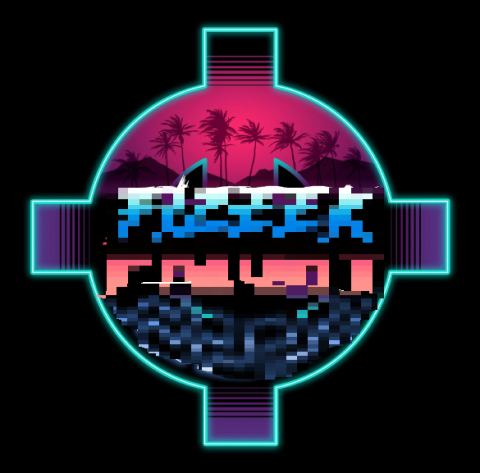 Image advertising the app on Telegram. Screenshot taken on April 5.
Voice of Khorasan Issue 24 Released
On April 2, the pro-ISIS al-Azaim Media released the 24th issue of the web magazine Voice of Khorasan. The main article condemned Muslim leaders in India, who the author stated were participating in negotiations, likened to appeasement, with Indian Hindu nationalist groups. Other magazine sections claimed that fighting was a religious obligation, condemned democracy, and encouraged joining ISIS.
Additional articles condemned Arab rulers for inviting Syria's Bashar al-Assad to a leadership summit and stated that Muslims fighting on behalf of both Russia and Ukraine were misguided. The final article criticized the Pakistani government for a long list of perceived wrongs, including passing legislation protecting LGBTQ people under the law and allegedly killing Taliban commanders who disobeyed the ISI.
Pro-ISIS Tech Group Releases Guide on Using Session Encrypted Messenger
On April 3, CEP researchers located a guide released from the pro-ISIS tech group Electronic Horizons Foundation (EHF) for using the Session encrypted messenger app. The manual stated that Session could be used for encrypted person-to-person communication, however, that it would not replace Telegram. The guide contained directions for downloading and installing the program and using private messaging services.
The last time CEP located EHF content was in January 2022. The April guide was found on Telegram, Scribd, and DocDroid. CEP reported the document to Sribd and DocDroid, DocDroid removed it.