For Immediate Release
Tuesday, April 9, 2019
Supporters of Neo-Nazi Group Continue Using YouTube to Disseminate Propaganda
During today's hearing before the U.S. House Judiciary Committee, Representative Hank Johnson asked Google's Counsel for Free Expression and Human Rights Alexandria Walden what the company was doing to stop far-right propaganda from spreading on YouTube. In response, Walden stated that for "borderline" content, YouTube algorithms demonetize the videos and stop the recommendation system from suggesting it to users. She further stated that any content that "promotes and incites violence against individuals or groups, or promotes hatred against individuals or groups based on their characteristics, including race, gender, ethnicity, religion … is violative of our community guidelines."
In response, CEP is releasing findings that show that supporters of the neo-Nazi group Atomwaffen Division have re-uploaded that group's videos yet again to YouTube. "In January, CEP flagged that supporters of the Atomwaffen Division had been using a two-month-old YouTube channel that had accumulated 7,000 views over 15 videos. In the face of inaction from YouTube, supporters of AWD have reuploaded the same type of extremist propaganda, and in some cases the same videos, repeatedly," said CEP Researcher Joshua Fisher-Birch. "CEP identified extremist propaganda videos, some of which had been up for two weeks, and flagged them for YouTube by using their built-in reporting mechanism. Despite the fact that YouTube deleted AWD's channel over one year ago, YouTube did not prevent the reupload of this content, nor did they act with any urgency to remove it even after it was reported for violating YouTube's Community Guidelines. YouTube should explain how AWD's videos managed to bypass their artificial intelligence content moderation systems in the first place."
The Counter Extremism Project (CEP) reports weekly on the methods used by extremists to exploit the Internet and social media platforms to recruit followers and incite violence. In addition, the European neo-Nazi group Feuerkrieg Division called for the murder of a Belgian MEP, while praising the Christchurch attacker, and ISIS utilized various different online platforms to release propaganda videos and additional content.
YouTube Refuses to Rapidly Remove Atomwaffen Division Propaganda
CEP researchers reported several propaganda videos made by the neo-Nazi group Atomwaffen Division (AWD) to YouTube on April 2 for violating the site's policies on "hateful or abusive content." The Atomwaffen Division advocates terrorism against the U.S. government, as well as religious and ethnic minorities. Five current or former Atomwaffen members have been arrested, on charges including the possession of explosives, assault and the murder of five people.
The videos were still available 48 hours after they were reported for violating YouTube's Community Guidelines. The channel that uploaded the videos was still online 72 hours after the videos were reported. The 14 previously released AWD videos had been posted from mid to late March 2019, and had accrued over 1,200 views as of April 4.
Videos posted by the account included exhortations to join AWD, and spread the group's propaganda and featured group members displaying firearms and various neo-Nazi symbols. The account also linked to non-AWD content uploaded by other users, including a video praising the Christchurch shooter, Brenton Tarrant, and various audio recordings of neo-Nazi books such as Siege and The Turner Diaries. On April 5, the only content available on the YouTube channel was a playlist for the audio recording of Siege.
YouTube banned an AWD account in February 2018 for violating the video site's policies against hate speech. In January 2019, YouTube removed an account that had uploaded AWD videos for  "multiple or severe violations of YouTube's policy prohibiting hate speech," after CEP revealed the existence of the videos. Thirteen of the 14 propaganda clips uploaded to YouTube in March 2019 had also been uploaded to and removed by the site in January 2019.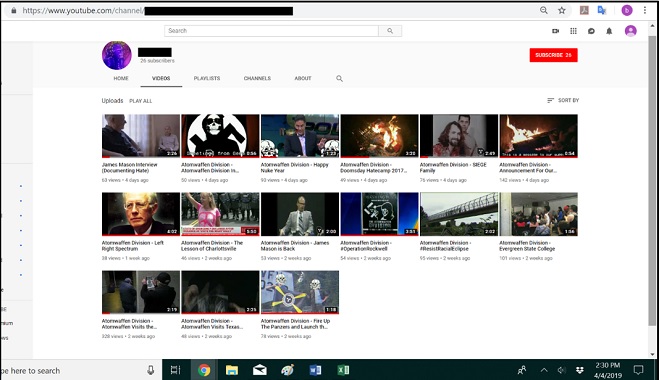 Atomwaffen Division videos on YouTube on April 4, over 48 hours after the videos had been reported.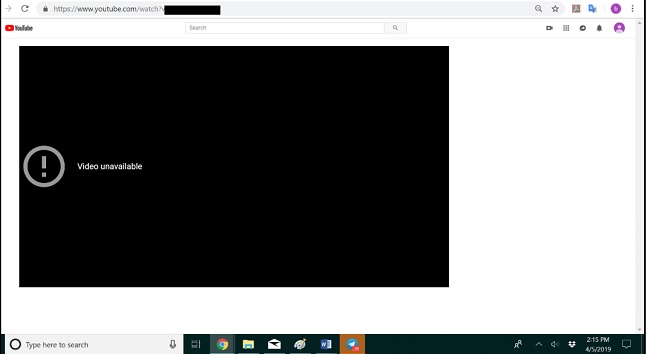 An Atomwaffen Division video on YouTube on April 5, 2019, after the videos were either removed or made private.
European Neo-Nazi Group Feuerkrieg Division Calls for Murder of Belgian MEP, Praises Christchurch Attacker
The neo-Nazi group Feuerkrieg Division (FKD), inspired by James Mason's Siege and the Atomwaffen Division, recently posted propaganda on their Gab account calling for violence against a Belgian MEP and praising the Christchurch attacker.  It is unclear if FKD has more than a handful of supporters in Europe. In an interview on a neo-Nazi podcast in January, Feuerkrieg's leader indicated that he lived in the Netherlands, but that the group also has at least one member in Estonia.  FKD has previously praised the actions of Dylan Roof and Robert Bowers, and created propaganda featuring the Oklahoma City Bombing.  The group's Gab account had 152 followers on April 9, 2019.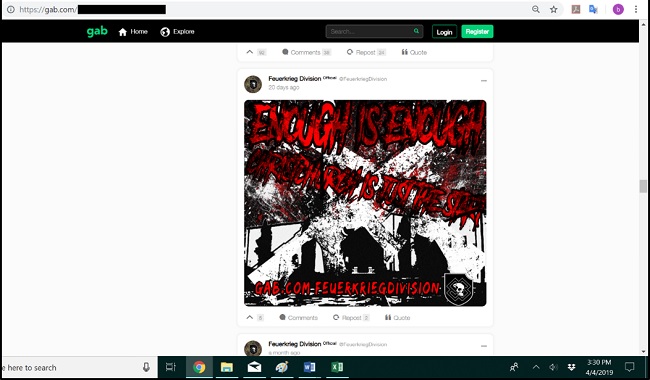 FKD propaganda praising the Christchurch attack and threatening future violence.  April 4, 2019.      
ISIS Releases New Propaganda Video on Numerous Websites
ISIS released a new propaganda video on April 1 from the group's self-proclaimed state in Yemen, titled "Ye Cling Heavily to the Earth." The video featured ISIS fighters preparing for battle, cooking food, receiving medical care and reading ISIS media publications. The video urges the viewer to commit terrorist attacks in the West if they are unable to travel to ISIS held territory.
In addition to Telegram, the video was released on at least 29 websites: Myspace, pcloud, SendVid, upmlf, uppom, mega.nz, Top4top, Google Drive, Google Photos, gofile.io, the Microsoft One Drive, Amazon Drive, 3rbup, the Internet Archive, mail.ru, Dailymotion, file.fm, megaup, nofile.io, ok.ru, Google Photos, Tune.pk, Vidbom, Dropbox, Mediafire, Vidio, Yadi.sk, Zippshare and Zupload. Approximately three days later, the video was still available on 14 sites: Google Photos, Dropbox, Tune.pk, Myspace, upmlf, gofile.io, 3rbup, Amazon Drive, the Internet Archive, nofile.io, ok.ru, Vidio, Zippyshare and Zupload. Links for the video were spread on Telegram, JustPaste.It and PasteThis.To.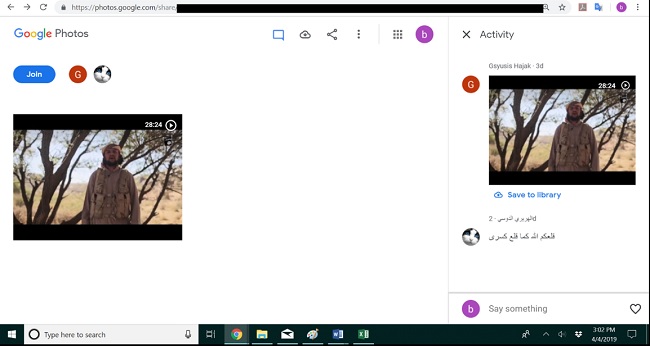 The ISIS video "Ye Cling Heavily to the Earth" on Google Photos.  April 4, 2019.
ISIS Releases Video Showing Execution of Captured Members of Nigerian Security Forces
On April 1, ISIS's Amaq News Agency released a video from Borno state in Nigeria, that shows the execution of five men accused of belonging to Nigeria's security forces. On March 21, 2019, the U.S. State Department added the Amaq News Agency as an alias to ISIS's designation as a Foreign Terrorist Organization. The video was originally uploaded to at least 16 websites: Amazon Drive, Yadi.sk, the Microsoft One Drive, Dropbox, Google Photos, mail.ru, the Internet Archive, Dailymotion, file.fm, Streamable, Tune.pk, nofile.io, Top4top, Mediafire, Dropbox, and Vidio. Three days later, the video was still available on Amazon Drive, Dropbox, and the Internet Archive.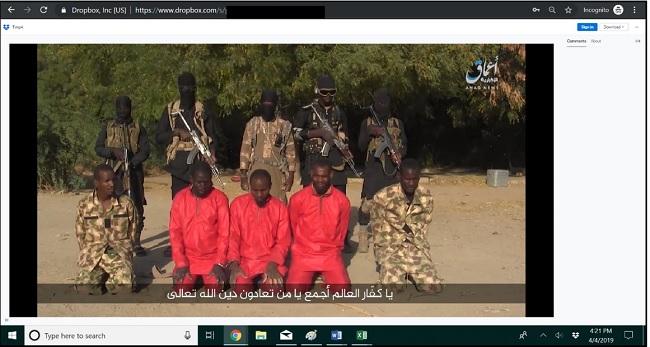 ISIS Amaq News Agency execution video on Dropbox. April 4, 2019
After a Hiatus, Pro-ISIS Communications Platform on RocketChat Back on Different Domain
After technical difficulties and time offline, online pro-ISIS users of the communications platform RocketChat restarted their chatrooms after moving from the .xyz domain to .to. Unknown individuals created pro-ISIS chatrooms using RocketChat in December 2018. Examples of content found in the chatrooms include ISIS Amaq news updates, ISIS videos and calls to commit terrorist attacks taken directly from ISIS propaganda. The largest chatroom has over 1,200 users.