For Immediate Release
Monday, February 11, 2019
CEP Report Writes of Feuerkrieg Division Creation & Their Online Tactics 
(New York, NY) - The Counter Extremism Project (CEP) reports weekly on the methods used by extremists to exploit the Internet and social media platforms to recruit followers and incite violence. Today's edition details the creation of the new neo-Nazi group Feuerkrieg Division, a post calling for violence on a white supremacist online forum, and the release of new ISIS content.

European Neo-Nazi Group Organizing on Multiple Websites, Encourages Terrorism
A new European neo-Nazi group, the Feuerkrieg Division (FKD), inspired by James Mason's Siege and the Atomwaffen Division, is attempting to recruit. In an interview on a neo-Nazi podcast in January, Feuerkrieg's leader indicated that he lived in the Netherlands, but that the group also has at least one member in Estonia. He also praised the actions of Dylann Roof and Robert Bowers, noting that in each case, racial or anti-Semitic violence furthered racial, religious and ethnic tension, which in turn created more recruits for national socialist movements.
"New radical organizations such as FKD are able to spread content and recruit online through the negligence of tech companies that should be aware of the danger these groups present," said CEP Researcher Joshua Fisher-Birch. "FKD is directly influenced by Siege, a neo-Nazi manifesto that CEP had identified on at least nine different websites, some for months at a time. The various websites in which FKD can currently be found or is hosted – WordPress, YouTube and Twitter – need to take down their content before hateful rhetoric online turns into 'real world activism.'"
FKD is currently looking for individuals who are motivated by Siege and want to participate in offline activism.  They mainly use a WordPress website and a Gab account for recruitment and propaganda purposes. The group also has a recruitment video on YouTube, as well as a Twitter account and a blank account on the web forum Fascist Forge. Posted on the Gab account are numerous propaganda images and statements encouraging violence against government authorities, Jews, feminists, LGBT people and leftists. Of particular note is a poem on the Gab page calling for the murder of Jews and the burning of synagogues.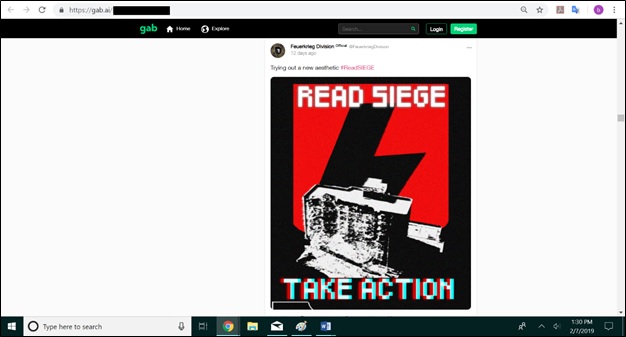 Propaganda image on Feuerkrieg Division's Gab account, depicting the Oklahoma City Bombing and promoting Siege and the group. Located on February 7, 2019.
User on Neo-Nazi Web Forum Encourages Campaign of "Sexual Terrorism" Against Women
On February 5, a prominent user of the extreme neo-Nazi Fascist Forge web forum encouraged the use of "sexual terrorism" against women, which he defined as the use of rape, murder, kidnapping and attacks on women's organizations.  The user encouraged this activity in order to terrorize both women as a whole and the country, and to further the goal of government/societal collapse by causing conflict between the left and the right wing, and between men and women.  
Ultimately, the user hoped that a campaign of systematic gendered violence would lead to women leaving the workforce, causing economic damage. Additionally, the author noted that women were an easy target for violence.  As an example, the person pointed to the actions of the serial killer Ted Bundy, describing his killings as a reaction to feminism. The post had 9 likes or reactions, a relatively high amount on the forum.
Fascist Forge uses Dream Host, headquartered in California, as the site's registrar and name server. The site is specifically for fascists that follow the book Siege by James Mason. The forum takes after Iron March, the neo-Nazi forum that helped in the formation and growth of the Atomwaffen Division. Fascist Forge received approximately 60,000-page views for the month of January 2019. The forum currently has over 520 registered members as of February 7, 2019.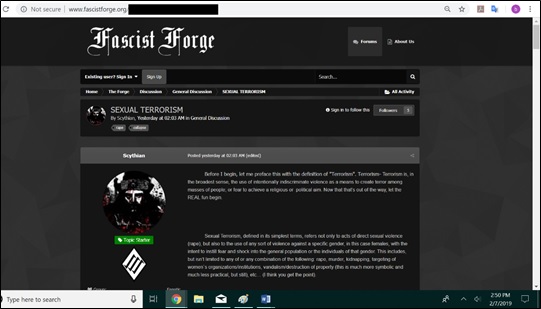 The "Sexual Terrorism" thread on Fascist Forge, located on February 7, 2019.
New Website for Online Group Spreading Pro-ISIS Propaganda
A website for the pro-ISIS group Ansaar ad-Dawah was launched in early February.The main purpose of the site is allegedly the translation religious material. While it has a disclaimer that they "do not have any organizational ties to any group" and that they "do not promote or condone violence," the site does advocate the teachings of extremist religious leaders and individuals that have been part of either Al Qaeda or ISIS such as Anwar al-Awlaki, Abu Malik al-Tamimi and Abu Musab al-Zarqawi.
The website takes a soft approach to extremism, focusing on religion and personal conduct rather than violence. It contains several videos, including a nasheed released by ISIS's Ajnad Foundation for Media Production, two videos on correct behavior by ISIS's al-Himmah library and a lecture by ISIS's former number two, Abu Ali al-Anbari. There are areas of the site for additional videos which have not yet been uploaded or are currently unavailable.
The site was registered on January 22, 2019, with FastDomain as the registrar and Blue Host as the Name Server. Posts on a no longer accessible Facebook page for Ansaar ad-Dawah indicated that launching the website was a major project of the group.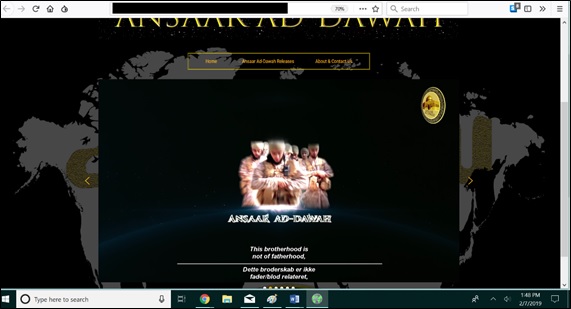 ISIS nasheed "The Meaning of Brotherhood" released by ISIS's Ajnad Foundation for Media Production, located February 7, 2019.
Online Pro-ISIS Group Releases New Edition of "Youth Of The Caliphate" Magazine
The pro-ISIS Abd al-Faqir Media Foundation released the fifth edition of their online "Youth of the Caliphate" magazine on Telegram on February 7. The issue contains sections in Arabic, English and French, and is meant to appeal to ISIS's community of online supporters. The magazine states that ISIS will not be defeated by losing territory, and that the ideas behind the group will live on among its supporters.
Additionally, this issue of the magazine contains a message to the French people, urging them to pressure their government to stop fighting ISIS or face further attacks. The publication also discusses recently released videos by pro-ISIS media outlets, reaffirming ISIS's claim of responsibility for an attack on New Years on a Russian apartment block and threatening future attacks. The Russian government alleges that the Magnitogorsk explosion was caused by a gas leak. A section in English denigrates U.S. soldiers as desperate, unintelligent mercenaries fighting against the honorable mujahideen.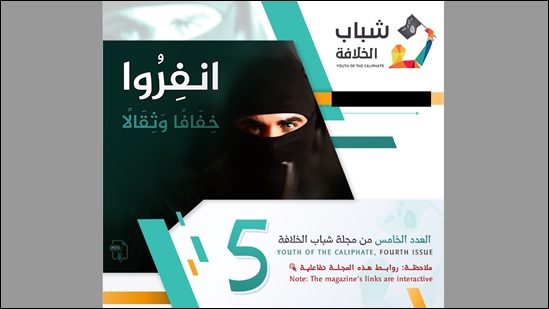 "Youth of the Caliphate" Issue 5, Released on Telegram on February 7, 2019.