For Immediate Release
Tuesday, April 19, 2022
(New York, N.Y.) — The Counter Extremism Project (CEP) reports weekly on the methods used by extremists to exploit the Internet and social media platforms to recruit followers and incite violence. On Telegram, a new version of a notorious antisemitic channel was found, as well as the fifth version of a different white supremacist channel which posted alleged home addresses of prominent public and private individuals. Additionally, a private pro-ISIS Facebook group was found that allegedly posts updates from ISIS's official media channels. Multiple pieces of neo-Nazi propaganda were also identified on Meta owned Instagram.
Further, MediaFire quicky removed alleged spyware files shared by a pro-ISIS cybersecurity channel located on RocketChat. Finally, on the merchandise store Spring, a shop was discovered that was selling merchandise benefitting the imprisoned Austrian neo-Nazi rapper "Mr. Bond."
New Version of Notorious Antisemitic Telegram Channel Located
CEP researchers located a new version of a notorious antisemitic Telegram channel on April 12. The original channel, which is still on Telegram, was active between August 2019 and October 2020 and has over 9,000 followers. The current channel reuploaded all previously posted content on March 22, 2022, and began publishing new content, including a post stating that Jews were waging war against "you and your family." The channel consists of social media posts and articles from both well-known and non-prominent Jews with their photos and claims that they are "anti-white." Twitter and Facebook previously removed accounts affiliated with the original channel.
New Version of White Supremacist Channel Doxing Officials Returns to Telegram
CEP researchers located the fifth version of a white supremacist Telegram channel that has posted the alleged home addresses of U.S. judges, prominent Jews, and wealthy individuals. The channel, which began posting content on April 12, uses racist and antisemitic language and encourages acts of violence against the individuals listed and their families. The fifth version of the channel redesigned the dox information to make it "easier (for) sharing across platforms." The channel had almost 200 subscribers on April 14, and at least nine additional channels shared content from the channel. CEP reported the account to Telegram's abuse team on April 14, who did not remove the channel.
Anti-LGBT, Antisemitic, and Neo-Nazi Content Located on Instagram
CEP found nine Instagram accounts that posted anti-LGBT, antisemitic, or neo-Nazi content. Two accounts that posted Atomwaffen Division (AWD) and other neo-Nazi propaganda were removed from the platform shortly after they were located. Of the remaining seven accounts, one posted a pro-AWD video, two encouraged violence against LGBT people, including one in the profile description, two accounts posted antisemitic memes, one account glorified the 2011 Norway attacker, and the final account glorified Dylann Roof. The seven accounts had an average of 430 followers each, ranging between 63 and 1,694. CEP reported the accounts to Instagram who removed three that posted content glorifying the Norway attacker, a pro-AWD video, and encouraging violence against LGBT people. The four accounts that remained online included content that encouraged violence against LGBT people, glorified Dylann Roof, and posted antisemitic memes.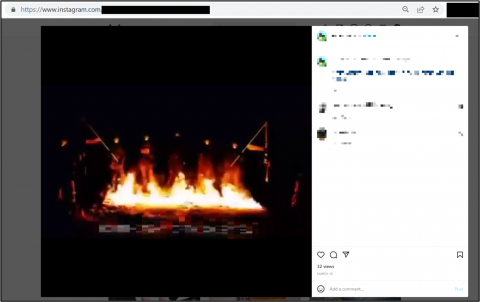 Atomwaffen Division compilation video posted on Instagram, screenshot taken on April 14.
Pro-ISIS Group Located on Facebook
CEP researchers located a private pro-ISIS group on Facebook on April 13. The group clearly states that they post updates from ISIS's official media channels and support travel to ISIS-held territory for the purpose of fighting. The group, which had 26 members, shares the same name, font, and banner image as pro-ISIS accounts on RocketChat and Hoop. CEP reported the group to Facebook, who did not take action to remove it.
Pro-ISIS Cybersecurity Channel Shares Alleged Spyware
On April 13, the moderators of a pro-ISIS cybersecurity channel on RocketChat shared what they alleged to be Israeli spyware via a file on MediaFire. The post claimed that the spyware could be used for "exploitation" and alleged that the program could "extract data" from multiple communication, social media, and email apps on phones running the Android operating system. MediaFire immediately removed the file after CEP reported it.
Spring Shuts Down Fundraiser for Austrian Neo-Nazi
On April 11, CEP located a shop on the print-on-demand merchandise store Spring (formerly TeeSpring) selling clothing and stickers to benefit the imprisoned Austrian neo-Nazi rapper known as "Mr. Bond." The merchandise store on Spring sold shirts and other merchandise containing a white supremacist symbol and a support hashtag. Product descriptions included a URL for a website made to assist the Austrian who was sentenced to ten years in prison for inciting violence and glorifying Nazism. The 2019 Halle synagogue attacker included one of Mr. Bond's songs in his livestream. Spring quickly removed the web store after CEP reported it.