For Immediate Release
Thursday, August 5, 2021
(New York, N.Y.) — The Counter Extremism Project (CEP) reports weekly on the methods used by extremists to exploit the Internet and social media platforms to recruit followers and incite violence. Last week, CEP researchers located a dozen neo-Nazi or white supremacist Telegram channels celebrating the birthday of the alleged El Paso shooter. On Instagram, multiple posts were found spreading antisemitic content as well as a video that glorified the 2011 Norway Attacker. Furthermore, a post was found on 4chan's "politically incorrect" board promoting Patriot Front, a white supremacist group and a large amount of extreme right-wing theory books were located on Mega.Nz. During a police officer's congressional testimony on the January 6 attack on the U.S. Capitol, a post was made by a media group linked to the Proud Boys calling the officer a "traitor." Finally, an ISIS propaganda video was distributed across multiple websites.
Online Neo-Nazis and White Supremacists Celebrate Alleged El Paso Shooter Prior to Attack Anniversary
On July 27, neo-Nazis and white supremacists celebrated the birthday of the alleged El Paso shooter, one week before the attack anniversary. The gunman is alleged to have attacked a Walmart on August 3, 2019, murdering 23 people and injuring 22 others in a white supremacist, anti-Latino, and anti-immigrant act of domestic terrorism, following the posting of a manifesto on 8chan. At least 12 neo-Nazi or white supremacist Telegram channels celebrated the alleged killer's birthday by posting a propaganda video containing news footage from the attack, photos and drawings that glorified the attacker, and the attacker's manifesto. Ten of the 12 Telegram channels that praised the gunman and encouraged additional violence had previously been deleted at least once by the communications app, and in some cases, the channels were deleted and returned multiple times.
Video Glorifying 2011 Norway Attacker, Neo-Nazi, and Antisemitic Posts Located on Instagram
From July 25 to July 31, CEP researchers located multiple accounts on Instagram that made posts supporting the 2011 Norway attacker, spread neo-Nazi propaganda, and made antisemitic posts. On July 23 and July 24, two different Instagram accounts posted the same 57-second video tribute to the 2011 Norway attacker who killed 77 people and wounded over 300 people in a bombing and shooting rampage. The video had 106 and 173 views respectively when it was located.
CEP also located two different accounts that posted video clips from Atomwaffen Division (AWD) propaganda videos. One post, online since June 30, had 285 views when it was located on July 28, while the other had 15.
Multiple other Instagram accounts were located that posted antisemitic memes or caricatures or called for acts of violence. An additional Instagram account with over 500 followers was found that sold Holocaust denial books.
The two accounts that posted the Norway attacker tribute videos were deleted by Instagram before they could be reported by CEP. The two accounts that posted AWD propaganda videos were removed after they were reported by CEP. One of the Instagram accounts that called for violence was removed by the platform after CEP reported it, however three other accounts that posted antisemitic content, white supremacist content, or offered holocaust denial books, were still online four days after they were reported.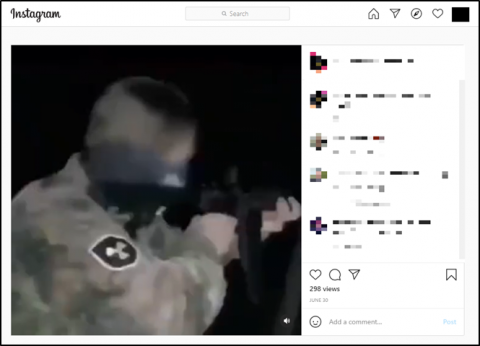 A video upload containing Atomwaffen Division propaganda clips located on Instagram. Screenshot taken on July 29, 2021.
Patriot Front Propaganda Spread on 4chan
CEP researchers located a post on 4chan's "politically incorrect" board made on July 25 promoting the white supremacist fascist group Patriot Front. The original poster (OP) claimed that they were not a group member but wanted 4chan to promote the group by sharing memes and trolling. The OP stated that they were not recruiting for the group but hoped to rally the board to support Patriot Front online. In a sample of posts on the thread, 52 percent were supportive of Patriot Front, 34 percent were negative, and 14 percent were neutral.
Neo-Nazi Propaganda, Including The Turner Diaries, Located on Mega.Nz
CEP researchers located a large quantity of extreme right-wing theory and propaganda books on Mega.Nz. In addition to mainstream works of fiction and philosophy, the same uploader included books and pamphlets by the notorious founder of the American Nazi Party, George Lincoln Rockwell, the American neo-Nazi Harold Covington, a pamphlet written by The Order's David Lane, and books by William Luther Pierce including The Turner Diaries. The content was spread on Telegram. An individual uploaded the ebooks in February and March 2021. The content was removed by Mega.Nz after it was reported by CEP.
Proud Boys Linked Media Group Shares Message from Rise Above Movement Calling Police Officer A "Traitor"
On July 27, during public hearings of the U.S. House Select Committee to Investigate the January 6th Attack on the United States Capitol, a media group linked to the Proud Boys shared a message on Telegram from an account linked to the white supremacist Rise Above Movement (RAM) calling a Washington, D.C. police officer a "traitor." The message contained a video clip of an officer testifying about the January 6 attack. Comments made under the message referenced the "day of the rope," an act of mass white supremacist violence from The Turner Diaries novel. Nicholas DeCarlo, who works for the media group, is charged with six counts, including conspiracy and obstruction of an official proceeding, related to his conduct on January 6. The media group previously shared a Telegram post from the same RAM account on June 6. The same RAM Telegram account had encouraged attacks on journalists during the January 6 attack, and in March 2021, the RAM channel posted a photograph showing individuals wearing Proud Boys shirts posing with a RAM flag.
ISIS Propaganda Video Released on Multiple Websites
On July 25, ISIS's self-proclaimed West African province released a new propaganda video titled "Festival of Sacrifice." The video includes footage of what is claimed to be Eid celebrations in ISIS-held territory in West Africa and footage of food distribution. The video also contains quick footage showing combat and executions. The video concludes with statements from an ISIS fighter in West Africa.
The video was released on Telegram, and links were spread on RocketChat and online bulletin boards. The video was uploaded to at least 17 websites but was only available on five sites approximately four days later: sites connected to the distributed web service ipfs.io, transfer.sh, ufile.io, uqload.com, vudeo.net.