For Immediate Release
Monday, May 22, 2023
(New York, N.Y.) — The Counter Extremism Project (CEP) reports weekly on the methods used by extremists to exploit the Internet and social media platforms to recruit followers and incite violence. Last week, CEP researchers located a library of white supremacist, neo-Nazi, and antisemitic literature on the New Zealand-based file-sharing platform Mega.Nz being distributed by users on Telegram.
In the U.K., supporters of white supremacist James Allchurch launched a GiveSendGo campaign and raised thousands of pounds to provide support during his two-and-a-half-year imprisonment. White supremacists also celebrated the first anniversary of the live-streamed terror attack at a supermarket in Buffalo, New York, where a gunman killed 10 people. Supporters reposted videos of the attack and encouraged further acts of violence.
In addition, CEP researchers located several instructional resources detailing the manufacture of homemade explosives on JustPaste.It. A pro-ISIS propaganda video was located on Telegram, Rocketchat, and at least six other websites that celebrated recent attacks on the Nigerian military. Further, issue 25 of the pro-ISIS web magazine Voice of Khorasan was released, which justified acts of suicide terrorism and stated that the Taliban are the newest version of the foreign occupation of Afghanistan.
Various Neo-Nazi and White Supremacist Books Located on Mega.Nz
On May 18, CEP researchers located a collection of neo-Nazi and white supremacist texts on the Mega.Nz cloud storage site that was shared in a white supremacist chat on Telegram. Works located included The Turner Diaries and Hunter by William Luther Pierce, books by Adolf Hitler, George Lincoln Rockwell, Harold Covington, Alexander Slavros, the founder of Iron March, and various other works that promoted white supremacism, Nazism, racism, and antisemitism. CEP reported the content to Mega.Nz who quickly removed the material.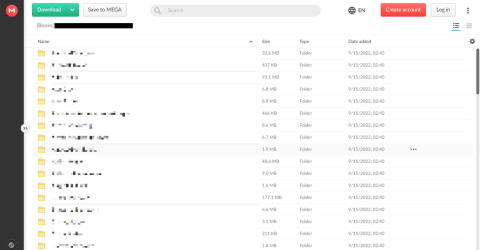 Files on Mega.Nz. Screenshot taken on May 18.
White Supremacists and Their Supporters Continue to Fundraise on GiveSendGo
Supporters of notorious white supremacist James Allchurch launched a fundraiser on the GiveSendGo website to support the imprisoned podcaster. Allchurch was sentenced to two and a half years in prison by a Welsh court after being found guilty of 10 counts of "distributing a recording stirring up racial hatred." Podcasts recorded by Allchurch included the promotion of white supremacism, anti-LGBTQ sentiment, antisemitism, and racism and praised the group Patriotic Alternative. 
Multiple channels on Telegram spread the GiveSendGo link. The fundraiser had reached over £3,500 within three days. A message with the URL claimed that GiveSendGo takes "5% of all online donations." On their website, GiveSendGo states that the site does not charge for use and runs on donations but that third-party payment processors impose fees.
GiveSendGo did not take action against at least four other campaigns by neo-Nazi or white supremacist groups using the platform for fundraising to purchase land, equipment, body armor, or assist with legal costs. 
On May 13, a neo-Nazi leader who has operated an ongoing fundraiser on GiveSendGo complained that banks were blocking transfers to the fundraising website and urged his supporters to donate money via a website for an extreme right online bookstore. 
White Supremacists and Neo-Nazis Celebrate One Year Anniversary of the Buffalo Attack
Online white supremacists and neo-Nazis celebrated the first anniversary of the May 14, 2022, terrorist attack committed by a white supremacist in Buffalo, New York. The perpetrator livestreamed the murder of 10 people in a supermarket before surrendering to law enforcement officers. In November, the attacker pleaded guilty to 15 charges of murder, attempted murder, and domestic terrorism motivated by hate.
Multiple white supremacist and neo-Nazi Telegram channels posted the attack video, the attacker's manifesto, and memes glorifying the attacker. Channel admins also shared posts from several previously banned accounts that called for additional acts of violence.
Pro-ISIS Group Posts Explosive Instructions on JustPaste.It
CEP researchers located a new online pro-ISIS group that posted two sets of instructions for making homemade explosives on the JustPaste.It bulletin board website. The links were posted in a pro-ISIS RocketChat environment. Additional contact information for the author of the bomb guides was provided for three different encrypted communications platforms.
The explosives instructions are similar to those previously posted by the pro-ISIS online group Al-Saqri Foundation, which distributed information on the home manufacture of explosives and poisons and other information useful for committing terrorist attacks. Images used in the instructions were taken from various unrelated websites, stock images, and chemistry videos. The four pages reported to JustPaste.It had 63, 37, 31, and 24 views when they were located on the same day they were posted. JustPaste.It removed the instructions after CEP reported them.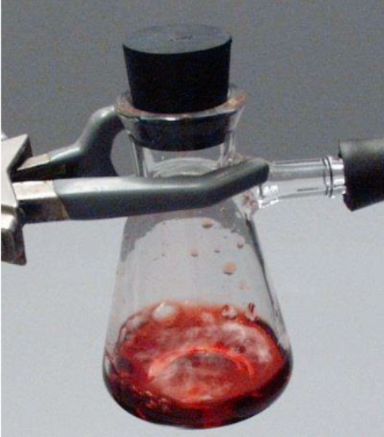 Image used in explosives instructions on JustPaste.It
Pro-ISIS Video Located on Multiple Websites
CEP researchers located a one-minute forty-five-second pro-ISIS video on multiple websites on May 15. The video celebrated attacks on the Nigerian military. It contained text taken from issue 390 of ISIS's al-Naba newsletter, photos of the execution of a man, and previously released combat footage. In addition to Telegram and RocketChat, the video was uploaded to at least six other websites: Ok.Ru, Yandex, Pixeldrain, the Internet Archive, Files.Fm, and Qu.ax. CEP reported the video to Ok.Ru, Pixeldrain, Files.Fm, and the Internet Archive. Ok.Ru, Files.Fm, and the Internet Archive removed the video.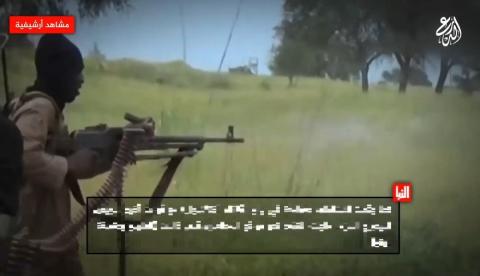 Pro-ISIS video celebrating attacks on the Nigerian military. Screenshot taken on May 18, 2023.
Voice of Khorasan Issue 25 Released
On May 19, the pro-ISIS al-Azaim Media released the 25th issue of the web magazine Voice of Khorasan. Articles criticized Amir Khan Muttaqi, the Taliban's foreign minister, for stating that Afghanistan was freed from foreign occupation, condemned China's abuses against the Uyghurs, and urged steadfastness and piety. Additional sections encouraged individuals to support ISIS financially, praised suicide attacks, and stated that several individuals and research organizations were helping to spread ISIS content.