For Immediate Release
Monday, May 24, 2021
(New York, N.Y.) – The Counter Extremism Project (CEP) reports weekly on the methods used by extremists to exploit the Internet and social media platforms to recruit followers and incite violence. Last week, CEP researchers located several antisemitic Facebook pages and a profile using a photo and the same name as the Christchurch terrorist. The antisemitic pages posted a variety of other racist and anti-LGBT memes and statements as well. Also found were numerous posts on 4chan that shared the Christchurch attack footage and encouraged terrorist attacks.
The pro-ISIS "Voice of Hind" web magazine was located on multiple websites, including Telegram and the Internet Archive. A pro-ISIS Tumblr blog and an ISIS WordPress site, each containing terrorist propaganda, were also found. A neo-Nazi website that uses services from Cloudflare and Epik is also attempting to crowdfund cryptocurrency in order to self-host their site. Lastly, instructions for making explosive devices were located on a dark web imageboard and a neo-Nazi intelligence and counterintelligence skills Telegram channel was created.
Antisemitic Pages and Profile Using the Same Name as Christchurch Terrorist Located on Facebook
CEP researchers located two antisemitic pages on Facebook. The first page, created in May 2020, had 360 followers on May 20, 2021, and used a modified mural of the Christchurch terrorist Brenton Tarrant as its profile photo. The page contained a variety of antisemitic, racist, and anti-LGBT memes and statements. The second page, created in April 2020, which had over 100 followers on May 20, 2021, made several antisemitic and racist posts. CEP researchers also located a Facebook account that used the name of the Christchurch terrorist as its display name and used a photo taken from the attack video as its profile photo. It is unknown when the account was created, but the owner changed the profile photo on May 13, 2021.
Numerous Posts on 4chan Located Sharing Christchurch Attack Footage, Encouraging Terrorist Attacks
CEP researchers located dozens of posts on 4chan made in May 2021, sharing footage from the Christchurch terrorist attack video and encouraging future acts of white supremacist terrorism. CEP found approximately two dozen different video clips of the attack, many of which had been turned into memes. Several posts endorsed acts of white supremacist violence.
Pro-ISIS "Voice of Hind" Located on Multiple Websites
CEP researchers located links for the sixteenth issue of the pro-ISIS web magazine "Voice of Hind" on several websites after being initially released on May 15. The magazine featured an article condemning both Israel and Hamas, stating that ISIS should rule Jerusalem. Another essay said that Saudi Arabia is ruled by apostates, while a different piece condemned both Pakistan and Saudi Arabia for offering aid to India during that country's recent COVID-19 crisis. An article claiming to be from an ISIS supporter in the Maldives stressed the importance of supporting those in prison and commended ISIS for destroying prison facilities and freeing detainees.
Links to the web magazine were spread on Telegram. The magazine was uploaded to at least five websites: the Internet Archive, GoFile.Io, Mega.Nz, Top4top, and MediaFire. Five days later, the magazine was still available on four websites: the Internet Archive, GoFile.Io, Top4top, and MediaFire.
Pro-ISIS Tumblr Blog, WordPress Sites Located
On May 20, CEP researchers located a pro-ISIS blog on Tumblr and an ISIS propaganda site on WordPress. The Tumblr blog, which had an almost identical URL to a Tumblr page located and removed approximately one month ago, contained ISIS Amaq news statements and links to ISIS propaganda on other websites. Members of ISIS, the group's supporters, and their online propaganda network have historically used Tumblr to communicate and spread content. The blog was removed after it was reported to Tumblr. The second website, on WordPress, contained ISIS Amaq news updates and propaganda photo sets, infographics, and links to ISIS propaganda on other websites.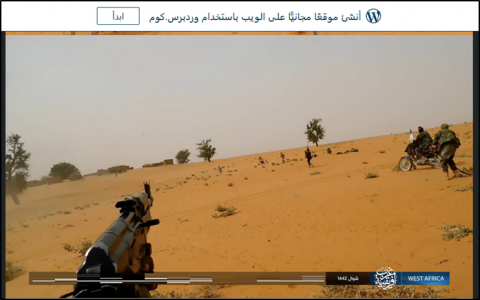 ISIS propaganda photo from pro-ISIS WordPress site, May 20, 2021.
Instructions for Making Explosive Devices Located on Dark Web Imageboard
CEP researchers located posts on a dark web imageboard that included instructions and tips for constructing explosive devices. One of the posters additionally encouraged attacks on vaccination sites, claiming that their purpose was to sterilize white people. The dark web imageboard explicitly endorses national socialism and encourages acts of white supremacist violence and terrorism.
Neo-Nazi Website Crowdfunding Cryptocurrency for Self-Hosting, White Supremacist News Site, and Online Store
On May 19, a neo-Nazi website made a post requesting Monero cryptocurrency donations with the goals of self-hosting their site, starting a white supremacist news page, and creating an online store to sell t-shirts and copies of James Mason's book Siege. The website stated that they would no longer have to rely on third parties by self-hosting and hoped to offer hosting services to other white supremacist sites. The website began accepting Monero cryptocurrency in February 2021. The post indicated that the site's operators hoped to raise upwards of 5,000 dollars in cryptocurrency for the hosting and shop projects, with an unknown amount being requested for the news site.
While the website states that it is not affiliated with the Atomwaffen Division (AWD) or National Socialist Order (NSO), the site lists numerous members of AWD as contributors and at least one member of the latter as a contributor in addition to having posted NSO propaganda. The website also encourages financial support for imprisoned members of AWD. The website uses Epik as its registrar and Cloudflare as its name server. On April 23, the British government added AWD and NSO to the list of proscribed terrorist organizations. 
Neo-Nazi Intelligence and Counterintelligence Skills Telegram Channel Created
A neo-Nazi Telegram channel was created to share advice and guides on intelligence, counterintelligence, information security, and operations security. The channel posted a series of book recommendations, including intelligence introductory texts and topics including surveillance, propaganda, counterintelligence, and executive protection. The channel endorses decentralized neo-Nazi accelerationism and is opposed to established groups. The channel creators advocate for improved operations security and the development of intelligence and counterintelligence skills among neo-Nazis and white supremacists. The channel is part of a network of accelerationist neo-Nazis on Telegram that reveres the neo-Nazi James Mason and includes channels linked to extreme right podcasts. The channel had over 675 members on May 20.