Within the space of 24 hours, one of the hundreds of invisible Internet support companies that keep the web ticking behind the scenes had cut down what was blossoming into the 'Facebook for ISIS.'
In a March 26 letter, the Counter Extremism Project urged NameCheap, a Los Angeles based "Registrar" for websites, to stop providing its services to a freshly launched site called Muslims.Network. That site already contained dozens of pro-ISIS profiles. One, "Bachir," exhorted followers to "run over them [infidels, presumably] without mercy" – his all-caps caption overlaid a car crushing human skulls into the dirt.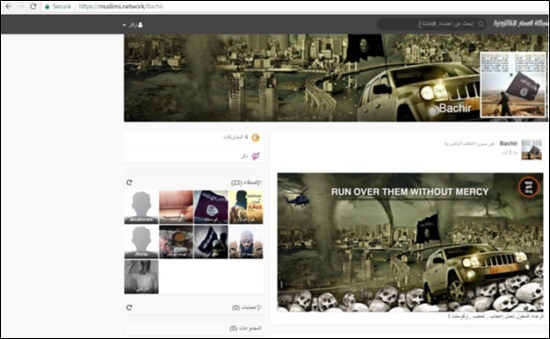 ISIS avatars, propaganda, and other images and text, permeated the site. Muslims.Network called itself an "advocate of the Mujahideen," and contained a recently published ISIS video in its blog, posted by the professed site creator, "Abu Rahj." The "about" section on the website included a creed for those who were "pro-Mujahideen."
On its JustPaste.It advertisement accompanying the "soft launch," Muslims.Network officially announced "the opening of a social networking site similar to Facebook dedicated to the supporters of the Islamic State." It was a slick, tech-savvy operation, explicitly replicating the popular Facebook template for social media: a small profile picture overlaying a "cover" photograph, showing "friends" and a "feed." Instead of a wide-angle picture of a rustic Colorado mountain panorama, however, a Muslims.Network "cover" might be a sepia-tinged vista of burning buildings (and crushed skulls).
But one day after receiving our letter, on March 27, NameCheap confirmed it had taken action to suspend providing its service, and the site is thankfully no longer operational:

This is the power that the companies "behind the Internet" – Registrars, Name Servers, Domain Servers, and other platform service providers – wield. Swiftly taking down websites that explicitly promote terrorism and incitements to violence is well within their remit, their capacity, and their responsibility, as NameCheap has clearly demonstrated. Denied their websites, the virtual net that terrorists cast in their search for supporters can shrink from an ocean-going trawl to the smallest goldfish net.
Yet, this obvious fact continues to be ignored and dismissed by a host of other online support companies CEP has engaged with that continue to protect, preserve and/or maintain websites clearly operated by U.S. sanction-designated entities. NameCheap's conscientious approach contrasts sharply with the intransigence shown by U.S. businesses Cloudflare, Web.com, the Internet Archive, WordPress, and Enom, to name but a few.
For example, Enom (part of the Washington State group, Rightside) explained why it would not suspend its services to "kataibhizballah.com" -- the website of Kata'ib Hezbollah, an Iran-sponsored Foreign Terrorist Organization "responsible for some of the most lethal attacks against U.S. and coalition forces." The reason, eNom's house lawyer wrote, was that the company couldn't be sure "Kata'ib Hizballah" was really the same entity on the SDN list. "[A]s an example," he elaborated, "if one 'John Smith' was included on the SDN list, Enom would not be in a position to suspend services provided to all Enom customers named John Smith; Enom would only suspended services to a customer named John Smith if it had additional information confirming such customer was the John Smith included on the SDN list."
This fatuous analogy ignored the fact that as the most common name in the English-speaking world, John Smith is on no account analogous to the specific and unique appellation, Kata'ib Hizballah -- the terrorist organization on the SDN list. And unlike Kata'ib Hizballah, which is an actual name included on the SDN, there is no Specially Designated National named John Smith. CEP asked Enom if there was any plausible reason for a group other than Kata'ib Hizballah to register such a name. Enom did not reply.
While the household names of the Internet like Facebook and YouTube are now taking flak for their irresponsible behavior and their stocks are losing billions in the process, it is only a matter of time before the background players like Enom and Cloudflare face similar levels of censure from increasingly informed (and dismayed) users.