From the Sinai Peninsula to Libya, jihadist groups have pledged allegiance to ISIS. The self-proclaimed "Islamic State" is exploiting its brand name to build loyalty and lure recruits.
-------------------
ISIS the Brand
In an audio recording released in early November 2014, ISIS leader Abu Bakr al-Baghdadi claimed that jihadi groups in Saudi Arabia, Yemen, Egypt, Libya, Algeria, Morocco and Tunisia had pledged allegiance to ISIS. Baghdadi urged these groups to wage jihad against their respective governments, and change their names to reflect devotion to ISIS. Earlier in the year, jihadi groups in the Philippines and Indonesia took similar action, swearing their loyalty to ISIS.
According to Middle East expert Samer Shehata, smaller jihadi groups join ISIS for increased recognition and legitimacy. When these groups join ISIS, they go from being off-the-radar to enjoying the visibility of the ISIS brand name. In turn, ISIS expands its name, bolstering its notoriety and international influence. But money is thought to play the biggest role, with Baghdadi offering funding in exchange for pledges.
Money Talks
With its daily income estimated at upwards of $3 million, ISIS is believed to be the richest terrorist group in history. According to King Abdullah II of Jordan, ISIS fighters are paid approximately $1,000 per month, an amount equivalent to an upper-middle-class income in Jordan. Considering ISIS's largesse, it's no surprise that far-flung jihadi groups have flocked to Baghdadi's "caliphate."
Having deep pockets, (coupled with technological advancement) has allowed ISIS to try its hand at producing sophisticated, high production value videos in a brand-building effort. Whereas al-Qaeda filmed its fatwas in caves with a single camera and indifferent lighting, ISIS has taken self-promotion and jihadi recruitment methods to a new level. "Although the disbelievers dislike it," an ISIS video released on November 16, is produced and edited to resemble a Hollywood action movie, albeit a gruesome one.
The slickness of ISIS's propaganda is appealing to both international jihadist groups and individuals susceptible to radicalization. And ISIS surely knows its target audience, reinforcing its status with a steady outpouring of technologically advanced media, including a jihad-themed video game for children. Just as a profitable corporation uses its resources to build name recognition and increase market share, ISIS invests in controlling the narrative and building its brand to allure both organized groups and attract new recruits.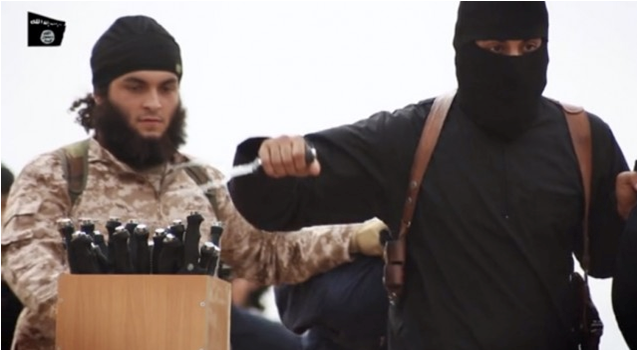 [Screenshot taken from the slickly edited ISIS video, released on November 16, 2014]
http://www.iraqinews.com/features/urgent-video-peter-kassig-beheaded-isis-16-syrians/