For Immediate Release
Monday, November 22, 2021
(New York, N.Y.) — The Counter Extremism Project (CEP) reports weekly on the methods used by extremists to exploit the Internet and social media platforms to recruit followers and incite violence. This week, CEP researchers found a neo-Nazi Telegram channel being used to dox members of the Food and Drug Administration's (FDA) Vaccines and Related Biological Products Advisory Committee and CDC director Rochelle Walensky. Telegram has not taken down the channel.
Also on Telegram, a neo-Nazi channel posted thousands of files, including instructions for making homemade explosives. On November 15, multiple websites released the 22nd edition of the pro-ISIS web magazine Voice of Hind. There was also a video released by the pro-ISIS propaganda group Al-Murhifat Media celebrating the suicide bombing attack near the Ugandan parliament. CEP located a YouTube channel that advertised a pro-ISIS propaganda website. Finally, a white supremacist Telegram personality requested Monero cryptocurrency donations on the platform.
Telegram Declines to Remove Neo-Nazi Channel Spreading Doxes of FDA and CDC Personnel
On November 16, a neo-Nazi accelerationist Telegram channel posted what it alleged to be home or work addresses of members of the Food and Drug Administration's (FDA) Vaccines and Related Biological Products Advisory Committee and the alleged home address of the Centers for Disease Control (CDC) director Rochelle Walensky and the alleged address of her synagogue. Both doxes contained information previously posted on Telegram. At least nine other channels shared the same dox information.
The doxes are directly related to the CDC's recommendation that children aged 5 to 11 be afforded access to the pediatric Pfizer-BioNTech Covid-19 vaccine.
Multiple white supremacist and neo-Nazi Telegram channels have alleged that Covid vaccines kill the recipients, especially children, and view the vaccines as part of an anti-white plot perpetrated by Jews. The channel that posted the dox is part of a network of neo-Nazi accelerationist Telegram channels that advocate violence against law enforcement, Jews, Muslims, immigrants, people of color, LGBT people, and others. The network endorses the work of James Mason, neo-Nazism, and in some cases, the cultic group the Order of Nine Angles.
Neo-Nazi Telegram Channel That Posted Large Quantity of Bomb Making and Firearm Modification Instructions Removed From Telegram
Telegram removed a channel that posted thousands of files, including instructions for making homemade explosives and bomb components, modifying firearms to fire in a fully automatic mode, 3D firearms printing instructions, and similar manuals that could be used to make weapons. The channel began sharing files on November 14 and was removed by Telegram by November 17. Links to the channel were shared by at least nine neo-Nazi Telegram channels that endorse violence.
Pro-ISIS Web Magazine Voice of Hind Released on Multiple Websites
On November 15, the 22nd edition of the pro-ISIS web magazine Voice of Hind was released on multiple websites. The magazine contained an article urging readers to kill soldiers, police officers, intelligence officials, and individuals with no law enforcement or national security affiliation. The same article offered advice on committing acts of murder, including target selection, counter-surveillance, and forensics. Another article, directed towards ISIS fighters in Afghanistan, congratulated the terrorist group for attacking the Sardar Mohammad Daud Khan military hospital and stated that the Taliban are worse than the West or Western-supported governments because they claim to be spiritually righteous but are hypocrites.
An article allegedly written by an ISIS supporter in Pakistan stated that the Taliban had bowed to the U.S. by negotiating with them. Another report, allegedly written by an ISIS supporter in Bangladesh, accused Hindus of provoking sectarian tension in October 2021 and condemned secularism and the Bangladeshi and Indian governments. An article supposedly written by an ISIS supporter in the Maldives criticized the economic and social conditions of the island and contrasted them with the supposed utopia of the ISIS caliphate.
Links to the web magazine were spread on Hoop, Telegram, and RocketChat. The magazine was also located on five other websites. Approximately 24 hours later the web magazine was still available on four websites: the Internet Archive, File.Fm, Tlgur.com, Top4Top, and Mediafire. The files were removed from the Internet Archive after CEP reported them.
Pro-ISIS Video Celebrating Uganda Bombings Located on Multiple Websites
On November 17, the pro-ISIS propaganda group Al-Murhifat Media released a video celebrating ISIS's November 16 suicide bombing attacks near the Ugandan parliament and a police station in the capital of Kampala. Three civilians and three suicide bombers were killed in both attacks, and over 30 people were injured. The video contained publicly available video footage from the attack and stated that Uganda had sent troops to fight ISIS-aligned forces in Congo.
Links to the video were spread on Element and RocketChat, and the video was uploaded to at least 17 websites. Approximately 15 hours later, the video was still available on 12 websites: the Microsoft One Drive, the Internet Archive, File.Fm, File.Cm, Fromsmash, Gofile.io, the IPFS distributed web platform, jwp.io, Siasky/Skynet, Streamable, Transfer.Sh, and x0.at. The Internet Archive made the video only available to logged in users after it was reported by CEP. ISIS claimed responsibility for the attack via the group's Amaq news outlet. Amaq statements were released on Telegram, Hoop, RocketChat, and Element.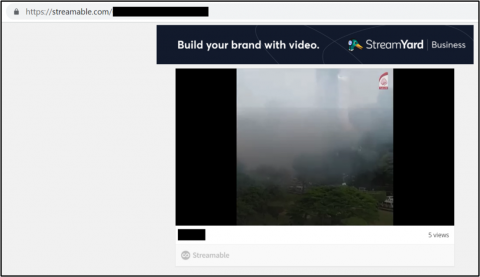 Pro-ISIS propaganda video on Streamable, November 18.
ISIS Propaganda Website Advertised on YouTube
On November 18, CEP researchers located a channel on YouTube that advertised a pro-ISIS propaganda website in its display name. The account did not have any public videos uploaded. The channel was created on November 12, 2021 and had ten subscribers six days later. The display name separated the website name from the domain suffix with spaces before and after the period. The website contains ISIS propaganda videos, Amaq news updates, and the terrorist group's weekly newsletter.
White Supremacist Propagandist Requests Monero Donations
On November 15, a white supremacist with a large Telegram following requested Monero cryptocurrency donations to allegedly support his ongoing propaganda activities. The individual's Telegram channel has over 3,800 followers, and he has previously advertised hats, sunglasses, shirts, flags, and banners with white supremacist slogans. Monero transactions are not public. The same individual previously sold clothing with neo-Nazi themes on Etsy, before the store was removed.