For Immediate Release
Tuesday, May 5, 2020
White Supremacists, Neo-Nazis Celebrate One-Year Anniversary Of California Synagogue Shooting On Telegram And Bitchute Channels
(New York, N.Y.) – The Counter Extremism Project (CEP) reports weekly on the methods used by extremists to exploit the Internet and social media platforms to recruit followers and incite violence. This week, a pro-ISIS RocketChat chatroom celebrated the recent vehicular attack in France that left three French police officers injured and encouraged supporters to conduct more attacks during the holy month of Ramadan and the ongoing COVID-19 pandemic. Additionally, ISIS released a new video titled "To Be Absolved Before Your Lord" which disparaged al-Qaeda and included several interviews with fighters from their self-proclaimed province in Yemen.
Meanwhile, white supremacists and neo-Nazis celebrated the one-year anniversary of the Poway, California synagogue shooting on Telegram and Bitchute platforms, and a white supremacist accelerationist Telegram channel created a backup account on the TamTam messenger platform as an alternate communications platform in the event the Telegram account is removed. In addition, CEP researchers located five neo-Nazi videos on Google Drive that feature calls for increased anti-black violence and identified photos on the Telegram and Gab channels of the white supremacist group, The New Jersey European Heritage Association (NJEHA), which show group members passing out recruitment flyers at an anti-lockdown protest in Orlando, Florida. Finally, white supremacist users of a 4chan board and 8chan successor imageboards shared a website that endorses doxing, white supremacism, and celebrates violence against women.
Attack On French Police Officers Celebrated By Pro-ISIS RocketChat Chatroom
A suspected ISIS attack that occurred near Paris, France on Monday, April 27, was celebrated by a pro-ISIS chatroom on the RocketChat platform. The suspect – identified as Youssef T. – is accused of ramming his car into two police motorcyclists in the Parisian suburb of Colombes, pinning them against another vehicle. Three police officers were hospitalized as a result of the attack. The attacker reportedly had a knife and a letter pledging allegiance to ISIS in his vehicle.
A pro-ISIS RocketChat chatroom that supports terrorist attacks in Europe, the U.S., and Russia, posted a three second video filmed by a bystander that showed the injured officers. A chatroom user praised the attack and stated that individuals should continue attacks during Ramadan and the COVID-19 pandemic. The RocketChat chatroom had previous versions on Telegram. An English language pro-ISIS magazine released on April 22 encouraged using vehicles as weapons, stating that it is "one of the effective means to inflict the carnage (sic)."
"The celebratory praise for last week's attack in France by ISIS supporters on the RocketChat platform is an appalling demonstration that supporters of terrorism will co-opt any opportunity they see to continue to incite violence, hatred and fear across the globe," said CEP researcher Joshua Fisher-Birch. "Online communications platforms like RocketChat should take action against online communities that commemorate a devastating event such as this one in Colombes, France and support further violence."
New ISIS Video Released On Multiple Websites
On April 29, ISIS released a new video from their self-proclaimed province in Yemen titled "To Be Absolved Before Your Lord." The video, which was 52 minutes long, accuses al-Qaeda and other groups of straying from the correct path, and includes several interviews with ISIS fighters in Yemen. The video also included footage from previously released ISIS videos.
Links to the video were spread on Telegram, RocketChat, Hoop, the Telegra.ph platform, and a pro-ISIS propaganda website.  In addition to being directly posted on Telegram, the video was posted to at least 13 other websites: Pcloud, the Microsoft One Drive, Amazon Drive, the Internet Archive, Top4top, Mail.Ru, File.Fm, Mega.Nz, Ok.Ru, Dropbox, Mediafire, Yadi.Sk, and a cloud storage site on NextCloud. Approximately 24 hours later, the video was still available on eight websites: the Internet Archive, Top4top, Mail.Ru, File.Fm, Ok.Ru, Mediafire, Yadi.Sk, and the cloud storage site on NextCloud. One of the video links posted on Ok.Ru had almost 1,500 views in approximately 24 hours.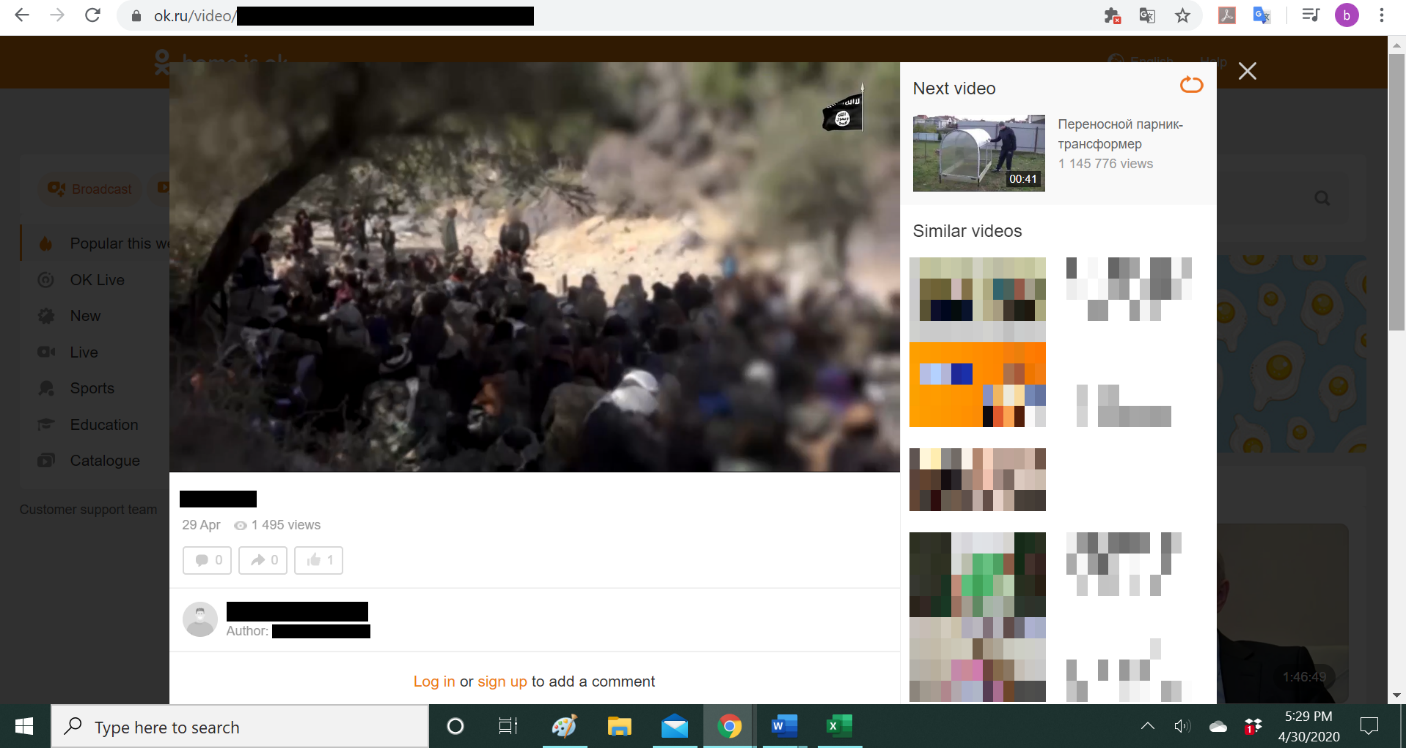 The ISIS video "To Be Absolved Before Your Lord" on Ok.Ru approximately 24 hours after it was uploaded. The video had almost 1,500 views when it was located.
White Supremacists And Neo-Nazis Celebrate One Year Anniversary Of Poway Synagogue Shooting
On April 27, white supremacists and neo-Nazis celebrated the one-year anniversary of the Poway synagogue shooting. John Earnest stands accused of murdering one person at a synagogue in Poway, California, and the attempted murder of three others. In addition to the shooting at Poway, Earnest has also been charged with arson as a hate crime for the March 24, 2019 fire at a mosque in Escondido, CA. In a manifesto posted on 8chan prior to the synagogue attack, Earnest is alleged to have stated that he acted out of his hatred for Jews. The manifesto referenced tropes of "politically incorrect" chan imageboards, white supremacist rhetoric, and repeatedly praised the Christchurch terrorist Brenton Tarrant.
White supremacist telegram channels celebrated Earnest by calling him a "saint" and quoting his manifesto. Telegram channels also posted information on clearing jams in a semi-automatic rifle, alluding to the fact that Earnest's rifle jammed during the attack. Artwork praising Earnest and advocating for additional violence on Telegram had been viewed approximately 400 times within two hours of being posted, and had been viewed over 4,400 times in over 72 hours. Several songs glorifying Earnest were also released on Telegram and BitChute. Users of a chan imageboard on the dark web also praised Earnest, with one user stating that Earnest inspired terror by showing that Tarrant had followers.
White Supremacist Accelerationist Telegram Channel Launches Tamtam Backup Account
A white supremacist accelerationist Telegram channel created a backup account on the TamTam messenger program on April 26. TamTam is a multiplatform chat program owned by the Russian social network Odnoklassniki. Several neo-Nazi and white supremacist Telegram chats and channels have stated that they are looking for communications alternatives in case Telegram removes their accounts. Pro-ISIS online communities moved to TamTam following a November 2019 joint Telegram-Europol crackdown on ISIS accounts.
Neo-Nazi Videos Promoting Anti-Black Violence Located On Google Drive
Five neo-Nazi videos that specifically promote violence against African Americans were located on Google Drive. The files were originally uploaded in September 2019 and were recently posted on Telegram. The videos feature a neo-Nazi character who uses a computer-generated voice and encourages mass violence.
White Supremacist Group Posts Photos Of Recruitment Attempts At Florida Anti-Lockdown Rally
The New Jersey European Heritage Association (NJEHA) posted photos on their Gab page and Telegram channel on April 26 that showed group members passing out flyers at an April 25 anti-lockdown protest in Orlando, Florida. NJEHA is a racist, xenophobic, and anti-Semitic group whose propaganda focuses on a claimed "genocide" of whites, staunch anti-immigrant sentiment, and anti-Semitic conspiracy theories. The group mainly posts flyers and stickers and holds small demonstrations. Founded in New Jersey, group members have additionally posted flyers or held rallies in Florida, New York, Pennsylvania, and New Hampshire.
Chan Boards Publicize White Supremacist Website That Seeks To Dox White Women Who Date Or Marry Men Of Color
On April 29 and April 30, users of several white supremacist "politically incorrect" chan imageboards, including 4chan, and two 8chan successor websites, shared a website that seeks to publicize the identities and dox white women who enter into interracial relationships, especially with black men. The website endorses white supremacism and celebrates violence against women. The website, which operates on the .Ru domain, uses Cloudflare as its name server, and also maintains an account on the Gab social network. The link was also spread on white supremacist and neo-Nazi Telegram channels, with one channel with over 1,000 members stating to their subscribers that it would be better "to kill political activists than ordinary racial traitors."