For Immediate Release
Tuesday, December 10, 2019
Neo-Nazis Group The Base Issues Threats Against Journalists
(New York, N.Y.) – The Counter Extremism Project (CEP) reports weekly on the methods used by extremists to exploit the Internet and social media platforms to recruit followers and incite violence. This week, ISIS supporters established a presence on the messenger platforms Hoop Messenger and TamTam, after a worldwide law enforcement operation shut down many of their channels on Telegram. ISIS also uploaded a new propaganda video, titled "And Expel Them From Wherever They Have Expelled You," from their self-proclaimed Libyan province showing checkpoint and house raids, as well as executions of members of the Libyan National Army. Also, a Russian language white supremacist Telegram channel released bomb-making instructional videos and manuals and a Neo-Nazi group, The Base, released a new training camp video in which they threatened five journalists who criticized or recently wrote about the group.
ISIS Supporters Attempt to Establish Presence on Multiple Messenger Platforms
Following the late November removal of ISIS content and profiles on the Telegram app, online ISIS supporters have attempted to switch to the messenger applications TamTam and Hoop Messenger. A multiday operation by Europol, Eurojust, and European law enforcement agencies severely weakened ISIS's propaganda efforts. Telegram removed thousands of channels and bots that spread ISIS content starting November 21. Many new Telegram accounts that have sought to replace ISIS's online infrastructure have continued to be deleted. ISIS and their online supporters have used Telegram for several years to spread propaganda that encourages terrorism, news, and network and communicate.
"Last month's sweeping removal of pro-ISIS accounts from Telegram by various European law enforcement agencies is a positive step towards limiting the group's present ability to operate online. CEP has chronicled many instances of ISIS and its supporters using Telegram to distribute violent propaganda and encourage terror attacks worldwide," said CEP researcher Joshua Fisher-Birch. "Although it is regrettable that ISIS continues to find other platforms on which to operate, such as TamTam and Hoop, the more the group's propaganda efforts are disrupted, the better."
ISIS has attempted to establish similar communications networks on the Russian messenger platform TamTam, and on the Canadian platform Hoop Messenger. In early December, TamTam and Hoop Messenger both began to take action against ISIS channels on their platforms, deleting emerging communications networks. Despite the actions of all three platforms, ISIS supporters still maintain a presence on Telegram, RocketChat, TamTam, and Hoop, although it has been significantly reduced overall.
ISIS Releases New Video on Multiple Platforms
On December 4, ISIS released a new video from their self-proclaimed province in Libya. The video, slightly over 30 minutes long and titled "And Expel Them From Wherever They Have Expelled You," showed ISIS fighters participating in house raids, raiding checkpoints, and executing members of the Libyan National Army.
The video was spread on pro-ISIS Telegram and TamTam channels. In addition to being posted directly on both messenger platforms, the video was posted to at least 14 other websites: Dropbox, Top4top, the Microsoft One Drive, the Internet Archive, Dailymotion, file.fm, mega.nz, Mihan Video, mail.ru, ok.ru, pc.cd, uqload.com, the Amazon Cloud Drive, and Mediafire. Approximately 48 hours after the video was uploaded, it was still available on nine websites: Top4top, the Microsoft One Drive, file.fm, mega.nz, Mihan Video, mail.ru, ok.ru, uqload.com, and Mediafire.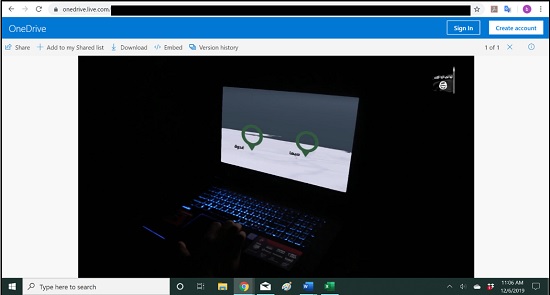 The ISIS video "And Expel Them From Wherever They Have Expelled You," on the Microsoft One Drive, December 6, 2019.
Russian Language White Supremacist Telegram Channel Posts Several Explosives Making Instructional Videos and Manuals
A Russian language white supremacist Telegram channel has posted several videos containing instructions for making explosives, as well as links to explosives instructions on the Telegram affiliated Telegra.ph platform. The Telegram channel has previously posted the video of the October 9 Halle shooting. The channel has also encouraged their subscribers to violently attack non-whites, law enforcement, synagogues, mosques and "Chinese orphanages". The channel had approximately 800 subscribers on December 6.

Neo-Nazi Group The Base Releases New Training Camp Video, Threatens Journalists
The neo-Nazi self-described survivalist network The Base released a new video on December 2 on Telegram. The video shows five men with rifles participating in small unit and room clearing drills and marksmanship practice at a secluded farmland location during the fall. The video also threatens five journalists and authors who have written about or recently criticized the group. The video concludes by posting The Base's recruiting email address. The group has posted content and sought recruits on a number of platforms in the past month, including Gab, BitChute, and the Internet Archive.