For Immediate Release
Monday, July 29, 2019
2011 Norway Terrorist Attacks Celebrated on Telegram; ISIS Releases Propaganda
(New York, N.Y.) - The Counter Extremism Project (CEP) reports weekly on the methods used by extremists to exploit the Internet and social media platforms to recruit followers and incite violence. CEP identified two white supremacist websites, one dedicated to the neo-Nazi manifesto Siege and the other to the Christchurch shooter, that are kept online by Cloudflare, among others. Additionally, Telegram was used by white supremacists and right-wing extremists to celebrate the anniversary of the 2011 Norway terrorist attacks and make threats. Lastly, ISIS released a new video from its Central Africa branch and an infographic on the terror group's attacks for the first half of 2019.
"Given the extremely violent nature of both the neo-Nazi manifesto Siege and the communities that celebrate the New Zealand terrorist attacks, it is unfortunate but not surprising that Cloudflare would provide services to websites dedicated to either of those," said CEP researcher Joshua Fisher-Birch. "Siege author James Mason and his followers, as well as supporters of the New Zealand shooter have immense potential to inspire violence. Tech companies should not provide services to those who seek to inspire, celebrate, or perpetrate acts of terrorism."
Siege Culture Website Returns to the Internet
The website Siege Culture, dedicated to James Mason and the Universal Order ideology, has reappeared on the Internet. The website includes a PDF of Mason's book Siege, an audio version hosted on the Internet Archive, essays and blogposts expanding on Mason's ideology and Internet Archive links to magazines from the American Nazi Party and the National Socialist Liberation Front. The website also includes an email contact point and a section for Monero cryptocurrency donations. While the site claims not to be a recruitment platform for the Atomwaffen Division or any other organization, the website does include an essay by an alleged AWD member. The site's registrar is Tucows and the name server is Cloudflare. After being alerted to Tucow's provision of services to Siege Culture, the company refused to take action against the site, despite Siege Culture's promotion of violence and terrorism. An earlier version of the Siege Culture website became inaccessible in March 2019.
Epik and Cloudflare Provide Services to Dedicated Website for Alleged Christchurch Shooter Video and Manifesto
Last week, CEP researchers located a website dedicated to spreading the video of the Christchurch massacre and the alleged shooter's manifesto. Both files are available on the site as BitTorrent links, which allow for multiple individuals to become nodes for sharing content, and the manifesto is additionally available for direct download as a pdf. The website can be accessed using a New Zealand IP address. Epik is the site's Registrar, and Cloudflare is the name server.
White Supremacist Telegram Channels Celebrate Anniversary of 2011 Norway Terrorist Attack
On July 22, several white supremacist Telegram channels celebrated the eighth anniversary of the 2011 Norway terrorist attacks committed by Anders Breivik. Breivik detonated an explosive device in the government district of Oslo, killing eight people, before murdering 69 people on the island of Utøya. Over 300 people were also injured in the attack.
White supremacist Telegram channels commemorated the attack by praising Breivik's actions, including referring to him as a "saint," and posting a drawing of Breivik as a Medieval knight, shooting children of various races, religions and ethnicities, beneath a banner stating, "The end of an era of multiculturalism." A new Telegram channel belonging to a European and American neo-Nazi organization inspired by the book Siege posted an image of Breivik giving a Hitler salute with the words "no regrets" in Norwegian. The group provided their email address for recruitment purposes. Another Telegram channel, with over 550 subscribers, stated that Breivik's actions were justified because he killed future journalists and politicians.
Extreme Right-Wing Threats on Telegram (Infrastructure Attacks, Praise for Thomas Mair, Explosives)
CEP researchers located numerous threats on extreme right-wing Telegram channels last week. Using a popular meme format, a Telegram channel with over 580 subscribers encouraged lone actor attacks on power grid infrastructure. A channel with over 1,100 subscribers posted instructions on manufacturing explosives, stating that they can be used to "demolish government buildings." A channel with over 1,400 subscribers suggested attacking railways in the U.S. with thermite during disasters to cause chaos and reduce faith in the government. On July 23, a channel with over 585 subscribers posted propaganda with the text "Britain First," and the image of slain British Member of Parliament Jo Cox and the caption "traitor" with an image of Cox's murderer, Thomas Mair. Mair had a symbol on his forehead resembling a modified logo of the neo-Nazi survivalist network The Base.
New ISIS Video Released from the Group's Central Africa Branch
A new ISIS video, part of the "Best Outcome is for the Pious" series, was released on July 24 from the group's self-proclaimed Central Africa province. The video features fighters in the Democratic Republic of Congo and Mozambique re-pledging their allegiance to ISIS's leader Abu Bakr al-Baghdadi. The video features several child and / or adolescent soldiers. ISIS first mentioned the Central African province in April 2019.
The video was released on at least 23 websites in addition to Telegram: the Microsoft One Drive, Sendvid, Mediafire, mail.ru, Google Photos, Anonfile, the Internet Archive, Bayfiles, Dailymotion, Drop.me, file.fm, megaup, Mihanvideo, ok.ru, Streamable, Transfer.sh, tune.pk, Dalfak, Dropbox, Zippyshare, Myspace, Yadi.sk and Zupload. Approximately 24 hours later, the video was still available on 13 websites: Mediafire, Anonfile, the Internet Archive, Bayfiles, drop.me, file.fm, Mihanvideo, ok.ru, Streamable, transfer.sh, Zippyshare, Myspace and Zupload.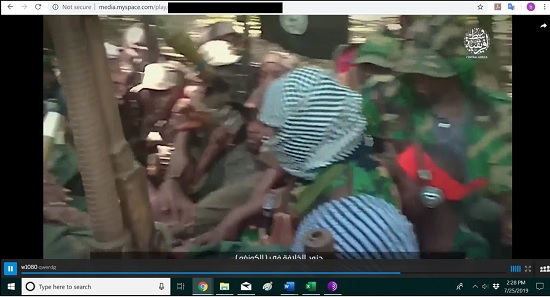 "The Best Outcome is for the Pious" (Central Africa) on Myspace, July 25, 2019.
ISIS Releases Amaq Agency Graphic on Attacks for the First Half of 2019
On July 24, ISIS's Amaq Agency released an infographic on the group's attacks in the first half of 2019. ISIS claimed attacks in Syria, Iraq, Pakistan, Afghanistan, Philippines, Indonesia, Somalia, Sri Lanka, Tunisia, Bangladesh, India, Russia, Saudi Arabia, Uzbekistan, Lebanon, Chechnya, Congo, Mozambique, Egypt, Nigeria, Niger, Chad, Mali, Burkina Faso and Libya. The terror group claimed to have conducted more than 1,800 attacks, resulting in over 8,000 people killed or injured. The infographic is an attempt to show the group's reach and lethality. It was posted on PasteThis.To, JustPaste.It and Files.fm, in addition to Telegram. Approximately 24 hours later, the image was still available on all three sites.