For Immediate Release
Monday, September 27, 2021
(New York, N.Y.) — The Counter Extremism Project (CEP) reports weekly on the methods used by extremists to exploit the Internet and social media platforms to recruit followers and incite violence. Last week, CEP researchers found pro-ISIS and white power content on Facebook, as well as antisemitic content on Facebook-owned Instagram. Examples include an ISIS propaganda video first published in November 2017, a French white supremacist music label that advertised music and merchandise, and antisemitic videos and posts that promoted Holocaust denial.
Additionally, the pro-ISIS al-Battar propaganda group released a video celebrating the deadly August 26 Kabul airport attack, several uploads of the pro-ISIS web magazine "Voice of Hind" were located, and a white supremacist manifesto encouraging acts of terrorism was found and removed from a WordPress site. Users on 4chan celebrated the murder of a clerk at a gas station in Germany committed by an anti-masker. A neo-Nazi accelerationist e-book was found on the Internet Archive and DeviantArt. Finally, researchers found two blogs glorifying the 2011 Norway terrorist posted on WordPress and Blogspot sites.
Pro-ISIS and White Power Content Found on Facebook
On September 23, CEP researchers located two pieces of pro-ISIS propaganda and two white supremacist pages on Facebook. An approximately 10-minute segment of the ISIS video "Flames of War II" was uploaded on September 16. The video was initially released in November 2017. The ISIS flag and media center logos at the top right of the video were obscured in the Facebook video upload. CEP also found a page for a pro-ISIS propaganda group, which last posted in November 2020. The page included links to ISIS propaganda on other sites, a link to the propaganda group's Telegram page, and an homage to Abdoulakh Anzorov, who murdered French history teacher Samuel Paty. The page for the pro-ISIS propaganda group was removed after it was reported to Facebook by CEP, but the video remained online.
CEP also located two Facebook pages for French white supremacist music labels. The first page was created in October 2017 and advertised an online radio program and music and merchandise for white supremacist and neo-Nazi bands for sale on an external website. The page had over 1,500 likes on September 23. The second Facebook page was for a French white supremacist music label that offered music and clothing for French white supremacist bands for sale directly on Facebook. The page had approximately 450 likes on September 23 and was created in November 2020. Neither page was removed after they were reported to Facebook by CEP.
Antisemitic Content Located on Instagram
The week of September 19 to September 25, CEP researchers located numerous examples of antisemitic content on Instagram. Content included photos and videos that deployed negative stereotypes of Jews, engaged in Holocaust denial, and blamed Jews for the September 11 attacks. CEP also located hashtags on Instagram that used coded antisemitic phrases and promoted Holocaust denial. All of the content that was reported to Instagram was still online three days later.
Pro-ISIS Video Celebrating Kabul Bombing Located on Multiple Websites
On September 19, the pro-ISIS al-Battar propaganda group released a video titled "the Blessed Kabul Attack," celebrating the August 26 suicide bombing at Kabul International Airport, which killed 60 Afghans and 13 U.S. troops, and injured over 150 Afghans and Americans. The video contained publicly available photos of U.S. personnel killed in the attack and ISIS propaganda photos from the group's self-proclaimed Khorasan province. The video contained pictures of the alleged attackers and included audio from ISIS's deceased former spokesperson Abu Muhammad al-Adnani and a nasheed from the deceased German ISIS member Denis Cuspert aka Abu Talha al-Almani.
The video was distributed on RocketChat and Element, and was additionally uploaded to at least 16 websites. Three days later, the video was still available on 12 websites: the Internet Archive, File.Fm, Fromsmash.Com, Gofile.Io, s-ul.Eu, Jwp.Io, Mega.Nz, Sendvid.Com, Siasky.Net, Transfer.sh, Uqload.Com, and Dropbox.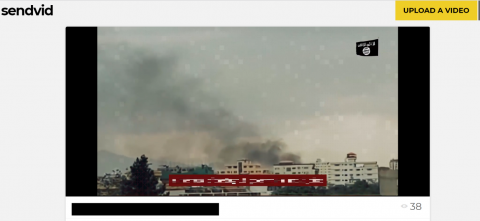 Pro-ISIS propaganda video on Sendvid, September 23.
Voice of Hind Web Magazine Available on Multiple Websites
CEP located several uploads of the 20th issue of the pro-ISIS web magazine "Voice of Hind," originally released on September 17. The recent issue contained an article criticizing the government of the Maldives, claiming that they prohibit the practice of true Islam. The magazine also included an essay promoting violence against the Shia communities in India and Pakistan and criticized the Taliban for having relations with Iran. The edition also contained an infographic providing advice on destroying automobiles with gasoline and an essay by ISIS's former chief religious advisor, Turki al-Binali.
The web magazine was spread on Telegram and RocketChat and uploaded to at least nine other websites. Five days after it was originally released, the magazine was available on six websites: 0x0.St, the Internet Archive, Mega.Nz, Tlgur.Com, Top4top, and MediaFire. The Internet Archive did not remove the web magazine after CEP reported it.  
Website Spreading Violent Neo-Nazi Manifesto Removed
On September 20, CEP located a site on the WordPress platform created to spread a white supremacist manifesto that encouraged acts of terrorism. The text, released on Telegram on September 8, praised a notorious Satanic sect and white supremacist mass shooters, encouraging readers to take further action. The manifesto specifically advocated for violence against Asian people, Jews, people of color, journalists, and politicians. WordPress removed the site after CEP reported it. 
4chan Thread Celebrates Anti-Mask Violence in Germany
CEP researchers located a large thread on 4chan's "politically incorrect" board that celebrated the September 18 murder of a gas station employee by an alleged Covid denier and far-right sympathizer in Idar-Oberstein, Germany. The perpetrator allegedly fatally shot the clerk after he was refused service for not wearing a mask. In a sample of the first 50 posts on the almost 400 post thread, 78 percent favored the murder, 12 percent were against the murder, and 10 percent were neutral. Numerous posters encouraged other acts of violence against mask mandates, with several forum posters urging acts of violence against politicians to oppose mask requirements. 
Neo-Nazi Accelerationist E-Book Located on the Internet Archive and DeviantArt
CEP located a neo-Nazi accelerationist e-book on the Internet Archive and DeviantArt. The text, originally released by a collective on Telegram, consists of propaganda essays and imagery endorsing acts of terrorism and extreme violence against the government, infrastructure, law enforcement, the left, Jews, Muslims, people of color, LGBT people, and others. The e-book contains visuals and content identical to multiple Telegram channels that promote a hardcore white supremacist "terror-wave" style and includes tributes to white supremacist terrorists and mass murderers, as well as appeals for the reader to commit further acts of violence, including suggestions for target selection.
The file was not removed from the Internet Archive or DeviantArt after CEP reported it. The DeviantArt user also uploaded several other neo-Nazi and white supremacist manifestos and texts, including work affiliated with militant neo-Nazi groups in the U.S. and a piece originally authored by the British group National Action.
Two Blogs Glorifying 2011 Norway Attacker Located
CEP researchers located two blogs glorifying the 2011 Norway terrorist, one on WordPress and the other on Blogspot. The WordPress blog was active from February 2012 to January 2015, and praised the attacker and promoted extreme anti-Muslim sentiment. The Blogspot site became active in 2012 and remained active into 2021, and also glorified the attacker. Both sites were still online three days after CEP reported the blogs to both companies.