For Immediate Release
Monday, February 6, 2023
(New York, N.Y.) — The Counter Extremism Project (CEP) reports weekly on the methods used by extremists to exploit the Internet and social media platforms to recruit followers and incite violence. Last week, CEP researchers located a pro-ISIS propaganda video on Telegram and other websites celebrating attacks in Egypt's Sinai region, another pro-ISIS video encouraging attacks in Europe, the 21st issue of a pro-ISIS web magazine, and numerous accounts on Meta-owned Instagram posting pro-ISIS propaganda.
Additionally, a white supremacist active club posted a link for a YouTube channel dedicated to cave and urban exploration with a recommendation to users that a "culture of adventure, combat etc. sells better."
Pro-ISIS Online Propaganda Group Releases First Video in Two Years
On January 27, the pro-ISIS propaganda group War and Media Agency released its first video since January 2021. The video was initially released on Telegram before being released on several other websites on January 27 and 29.
The video, which was over one hour long, contained extensive previously released footage from ISIS propaganda videos and included combat and execution scenes. Focusing on Egypt and its Sinai region, the video condemned the Egyptian Muslim Brotherhood for allegedly spying for the military and intelligence services and covering up military violence against protesters in the early 2010s. The video repeatedly stated that the Muslim Brotherhood refused to fight and "surrender(s) the people's neck to the army."
The video also included a history of Ansar Bayt al-Maqdis in Sinai and their eventual pledge of allegiance to ISIS in 2014. The video celebrated ISIS attacks on the Egyptian Coptic community. The video concluded with footage of an ISIS attack in Ismailia in 2023 and promising future attacks in Sinai.
In addition to Telegram and pro-ISIS websites, the video was released on at least 13 other websites. Four days later, the video was available on five websites: Vudeo.io, Jirafeau, Antopie.org, pCloud, and thefileditch.ch. The file was removed after CEP reported the video to File.Fm, GoFile.Io, FromSmash, MediaFire, Mail.Ru, and Mega.Nz on January 30. Additional links were removed by the Internet Archive after CEP reported them.
The GoFile.Io link had over 1,250 downloads before it was removed, and the video on File.Fm had over 800 views, and 200 downloads before the website removed it.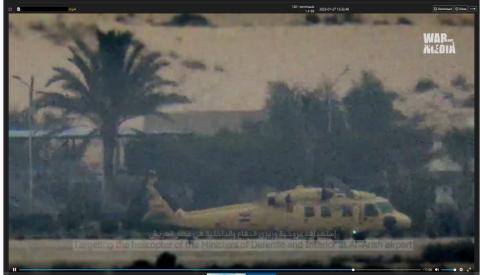 Pro-ISIS propaganda video on GoFile.Io on January 30, 2023. GoFile.Io removed the video after CEP reported it.
Pro-ISIS Video Encourages Attacks in Response to Quran Burning
A pro-ISIS video released on January 31 encouraged attacks in Europe in response to the burning of a Quran in Sweden. The approximately two-minute video, released via the "The Caliphate Foundation," was located on Telegram and a pro-ISIS website.
Pro-ISIS Web Magazine Voice of Khorasan Issue 21 Released
The pro-ISIS al-Azaim media released issue 21 of the web magazine Voice of Khorasan on February 2. The main article stated that the burning of a Quran in Sweden was a test of what the West would allow in the future and that not taking revenge would only invite similar, if not worse, future acts. Another article encouraged attacks on the International Committee of the Red Cross personnel, claiming that the group was an enemy "at war" with ISIS. Other articles condemned the Indian government for insufficiently punishing those found guilty of anti-Muslim violence, criticized the government of Qatar for hosting the World Cup, and the Saudi government for allowing "immorality." The web magazine also stated that the Taliban have not instituted religiously mandated punishments and instead created a legal system that they falsely state is religiously permissible to accommodate the international community.
Pro-ISIS and pro-HTS Content Located on Instagram
In a sample of content located on Meta-owned Instagram on February 2, CEP located seven accounts that posted pro-ISIS propaganda, and three accounts that posted propaganda from the Hayat Tahrir al-Sham (HTS) affiliated Amjad Media. Pro-ISIS content included modified and unmodified clips from ISIS propaganda videos and Amaq news updates. One account that posted Amaq news statements had a link to an ISIS propaganda website in the account description. Another pro-ISIS account used a photo of an infamous French fighter, Abu Osama al-Faranci, who appeared in an early ISIS video, as its profile photo. The pro-HTS accounts posted videos released from Amjad Media with the group's logo.
The seven pro-ISIS accounts had an average of 410 followers, ranging between 12 and 694. The three accounts that posted HTS propaganda had an average of 750 followers, ranging between 90 and 1683. CEP reported all ten accounts to Instagram on February 2. Six of the seven pro-ISIS accounts and all three pro-HTS accounts were still online on February 6.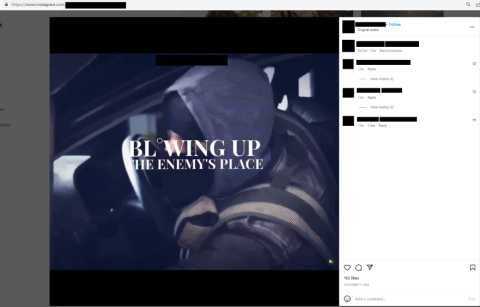 A modified pro-ISIS video on Instagram. Screenshot taken on February 2, 2023.
White Supremacist Active Club Encourages "Stealth" Social Media Content
On January 31, a Telegram channel for a white supremacist active club posted a link to a YouTube channel dedicated to cave and urban exploration, alleging that it was connected to the movement. The post alleged that a "culture of adventure, combat etc. sells better" and is more difficult to detect and remove. An analysis of the linked YouTube channel did not locate any white supremacist symbols or slogans. The YouTube channel was created in June 2022 and had over 130,000 views and over 575 subscribers for 19 videos that showed caving and exploring in the southeast U.S.