For Immediate Release
Monday, November 6, 2023
(New York, N.Y.) — The Counter Extremism Project (CEP) reports weekly on the methods used by extremists to exploit the Internet and social media platforms to recruit followers and incite violence. Last week, CEP researchers located pro-ISIS propaganda on TikTok, including a video celebrating the October 16 Brussels shooting, which received over 50,000 views, along with four other accounts disseminating pro-ISIS propaganda. Meanwhile, a pro-ISIS tech group outlined the privacy benefits of Tor browsers compared to VPNs, instructing users on maintaining anonymity online. While a pro-ISIS Telegram channel condemned Hamas's leadership for 'hiding' in Qatar, al-Qaeda's as-Sahab Media Foundation praised Hamas and implored followers to carry out attacks on embassies and military bases.
On the Internet Archive, CEP researchers identified an extreme-right text written by the leader of an Order of Nine Angles affiliated group, which encouraged murder, school shootings, and terrorism. A Tennessee Active Club and a pro-Patriot Front group shared a video on Telegram praising members who harassed students at a Democratic Socialists of America meeting. A website supporting Atomwaffen Division successor organizations urged members to focus their fight against the government and affirmed that continuing to spread propaganda online was "essential" to their efforts to recruit.
Elsewhere, Telegram channels encouraged the use of the game Roblox to spread propaganda. Other channels encouraged unity to support Goyim Defense League (GDL) leader Jon Minadeo following his sentencing to 30 days in a Florida jail. CEP researchers also located an anti-Muslim propaganda video on Instagram praising the Christchurch shooter and encouraging further acts of violence.
Pro-ISIS Content Located on TikTok
In a sample of content from TikTok on November 2, CEP researchers located five accounts that posted ISIS and pro-ISIS propaganda. Profiles posted video clips from ISIS and pro-ISIS videos, including footage celebrating the October 16 Brussels shooting, which received over 50,000 views approximately 16 days after it was uploaded to the social media site. Other profiles posted Amaq photos and clips from ISIS videos that were modified to hide identifying features, such as logos. The five accounts averaged 973 followers, ranging between 156 and 1,771. CEP reported the five accounts to TikTok on November 2. Two accounts were removed, including the account that posted the video lauding the October 16 Brussels attack.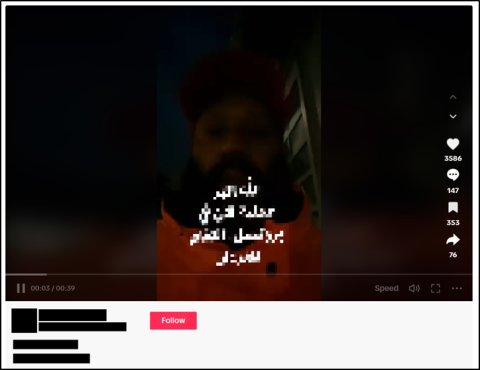 Video on TikTok celebrating the October 16 Brussels attack by a pro-ISIS gunman. The video, uploaded on October 17, had over 50,000 views when it was found on November 2. Screenshot taken on November 2. The account that posted the video was removed after CEP reported it.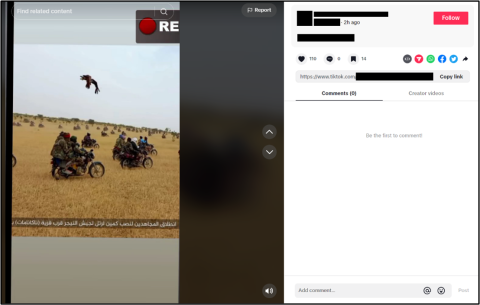 ISIS Amaq propaganda photo on TikTok. Screenshot taken on November 2.
Pro-ISIS Tech Group Posts Comparison of VPNs vs. Tor
On November 1, a pro-ISIS tech group posted a comparison of VPNs vs. Tor on RocketChat. The post defined and explained both systems, noting that VPNs should not be used for illegal activity because they are not entirely anonymous. ISIS supporters have previously shared VPN logins, and pro-ISIS tech groups have advocated for methods to improve online anonymity.
Pro-ISIS Messages on Telegram Condemn Hamas
Pro-ISIS messages on Telegram located between October 29 and November 4 condemned Hamas's political leaders for staying out of danger in Qatar. Posts noted that Gazans were dying in aerial attacks while Hamas leaders were "sitting in…hotel rooms" and that the group's military wing, the Al-Qassam Brigades, were hiding in underground tunnels and using Israeli hostages as a "card for their escape." Other posts condemned Hamas for participating in elections and not endorsing ISIS's ideology of Salafi-jihadism. 
Additional messages condemned Arab rulers, especially the Saudi royal family, for not fighting against Israel, and alleged that Israeli Prime Minister Benjamin Netanyahu was waging a "holy war of extermination."
Al-Qaeda As-Sahab Media Foundation Praises Hamas, Encourages Attacks
CEP researchers located a document from al-Qaeda's as-Sahab Media Foundation, which praised Hamas' October 7 attack, calling it a source of pride. The document stated that fighting in the name of religion was obligatory. It encouraged attacks against embassies and military bases, urging supporters to leverage their own skills, either to make homemade explosives, use drones, or commit other types of attacks. The text stated that Israel had attacked all Muslims and that it was necessary to defend Al-Aqsa Mosque.

As-Sahab logo. Screenshot taken on November 2.
Order of Nine Angles Manual Promoting Acts of Terrorism Found on the Internet Archive
CEP researchers located an accelerationist text on the Internet Archive written by the leader of an Order of Nine Angles group that promoted acts of murder, school shootings, and terrorism. The book criticized neo-Nazi accelerationist groups such as the Atomwaffen Division (AWD), The Base, and Feuerkrieg division as "larpers," and glorified white supremacist mass shooters, including the August 26 Jacksonville gunman who murdered three African Americans at a Dollar General. Other sections of the text encouraged attacks using vehicles and poisons. The upload had contact information for the group using Wire, Threema, Element, and ProtonMail. The text also contained writing from the AWD satanic breakaway successor group, the National Socialist Order of Nine Angles (NSO9A). 
Two previous editions of the book have been released. CEP previously located the first version of the book in September 2021. CEP reported the most recent version of the book to the Internet Archive on November 2, which removed it.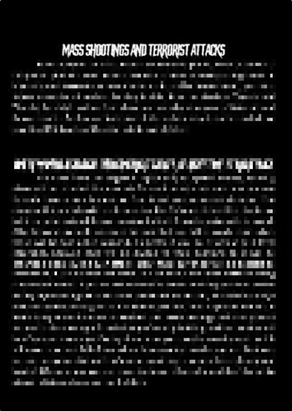 A page from the book on the Internet Archive. Screenshot taken on November 2.
Tennessee Active Club Releases Video Showing Harassment of Student Group
On October 27, a Tennessee Active Club chapter and a pro-Patriot Front online group released a video on Telegram that showed their members harassing a Democratic Socialists of America (DSA) meeting at Middle Tennessee State University. The footage showed shared digital documents being erased and modified and members of the neo-Nazi group telling DSA members that they were "watching" them. Additional posts on Telegram celebrated the disruption and resulting news coverage.
Neo-Nazi Website Urges Movement Recruitment, States That the Government is Their Main Opponent
On October 27, a website that supports Atomwaffen Division successor organizations and promotes the work of James Mason published an essay on the movement's strategy. The post stated that their fight should be directed first and foremost against the government and that the only way that victory could occur would be through some version of state collapse or a civil war. The author cautioned that, at present, white supremacists lack the numbers and organization to win. Affirming that spreading propaganda online was essential, especially content that could be posted in a manner to gain a large audience and covertly spread fascist messages, the essay also stated that it was preferable to try to recruit "normal" people rather than those who often publicly broadcast extreme views or seem unbalanced. The piece praised cells as a form of organizing and cautioned against forming groups that use heavy branding, in order to keep a low profile and avoid unwanted publicity.
Telegram Channels Located That Encourage Spreading White Supremacist Propaganda Via Roblox
During the week of October 29 to November 4, several white supremacist Telegram accounts encouraged the spreading of propaganda via the game Roblox. Three channels posted content promoting white supremacism using imagery copied from or inspired by Patriot Front, Active Clubs, and the Atomwaffen Division (AWD) in response to a tweet from an antifascist group. There is no evidence that the channels are affiliated with those groups, movements, or their successor groups.
The Telegram channels posted screenshots from Roblox with white supremacist symbols and promoting an Active Club-affiliated brand. The channel that used AWD-related iconography stated that they did not endorse the group or its successor organizations, despite posting white supremacist logos and a short video alluding to the Christchurch terrorist attack.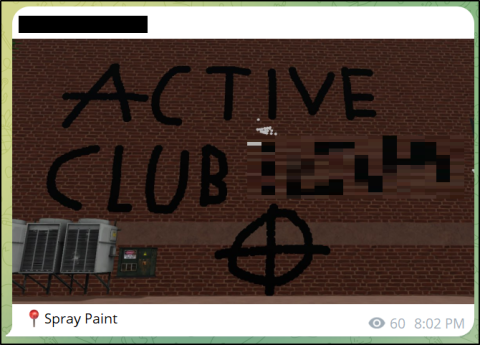 An image posted by one of the Telegram channels advertising their activities on Roblox. Screenshot taken on November 2.
Neo-Nazis Encourage Unity Following Sentencing of GDL Leader
Neo-Nazis on Telegram encouraged unity and the spreading of antisemitic messages following Goyim Defense League (GDL) leader Jon Minadeo's sentencing to 30 days in jail on November 1 for littering. Minadeo's charges stem from a March 2023 incident in West Palm Beach, Florida, where he spread antisemitic flyers. An Active Club-allied channel and a channel affiliated with Blood Tribe praised Minadeo and urged unity in the broader movement despite any problems individuals might have with him. A GDL Telegram channel shared a fundraiser for Minadeo on the crowdfunding site GiveSendGo. 
Instagram User Encourages Violence Against Muslims, Glorifies Christchurch Attacker
CEP researchers found an Instagram account on November 2 that encouraged violence against Muslims and glorified the Christchurch attacker. The user posted two short clips that included approximately five seconds of footage from the Christchurch attack video, as well as a photo from the attack that contained text encouraging further violence. The videos were uploaded on October 1 and October 3. CEP reported the account to relevant national authorities.