For Immediate Release
Tuesday, August 4, 2020
(New York, N.Y.) – The Counter Extremism Project (CEP) reports weekly on the methods used by extremists to exploit the Internet and social media platforms to recruit followers and incite violence. Last week, ISIS released a new video through the group's Al Hayat Media Center on multiple websites and platforms calling for attacks using vehicles, knives, and by committing arson. Additionally, former members of the Atomwaffen Division (AWD) announced the creation of an AWD successor group called the National Socialist Order (NSO). Also, after going dark in January, the accelerationist neo-Nazi group The Base reemerged on Telegram to promote numerous images and short videos of group members training with firearm and practicing martial arts.
In addition, CEP researchers identified a video game in development that encourages violence and vehicular attacks against Black Lives Matter activists. Finally, users of an 8chan successor website called for targeted acts of violence to create a second civil war, and a notorious neo-Nazi accelerationist Telegram channel that promotes violence returned to the platform after being removed on June 24.
New ISIS Video Released on Multiple Websites
On July 26, ISIS released a new video in Arabic and English via the group's Al Hayat Media Center calling for terrorist attacks. The video advises the viewer not to focus on obtaining firearms or explosives, but instead to use available means such as vehicles, knives, or fire to commit arson. The video specifically encouraged committing arson, including wildfires and setting fires to agriculture due to the economic damage caused by mass fires and the ease in committing the attack.
Links to the video were spread on RocketChat, PasteThis.To, and Hoop. The video was posted directly on Telegram and an ISIS website. The video was also posted to at least 19 other websites: the Internet Archive, Yadi.Sk, Pc.Cd, File.Fm, Streamable, Top4top, Ok.Ru, Mail.Ru, the Microsoft One Drive, NextCloud, Dropapk.To, Mediafire, Zupload, Pixeldrain, Download.Gg, Ufile.Io, Zippyshare, Secufiles.Com, and Dropbox. Approximately four days later, the video was still available on seven websites: the Internet Archive, File.Fm, NextCloud, Dropapk.To, Mediafire, Zupload, and Ufile.Io.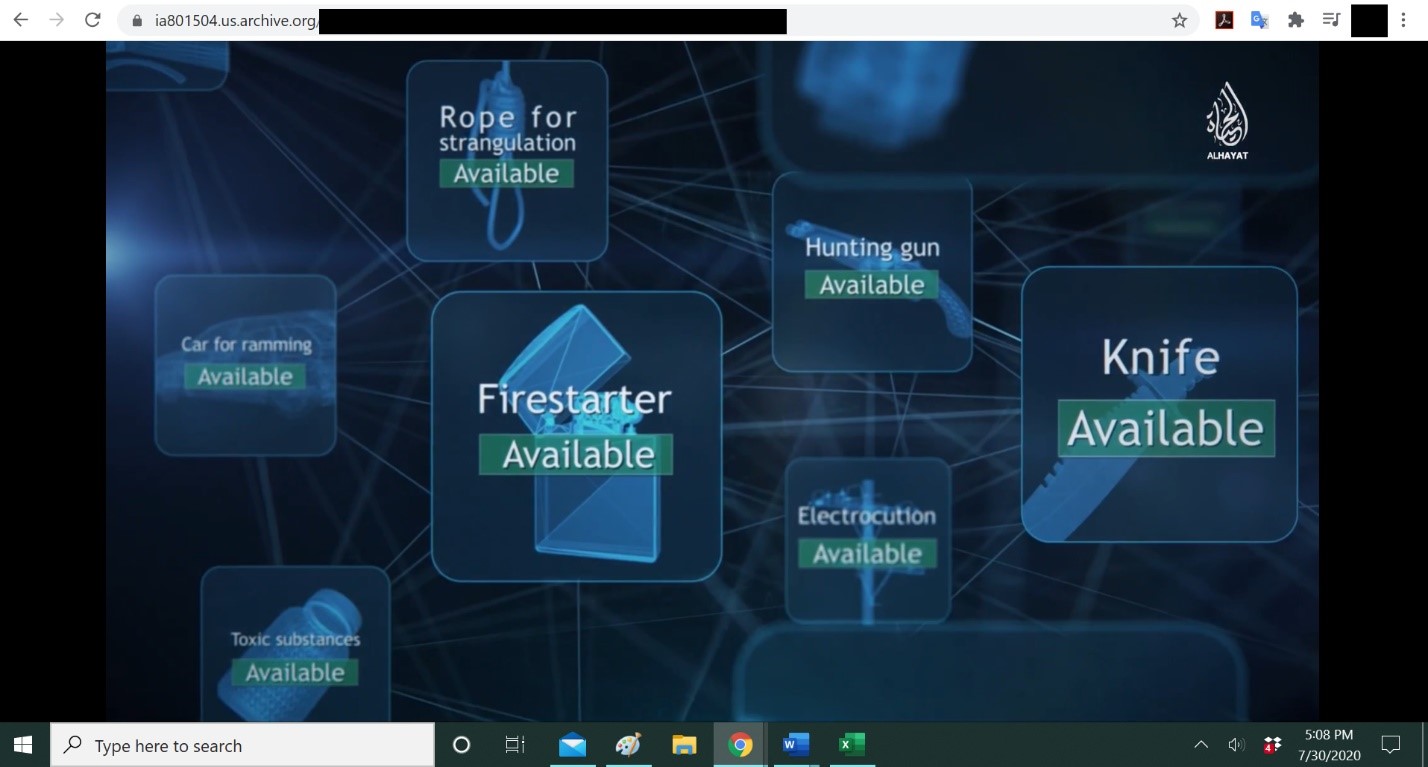 ISIS video "Incite the Believers" on the Internet Archive, approximately four days after it was uploaded.
Atomwaffen Division Successor Group, National Socialist Order, Announces Formation
On July 25, former members of the Atomwaffen Division (AWD) announced that they were creating a new group, the National Socialist Order (NSO). AWD allegedly disbanded in March 2020, and NSO claims to be picking up the group's work where it ended. In a statement on a website that promotes the work of neo-Nazi James Mason, NSO stated that AWD had been weakened by arrests of their leadership in February, and that the American group disbanded as a result. The NSO release also said that due to decentralization, AWD lacked ideological consistency and that the group made errors. In March, it was reported that the U.S. would designate a foreign white supremacist group as a terrorist organization, and it was rumored that AWD branches were being considered. The U.S. Department of State designated the white supremacist group Russian Imperial Movement (RIM) and its leaders as Specially Designated Global Terrorists in April.
"The National Socialist Order is an attempted re-brand for the Atomwaffen Division. Despite this change their core ideology remains the same and they will seek to spread dangerous propaganda and recruit individuals to commit violence," said CEP researcher Joshua Fisher-Birch. "It is critical that the lack of distinction between the two groups be taken into account by tech companies as NSO attempts to recruit on social media. Communications platforms like Telegram should act with urgency to remove any NSO-related content from its platform to ensure their online presence does not lead to real world violence."
NSO spreads propaganda and recruits on Telegram and uses a Protonmail email address. The group praises Hitler and calls for violence against people of color, Jews, anti-fascists, and others. In a video posted to BitChute, NSO stated that they are based in the U.S., but support violent national socialists worldwide. Among other proclamations, NSO has stated that they are opposed to political organizing, expressed interest in holding territory, suggested that they will not condemn anyone who violently attacks the government or society, and indicated that their members are armed.
Accelerationist Neo-Nazi Group The Base Reappears
CEP researchers located a Telegram channel belonging to the neo-Nazi group The Base. The accelerationist group has kept a low profile since January when seven of their alleged members in Wisconsin, Maryland, and Georgia were arrested on charges ranging from conspiracy to commit murder, being members of a criminal gang, vandalizing a synagogue, and firearm-related crimes. In an attempt to start a civil war, group members in Maryland were alleged to have sought to attack a pro-Second Amendment rally in Richmond, Virginia. In January, the group's secretive leader was revealed to be New Jersey native Rinaldo Nazzaro, and that he currently resides in St. Petersburg, Russia. A Telegram channel previously used by the group was taken over by an anti-fascist activist infiltrator in the same month.
The new Telegram channel contains numerous images and short videos of group members training with firearms, practicing martial arts, and conducting drills in a variety of outdoor environments. The national or international extent of the group is unclear after January; however, in late July, the channel alleged to have members in the Netherlands. Several men appearing in photos on the channel were present at an anti-Black Lives Matter demonstration in Big Axe, Michigan, in early June.
The channel has mentioned a change in leadership of The Base. The group has not specifically mentioned Nazzaro, his whereabouts in Russia, or his alleged background in intelligence or military contracting. The group has previously held training camps, and trained in small unit tactics, shared information on making explosives, and discussed committing acts of extremist violence.
Video Game Encouraging Violence Against Black Lives Matter Activists Located
CEP researchers located a video game in development where the player runs over Black Lives Matter protestors with a vehicle. There have been at least 66 cases in the U.S. of individuals using their cars as weapons since May 25 to target demonstrators. A trailer on the game website also encourages violence against Black Lives Matter activists.
The game creators have advertised on a variety of platforms, including a page on Gab, an 8chan successor website, and white supremacist Telegram channels. The game also has a website that uses Tucows as its registrar and the services of the web anonymity company Njalla. The game creator accepts the Monero cryptocurrency on his or her website.
Users of 8chan Successor Website Call for Violence
Numerous posts were located this week on the main 8chan successor website calling for targeted acts of violence to create a second civil war. Posts praised mass shooters, called for genocide, and supported the creation of a white ethno-state. Some commenters stated that the system would collapse on its own and that it would not require participation from forum members.
Notorious Neo-Nazi Accelerationist Telegram Channel Returns to Platform After Recent Deletion
A Telegram channel that promotes accelerationist neo-Nazi violence returned to the communications app after being deleted by the platform on June 24. The channel has routinely encouraged its subscribers to build armed networks and commit terrorist attacks against the government, people of color, the LGBTQ community, Jews, and others. The channel has previously posted significant quantities of content from the Atomwaffen Division and The Base, and has praised the Order of Nine Angles and the Sonnenkrieg Division. The channel has been one of the larger neo-Nazi channels on Telegram, serving as a hub for violent propaganda. The channel had over 5,900 members when it was deleted by Telegram in June. The new channel had over 650 subscribers on July 30.
The removal of approximately ten neo-Nazi and white supremacist Telegram channels occurred following the arrest of a U.S. Army soldier, Ethan Melzer, for allegedly plotting a terrorist attack against his unit. Melzer was reportedly in contact with individuals in the Order of Nine Angles and another neo-Nazi group through unnamed electronic means. Telegram has not commented on the removal of neo-Nazi and white supremacist accounts.