For Immediate Release
Tuesday, October 10, 2023
(New York, N.Y.) — The Counter Extremism Project (CEP) reports weekly on the methods used by extremists to exploit the Internet and social media platforms to recruit followers and incite violence. Last week, CEP researchers found multiple Telegram posts on the main Hamas channel documenting the October 7 attacks on Israel. Additionally, CEP located statements from al-Qaeda, ISIS, and various white supremacists celebrating the October 7 attacks on Israel.
Additionally, the pro-ISIS al-Azaim Media Foundation released issue 29 of their web magazine, Voice of Khorasan, which called on individuals to join ISIS in Syria and, for the first time, included a Monero cryptocurrency address to solicit donations from readers. CEP also identified nine Twitter accounts that posted clips from the Christchurch terrorist attack. On Meta-owned Instagram, nearly a dozen accounts were located that posted white supremacist content, calls for acts of violence, footage from the Christchurch attack, propaganda videos, and glorification of the Buffalo, Charleston, and Norway attackers.
On Telegram and 4chan, CEP noted an increase in AI-generated art promoting anti-black, anti-Asian, anti-LGBTQ, anti-Muslim, and antisemitic themes. Also on Telegram, the founder of the Nationalist Social Club, Chris Hood, called for increased anti-immigrant demonstrations, advocating for increased confrontational tactics. An ecofascist Telegram channel that promotes violence posted the addresses of 3M manufacturing facilities and offices, targeting the company for its status as a large polluter. CEP researchers also identified a thread on 4chan advocating for violence against African Americans and glorifying the May 14, 2022 Buffalo attack.
Hamas Documents Attack on Telegram
The main Hamas Telegram channel, with over 100,000 subscribers, posted approximately 125 videos and photos, and statements and updates regarding their October 7 attack on Israel. Early Friday morning, the channel posted a message from the head of the Izz ad-Din al-Qassam Brigades, Mohammed Deif, announcing that the attack had begun, calling for Arab unity and resistance, and claiming that the assault was in response to the desecration of Al-Aqsa Mosque and the hundreds of Palestinians killed and wounded in 2023. The channel additionally posted a statement from Hamas leader Ismail Haniyeh, echoing Deif in stating that the attacks were a response to Israelis attempting to "impose sovereignty" over Al-Aqsa Mosque and declaring that the attack would also extend to the West Bank and abroad.
Photos and videos posted on the channel showed Hamas members entering Israel on foot and in vehicles and engaging in combat. Numerous videos also showed Israeli casualties and the taking of hostages.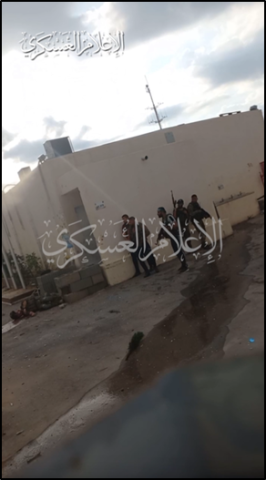 Hamas video on Telegram. Screenshot taken on October 9.
Al-Qaeda Praises Hamas Attacks on Israel
In a message dated October 7, al-Qaeda in the Indian Subcontinent (AQIS) praised Hamas for their "marvelous" attacks against Israel and encouraged additional acts of violence. The statement noted the assistance of the "masses" in the fight against Israel. It went so far as to state that the attack "wiped off the marks of humiliation and disgrace caused by the defeat of the Arab States at the hands of Israel during the Arab-Israel wars." The post repeatedly congratulated Hamas, hoping that similar attacks would eventually "bring Israel…down to its knees," and noted that despite technological and military superiority, conducting attacks are possible and necessary. The post also lamented the loss of life in Gaza in Israeli military operations.

AQIS statement on October 7. Screenshot taken on October 9.
Pro-ISIS Online Community Supports Acts of Terrorism Against Israel But Condemns Hamas for Nationalism
Following the October 7 Hamas attacks on Israel, pro-ISIS online communities stated that they would "never forget the crimes" of Israel but condemned Hamas for fighting for non-religious reasons and maintaining ties with Iran. A Telegram post on October 8 stated that while it was necessary to "save Jerusalem," it was forbidden to work with secular, communist, or nationalist movements and described Hamas as part of the "trap of democracy." Additional posts noted that the foreign ministries of Egypt and Saudi Arabia called for an end to hostilities. Several messages warned ISIS supporters not to fight on behalf of Hamas, claiming that it would be committing an act of apostasy to fight on behalf of "polytheist Iranian militias."
White Supremacist Neo-Nazi Online Communities Celebrate Hamas Attacks on Israel
In multiple Telegram posts, white supremacists and neo-Nazis celebrated the October 7 Hamas attacks against Israel. Multiple channel administrators praised the attacks despite their previously stated hatred for Arabs and Muslims. A post shared by approximately a dozen channels said that all white supremacists should celebrate violence against Jews, their "worst enemy," and that "when someone hits your enemy, it's a good thing."
A Telegram channel affiliated with a website that supports Atomwaffen Division successor organizations and promotes the work of James Mason asked their audience to imagine what damage "organized whites" could inflict against Jews if Hamas could cause so much damage with "bottle rockets, old broken guns, and rocks." The channel shared videos made by Hamas terrorists who participated in raids within Israel. On December 5, 2021, the website affiliated with the channel stated that their writers as well as James Mason supported Hamas because of the group's militancy, writing that they viewed "Hamas as the only legitimate government within the land that is claimed by Jews."
On October 7, the Nordic Resistance Movement (NRM) issued a declaration of support for Hamas, stating that their attack was justified. The message noted that as NRM was "fighting here at home," they extended good wishes to Palestinians "in their struggle for a new and free Palestine."
A neo-Nazi accelerationist channel encouraged attacks on Jews in the future, stating that now was the time to wait, advocating acting when security was not on high alert. Another neo-Nazi accelerationist channel with over 1,000 subscribers posted Hamas propaganda videos and photos of dead Israeli soldiers with the caption "Death to the Jews." Several white supremacist channels shared likely incorrect footage on October 9, claiming it was the execution of Israeli hostages by Hamas, with one channel noting that it inspired a sense of hope. Another channel, dedicated to sharing plans for 3D printed firearms, made antisemitic posts, while a white supremacist channel with over 6,000 followers stated that Israel deserved to be destroyed because they were allegedly responsible for engineering the refugee crisis in Europe.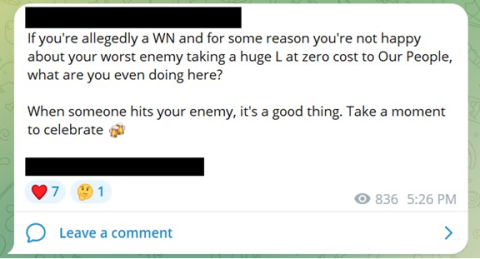 Telegram post by a neo-Nazi channel on October 7.
Voice of Khorasan Issue 29 Released, Asks for Monero Cryptocurrency Donations
On October 2, the pro-ISIS al-Azaim Media Foundation released the 29th issue of the web magazine Voice of Khorasan. Articles condemned the Taliban for allegedly not fully instituting religious law and accepting norms and rules of international law under the rubric of democracy. An article also criticized the Taliban for working to improve ties with the Chinese government, whose persecution and abuses against the Uyghurs were also denounced.
Other articles noted the seeming decline in the international order, called for individuals to join ISIS in Syria to fight against Kurdish forces, and condemned improving ties between Israel, the UAE, Bahrain, and other Arab states.
For the first time, the web magazine included a wallet address for the Monero cryptocurrency, calling for readers to make donations.
CEP first identified pro-ISIS groups and websites requesting donations in Monero cryptocurrency in June 2020 citing its claims to be "untraceable."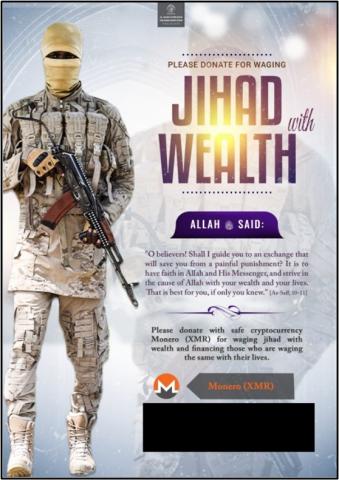 Footage From Christchurch Terrorist Attack Video Spread on Twitter
CEP located 11 videos on Twitter on October 3 that contained footage from the Christchurch terrorist attack video. The clips, posted by nine accounts, included extreme violence, and ranged from several seconds of footage from the livestreamed attack to a 2-minute and 17-second clip uploaded on August 18, 2023. Several accounts also posted additional content glorifying white supremacist violence, including other mass shootings. One clip, uploaded on August 18, 2021, did not have the number of views displayed, but the other 10 videos had between 236 and 7,898 views, with an average of 1,650.
CEP reported the videos to relevant national authorities.

Source: Counter Extremism Project
White Supremacist Content Glorifying Violence Located on Instagram
In a sample of content found on October 4, CEP researchers located 11 accounts on Meta-owned Instagram that posted white supremacist and neo-Nazi photos and videos, including propaganda that endorsed violence. Content included posts glorifying the perpetrators of violent attacks in Christchurch (2019), Buffalo (2022), Charleston (2015), and Norway (2011). One of the accounts posted a video on September 3 that contained approximately two seconds of footage from the Christchurch attack video within a longer Atomwaffen Division propaganda video.
Accounts also posted videos containing propaganda footage from the proscribed British organization Scottish Dawn, the Atomwaffen Division, and the Base. One account recruited explicitly for a small online neo-Nazi group. Instagram users also posted antisemitic, racist, anti-Muslim, and anti-LGBTQ content, including one account with over 16,500 followers that promoted neo-Nazi accelerationist groups and called for acts of violence against LGTBQ people. Excluding the account with 16,500 followers, the remaining 10 accounts had an average of 194 followers, ranging between 51 and 639.
CEP reported all 11 accounts to Instagram or relevant authorities on October 4. Three of the 11 accounts were removed by October 10, including the account with 16,500 followers.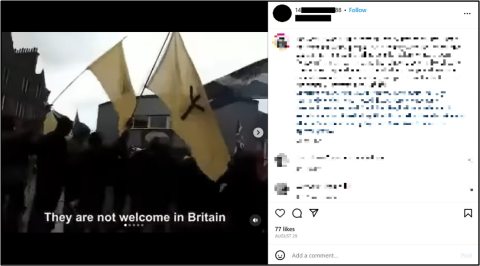 Scottish Dawn propaganda video on Instagram. Screenshot taken on October 4.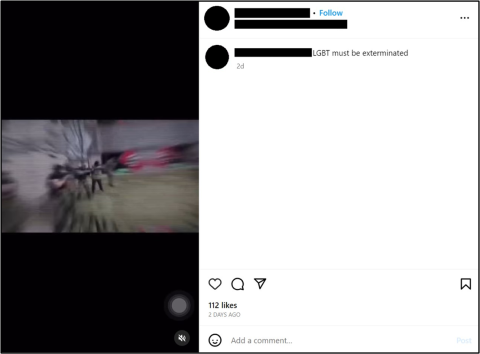 Video on Instagram containing footage from The Base and Atomwaffen Division propaganda. The account that posted the video had 16,500 followers when it was found. Accompanying text calls for violence against LGBTQ people. Screenshot taken on October 4, 2023.
Racist and Antisemitic AI Generated Art Proliferates on Telegram and 4Chan
CEP researchers noticed a significant uptick in racist and antisemitic AI-generated art on Telegram and 4chan. A Telegram channel created to spread this imagery posted almost 2,300 anti-black, anti-Asian, anti-LGBTQ, anti-Muslim, or antisemitic AI-generated images using the Microsoft Bing AI image generator and other unknown programs within 72 hours of starting to post content on October 2. Some images appeared to be based on prompts using known racist stereotypes, slogans, or conspiracy theories (such as Jews being responsible for the September 11 attacks). Dozens of racist and antisemitic posts, some using the Microsoft Bing AI image generator, were found on 4chan.
Ecofascist Telegram Channel Lists Addresses of Offices and Factories of 3M
On October 2 and 3, an ecofascist Telegram channel that supports violence posted the addresses for offices and factories belonging to the company 3M because of their status as a large polluter. The channel, with over 1,000 followers, noted that 3M could be "shut down" in many ways that did not require entering the facility. Neo-Nazi accelerationist channels frequently share the channel's content.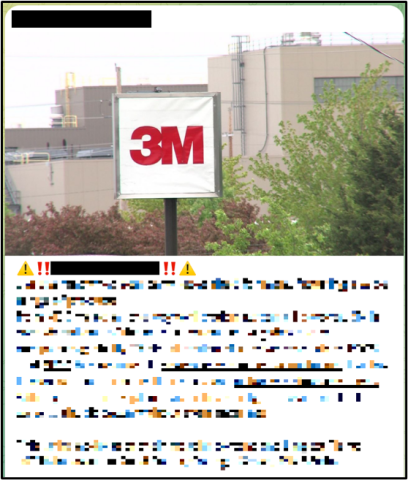 Post on Telegram listing 3M facilities. Screenshot taken on October 5.
Founder of Neo-Nazi Group Calls for Confrontational Demonstrations
In a series of audio messages on Telegram, Chris Hood, the founder and leader of the New England neo-Nazi group Nationalist Social Club (NSC), called for more confrontational anti-immigrant demonstrations within the extreme right. Citing recent NSC demonstrations outside of hotels and college dorms where immigrants and refugees have been staying, Hood said that it was crucial to "dominate the public space and confront these people and be loud and be aggressive" to try and increase their support and recruit.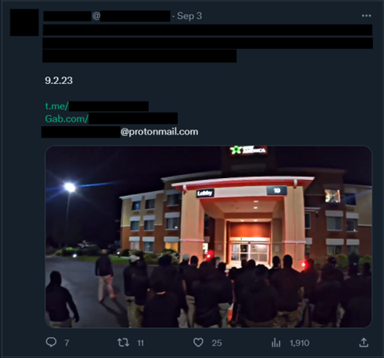 Nationalist Social Club propaganda video on Twitter, posted on September 3. The Tweet contains an email address and additional social media, and a Telegram channel for the group. Screenshot taken on September 3. The video was still online on October 10.
Footage from Buffalo Attack Located on 4chan
On October 5, CEP researchers located a thread on 4chan advocating for acts of violence against African Americans, with over 150 post responses. A post in the thread included a GIF showing an individual being shot in the head by the perpetrator of the May 14, 2022 Buffalo attack. A search for the file name indicated that it had been posted at least four other times on 4chan. While the post was removed from 4chan the same day it was posted, the thread was still available on a site that archives the forum.
The gunman, who pleaded guilty to state charges including terrorism and 10 counts of murder as a hate crime, claimed he was inspired by browsing 4chan and seeing footage of the Christchurch terrorist attack on the website.