For Immediate Release
Tuesday, July 6, 2021
(New York, N.Y.) — The Counter Extremism Project (CEP) reports weekly on the methods used by extremists to exploit the Internet and social media platforms to recruit followers and incite violence. White supremacist and antisemitic content was located on Facebook and Instagram, including a storefront page on Facebook for neo-Nazi gear and another on Instagram that was used for recruitment and advocated for violent antisemitic attacks.
In addition, CEP identified a neo-Nazi Telegram account that released a Spanish language version of a book that explicitly calls for acts of violence, as well as another Telegram channel that promotes acts of terrorism and has been repeatedly deleted and re-uploaded. Additionally, a neo-Nazi Telegram channel shared information regarding the use of virtual credit cards in relation to privacy and operations security. Lastly, CEP identified a pro-ISIS propaganda site using an onion address on the dark web.
Neo-Nazi Online Clothing Store Located on Facebook and Instagram
CEP researchers located a neo-Nazi online clothing store on Facebook and Instagram that sells white supremacist flags, skull masks, and t-shirts with neo-Nazi symbols. The store is either located in Portugal or Spain. The store created its Facebook page on April 12, 2021, and the Instagram page made its first post in May 2021. The clothing store was not removed after it was reported on both social media sites.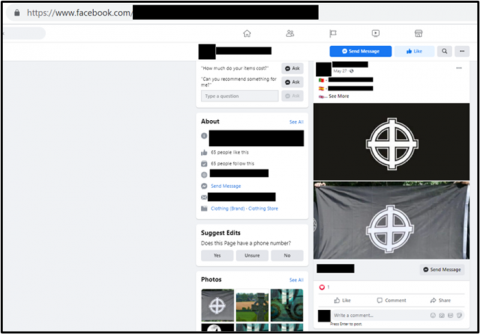 Neo-Nazi online clothing store on Facebook. July 1, 2021.
Content Located on Instagram Advocating for Violence Against Jews, Recruitment for Neo-Nazi Group
From June 27 to July 3, CEP researchers located content on Instagram that included recruitment for a small online neo-Nazi group and accounts that promoted violence against Jews. The account belonging to a small, accelerationist online group made posts starting on June 26 advertising their recruitment e-mail address, using neo-Nazi symbols, and advocating for violence against Jews. CEP also located an account that posted drawings of Jewish caricatures being shot with firearms, content promoting the great replacement theory, and the use of neo-Nazi symbols. The accounts were still online four days after they were reported by CEP.
Neo-Nazi Accelerationist Book Translated into Spanish, Released on Telegram
On June 30, a Spanish language version of a neo-Nazi accelerationist book was released on Telegram. The PDF files were released on a private distribution Telegram page on June 30 that was created for the sole purpose of spreading the text. The files were also forwarded from a private channel, used as a repository, that did not have a publicly available link to join. While the private distribution channel was removed by Telegram within 24 hours, the Spanish language text was shared by at least thirteen different Telegram channels in the same period. The English language text has been shared by dozens of white supremacist and neo-Nazi Telegram channels and the message containing the files has received over 6,400 views, including potentially multiple views of the original message by the same user on different channels.
The text, over 130 pages, is heavily inspired by James Mason's book Siege, "Terrorgram" Telegram channels that promote violence, and other works on guerilla warfare and terrorism. The book explicitly calls for acts of violence, including individual acts of white supremacist terrorism in the vein of Brenton Tarrant, Dylann Roof, and others. The authors also endorse attacks targeting law enforcement, Jews, people of color and attacks on infrastructure to weaken the government and social order. The book also included works of fiction and art and illustrations in several styles meant to appeal to young men on Telegram, imageboards, and other online forums.
Repeatedly Deleted White Supremacist Telegram Channel Creates Private Repository
A white supremacist Telegram channel that promotes violence that has been deleted at least five times by the platform has returned with both public and private channels. The private channel serves as a repository, with content forwarded from the private channel to the public channel. The private channel's URL is unknown, making it impossible to report the channel to Telegram through its in-app report feature. Telegram deleted the first version of the channel in January during Telegram's first round of removing neo-Nazi channels and chats. Other versions of the channel were removed on May 27, June 3, June 18, and June 21. The private channel made its first post on June 12. The channel promotes the murder of Jews, Muslims, people of color, LGBT people, and law enforcement officers. The channel promotes acts of white supremacist terrorism and violence, and frequently includes visual and textual homages to Timothy McVeigh, Dylann Roof, and others, in addition to posting their manifestos. 
Neo-Nazi Telegram Channel Advises Users on Using Virtual Credit Cards
On June 29, a prominent neo-Nazi Telegram channel dedicated to counter-surveillance and information and operations security shared information regarding the use of virtual credit cards. The online service, which a third-party company operates, allows users to create virtual cards to hide their credit card information or identity from online vendors. The Telegram channel had over 8,600 subscribers on July 1. The channel has previously endorsed violence and posted information on disabling and destroying surveillance cameras and removing microphones and cameras from smartphones.
Pro-ISIS Website Located on the Dark Web
CEP Researchers located a pro-ISIS propaganda site using an onion address on the dark web. The website contains ISIS propaganda videos, statements from the group's leadership, radio broadcasts, and weekly Al-Naba newsletters. The website also includes links to a large quantity of ISIS propaganda stored on a NextCloud file-sharing page. An individual shared the link to the site on a pro-ISIS chatroom. Online ISIS supporters have previously operated a different ISIS propaganda site on the dark web and a site for the pro-ISIS online tech and operations security group Electronic Horizons Foundation.