Islamic extremists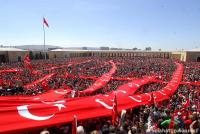 "Turkey narrowly averted a disaster," stated the Kurdish People's Democratic Party (HDP) leader, Selahattin Demirtas after Turkish voters pushed his party past the 10 percent electoral threshold necessary to qualify for seats in the parliament. The...
Daily Dose
Extremists: Their Words. Their Actions.
Fact:
On June 10, 2018, the Houthis launched a missile from Yemen at Saudi Arabia's Jizan province, killing three civilians.
View Archive
Stay up to date on our latest news.
Get the latest news on extremism and counter-extremism delivered to your inbox.