CEP recently discovered that WordPress, the world's most popular website management and blogging platform, is providing technical support to the website of Scottish Dawn, a banned British neo-Nazi group.
Scottish Dawn describes itself as "a patriotic society for the defence of our race and nation active across Scotland." The British government has also identified Scottish Dawn as the Scottish wing of the banned group, National Action, described by UK Home Secretary Amber Rudd as "a vile racist, homophobic and anti-Semitic group which glorifies violence and stirs up hatred while promoting their poisonous ideology."
Membership or active support of Scottish Dawn is punishable by a prison sentence of up to 10 years.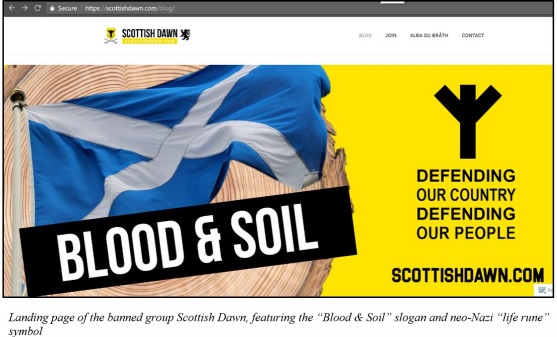 Nevertheless, WordPress and its parent, Automattic Inc., are the Name Server and the Registrar, respectively, for the Scottish Dawn official website, ScottishDawn.com. (See WhoIs)
Beginning in May 2016, CEP has confronted WordPress, the world's most popular blogging site, about its hosting of websites promoting a multitude of sanctioned terrorist groups including ISIS, the Taliban, al-Qaeda, and the Greek neo-Nazi group Golden Dawn.
CEP's full correspondence with WordPress regarding its support for terrorist websites is included here: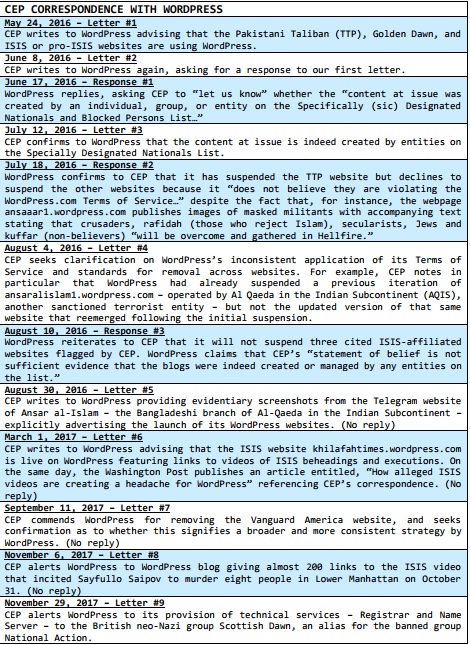 While some of the foregoing sites have been removed at CEP's urging, many others remain despite WordPress's Terms of Service that requires users "make sure that none of the prohibited items (like spam, viruses, or serious threats of violence) appear on your website." Automattic also "has the right… to… refuse or remove any content that, in Automattic's reasonable opinion, violates any Automattic policy or is in any way harmful or objectionable."
Moreover, WordPress has gone to great lengths to justify its inaction, often providing absurd excuses for keeping sites live.
For example, in one instance, WordPress asked CEP to "let us know" if a Taliban website "was created by an individual, group, or entity on the Specifically (sic) Designated Nationals and Blocked Persons List…" The Taliban is clearly such an entity, but it nonetheless took two months for WordPress to remove the Pakistani Taliban site.
WordPress' inconsistent application of its own policies has also been frustrating. For example, WordPress once declined to ban a website that was clearly an iteration of the old blog that had previously been banned!
In March 2017 alerted WordPress to a sickening ISIS WordPress site featuring links to horrifically graphic ISIS beheadings and executions. On the same day, the Washington Post published an article called "How alleged ISIS videos are creating a headache for WordPress," citing CEP's research and correspondence. Only then did WordPress finally take action to ensure that site was removed.
Six months later, in September 2017, WordPress removed the white supremacist Vanguard America site in a widely reported move. CEP commended WordPress and sought confirmation if the action signified a policy change of applying its standards for content removal evenly and consistently.
Apparently not. Two months later, CEP found yet another WordPress site, a pro-ISIS blog which gave almost 200 links to the ISIS video that incited Sayfullo Saipov to murder eight people with a truck in Lower Manhattan on October 31. Thankfully, that site has since been removed after CEP alerted WordPress, but vile and dangerous content on or using WordPress keeps appearing. Scottish Dawn, though not a WordPress.com blog, is simply the latest instance of WordPress providing services to a banned extremist group. As a result of the foregoing, CEP sent a letter to WordPress today asking them to cease their services to Scottish Dawn.