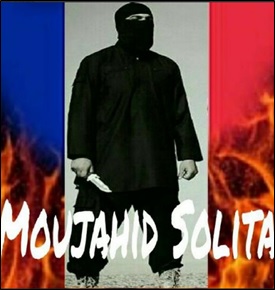 On February 13, a channel titled "Le Moujahid Solitaire" (The Lone/Solitary Mujahid) appeared on the Telegram messaging platform. The French language group posted information on several types of explosives that can be made with legally obtainable components, as well as how to manufacture various poisons. The channel also shared a link to a bomb-making instructional video hosted on the French video-sharing site, Dailymotion. The Telegram channel is notable because of its content and French-language focus, especially following the recent arrest of a man in Nîmes, France who was suspected of planning a terrorist attack.
Telegram is an encrypted chat and message service available for mobile devices and personal computers. The program is free, allows for anonymity, and is easy to use, allowing users to quickly share text, video, and audio content. As of December 2017, it had more than 180 million users worldwide and continues to gain hundreds of thousands of new users every day. It wasn't until after the November 2015 Paris attacks that Telegram felt compelled to crack down on terrorists' misuse of its platform, following allegations that the ISIS assailants used the tool to communicate and plot. Telegram continued to face controversy when, in late January, the company's mobile app was temporarily removed from the Apple Store due to users disseminating child pornography.
The "Le Moujahid Solitaire" is the first French language iteration of the notorious English language Telegram channel, "Lone Mujahid." This channel was known for bomb making instructions, advice on knife attacks, and suggesting potential targets. Previous versions of the "Lone Mujahid" channel have used British English, and have urged attacks in the U.K. and Australia. The French language focus of the channel is new, and with more than 125 members, it shows the continued desire of ISIS and their online supporters to strike in Europe.
The appearance of "Le Moujahid Solitaire" follows several recent terrorism related arrests in France. On January 20, 2018, it was reported that French authorities had arrested a man in Nîmes who was in possession of explosives and bomb-making instructions. The individual had made a video in which he pledged allegiance to ISIS. In September and November, French police made several arrests related to suspected terror cells, including potential bombings. French authorities claimed that in the November arrests, perpetrators communicated via Telegram.
Telegram claims to close approximately 100-200 ISIS Telegram channels per day for violations of its terms of use, yet troubling channels continue to appear on the platform. As long as the company refuses to take further action to permanently remove and/or prevent the ongoing misuse of its platform, channels such as "Lone Mujahid" and its potential foreign language offshoots will flourish. Moreover, the appearance of the French Telegram channel illustrates how the threat of ISIS remains despite the group's decrease in territorial holdings.