On August 30, 2017, the Counter Extremism Project found that YouTube had posted a "warning label" on an extremist lecture by notorious al-Qaeda recruiter Anwar al-Awlaki: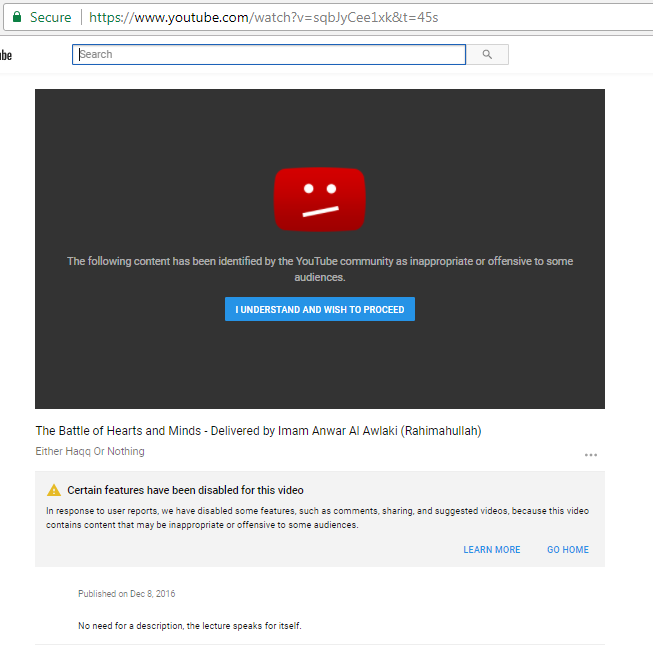 Awlaki's lectures have played an influential role in inspiring dozens of U.S. and European extremists to attempt or carry out acts of terrorism. Specifically, Awlaki's "Battle of Hearts and Minds" lecture—has been used to rally supporters and lionize terrorists, whom Awlaki refers to admiringly as shaheed (martyrs). In December of 2013, the "Battle of the Hearts and Minds" was used by ISIS as part of its recruitment and promotional materials.
Considering the documented and proven role Awlaki-content plays in the successful recruitment and radicalization of terrorist actors, it is puzzling why YouTube has persisted in keeping Awlaki on its platform. Beginning in January 2016, the Counter Extremism Project (CEP) has tracked the presence of Awlaki content on YouTube, and analyzed how Awlaki content remains accessible, ubiquitous, and often promoted on the video sharing platform. In that time, CEP has made the following key findings:
Awlaki's content remains consistently and readily available on YouTube, and searches for "Anwar al-Awlaki" continue to yield more than 70,000 results; and
YouTube's algorithms continue to nudge users toward (a) Awlaki's content generally, and (b) his most incendiary and egregious content in particular.
Today, CEP notes that YouTube's policies surrounding Awlaki and other forms of extremist and terrorist material remain incomplete, inconsistent, and unclear. For example:
Why the warning label?
In March 2017, hundreds of advertisers fled Google's video-sharing platform YouTube after finding that their ads were appearing next to extremist and terrorist content. Rather than simply remove this material, it appears that Google has opted to allow some videos to remain on YouTube affixed with a warning label—something that has never been applied previously to any other type of content in violation of YouTube's Terms of Service (e.g. pornography, copyright violations, etc.).
This "warning label" policy essentially creates an entirely new class of content, i.e. "inflammatory" or "inappropriate or offensive content to some audiences." When so much other content uploaded to YouTube is blocked or removed with regularity, it is unclear why YouTube is essentially creating a 'carve-out' for extremist content to remain online. It is also unclear how (or why for that matter) YouTube differentiates between terrorist content to be removed, and content that merely warrants a warning label. All extremist and terrorist content should be removed from You Tube in accordance with its Terms of Service.
YouTube's policies again being applied inconsistently
YouTube's so-called warning labels are being applied inconsistently to extremist and terrorist content. For example including Awlaki's lectures. Some versions of Awlaki's "Battle of the Hearts and Minds" lecture have been taken down, while others are prefaced with the warning label, and others still are live on the site without a warning label. Meanwhile, dozens of copies of Awlaki's other lectures remain live on the site. How can the public have confidence in YouTube polices to disrupt extremist content if it cannot even apply its highly-touted new efforts consistently across the same content?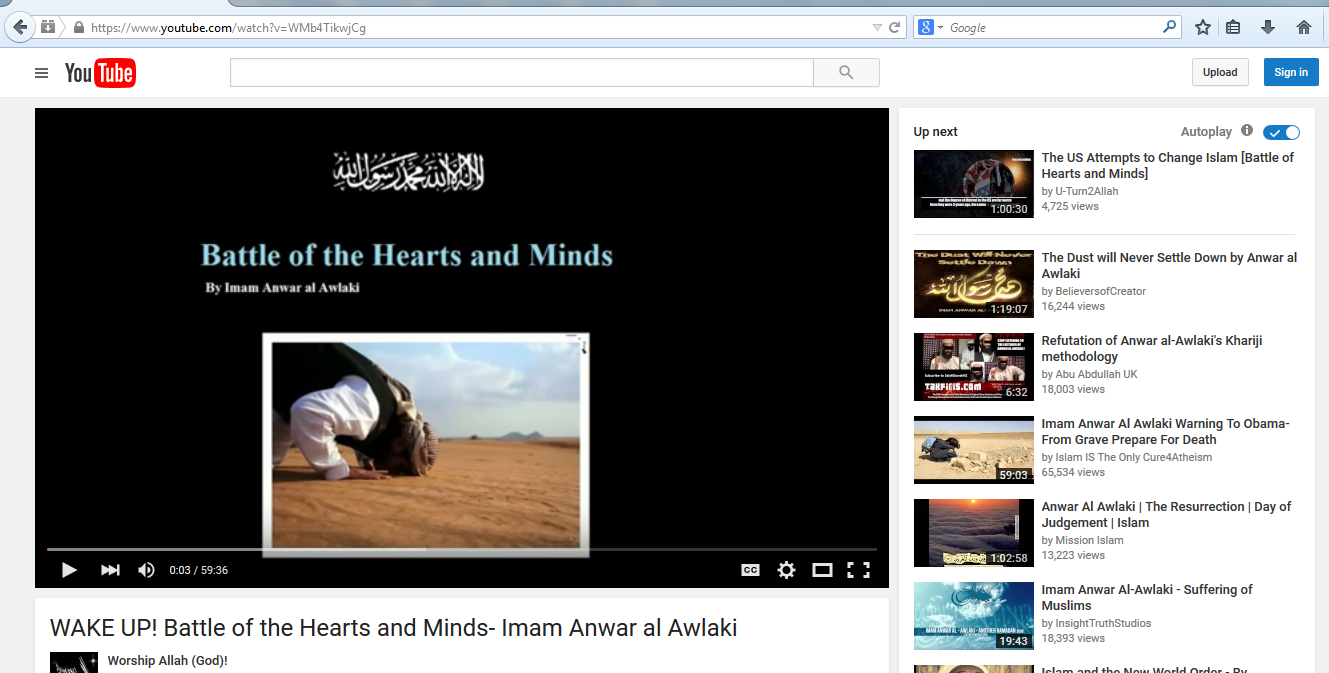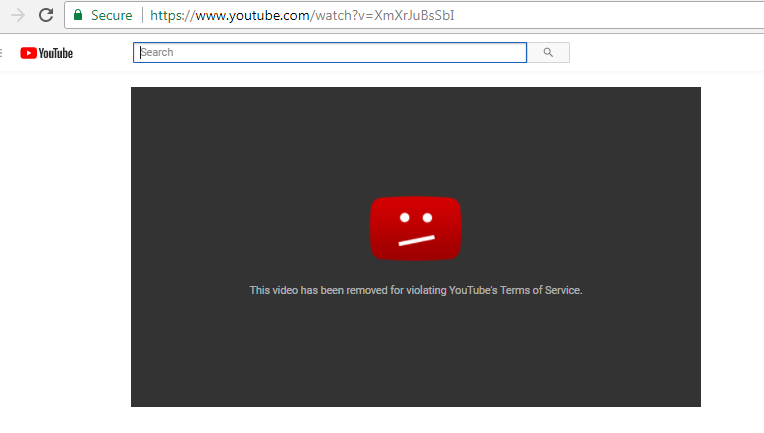 Battle of the Hearts and Minds link, live as of December 2015, removed as of September 2017.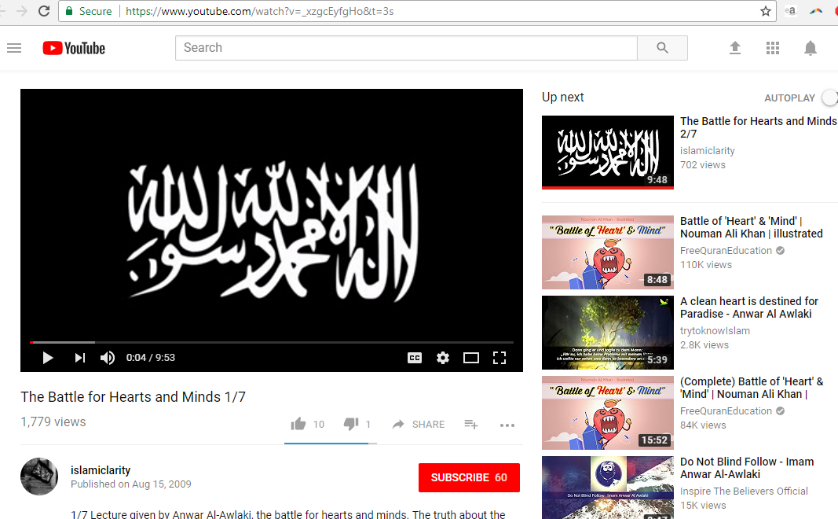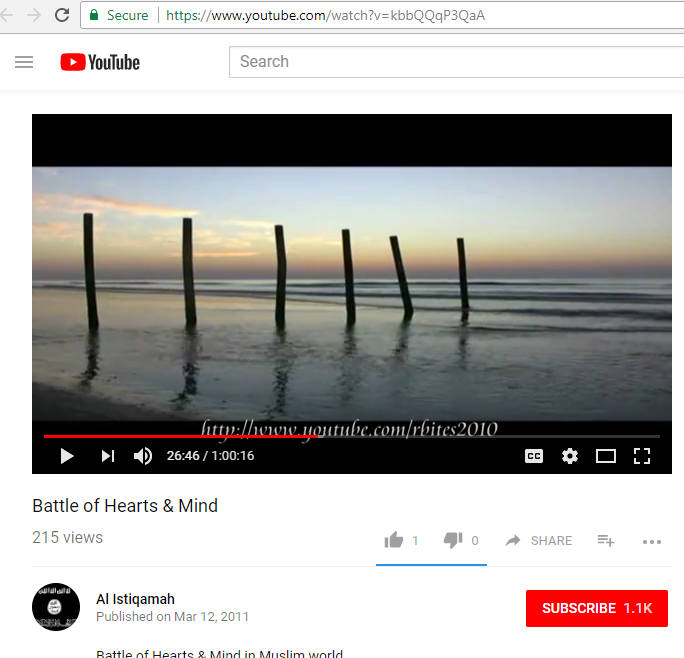 Battle of the Hearts and Minds lectures, live without labels on YouTube for more than six years.
What about Awlaki?
YouTube notes that it "strictly prohibits content intended to recruit for terrorist organizations, incite violence, celebrate terrorist attacks or otherwise promote acts of terrorism. We also do not permit foreign terrorist organizations to use YouTube." Anwar al-Awlaki was a U.S.-sanctioned terrorist who served as the public face of al-Qaeda's Yemeni affiliate, al-Qaeda in the Arabian Peninsula (AQAP). Awlaki has inspired dozens of U.S. and European terrorists, including Orlando gunman Omar Mateen, San Bernardino shooter Syed Farook, and Boston bombers Tamerlan and Dzhokhar Tsarnaev. Awlaki's was a self-declared leader of AQAP and his "Battle of the Hearts and Minds" lecture was used by ISIS in its 2013 recruitment material. Given the foregoing, any reasonable individual would determine that Awlaki-related content clearly qualifies as clear terrorist material. How can YouTube credibly assert otherwise in keeping Awlaki content live on its platform?
CEP appreciates YouTube's implicit acknowledgement that Awlaki content is at least "inappropriate" enough to warrant a warning label. CEP has highlighted the issue of Awlaki on YouTube since 2015. In certain cases, YouTube finally took action to disable comments, sharing, video view count, autoplay, and several other features that serve to promote and further Awlaki's messaging.
Unfortunately the limited action falls short and appears designed more to appease advertisers than protect the general public, who suffers the consequences of terrorist attacks rooted in Awlaki's deadly rhetoric. Indeed, Awlaki played a unique role in rallying his supporters to terrorize the public. Awlaki was cited as a potential influence in dozens of U.S. and European terrorism cases, and his lectures—including "Battle of the Hearts and Minds"—have been used as recruitment fodder for internationally-sanctioned terrorist organizations al-Qaeda and ISIS alike.
Despite this reality, YouTube persists in allowing Awlaki to remain on its platform, opting for a piecemeal and reactive approach to pressure and criticism. This response—now including the bizarre addition of a warning label on some versions of Awlaki's lectures—demonstrates YouTube's alarming and persistent disregard for public safety, all the more baffling considering that YouTube is a company that entirely depends upon—and profits from—the public as both consumers and content providers. This seemingly random and post hoc approach to Awlaki content begs serious questions regarding YouTube's standard business practices, let alone its business ethics.
Far more remains to be done to ensure that content promoting terrorism—explicitly prohibited by YouTube's Terms of Service and overtly represented by Anwar al-Awlaki's material—does not remain readily accessible on YouTube's platform. YouTube must be transparent about its definition and policies regarding extremist and terrorist videos on its platform, including content pertaining to deceased al-Qaeda terrorist Anwar al-Awlaki. YouTube must then apply its policies in a manner that is proactive, responsible, consistent, and transparent to the public.