For Immediate Release
Wednesday, September 20, 2023
(New York, N.Y.) — On Thursday, October 12, 2023, the Counter Extremism Project (CEP)—with support from the U.S. Department of Homeland Security (DHS)—will host an in-person event at the National Press Club in Washington, DC with leading experts in the fields of rehabilitation and reintegration. Speakers and panelists will explore trauma and violence in rehabilitation and reintegration programs and how to reform in-prison and post-release programming for convicted violent extremists and terrorists.
An opportunity to register for this event is forthcoming.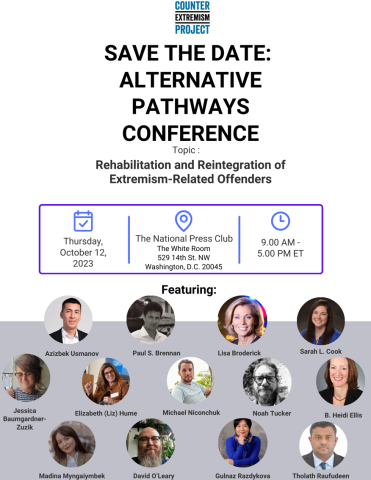 This event is part of CEP's Alternative Pathways program, an in-community reentry and recidivism reduction initiative focused on those susceptible to radicalization in prison or those convicted of terrorism-related offenses. CEP also established the Radicalization, Rehabilitation, Reintegration, and Recidivism Network (4R Network)—a hub for those directly or indirectly involved in extremist offender reintegration and recidivism reduction in the United States. These programs have been made possible thanks to the generous support from DHS's Center for Prevention Programs and Partnerships (CP3).
To learn more about CEP, please visit counterextremism.com.
To learn more about the 4R Network, please visit www.4rnetwork.org.
To learn more about Alternative Pathways, please visit www.4rnetwork.org/prison-resources.