For Immediate Release
Tuesday, October 3, 2023
(New York, N.Y.) — Earlier today, the Counter Extremism Project (CEP) released the agenda for its October 12, 2023 Alternative Pathways Conference in Washington, DC. Registration is open to attend in-person or virtually. The program will focus on trauma and violence in rehabilitation and reintegration programs and how to reform in-prison and post-release programming for convicted violent extremists and terrorists.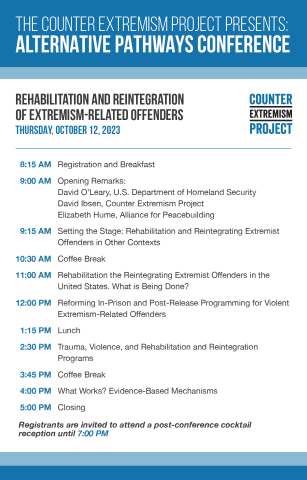 CEP's Alternative Pathways program is in-community reentry and recidivism reduction initiative focused on those susceptible to radicalization in prison or those convicted of terrorism-related offenses. CEP also established the Radicalization, Rehabilitation, Reintegration, and Recidivism Network (4R Network)—a hub for those directly or indirectly involved in extremist offender reintegration and recidivism reduction in the United States.
The Alternative Pathways project is funded by the U.S. Department of Homeland Security, opportunity number DHS-21-TTP-132-00-01.
To learn more about CEP, please visit www.counterextremism.com.
To learn more about the 4R Network, please visit www.4rnetwork.org.
To learn more about Alternative Pathways, please visit www.4rnetwork.org/prison-resources.