For Immediate Release
Monday, December 12, 2022
(New York, N.Y.) — The Counter Extremism Project (CEP) reports weekly on the methods used by extremists to exploit the Internet and social media platforms to recruit followers and incite violence. Last week, CEP researchers located 10 pro-ISIS accounts on Facebook sharing ISIS propaganda, a manual for making an explosives detonator published by a pro-ISIS group on JustPaste.It, a warning from a pro-ISIS tech group regarding a potentially unsafe web browser, and continued pledges of allegiance to the new ISIS caliph posted on propaganda websites and pro-ISIS Telegram channels.
In addition, CEP researchers located a variety of neo-Nazi, white supremacist, and antisemitic content on Meta-owned Instagram and an account linked to a Rise Above Movement-inspired active club on Google-owned YouTube. Finally, following an attack on critical infrastructure in North Carolina by unknown individuals, CEP researchers located posts on Telegram channels and a neo-Nazi website celebrating and justifying the attack.
ISIS Propaganda Located on Facebook
CEP researchers located 10 pro-ISIS accounts on Facebook in a sample of content located on December 7. The accounts posted clips from ISIS propaganda videos, Amaq propaganda photos, ISIS news updates, and additional image and text-based propaganda. Eight accounts had between 62 and 4,993 friends or followers, with an average of 1,761. Two Facebook profiles did not have their number of friends or followers listed.
One profile used a recently released Amaq propaganda photo as an account picture, and another used a propaganda photo of Abu Bakr al-Baghdadi's son, Hudhayfah al-Badri, who was killed in 2018 while attacking a power plant in Syria, as a profile photo. Several of the video clips had details obscured, such as color changes or fully or partially covering up logos on the top right of the screen.
One account uploaded an approximately one-minute clip that showed ISIS snipers shooting Iraqi security forces and militia members. The video "Picking Heads" was originally released in March 2016. The clip uploaded to Facebook was slightly tinted. Fifty-one days after the clip was uploaded it had over 2,100 views.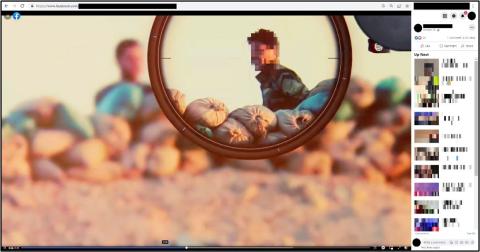 Clip from the video "Picking Heads," on Facebook, originally released in 2016. The victim's face has been blurred by the researcher. The ISIS logo in the top right of the screen has been partially obscured. Screenshot taken on December 8, 2022.
Another account, with an unlisted number of friends or followers, posted a recent announcement from ISIS's al-Furqan media wing announcing the death of the group's former leader, which had 56 views one week after it was uploaded. The same account also posted an ISIS propaganda photo, taken from footage from the terrorist group's 2015 graphic execution of a Jordanian Air Force pilot, Lt. Muath al-Kaseasbeh, by immolation.
CEP reported the 10 accounts to Facebook on December 7. Eight accounts were still on the social media site five days later.
Instructions for Making Explosives Detonators Located on JustPaste.It
On December 5, CEP researchers located a page on JustPaste.It that contained instructions for making detonators for explosive devices using Baofeng walkie talkies and commercial components. The page was published by the pro-ISIS online group al-Saqri Foundation, which publishes explosives guides and other information helpful in committing acts of terrorism. The page had received over 310 views in the five days it was online. JustPaste.It removed the page after CEP reported it.
Pro-ISIS Tech Group Warns Against Using UC Browser
On December 8, a pro-ISIS tech group Qimam Electronic Foundation (QEF), posted on the bulletin board website PasteThis.To, warning users to avoid the UC Browser. The web browser was developed by Alibaba and is primarily used on mobile devices. The QEF bulletin warned that the browser is not encrypted, has poor privacy protections, and is vulnerable to malware. QEF has previously shared information on encrypted communications and online security, has made recommendations for email services, and offered assistance in removing ransomware.
Pledges of Allegiance to New ISIS Leader Continue
Between December 5 and December 10, ISIS groups in at least seven different ISIS provinces released photo propaganda depicting pledges of allegiance to the new ISIS caliph, Abu al-Hussain al-Hussaini al-Qurashi. Seven photosets were posted on ISIS propaganda websites and pro-ISIS Telegram channels for West Africa (Central Nigeria), Pakistan, Tunisia, India, Mozambique (Cabo Delgado), Central Africa (Beni), and Lebanon. In total, at least 19 different pledges of allegiance from ISIS self-proclaimed provinces, including several from the same province, have been released. A member of a chat group in a pro-ISIS RocketChat room stated that it was important for the group's followers to spread information regarding the legitimacy of the new ISIS leader on social media.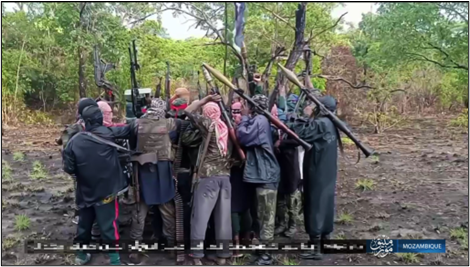 ISIS fighters allegedly in Nangade District of Cabo Delgado, Mozambique pledging allegiance to ISIS's new caliph Abu al-Hussain al-Hussaini al-Qurashi in an Amaq photoset released on December 7.
White Supremacist and Antisemitic Content Located on Instagram
In a sample of content located on December 8, CEP researchers located seven Instagram accounts that posted a variety of neo-Nazi, white supremacist, and antisemitic content. Accounts posted antisemitic videos, content promoting the white genocide conspiracy theory, a video from a neo-Nazi internet influencer, and photos and videos promoting demonstrations by the Proud Boys, Patriot Front, and the White Lives Matter movement. Two accounts either used an antisemitic or white supremacist slogan in their profile, and one account had a profile photo of an antisemitic meme. Three of the seven accounts promoted recent demonstrations of drag events and encouraged their followers to get involved. CEP reported the accounts to Instagram, who removed three accounts within three days.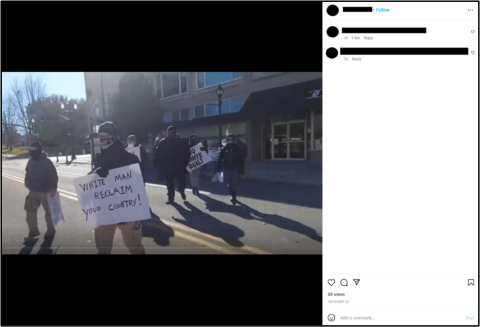 An account advertising a white supremacist group and recent activities on Instagram. Screenshot taken on December 8, 2022.
Active Club YouTube Account Located
On December 7, CEP located a YouTube account for a chapter of a Rise Above Movement-inspired active club in the Netherlands and Flanders. Active clubs are a decentralized white supremacist movement that encourages organizing based on combat sports and propaganda activities. The YouTube account uploaded four videos that showed individuals working out and practicing boxing. The page also contained a link to the group's Telegram page, where they posted contact information and links for several other white supremacist groups and propagandists. CEP reported the account to YouTube, but it was still online five days later.
White Supremacists and Neo-Nazis Celebrate Moore County, North Carolina Attack on Electric Substations
Following the December 3 attack on two power substations by unknown individuals using a "high-powered rifle" to destroy substation equipment in Moore County, North Carolina, that initially left 45,000 homes and businesses without electricity, white supremacists and neo-Nazis celebrated and encouraged additional attacks on Telegram.
A prominent Telegram channel that has been removed from the platform multiple times called the attack "a beautiful escalation." Other users posted a video containing information on which substation components to target. Users also posted information on making explosives. Telegram commenters advocated for similar future assaults and celebrated what they falsely stated was the cancelation of a drag show.
A website that has endorsed the Atomwaffen Division and its successor groups stated that the attack was justified to shut down drag shows. The site linked to an online map of U.S. electrical infrastructure. A similar map was shared on a dark web forum in December 2021 in a post encouraging the targeting of the electrical grid.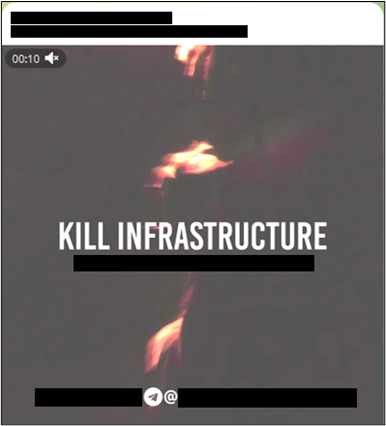 Video posted on a neo-Nazi Telegram channel encouraging attacks on infrastructure, posted on December 4.
Rinaldo Nazzaro, the founder of The Base, stated on Telegram that the attack could only be successful if an individual or group took credit. On December 7, a neo-Nazi channel dedicated to information and operations security with over 11,000 subscribers celebrated a late November attack on electrical infrastructure in Oregon that was recently made public and stated that further attacks would make people "desperate and hard to control." A member of a neo-Nazi Telegram chat hoped that other attacks on electrical infrastructure were imminent, which could allow individuals to commit crimes while surveillance systems are inoperable.
Attacking electrical infrastructure, including substations, has been strongly and frequently promoted by the neo-Nazi accelerationist movement. On June 1, 2022, neo-Nazi accelerationists released a manual that advocated for assaults on the U.S. electrical grid instead of mass shooting attacks targeting regular people, arguing that targeting infrastructure would cause more damage, eventually leading to societal collapse. The 14-page document included information on the 2013 Metcalf Sniper Attack, where unknown individuals destroyed 17 electrical transformers in California with rifles.
Additionally, a neo-Nazi accelerationist book released online in June 2021, an approximately 260-page book published online in December 2021, and a book released in July 2022 included sections devoted to advocating for attacks on electrical infrastructure to promote chaos and fear and lead to a breakdown of order and increase distrust of the government. The July book included diagrams of various electrical infrastructure systems and information on using firearms against transformers. In August 2021, members of a neo-Nazi cell were charged with "conspiracy to damage the property of an energy facility in the United States," in addition to firearms-related crimes.