For Immediate Release
Monday, July 31, 2023
(New York, N.Y.) — The Counter Extremism Project (CEP) reports weekly on the methods used by extremists to exploit the Internet and social media platforms to recruit followers and incite violence. Last week, CEP researchers identified a fundraising campaign on the e-commerce platform Gumroad to cover expenses for a website featuring a multi-part revisionist propaganda video blaming Jews for both world wars and vindicating the Third Reich, which the platform removed within one hour of reporting. On Telegram, a neo-Nazi channel celebrated a brick being thrown through the window of a North Florida Jewish center. White supremacists and neo-Nazis groups also used Telegram, 4chan and other platforms to celebrate the twelfth anniversary of the 2011 Oslo terrorist attack that left 77 dead and over 300 injured and encouraged members to engage in additional acts of "lone actor" violence.
James Mason – the author of the neo-Nazi accelerationist text, Siege – uploaded a video to a website in an attempt to clarify his view towards violence. Additionally, CEP located a neo-Nazi Telegram channel praising the use of homemade firearms by the 2019 Halle attacker and lauded his attempt to start a "revolution."
CEP researchers also identified another five profiles on TikTok spreading ISIS propaganda. The accounts used the platform to post memes, video clips and official ISIS statements, with some clips gaining tens of thousands of views.
Fundraising Campaign for Antisemitic Website Removed from Gumroad, Campaigners Encourage Leaving Positive Reviews on IMDB to Drive Traffic
On July 26, CEP researchers located a fundraising campaign on the e-commerce platform Gumroad allegedly being used to pay for services for a website that promotes an antisemitic propaganda video. The video is a multipart revisionist film that promotes antisemitic conspiracy theories and Holocaust denial, justifies the crimes of the Third Reich, and blames Jews for causing both world wars. White supremacist groups frequently spread the video to use as an introduction to antisemitism. The website that promotes the video contains language denying the severity of the Holocaust, calling Jews "the world parasite," and includes links to contact information for several white supremacist and neo-Nazi groups in Europe, Australia, and North America.
Gumroad removed the fundraising campaign approximately one hour after CEP reported it for violating its Terms of Service.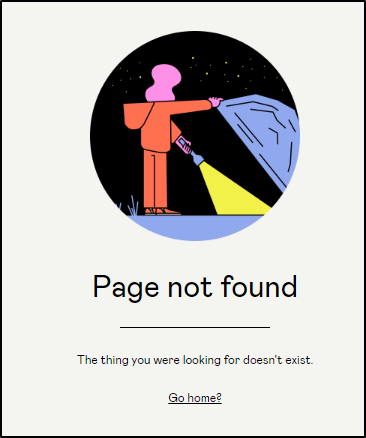 Removed page on Gumroad. Screenshot taken on July 27, 2023.
The campaign on Gumroad had 10 monthly subscribers when it was removed. The fundraiser admin said they hoped to have a minimum of 30 funders to pay for expected website traffic costs.
A Telegram account with over 5,000 subscribers promoting the video also requested that followers leave positive reviews on IMDB to help drive views. The video has 7.2 stars (out of 10), with over 1,700 reviews. A Twitter account recently posted a clip promoting the full antisemitic video with almost 900,000 views less than two weeks later.
Neo-Nazi Telegram Channel Celebrates Antisemitic Vandalism
On July 25, a Telegram channel affiliated with a neo-Nazi group celebrated a brick being thrown through the window of a North Florida Jewish center the previous day. Photos of graffiti posted on the Telegram channel are similar to writing on the thrown projectile. The channel did not officially claim credit for the act of vandalism. The channel references various white supremacist entities, including the active club and white lives matter movements.
White Supremacists and Neo-Nazis Celebrate Anniversary of Oslo Terrorist Attack
Between July 22 and July 24, white supremacists and neo-Nazis celebrated the twelfth anniversary of the 2011 Oslo terrorist attacks on Telegram, 4chan, and an imageboard on the dark web. The perpetrator of the July 22 terrorist attack detonated an explosive device in the government district of Oslo, killing eight people before murdering 69 others on the island of Utøya. Over 300 people were also injured in the attack.
Online members of the extreme right posted memes and praised the attacker, advocating reading and sharing his manifesto and calling for additional acts of lone actor violence. A Telegram channel connected to a website that promotes the work of James Mason and Atomwaffen Division successor group glorified the attacker on the anniversary. Five days earlier, the same channel praised the perpetrator of the El Paso shooting.
James Mason Defends Views In Video, Subtly Advocates Violence
In a video posted on an open-source platform, the neo-Nazi ideologue James Mason addressed criticism from the "internal enemy" in the extreme right that he is against accelerationism. Praising Joseph Tommasi and the domestic terrorist organization The Order, Mason repeated previous arguments that he does not advocate illegal acts but that if an individual were to commit a violent crime and risk prison or death that, "You might as well go all the way with it." Mason's book Siege advocates violence and has been required reading for several accelerationist groups, including the Atomwaffen Division and The Base. Even though Mason split with a larger group of his adherents in October 2022, his recent work is still promoted by a breakaway group on their website.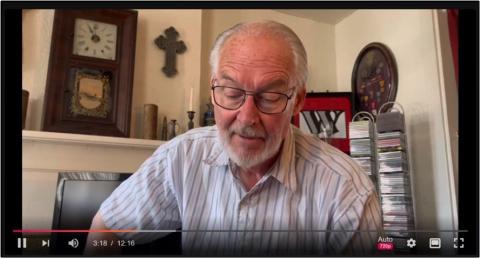 James Mason Video. Screenshot taken on July 27.
Neo-Nazi Telegram Channel Praises 2019 Halle Attack for Use of Homemade Firearms
On July 26, a neo-Nazi Telegram channel praised the October 9, 2019, Halle attacker, noting that he tried to start a "revolution" and proved that attacks with homemade firearms were possible.
CEP has found multiple examples of online members of the extreme right promoting 3D-printed firearms or homemade weapons on Telegram, the surface web, and imageboards on the dark web.
Pro-ISIS Content Located on TikTok
In a sample of accounts located on July 27, CEP researchers found five profiles on TikTok that posted ISIS or pro-ISIS propaganda. Two of the accounts shared a URL for an ISIS propaganda website. Accounts additionally posted clips from ISIS propaganda videos, pro-ISIS video clips, memes, and ISIS official audio statements. One account posted a clip advertising an ISIS video the same day it was released on June 25. The clip had over 33,000 views on TikTok approximately a month later. A different clip taken from an ISIS propaganda video that used emojis to cover part of the screen had over 100,000 views a month after it was posted.
CEP reported all accounts to TikTok on July 27, they were still on the site on July 31.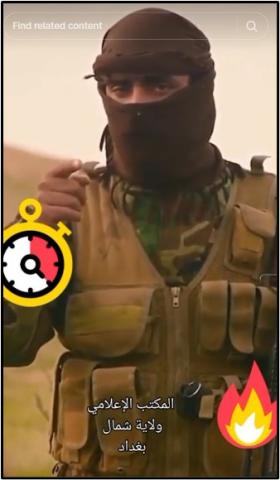 Clip with over 100,000 views from ISIS video located on TikTok. The video was originally released in May, 2018. Screenshot taken on July 27, 2023.