For Immediate Release
Tuesday, August 13, 2019
Christchurch Shooter Manifesto Lives on Epik; 8chan Replicated On Peer-To-Peer Network
(New York, N.Y.) – The Counter Extremism Project (CEP) reports weekly on the methods used by extremists to exploit the Internet and social media platforms to recruit followers and incite violence. Although Cloudflare has ceased providing services 8chan, which hosted alleged El Paso attacker Patrick Crusius' manifesto online, it continues to provide services to a pro-ISIS propaganda repository. In addition, Epik – which like Cloudfare has ceased to provide services to 8chan – has not taken offline content related to the Christchurch shooter's manifesto and others. Lastly, 8chan was replicated on the peer-to-peer network ZeroNet and ISIS released a new video on multiple websites.
"After alleged El Paso attacker Patrick Crusius' manifesto appeared on 8chan, Cloudflare once again came under fire for its inability to consistently and transparently enforce its own policies on extremist content, and for their continued provision of services to websites that promote violent extremism," said CEP researcher Joshua Fisher-Birch. "CEP previously identified that Cloudflare was providing services to Siege Culture, a website that promotes a violent neo-Nazi movement. In addition to white supremacist content, for at least two years, Cloudflare has also given support to a pro-ISIS website that serves as a repository for violent propaganda for the terror group. Cloudflare needs to make just one decision: will they or will they not tolerate continuing to provide services to websites that espouse extremism and terrorism?"
Cloudflare Continues To Provide Services To Pro-ISIS Propaganda Website
A pro-ISIS website that serves as a library for violent propaganda videos, images, and news updates is still online and using Cloudflare anti-DDoS protection. The site, which has thousands of pieces of propaganda on it, has existed for several years using different domain names, including on the dark web. Cloudflare has provided support to various incarnations of the website for at least two years. CEP researchers have located approximately 10 different domain names used by the site.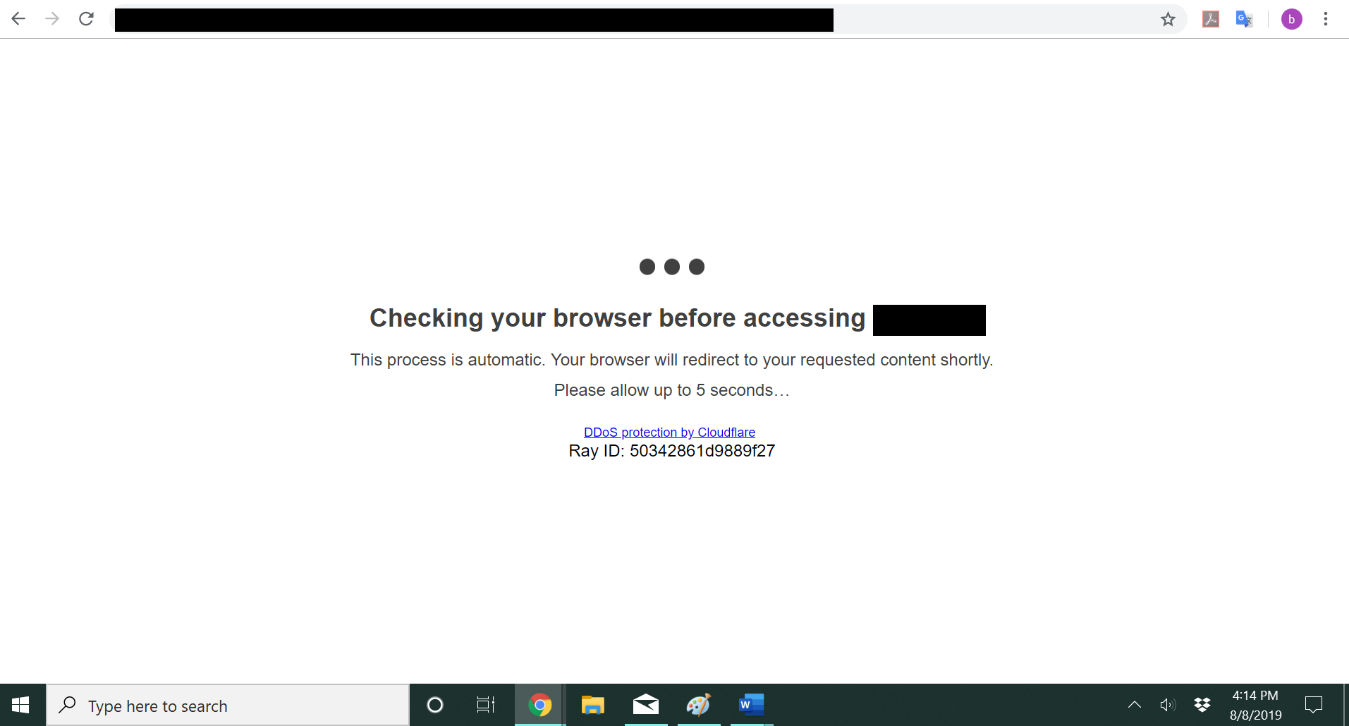 Cloudflare anti-DDoS protection provided to ISIS propaganda library. August 8, 2019
8chan Website Offline
On August 5, 8chan went offline following Cloudflare and Tucows ceasing their provision of services to 8chan, due to concerns following the El Paso terrorist attack. 8chan switched companies to Epik and its partner, BitMitigate. However, Epik's websites were inaccessible when Voxility, a web infrastructure company that rented servers to Epik, canceled their agreement with Epik due to concerns relating to safety and hate speech. Epik then proceeded to deny services to 8chan, stating that it was "largely due to the concern of inadequate enforcement [on 8chan] and the elevated possibility of violent radicalization on the platform."
Epik provides services for other websites linked to violent radicalization, including a website dedicated to spreading the alleged Christchurch shooter's manifesto and terror video, and Gab, a social media platform used by the Pittsburgh synagogue shooter and a site where groups and individuals have called for violence against the government, Jews, immigrants, people of color, and LGBT people.
Alleged El Paso Shooter's Manifesto Available On Numerous Websites, Including Conservative And Liberal Political Websites
The manifesto tied to the alleged perpetrator of the El Paso terrorist attack, Patrick Crusius, is available on several websites. Crusius is accused of killing 22 and wounding 24 in an armed attack targeting immigrants and Latinos. The manifesto was reportedly originally posted to 8chan approximately 20 minutes before the attack. Five days after the attack, the manifesto was available on Pastebin, 4chan, a meme aggregator website, a conservative news aggregator website, a progressive political website, the neo-Nazi website the Daily Stormer and the Internet Archive.
Copycat 8chan Site Created On ZeroNet
Following 8chan becoming inaccessible, an unofficial version of the site (known as 08chan) was created on ZeroNet, a decentralized peer-to-peer network. ZeroNet stores data on users' computers, and then shares that information to create an unremovable network. Since 08chan is unofficial, 8chan administrators have claimed on their Twitter account that they did not create it and do not know the identities of the creators. The number of 08chan users is unclear; a post announcing the site's creation on August 5 had more than 200 replies two days later. Posts on 08chan have celebrated the El Paso terrorist attack and have urged additional violence, including similar attacks on public places.
New ISIS Video Released On Multiple Websites
On Friday, August 9, ISIS released a new video allegedly from Bangladesh, as part of the "The Best Outcome is for the Pious" series. The video, which features four men, calls for attacks against the Bangladeshi government, police, Hindus and Buddhists. The video includes footage taken from previously released ISIS videos.
The video was released on at least 26 websites, in addition to Telegram: Mediafire, the Microsoft One Drive, Top4top, the Internet Archive, mail.ru, file.fm, mega.nz, megaup.net, pc.cd, Sendvid, Streamable, transfer.sh, tune.pk, Dropbox, ok.ru, Vidio, Myspace, Zupload, Openload, Solidfiles, Letsupload.co, racaty, ddl.to, Turbobit, Tusfiles.com and 1fichier.com. Approximately three days later, the video was still available on 20 websites: Mediafire, Top4top, the Internet Archive, file.fm, mega.nz, pc.cd, Streamable, transfer.sh, tune.pk, ok.ru, Myspace, Zupload, Openload, Solidfiles, Letsupload.co, racaty, ddl.to, Turbobit, Tusfiles.com and 1fichier.com.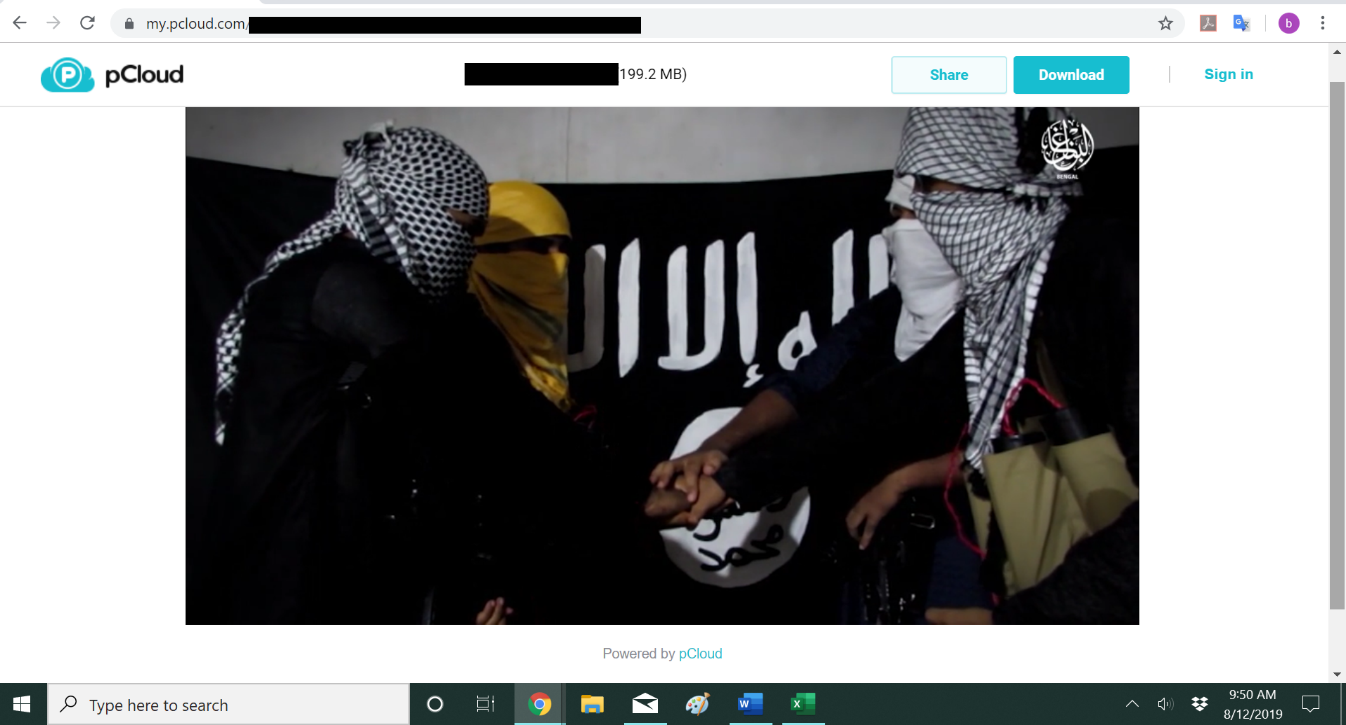 "The Best Outcome is for the Pious" from ISIS's self-proclaimed province in Bangladesh, on pc.cd/pcloud, approximately three days after it was uploaded.