For Immediate Release
Monday, October 4, 2021
(New York, N.Y.) — The Counter Extremism Project (CEP) reports weekly on the methods used by extremists to exploit the Internet and social media platforms to recruit followers and incite violence. On Facebook, numerous pieces of pro-ISIS propaganda were found on various accounts and pages. Some of these have been up for months and accumulated hundreds of likes. Extreme-right and white supremacist content espousing racist and antisemitic ideologies was also located on Instagram.
CEP found additional ISIS propaganda on the dark web and an ISIS Amaq video which was released on multiple websites. A video on TikTok was identified which used an honorific to refer to the Christchurch terrorist and received about 600 views. CEP located numerous posts by white supremacist and neo-Nazi Telegram accounts glorifying the Poway synagogue shooter and encouraging future violence.
Pro-ISIS Propaganda Located on Facebook
The week of September 26 to October 2, CEP researchers found multiple pieces of pro-ISIS propaganda on Facebook. CEP found five accounts or pages, including a page for ISIS's audio nasheed propaganda group, Ajnad Media Foundation, which had over 750 likes on September 30. The page was created on June 3, 2021, and the most recent post was on September 18. Posts included ISIS nasheeds and links to content on other websites.
An account was also located that had posted four ISIS propaganda clips taken from official videos, including scenes containing the use of suicide vehicle-borne improvised explosive devices. Posts were made between September 26 and September 28 and had an average of 96 likes/reactions each.
CEP also located an account that posted ISIS Al Bayan radio statements starting in late September 2021, and two accounts that began posting clips taken from official ISIS propaganda videos on August 30 and September 4, respectively. Video clips included content that had ISIS logos covered up as well as footage containing ISIS official logos.
Out of the 15 accounts or pieces of content that CEP reported to Facebook, 11 were still online three days later.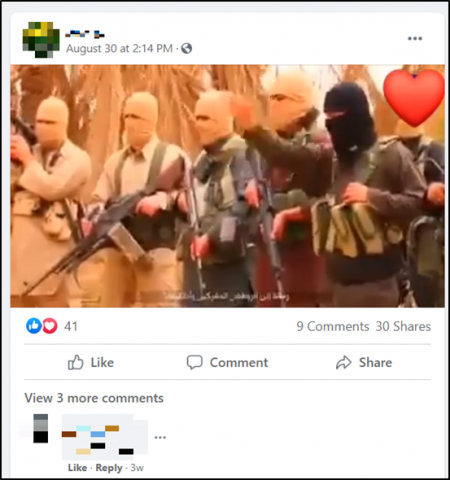 Clip from an ISIS propaganda video on Facebook. Screenshot taken on September 30, 2021.
Extreme-Right and White Supremacist Content Located on Instagram
CEP researchers found multiple instances of extreme-right and white supremacist content on Instagram the week of September 26 to October 2. Three accounts posted various neo-Nazi-themed photos, including SS deaths head symbols, and photos that promoted racism and antisemitism. CEP also located an account claiming to be a Brazilian group inspired by the Atomwaffen Division (AWD) that used a still image taken from an AWD video as its profile photo. A profile was also located with over 300 followers that posted Instagram stories glorifying the Christchurch terrorist and containing footage from AWD videos and pictures taken from videogames modded to have neo-Nazi characters and symbols.
An Instagram account with over 200 followers was found that used a modified photo of the Christchurch terrorist as its profile photo. An account with approximately 300 followers posted a song praising the Christchurch terrorist and a compilation video that contained footage from various propaganda productions made by the Atomwaffen Division, The Base, and other neo-Nazi groups and individuals. The same video was also posted by a different account, where it had almost 200 views after being online for five days.
Finally, an account was located that claimed to be recruiting for a small, AWD-inspired group. The profile contained an anti-immigrant slogan and a link to the group's Telegram page. CEP also located an Instagram account with over 1,000 followers that claimed to belong to a European Identitarian group. The profile posted anti-Muslim and anti-immigration content.
Six of the seven accounts or pieces of content reported to Instagram by CEP were still online three days later. One account switched their privacy settings, which meant that CEP was unable to confirm whether or not content had been removed.
ISIS Propaganda Site Located on the Dark Web
CEP researchers located an ISIS propaganda site on the dark web. The site is identical to a known ISIS propaganda website on the surface web on the .link domain. Both sites contain ISIS's weekly Al-Naba newsletters, links to ISIS propaganda on other websites, and links to other explicit pro-ISIS websites. The site claimed that it was last updated on September 25, 2021. The version of the website on the surface web uses Tucows as its registrar and Cloudflare as its nameserver.
ISIS Amaq Video Located on Multiple Websites
On September 28, ISIS-affiliated Amaq News released a video allegedly showing the use of a mortar against the town of Komanda in Eastern Congo. ISIS-affiliated Allied Democratic Forces have attacked villages and a military camp in the province of Ituri. Links to the video were spread on Element, and the video was posted on Telegram, Hoop, and Element. Links to the video were posted on at least 14 websites. Approximately 48 hours later, the video was still available on five websites: the Internet Archive, Jwp.Io, Siasky.Net, Transfer.Sh, and Uqload.Com. 
TikTok Video Glorifying Christchurch Terrorist Located
CEP researchers found a video on TikTok that used an honorific to refer to the Christchurch terrorist. The video also contained a white supremacist symbol used by the gunman. The video was uploaded on September 28 and was viewed approximately 600 times within three days.
White Supremacist and Neo-Nazi Telegram Channels Glorify Poway Synagogue Shooter Around Sentencing
Following the sentencing of the Poway synagogue shooter on September 30, at least 17 white supremacist or neo-Nazi Telegram channels posted content glorifying the gunman and encouraging additional violence. The attacker was sentenced to life in prison without the possibility of parole for the 2019 assault, where one person was murdered, and three were injured. The gunman is also awaiting sentencing for an arson attack on a mosque in Escondido. The gunman had previously pleaded guilty to 113 counts, including murder, attempted murder, and multiple hate crimes.