For Immediate Release
Monday, October 7, 2019
Abu Bakr al-Baghdadi Speech Reappears Across Internet; ISIS Requests Photos for Propaganda Purposes​
(New York, N.Y.) - The Counter Extremism Project (CEP) reports weekly on the methods used by extremists to exploit the Internet and social media platforms to recruit followers and incite violence. This week's edition finds that the neo-Nazi group Atomwaffen Division has released a new video and created a website on the dark web. Further, a Siege-inspired neo-Nazi group posted photos and video of a poster campaign in Philadelphia. Lastly, video and text of a recent Abu Bakr al-Baghdadi speech was located on several websites and a pro-ISIS Telegram channel requested location photos for propaganda purposes.
Atomwaffen Division Releases New Video, Creates Website on the Dark Web
The neo-Nazi group Atomwaffen Division released a video on September 30, in which the group stated their intentions to find ways to finance their activities and declared that they will carry out unspecified acts before they can be arrested. A masked speaker in the video identifies the present as marked by "tension and violence," which is the environment that violent accelerationist groups seek to exploit. The video also features notorious neo-Nazi James Mason, who wears an Atomwaffen Division patch, and endorses the group's recruitment drive.
"James Mason's presence in and endorsement of an Atomwaffen Division video is significant as it signals the importance of the neo-Nazi group among others influenced by Mason's book Siege and is yet another contradiction to his alleged disavowal of violence," said CEP Researcher Joshua Fisher-Birch. "Despite the Atomwaffen Division's ties to violence this content was allowed to be uploaded to YouTube and was not removed even after it was reported. It serves as yet another example of the platform's inconsistent enforcement of its policies, as YouTube has in the past removed Atomwaffen Division videos."
The video was posted on the group's new website on the dark web. In addition to a small ideology section, the website includes propaganda posters and videos. The website also features a recruitment section with a questionnaire that asks about the potential recruit's race, ideology, and military training. The video was also located on Streamable, and a shorter version of the video was located on YouTube. The YouTube version of the video was posed on September 30, and had more than 280 views on October 7.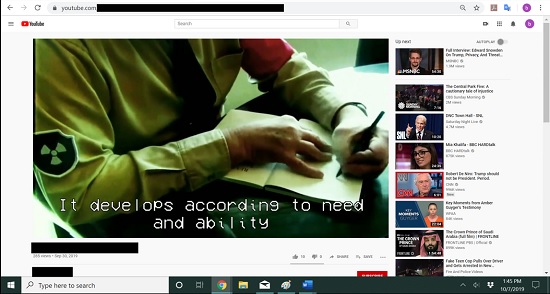 Section of the Atomwaffen Division video on YouTube, October 7, 2019.
Siege Inspired Neo-Nazi Group Posts Photos and Video of Poster Campaign in Philadelphia
A neo-Nazi group with members in Europe and the U.S., and is inspired by the book Siege, posted photos and a video on their Telegram channel showing a supporter posting the group's posters in Philadelphia. Photos of the poster campaign were posted from September 30 to October 3. The video was additionally posted on the BitChute platform on October 1. The posters include a recruiting email for the group on the website Tutanota. The posters include calls to commit acts of violence, and portrays racist and anti-Semitic themes. The posters were put up on various buildings, signs, mailboxes, in commuter rail stations, near a mosque and Buddhist temple, in the vicinity of a school, and on Philadelphia Police Department vehicles.
Video and Text of Recent Abu Bakr al-Baghdadi Speech located on Several Websites
Video featuring a static background or the text of ISIS leader Abu Bakr al-Baghdadi's September 16 speech was uploaded to several different sites this week. Titled "And Say, Act," Baghdadi urged his supporters to be patient and stated the importance of educating fellow Muslims about the self-proclaimed caliphate, allowing the group to grow, maintaining piety, and asking that fighters be just in their dealings with Muslims. Baghdadi also called for ISIS fighters to free men, women, and children in prisons and refugee camps, and to attack individuals who run those facilities.
Text versions of the speech in Bengali and Arabic were uploaded to at least 11 websites in addition to Telegram: Mediafire, Anonfile, Anonymousfiles.io, mail.ru, Google Drive, file.io, mega.nz, transfer.sh, top4top, pdf-archive.com, and x0.at. Approximately six days after they were uploaded, the text version of the speech was still available on eight websites: Mediafire, Anonfile, Anonymousfiles.io, mail.ru, mega.nz, transfer.sh, pdf-archive.com, and xo.at. Video of the speech, consisting of audio with a static background, was uploaded to at least five websites in addition to Telegram on September 30: ok.ru, mail.ru, pCloud.com, mega.nz, and Mediafire. Three days later, the video was still available on all five websites.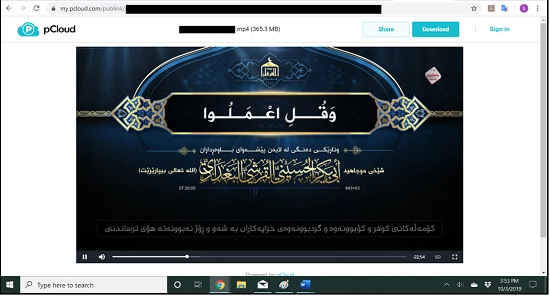 "And Say, Act" on pCloud, three days after it was uploaded. October 3, 2019.
Pro-ISIS Telegram Channel Requests Location Photos for Propaganda
On October 2, a pro-ISIS Telegram channel that specifically attempts to appeal to those in the West and encourages terrorist attacks, requested that users send photographs of "cities and vacation areas in dar al kuffar (land of the disbelievers)," especially original photos. The channel administrators intend to use the photographs in future propaganda efforts. The channel has previously posted unique photos including locations in the U.S. and Europe, threatening attacks and insinuating that there are ISIS supporters in these areas.