For Immediate Release
Tuesday, October 1, 2019
ISIS Uploads to RocketChat; Releases Another Video in "The Best Outcome is for the Pious" Series
(New York, N.Y.) – The Counter Extremism Project (CEP) reports weekly on the methods used by extremists to exploit the Internet and social media platforms to recruit followers and incite violence. Last week, neo-Nazi James Mason spoke out against mass shootings in a podcast, but his remarks contradict his prior statements promoting violence, such as those included in a video released on YouTube and a white supremacist Telegram channel. Additionally, a pro-ISIS RocketChat chatroom copied a Telegram channel in an attempt to inspire attacks in the West and a pro-ISIS video was released on several platforms.
"Regardless of what Mason stated in a podcast about his previous calls for violence, it cannot undo the real-life effect his rhetoric and manifesto has had for approximately three decades," said CEP researcher Joshua Fisher-Birch. "CEP has previously documented Siege's ties to 32 total extremist entities, which includes four extremist individuals who were involved in threats or acts of terrorism, and nearly a dozen extremist organizations that promote violence and racism. Even if Mason publicly tones down his rhetoric, genuinely or not, he has a legacy of decades of encouraging violence and terrorism."
Neo-Nazi James Mason Speaks Out Against Mass Shootings in Recent Podcast
In a podcast uploaded to the Siege Culture website on September 21, neo-Nazi James Mason walked back his previous support for violence, stating that he has never "urged or advised" any individual to commit an illegal act. Downplaying his previous rhetoric, Mason claimed that violence in modern society is caused by alienation and a rejection of religion, and stated that if white nationalists "had our way in the beginning," the current situation would not be so dire.
Mason has ideological and personal ties to the Atomwaffen Division and is the author of Siege, which calls for violence against the government and racial and religious minorities. Siege is a critical text for several extremist groups including the Atomwaffen Division and The Base. The Siege Culture website uses Epik as its name server.
Video on White Supremacist Telegram Channels Invokes James Mason, Promotes Violence
A video originally posted on several white supremacist Telegram channels on July 3, featuring James Mason and calling for violence, was reposted on September 25 on the Telegram channel belonging to a white supremacist group that endorses terrorism. The same video was also located on YouTube, having been uploaded on August 11. The video on YouTube had 139 views on October 1. The video includes footage and quotes from James Mason in an interview for an MSNBC program in which he states that he does not condemn acts of violence, and that violence should be "worthwhile". Mason also stated that more counter-protesters in Charlottesville should have been killed.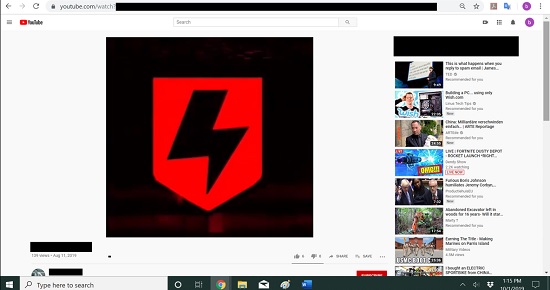 The James Mason propaganda video on YouTube on October 1, over seven weeks after it was uploaded.
Pro-ISIS RocketChat Room Copies Telegram Channel in Attempt to Inspire Attacks in the West
A pro-ISIS chatroom on the RocketChat platform, which is a copy of a Telegram channel that seeks to inspire attacks in the West, was located last week. The chatroom was created on September 14, 2019. It contains clips taken from ISIS videos, including one showing a child beheading a prisoner, and others encouraging terrorist attacks. The RocketChat room also contains information on committing attacks with knives, and urges acts of revenge for the imprisonment of women and children in the al-Hawl camp in Syria.
New Pro-ISIS Video Released on Several Platforms
On September 21, 2019, the pro-ISIS Son of Baghdad media group released a video with the same name as the summer ISIS video series "The Best Outcome is for the Pious". The video encourages steadfastness and the continuation of attacks by the terror group, and uses previously released footage from official ISIS videos filmed in Iraq and Syria.
In addition to Telegram, the video was released on at least 11 websites: ownCloud, the Internet Archive, ok.ru, Tune.pk, file.fm, Vidio, Google Photos, Google Drive, mail.ru, Streamable, and Top4top. Five days later, the video was still available on at least four websites in addition to Telegram: ownCloud, the Internet Archive, file.fm, and Streamable.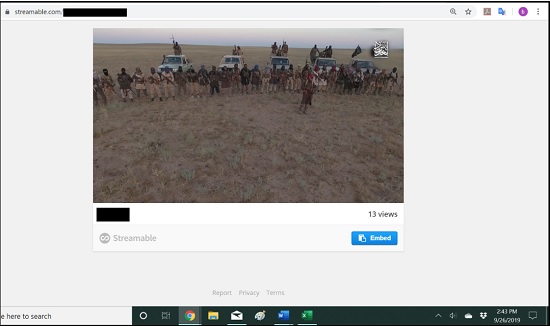 Son of Baghdad's video "The Best Outcome is for the Pious" on Streamable. September 26, 2019.