For Immediate Release
Monday, November 20, 2023
(New York, N.Y.) — The Counter Extremism Project (CEP) reports weekly on the methods used by extremists to exploit the Internet and social media platforms to recruit followers and incite violence. On November 15, CEP researchers located 22 TikTok accounts supporting groups, including Active Clubs, Vanguard Brittanica, an Atomwaffen Division-inspired group, and others on the extreme right. CEP researchers also located a YouTube channel promoting the 2019 Halle synagogue attacker and ten Instagram accounts sharing content from Patriot Front, neo-Nazi groups, and footage from the Christchurch attack. Both mainstream and alternative social media accounts were found promoting a small November 18 neo-Nazi rally by the group Blood Tribe in Madison, Wisconsin.
On Telegram, a short message from the pro-ISIS Tala'a al-Ansar Foundation condemned the Egyptian president and Saudi Crown Prince for using the Palestinians as 'pawns' and refusing to provide support for those in Gaza. CEP researchers also located two bomb-making clips and two clips from the Halle synagogue shooting on Twitter/X with hundreds of views across each video. Finally, the pro-al-Qaeda online group Jaysh al-Malahem released a statement praising attacks on Montreal Jewish institutions.
Active Club Accounts, Extreme Right Profiles Located on TikTok
On November 15, CEP researchers found 22 TikTok accounts promoting Active Clubs and other extreme right groups. Nineteen accounts belonged to Active Club chapters or posted Active Club propaganda. Nine profiles were affiliated with Swedish branches, two had French Active Club posts, and two posted general pro-Active Club content, with the remaining six accounts belonging to group chapters in Belgium, the Netherlands, Ireland, Canada, Latvia, and Utah. Several accounts made posts that received tens of thousands of views, including one post in June from a Swedish Active Club account that had over 243,000 views. Another Swedish Active Club affiliated account posted a video on October 17, which received almost 30,000 views that encouraged joining the group following the October 16 Brussels shooting, using an anti-Muslim meme and urging people to "fight for Sweden."
CEP additionally located a TikTok account for the British fascist group Vanguard Brittanica, which had 4,280 followers and, in addition to multiple videos, promoted the group's Telegram channel, Active Clubs, and included propaganda photos of mixed martial arts training. A video posted by the account had over 108,00 views when it was located.
The remaining two TikTok accounts were for an Atomwaffen Division-inspired group and an account specifically promoting antisemitism.
The 22 accounts averaged 623 followers, ranging from 4 to 4,280. CEP reported the accounts to TikTok on November 15. One account was removed by November 20.
"Extreme right groups are using TikTok to spread propaganda encouraging violence and promoting recruitment. Propaganda videos and recruitment information posted by known and easily identifiable extreme right groups, especially on a social media platform popular with youth and designed to share content quickly, should be removed immediately," CEP researcher Joshua Fisher-Birch said. "It is imperative for tech companies to enforce their content guidelines and prevent the rapid spread of extremist propaganda."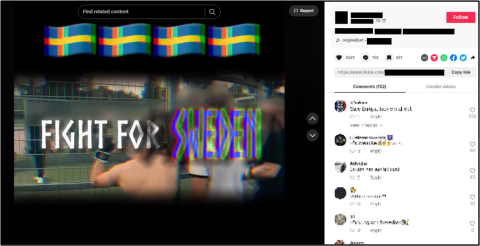 A TikTok video posted by an account that endorsed a Swedish chapter of the neo-Nazi Active Club. The video, which urged joining the group to "fight for Sweden" following the October 16 Brussels shooting, had over 30,000 views when it was located. Screenshot taken on November 15.
YouTube Account Promoting Halle Attacker Located
On November 15, CEP researchers located a YouTube account that promoted the Atomwaffen Division (AWD) and the Halle synagogue attacker. The profile did not have any public video uploads. The banner photo endorsed AWD, and the "about" section contained a quote from the Halle attacker said during his video, including a statement supporting Holocaust denial and antisemitism. CEP reported the account to YouTube on November 15, but it was still online on November 20.
Neo-Nazi Group Blood Tribe Celebrates Madison, Wisconsin Rally
The neo-Nazi group Blood Tribe released several short propaganda videos on Telegram, Odysee, and newly created Gab and Twitter accounts celebrating a November 18 rally in Madison, Wisconsin. Footage showed approximately 20 people marching around the Wisconsin Capitol and other areas, screaming white supremacist and anti-Israel slogans and yelling racial slurs. The Madison rally was smaller than a September rally in Florida, which included over 50 members of both Blood Tribe and the antisemitic group Goyim Defense League.
The group had previously announced that a November rally would take place in the upper Midwest.
CEP reported a Blood Tribe-affiliated Twitter account to the social media platform on November 20.
Patriot Front and Active Club Propaganda, Clips from Christchurch Attack Found on Instagram
In a sample of content located on Instagram on November 14, CEP researchers found ten extreme right accounts that posted content endorsing Patriot Front, neo-Nazism, and two accounts that posted videos containing clips taken from the Christchurch attack video. Five accounts posted propaganda photos and videos from the group Patriot Front, including a video and photos that showed a Patriot Front flag at the recent November 11 Polish Independence Day March in Warsaw. The accounts also posted videos of previous Patriot Front demonstrations and a recruitment call for the group, advertising their website. An additional profile for the Polish Active Club chapter also posted photos from the march. One video, with 42 likes, contained a clip from the Christchurch attack within a compilation of Atomwaffen Division propaganda, while the other video, with 14 likes, paired the attack video with historical Nazi footage from World War II.
The ten accounts had an average of 118 followers, ranging from two to 293. CEP reported eight accounts to Instagram on November 14 and flagged two to relevant national authorities. Seven of the eight accounts reported to Instagram were still on the platform on November 20.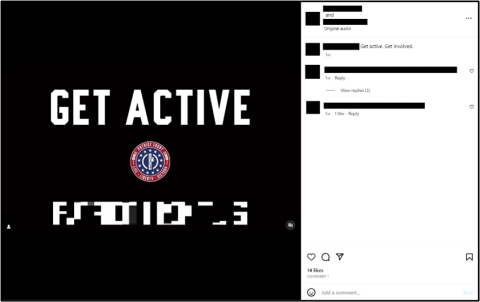 Patriot Front recruitment video on Instagram. Screenshot taken on November 14.
Pro-ISIS Propaganda Groups Criticize Middle Eastern Leaders for Not Helping Gaza
On Telegram on November 12 and November 15, pro-ISIS propaganda groups criticized Middle Eastern leaders for not doing more to help Palestinians in Gaza. A short message from the Tala'a al-Ansar Foundation criticized Egyptian President Abdel Fattah El-Sisi and Saudi Crown Prince Mohammed bin Salman for viewing Palestinians as pawns to be traded. The statement asked how anyone could expect "victory" from either leader. On November 15, a message from al-Battar Media stated that helplessness towards the situation in Gaza was a choice and that Middle Eastern rulers cared more about nationalism than helping the Palestinians. The post said that Israel had tasked Sisi with fighting ISIS in Sinai and that he would not do anything to assist Palestinians in Gaza, including forbidding the passage of aid supplies.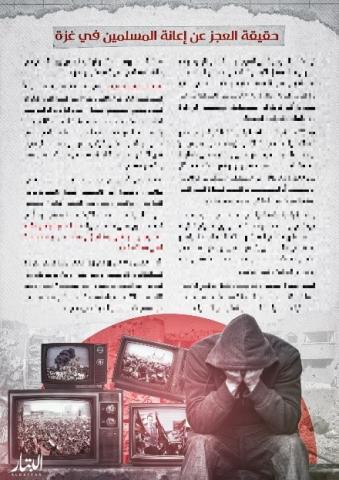 Pro-ISIS al-Battar Media post. Screenshot taken on November 15, 2023.
Clips from ISIS Bomb-Making Video, Footage Glorifying Halle Attacker Located on Twitter/X
On November 15, CEP researchers found two clips from a notorious ISIS bomb-making video and three posts glorifying the Halle synagogue attacker on Twitter/X. The two bomb-making video clips were posted by X users who endorsed the extreme right and appeared to be posted for trolling purposes. The clips were uploaded on October 26 and October 28, and had 682 and 105 views, respectively. Two other X accounts posted a four-second and 16-second video clip taken from the October 9, 2019, Halle synagogue shooting video, and an additional user posted a video glorifying the gunman, who was sentenced to life in prison for killing a bystander and a man at a kebab restaurant as well as injuring two others. The four-second video had over 3,900 views, the 16-second video had over 800, and the footage glorifying the attacker had over 400 views. CEP reported all accounts to X on November 15, only one account was suspended by November 20.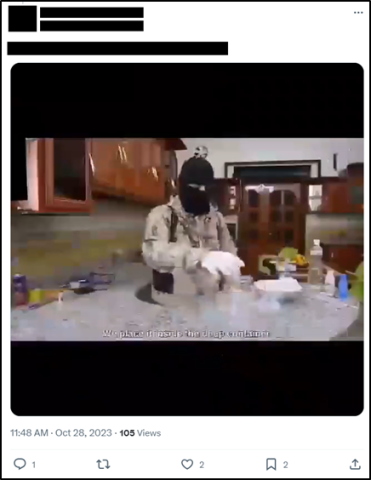 Clip from ISIS bomb-making video on Twitter/X. Screenshot taken on November 16.
Online Pro-Al Qaeda Group Commends Attack on Montreal Jewish Institution, Encourages Additional Violence
On November 16, the pro-al-Qaeda online group Jaysh al-Malahem released a three-page statement praising recent attacks on two Jewish schools and a synagogue in Montreal. The online group advocated for additional acts of violence to punish the West for supporting Israel and to "avenge" the loss of life in Gaza. The post noted that future acts of violence would be conducted by lone actors and not necessarily members of organizations. The statement also noted that the Charlie Hebdo attack occurred years after the magazine "insulted our sanctities," noting that attacks could be carried out far into the future.
No arrests had been made concerning the Jewish school or synagogue attacks by November 20. There is no evidence linking pro-al-Qaeda groups to the attacks.
On October 22, Jaysh al-Malahem claimed responsibility for bomb threats at French airports and additional threats against Jewish institutions in Europe.