Menu
Sign up for
Eye on Extremism
Start your day informed. News on extremism and counter extremism from respected news-sources around the world, delivered to your inbox Monday through Friday.
×
Muslim Brotherhood in the Palestinian Territories
Year of Origin:

1960s

Place(s) of Operation:

Gaza Strip, West Bank, Egypt, Qatar, Turkey
Palestinian Territories

The Muslim Brotherhood's presence in the Palestinian territories dates back to the 1960s, when the group established a set of charities in the West Bank and Gaza Strip. From the 1960s to the 1980s, the Brotherhood continued to amass support within the Palestinian territories. In 1987, a group of Brotherhood activists established a formal Palestinian branch of the Brotherhood, Hamas.Jonathan Masters, "Hamas," Council on Foreign Relations, November 27, 2012, http://www.cfr.org/israel/hamas/p8968. Hamas maintains that it operates independently of the Brotherhood,Selin Nasi, "The Muslim Brotherhood bears the cost of reset in Mideast," Hurriyet Daily News, May 6, 2016, http://www.hurriyetdailynews.com/the-muslim-brotherhood-bears-the-cost-of-reset-in-mideast-.aspx?pageID=449&nID=98804&NewsCatID=570. publicly disavowing the Brotherhood in March 2016.Jack Khoury, "Hamas Denies Links With Muslim Brotherhood in Egypt and Elsewhere," Haaretz, March 23, 2016, http://www.haaretz.com/middle-east-news/.premium-1.710423. Nevertheless, Hamas and the Brotherhood have cooperated in recent years, particularly during the Egyptian Brotherhood's year in power. Further, Hamas continues to label itself in its charter as "one of the wings of the Moslem Brotherhood in Palestine." According to the charter, the Brotherhood is "a universal organization…. The largest Islamic Movement in modern times.""The Covenant of the Islamic Resistance Movement," Avalon Project, Yale Law School, August 18, 1988, http://avalon.law.yale.edu/20th_century/hamas.asp. On May 1, 2017, Hamas convened a press conference in Qatar to unveil a new policy document, the first since the release of its organizational charter in 1988. However, the revised document does not replace the original 1988 charter, which remains in effect with its linkage to the Brotherhood."New Hamas policy document 'aims to soften image,'" BBC News, May 1, 2017, http://www.bbc.com/news/world-middle-east-39744551. Moreover, the new language has no bearing on Hamas's commitment to violent "armed resistance" against Israel, and the "liberation" of all of Palestine "from the river to the sea.""A Document of General Principles & Policies," Hamas Media Office, accessed May 2, 2017, http://hamas.ps/ar/uploads/documents/06c77206ce934064ab5a901fa8bfef44.pdf.
Hamas is responsible for hundreds of terrorist attacks against Israel, and is designated as a terrorist organization by the United States"Foreign Terrorist Organizations," U.S. Department of State, May 8, 2009, http://www.state.gov/j/ct/rls/other/des/123085.htm. and the European Union,"EU Blacklists Hamas Political Wing," BBC News, September 11, 2003, http://news.bbc.co.uk/2/hi/middle_east/3100518.stm. among other governments and organizations. In 2006, Hamas won Palestinian parliamentary elections in the West Bank and Gaza, to which the so-called quartet of Middle East peacemakers—the United States, European Union, United Nations, and Russia—responded by demanding that Hamas renounce violence, formally recognize the State of Israel, and abide by past agreements between Israel and the Palestine Liberation Organization in order to receive international recognition."Quartet: Hamas Must Change Policy," CNN, January 31, 2006, http://www.cnn.com/2006/WORLD/meast/01/30/hamas.funding/. Hamas has refused to comply and ousted its political opponent, Fatah, from Gaza the following year.Conal Urquart, Ian Black, and Mark Tran, "Hamas Takes Control of Gaza," Guardian (London), June 15, 2007, http://www.theguardian.com/world/2007/jun/15/israel4. Hamas has since run the coastal enclave separately from the Fatah-led Palestinian Authority, which maintains control over the West Bank.Rasha Abou Jalal, "Why does Hamas, Fatah reconciliation keep failing?," Al-Monitor, March 8, 2016, http://www.al-monitor.com/pulse/originals/2016/03/palestinian-hamas-fatah-reconciliation-doha.html.
Hamas's ties to the Muslim Brotherhood have strained its relations with Egypt's government led by Abdel Fattah el-Sisi. Following the 2013 overthrow of Egypt's Brotherhood government, Egypt has increasingly cracked down on Hamas. In late 2013, the Egyptian army closed most of the underground smuggling tunnels beneath the Gaza-Egypt border, resulting in the loss of millions of dollars in revenue.Associated Press, "Hamas in Worst Cash Crisis since Seizing Gaza," Yahoo News, March 13, 2014, http://news.yahoo.com/hamas-worst-cash-crisis-since-seizing-gaza-181239758.html. In 2014, Egyptian courts labeled Hamas a terrorist organization, although the designation was later overturned."Court in Egypt bans Palestinian group Hamas," BBC News, March 4, 2014,  http://www.bbc.com/news/world-middle-east-26432122; Joshua Berlinger and Ian Lee, "Egyptian court designates Hamas as a terror organization, state media says," CNN, February 28, 2015, http://www.cnn.com/2015/02/28/middleeast/egypt-hamas-terror-designation/; "Egyptian court cancels Hamas listing as terrorist organization: sources," Reuters, June 6, 2015, http://www.reuters.com/article/us-egypt-hamas-idUSKBN0OM0BZ20150606.   
In June 2015, Egypt's chief prosecutor, Hisham Barakat, died in a car bombing in Cairo. The Egyptian government later accused Hamas of coordinating the assassination with the Muslim Brotherhood in Egypt."Muslim Brotherhood conspired with Hamas to kill prosecutor, Egypt claims," Guardian (London), March 6, 2016, http://www.theguardian.com/world/2016/mar/06/muslim-brotherhood-hamas-prosecutor-egypt-assassinated-hisham-barakat. As part of spring 2016 discussions to repair their relationship, Egypt demanded that Hamas renounce the Brotherhood ahead of any rapprochement.Adnan Abu Amer, "Hamas tones down Brotherhood links to improve Egypt ties," Al-Monitor, May 13, 2014, http://www.al-monitor.com/pulse/originals/2014/05/gaza-egypt-hamas-brotherhood-elections.html#/. In March 2016, Hamas spokesman Sami Abu Zuhri denied any links between Hamas and the Muslim Brotherhood.Jack Khoury, "Hamas Denies Links With Muslim Brotherhood in Egypt and Elsewhere," Haaretz, March 23, 2016, http://www.haaretz.com/middle-east-news/.premium-1.710423. Egypt also accuses Hamas of facilitating terrorism in the Sinai Peninsula.Yaakov Lappin, "Hamas delegation fails to improve relations, report says," Jerusalem Post, March 16, 2016, http://www.jpost.com/Middle-East/Hamas-delegation-to-Egypt-fails-to-improve-relations-report-says-448115. Despite the accusation, Egypt and Hamas have reportedly agreed to cooperate to enhance security along the Gaza-Egypt border in a joint effort to weaken ISIS's Egyptian affiliate there, Wilayat Sinai.Sudarsan Raghavan and William Booth, "Israel, Hamas and Egypt form unlikely alliance against Islamic State," Washington Post, April 30, 2016, https://www.washingtonpost.com/world/middle_east/israel-hamas-and-egypt-form-unlikely-alliance-against-islamic-state-affiliate/2016/04/30/cacb99dc-fb79-11e5-813a-90ab563f0dde_story.html.
In addition to ties with the Egyptian Brotherhood, Hamas also reportedly maintains a relationship with the Jordanian Brotherhood. Former Hamas leader Khaled Meshaal, for example, was believed to maintain a close relationship with Jordanian Brotherhood leader Hammam Saeed."Hammam Said," Berkley Center for Religion, Peace & World Affairs, accessed May 29, 2015, http://berkleycenter.georgetown.edu/people/hammam-said. Saeed has publicly supported Hamas's violent activities, and criticized Palestinian Authority President Mahmoud Abbas for curtailing the Palestinian "armed struggle."Bassem Eid, "Abbas under fire," Jerusalem Post, December 10, 2014, http://www.jpost.com/Opinion/Abbas-under-fire-384268. Israel has accused the Jordanian Brotherhood of providing material support to Hamas."'Jordanian Muslim Brotherhood smuggling weapons to Palestinians,'" Times of Israel, December 8, 2014, http://www.timesofisrael.com/jordanian-mb-smuggling-weapons-to-palestinians/. In November 2014, Jordanian authorities arrested members of a suspected Brotherhood cell that was allegedly passing weapons and money to suspected terrorists in the West Bank.Jack Moore, "Israel: Muslim Brotherhood cell in Jordan 'smuggling weapons to West Bank Palestinians,'" International Business Times, December 8, 2014, http://www.ibtimes.co.uk/israel-muslim-brotherhood-cell-jordan-smuggling-weapons-west-bank-palestinians-1478561; Roi Kais, "Report: Muslim Brotherhood in Jordan smuggled weapons for attacks in West Bank," YNet News, December 2, 2014, http://www.ynetnews.com/articles/0,7340,L-4598485,00.html.
Hamas continues to remain in power in the Gaza Strip. Despite its claims to have severed ties with the Muslim Brotherhood, Hamas is deeply rooted in the Brotherhood and the groups remain ideologically linked.
Key Leaders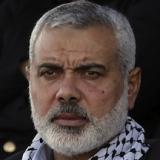 Chief of Political Bureau, former deputy leader of Hamas, Hamas's former prime minister of Gaza, former prime minister of the Palestinian Authority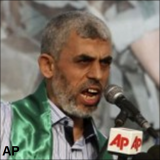 Leader of the Gaza Strip Political Bureau for Hamas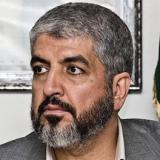 Former Chief of Hamas's Political Bureau
Associated Organization(s)
Violent Activities
Per its charter, Hamas is dedicated to the total destruction of Israel."The Covenant of the Islamic Resistance Movement," Avalon Project, Yale Law School, August 18, 1988, http://avalon.law.yale.edu/20th_century/hamas.asp. The group has engaged in multiple forms of violence against Israel, from suicide bombings to rocket attacks.
Designations by Governments and Organizations
---