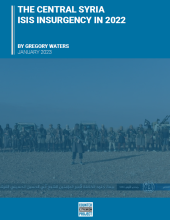 Key Facts
ISIS killed more than 147 soldiers and 31 civilians and wounded more than 136 people in central Syria in 2022, 42 and 47 percent, respectively, of the casualties they inflicted in 2021.
ISIS militants conducted at least 128 attacks in 2022, 42 percent of the total in 2021.
Of the 128 documented attacks in 2022, 32 attacks, or 25 percent, were high quality, in line with the percentage of high quality attacks in 2021.
In the last three months of 2022, ISIS militants conducted nearly the same number of attacks and twice as many high quality attacks compared with the last quarter of 2021.
Executive Summary
ISIS activity in central Syria fluctuated significantly throughout 2022. The year began with a series of moderately high tempo months, reached a historic low in July, and culminated in a renewed steady increase in activity over the last four months of the year.  Overall, 2022 saw a significant reduction of ISIS activity in central Syria compared to 2021. However, attacks in 2022 killed and wounded about the same number of people on average as those in 2021, and roughly the same proportion of these attacks were high qualityHigh quality attacks are defined as attacks behind frontlines, those that result in seized positions, target regime officers, involve coordinated attacks on multiple positions, fake checkpoints, ambushes on military convoys, or attacks on checkpoints that kill at least three soldiers or lead to POWs. as in 2021. This would suggest that despite the significant drop in activity, when ISIS militants did choose to conduct attacks, they were able to do so as effectively as they had the year prior; 2022 also saw a return to certain styles and geographical locations of attacks for the first time since 2020, again suggesting that while overall violent activity decreased, cells may have been reconstituted and grown in strength after the heavy regime pressure in 2021.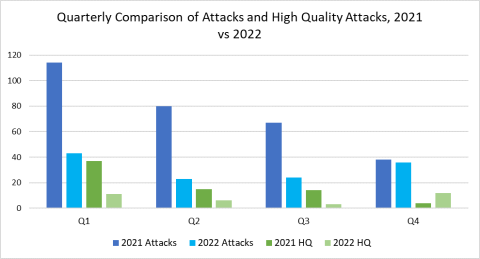 Fig 1: Comparison of the number of overall attacks and high quality attacks each quarter for 2021 and 2022.
The most significant event of 2022 was the return of sustained official ISIS media publicizing the central Syrian insurgency. The July 28 edition of ISIS's weekly al-Naba magazine contained a three-page interview with an alleged senior ISIS commander in the Badia lauding the persistence of militants, explaining the necessity of the lack of consistent media coverage, and once again asserting the insurgency's role within the "war of attrition" against the regime:
"Within the war of attrition as well, the mujahideen have intensified the targeting of oil tankers that belong to the militia of the apostate 'al-Qaterji' and transport oil to the areas controlled by the Nusayri army. They have also continued their attacks against trucks and trade convoys of the Nusayris, alongside other methods of the war of attrition that the mujahideen are developing, and they are increasing the list of its targets day after day."
This interview transcript was followed the next day by a rare series of official pictures shared on ISIS Telegram channels. Since that July publication, ISIS has claimed 19 attacks in central Syria, more than the group claimed in the previous 13 months combined. A complete transcript of the Badia interview can be found online.
The "war of attrition" concept was highlighted in ISIS media coverage of their significant September 2021 attack on the Deir Ali Power Plant outside Damascus, though it was clearly a guiding doctrine for the group since at least 2020 when militants focused their attacks on both military and commercial convoys traversing the Badia. Shortly after the July interview, ISIS cells began conducting a series of sustained attacks on regime forces around the key Tabqa Air Base, south of Raqqa City. This base has routinely hosted Russian military helicopters used for convoy escort and close air support missions in 2021. In mid-September, ISIS cells began targeting regime-operated oil and gas fields in Raqqa, Deir Ez Zor, and Homs. These attacks culminated in the brutal December 26 attack on three buses carrying dozens of oil workers from the Tayyem Oil Field just outside Deir Ez Zor city. ISIS militants used at least two Anti-Tank Guided Missiles (ATGM) in the attack, which killed more than ten workers and destroyed three buses, the first confirmed use of ATGMs in more than two years (though it should be noted that regime sources claimed an ATGM was used by ISIS in an attack in southern Raqqa in March 2022 as well).
This complex attack so close to the city of Deir Ez Zor followed attacks within the urban belt along the Euphrates River throughout 2022. Even during the peak frequency of ISIS activity in 2020, the string of towns controlled by the regime along the western shore of the Euphrates River had largely been safe from ISIS attacks. However, in 2022 ISIS cells conducted at least nine attacks in this area, particularly in the villages south of Salhiyah which is heavily controlled by Iranian forces and their Syrian proxies. This increase in ISIS's ability to conduct attacks in presumably secure urban areas is likely a result of the group's increased strength in the Syrian Democratic Forces (SDF)-held towns across the Euphrates and the increasingly dire economic conditions in Deir Ez Zor, which create more opportunities for corruption within security forces (both in regime and SDF regions).
ISIS activity also returned to southern Aleppo following ISIS's July publication, with the group carrying out at least three Improvised Explosive Device (IED) and small arms ambushes around Khanasir in October and December. This sparsely populated desert region, long an information black hole, was heavily targeted in 2020 (14 attacks) and the first half of 2021 (12 attacks). By late 2021, the Russian-backed 25th Division had asserted its presence in the countryside around Khanasir and north of Ithriya. Throughout 2022, the division had regularly conducted military exercises in the countryside south of Khanasir. The establishment of a regime-Russian military base in this area, alongside continued 25th Division patrols in the region makes the return of ISIS attacks here all the more remarkable. Unfortunately, pro-regime media has been completely silent on ISIS attacks here, despite ISIS media sharing photos of slain Syrian army soldiers. This leaves ISIS's intentionally limited self-reporting as the only insight into its activity in this region.
Despite the increase in ISIS activity in Raqqa, Deir Ez Zor, and Aleppo in the second half of 2022, it is not clear if ISIS cells have made any new inroads back into east Hama, where they were reportedly expelled in late 2021. Of the 24 incidents recorded in east Hama in 2022, 23 involved mines or IEDs, while one involved a drive-by shooting of a civilian in a remote village. It is difficult to determine if these mine/IED attacks involve old explosives placed during previous years (all are reported by locals as "remnants of the ISIS terrorists") or were more recently placed by covert cells. However, despite continued de-mining operations by local security forces, explosions still killed civilians and military men in 10 of the 12 months of 2022.